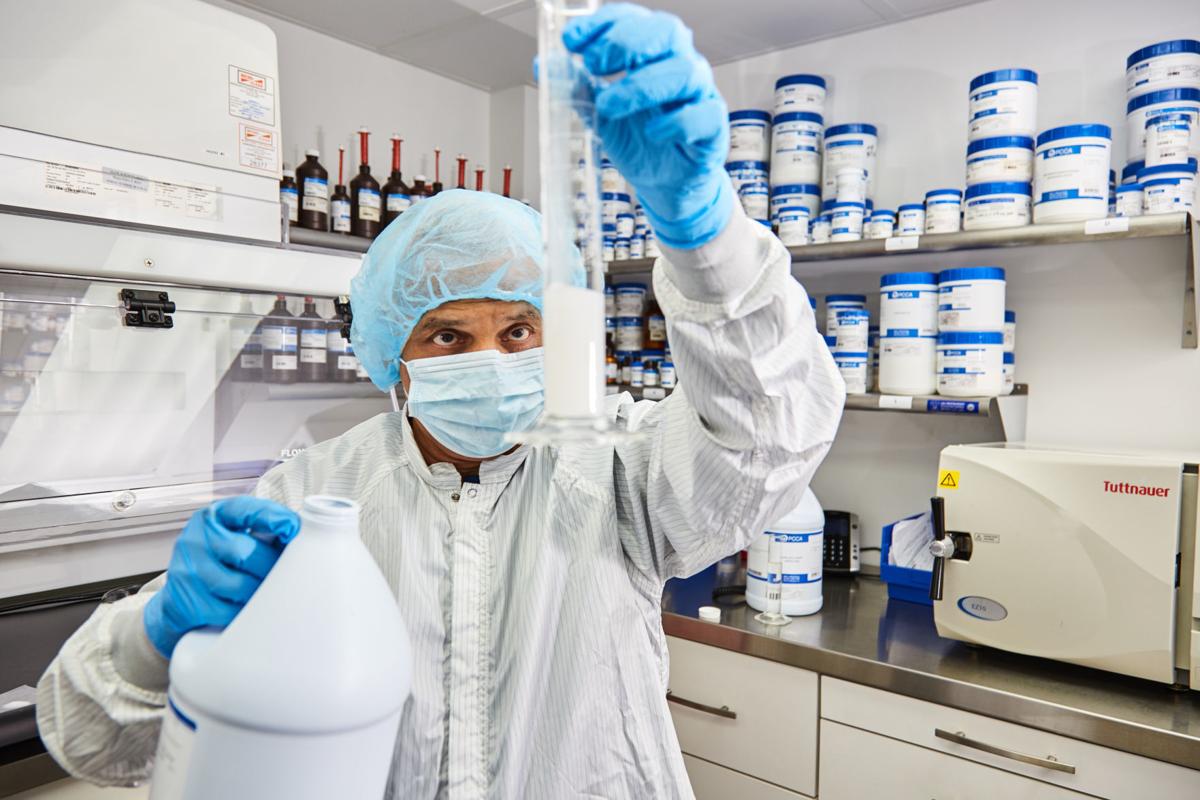 In a special meeting called Thursday evening, the Wyoming Board of Medicine approved a statement that will warn physicians not to misuse or hoard a pair of drugs touted as potential treatments for the novel coronavirus.
"(The board is) saying, 'We need to take this seriously; if you're inappropriately prescribing this and giving it to people who aren't symptomatic, that's a violation of the (medical practice), act and we'll take action,'" the board's executive director, Kevin Bohnenblust, summarized Friday morning.
The medical body's action, which is being coordinated with Gov. Mark Gordon's office, comes days after the state's pharmacy board said they'd heard reports that physicians were writing prescriptions for two medications — normally used to treat malaria, lupus and arthritis but now touted as potential COVID-19 medications — for their families and friends. It's been a mounting problem across the U.S. as the respiratory disease continues to spread and researchers scramble to develop a vaccine and treatments.
"The Wyoming Board of Medicine expects physicians and physician assistants to adhere to the standard of care at all times, and will aggressively investigate any reports of inappropriate prescribing related to COVID-19 and misallocation of scarce health resources during this public health emergency," the board wrote in its statement.
As of late Sunday afternoon, there have been 87 confirmed cases of COVID-19 in Wyoming, out of more than 1,000 tested. Nationally, there have been over 100,000 patients, according to the New York Times, and the number rises by the hour.
The two drugs — chloroquine and hydroxychloroquine — were shown to be effective in a very limited study in Europe. A much larger study is getting underway in the U.S., but physicians have cautioned against writing prescriptions for the drugs before the science supports it.
Bohnenblust said it's not illegal for drugs to be used for off-label purposes — meaning using a medication for a disease or illness that the Food and Drug Administration hasn't specifically approved it for — but that these concerns are different.
The statement "says that board is concerned and joins (the American Medical Association) in being concerned about the perhaps inappropriate prescribing of medications first off to asymptomatic patients," he said, meaning people with no symptoms for the novel coronavirus. "Hoarding medications. ... The problem is it does put the patient at risk a bunch of really bad side effects."
Bohnenblust said the board could take action against any physicians who frivolously write prescriptions for the meds.
Dr. Andy Dunn, a physician here in Casper treating COVID-19 patients, said using the malaria and lupus drugs would require monitoring of patients' hearts and kidneys, which is not possible for mass prescribing.
Beyond the potential side effects for patients who may not even have COVID-19, the supply of the medications has been tailored to meet the small segment of the population who has lupus or arthritis. A rush on the medications would leave those people short on the drugs they've relied on to treat their chronic conditions.
The board of pharmacy's executive director, Matt Martineau, told the Star-Tribune earlier this week that his board "has heard from several pharmacists in Wyoming specifically about practitioners writing prescriptions for medications ... for themselves and family members." Guidance from the pharmacy board to its members urged them to use their "professional judgement" in deciding whether to fill the prescriptions or not.
In Casper, infectious disease physician Dr. Mark Dowell said he was using the medications to treat a patient who was seriously ill with the virus. Bohnenblust said the board would give latitude to "real specialists."
"It's not an absolute prohibition, but you gotta be doing it right," he said. "Patients that are in dire straits and being treated by the real specialists in the area, the board's never going to have a problem with that. There are reports from other states where dentists of all things are prescribing it. They have no business doing that."
Included in its statement on drugs, the board will also cover conservation of personal protective equipment. The gear — masks, gowns and gloves — are in short supply. (A Casper official said Friday providers were "critically low" on the supplies.) To conserve equipment, hospitals and clinics have cut back on non-essential surgeries, dentists are cancelling routine appointments and front-line doctors are trying to make their gear last as long as possible.
Bohnenblust said that "nearly everyone" has been good about saving the equipment but that there was concern of surgical centers and clinics "still burning through PPE, not paying attention."
"If people are hoarding materials or if they're misusing them, the board will look into that and see if it's a violation of the act," he said. "We're not getting a lot of reports, but we want the board on the record."
Other medical board business
Elsewhere at the board's meeting, they voted to extend all of Wyoming's physicians' licenses until Sept. 30, rather than the typical June 30 expiration.
"At this point, if we can take even one thing off the doctor's plates, we wanted to do that," Bohnenblust said. "This is just trying to do what we can do to make their lives a little simpler."
The board also voted to make state Health Officer Dr. Alexia Harrist's medical license a full, rather than administrative one. That'll allow out-of-state physicians, roughly 70 interested so far, to write prescriptions for controlled substances under the authority of Harrist, who can also stop those providers from practicing in Wyoming if they're "bad actors," Bohnenblust said.
Concerned about COVID-19?
Sign up now to get the most recent coronavirus headlines and other important local and national news sent to your email inbox daily.