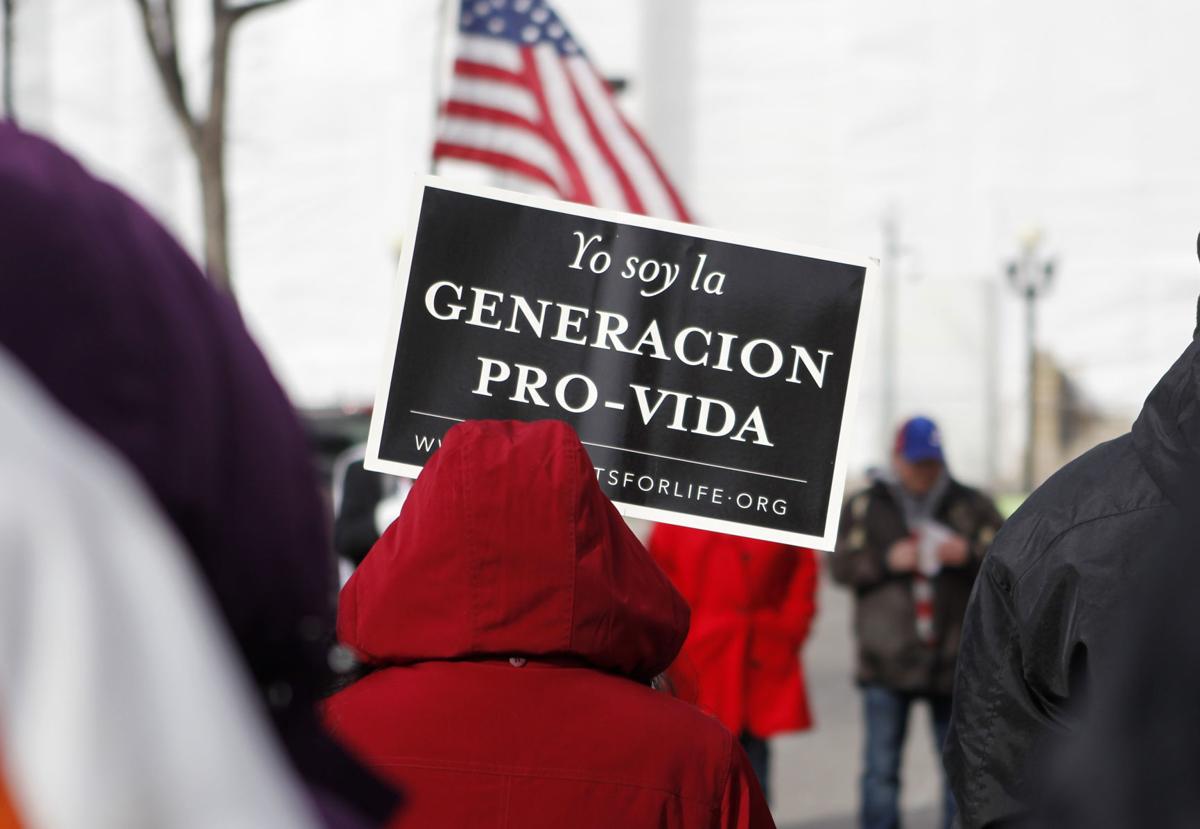 CHEYENNE — The House Judiciary Committee voted Tuesday afternoon to advance legislation instituting a 48-hour waiting period for all abortions performed in Wyoming, a first victory for anti-abortion advocates in a particularly active year for abortion legislation.
Now headed to the floor after a number of unsuccessful attempts over the years, Rep. Richard Tass' House Bill 197 is a near-clone to a similar piece of legislation carried by the Sheridan Republican in the 2019 legislative session. If passed, the bill would mandate all prospective abortion patients to wait 48 hours from the time they arrive at a physician's office for the procedure, creating what Tass described as an opportunity to consider the ramifications of that decision.
"It's to give the gift of time for the women but more, a gift of time for the baby — the child — and for the women to consider the ramifications of their decision," Tass said in introducing the bill.
The bill also outlines a maximum 10-year felony prison sentence for doctors who perform a procedure before that time period is up, a provision that is heavily opposed by the Wyoming Medical Society, which has not taken a position on the bill itself.
Taken up by the conservative-heavy House Judiciary Committee, the bill passed a 6-3 vote after limited debate, with Reps. Charles Pelkey, D-Laramie; Clark Stith, R-Rock Springs; and Sara Burlingame, D-Cheyenne, voting against the bill. Burlingame is the committee's sole female member.
Tass' is not the only anti-abortion bill currently working its way through the Legislature. A second piece of legislation — which would ban abortions after a fetus has a detectable heartbeat — will be taken up in the Senate Labor Committee later this week. That bill, sponsored by Sen. Bo Biteman, R-Ranchester, passed an introduction vote 20-10 last week.
If passed, this would be the second new law regulating abortion in Wyoming in two years, and the first mandatory waiting period for a legal medical procedure imposed in the state.
The bill
While brief — just six paragraphs in its current form — House Bill 197 contains a number of provisions regulating abortion.
These include the 48-hour waiting period, the felony provision for violating the law and a cut-off period for abortion defined as when the fetus becomes "viable." This term, which received a fair amount of the committee's attention, currently does not have a definition under Wyoming law but was defined by an OB-GYN who testified at the committee as roughly 23 weeks. Others, like the bill's co-sponsor Rep. Scott Clem, R-Gillette, stated that viability was a subjective term and could be as few as 20 weeks.
What that provision's intentions for Wyoming are, however, is unclear. Sharon Breitweiser, executive director of the abortion-rights organization NARAL Pro-Choice Wyoming, said the only two abortion clinics publicly offering abortion services in Wyoming do not offer the procedure after the first trimester, well before either definition of viability is reached.
It is also unclear what the impact of the bill would be. While 27 states have already implemented their own waiting periods for abortions, according to the abortion-rights organization Guttmacher Institute, waiting periods have been shown to have limited effectiveness in dissuading abortions. In many cases, the institute says, they are an undue economic burden on the women seeking them — often lower-income women of color, research shows — because of the cost of travel, hotel stays and child care.
One OB-GYN speaking out against the bill, Rene Hinkle, argued that the 48-hour-waiting period could have unintended consequences, saying the legislation could put medical professionals who may need to perform a life-saving abortion procedure at risk of committing a felony.
Meanwhile, abortion has been notoriously difficult to track in Wyoming. While abortion reporting legislation signed by Gov. Mark Gordon last year is expected to yield its first data on the subject this June, the reported prevalence of the procedures in Wyoming is varied, ranging anywhere from less than 20 in 2016 according to the Centers for Disease Control all the way to 140 in 2017 by the count of the Guttmacher Institute.
With the state's two abortion clinics both located in Teton County, Breitweiser said it is much more common for women to go out of state to get abortions, pointing to states like Montana, Colorado and even Utah as typical locations. All this legislation would do, she said, would increase access issues in Wyoming.
"These bills that single out our limited number of providers and basically interfere with their relationships with patients, stigmatizing their profession and the procedure ... we think it's very unfortunate that so much time is spent on these bills," Breitweiser said.
While Tass had no specific numbers or research to support his claim the legislation would reduce abortion in Wyoming, he argued that even one less abortion was worth the inconvenience.
"I do not have the numbers — but that is my assumption," Tass said. "But it is a gruesome procedure, and I think now is the time to do something."
Testimony
Testimony for and against the bill was as divided as the issue itself.
Speaking in favor of the bill were six men — including a representative from the Catholic Diocese of Cheyenne — and two women, each of whom shared emotional testimony about their own experiences with abortion and, for the men, the experiences of women close to them.
On the other side of the issue, six women and one man spoke out, arguing that the legislation would lead to an undue burden on the women seeking the procedures and, above all, interrupt a woman's ability to make her own decision about the procedure, described by one woman as a heart-wrenching decision rarely made impulsively.
Another opponent of the bill, Democratic House of Representatives candidate Marci Kindred, said the legislation was a misguided approach to reducing abortion rates, arguing that the legislature's time would be better spent on legislation boosting access to contraception or improving education on reproductive health.
"I know that everyone here — particularly the women — have come to their conclusions from deeply painful and personal experiences," Kindred said. "I would like to honor those experiences."
Lawmakers like Pelkey argued that the government should not be involved in making those decisions for its citizens. However, others — like Rep. Art Washut, R-Casper — argued there is a role for government if one believes a fetus — viable or unviable — can be considered human life.
"I think the state has a role to play here, and it comes down to a single point: Do you recognize the baby being aborted as human or not?" Washut said. "If you do, you think of this issue one way, and if you don't recognize that fetus as human, you recognize it another way."
Get Government & Politics updates in your inbox!
Stay up-to-date on the latest in local and national government and political topics with our newsletter.