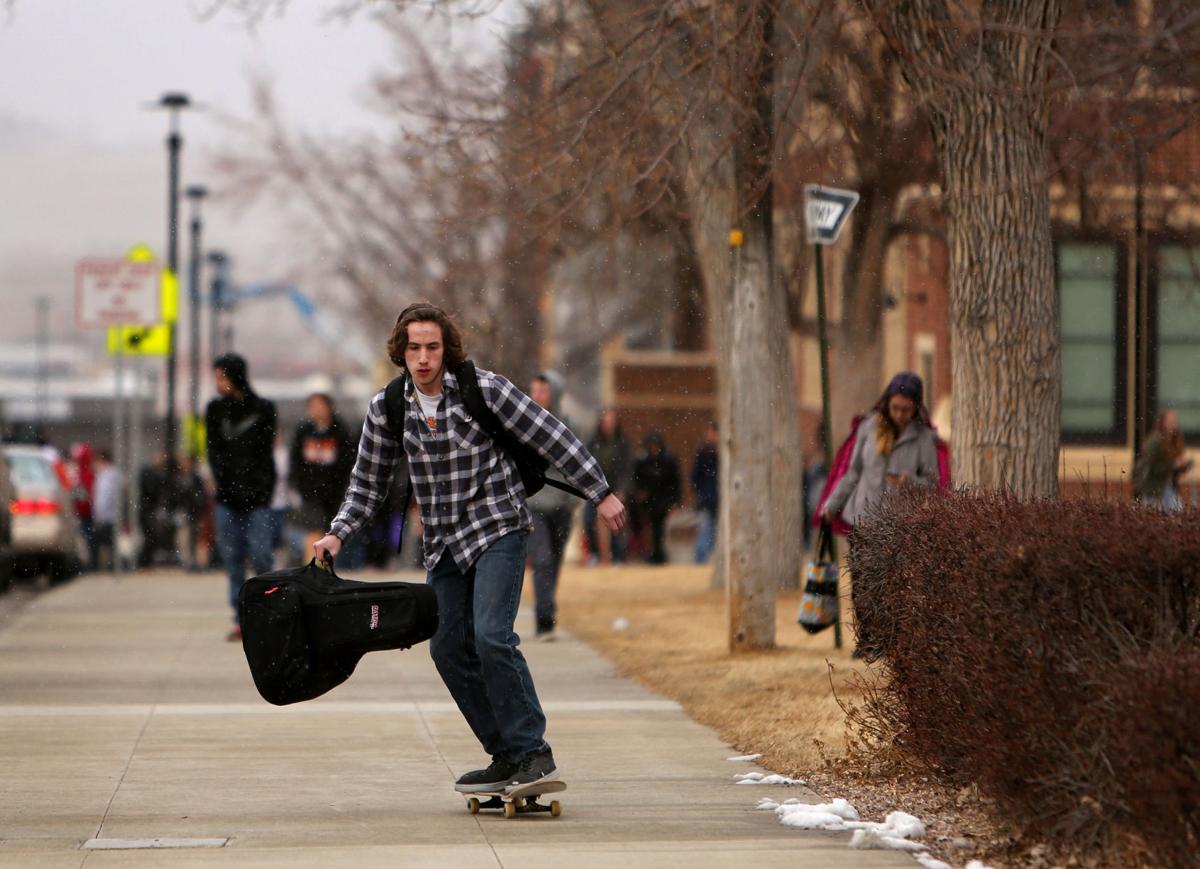 CHEYENNE — Education leaders are siding with the Wyoming House's vision for school funding as they brace for cuts to K-12 operations.
The Wyoming School Boards Association, the voice of local education boards, and the Wyoming Education Association, which represents teachers, believe students will be best served by the education proposal offered by the Wyoming Legislature's lower chamber, representatives of both groups said Wednesday.
The House and the Senate have clashed over their approaches to education funding and cuts, and support from the education community is a coup for House Republicans.
The account that pays for K-12 operations, currently about $1.5 billion a year, is anticipated to have a 25 percent annual shortfall in coming years. The deficit is projected to grow to $1.8 billion over the next five years. That's because taxes on the energy sector, which has struggled through a downturn, fuel much of Wyoming's public school system.
While the House has advocated for moderate cuts and a small sales tax increase, the Senate has called for deeper cuts and no tax increases.
Each chamber proposed an education funding reform bill reflecting their priorities. Then each chamber altered the other's legislation. On Tuesday, the House killed the Senate's bill. The House's measure, House Bill 236, is still alive and currently in the Senate, where it has been amended in a manner that House leaders disagree with.
The education battle even reached discussions over the state's supplemental budget. While schools are paid for separately from general government operations, there are proposed cuts to education that go into effect if HB236 fails.
But Brian Farmer, the executive director of the School Boards Association, prefers HB236's cuts to the budget bill, he said in a statement released in concert with House GOP leaders.
As originally proposed, the House's version of HB236 will raise revenue through a half percent sales tax increase when the $1.6 billion rainy day fund is drained under $500 million. The tax disappears when financial conditions improve in Wyoming.
"The House's thoughtful approach makes careful reductions and increases in efficiencies, while broadening the tax base," Farmer said in the statement. "By expanding ownership over Wyoming's education system to more taxpayers, this comprehensive solution ensures that the educational opportunities available to Wyoming's students are no longer principally determined by the ebb and flow of commodity prices."
Kathy Vetter, president of the Wyoming Education Association, acknowledged in an interview that cuts are inevitable. Her organization wants to support an approach that allows more local control, which is reflected in the House's vision, she said.
"The WEA supported parts of HB236 over SF165 because it was a more holistic approach to addressing the white paper," she said. "We like the fact that HB236 looked at small cuts and addressed revenue streams as well."
Special session?
House Speaker Steve Harshman, a teacher and coach at Natrona County High, warned that a special session of the Wyoming Legislature will be necessary if the Senate prevails in its goals for education.
House leaders characterized the Senate's vision as achieving education account solvency exclusively through cuts and avoiding addressing the structural problem in the way schools are paid for.
"Burying our heads in the sand and kicking tough decisions down the road to deal with later is not an option," said Harshman, a Republican from Casper. "We were elected to make difficult decisions, and they won't be any easier to make tomorrow than they are today. Should we neglect to act now, we'll be forced to address this crisis in future special sessions."
House Republicans say they stand by their approach to education funding reform because, after HB236 was drafted, they hosted a meeting at East High School in Cheyenne in January. They explained the bill, and members of the public sounded off on its strengths and weaknesses for hours.
House Republicans also said that HB236, in its original form, incorporated considerations from a research paper that lawmakers from both chambers and political parties undertook in December.
The research recommended a five-pronged approach to education account solvency, including use of savings, new revenue and cuts. After the paper was released online, the public was allowed to send feedback. House Republicans said they considered the public's comments, too.
"With House Bill 236, the House delivered a comprehensive solution — the most studied, most vetted and most commented on approach to meeting our state's educational needs while tackling our education funding shortfall head-on," said Rep. David Northrup, a Powell Republican who is chairman of the House Education Committee. "(Tuesday's) Senate action on HB236 diminished this multi-faceted solution months in the making — putting our education system in jeopardy and moving us closer to a fiscal cliff."
The Senate has amended HB236 as the bill has marched through its chamber. House Republicans described changes made Tuesday as significant.
"Wyoming's education funding shortfall is too big to tackle simply through cuts," said Rep. Albert Sommers of Pinedale, the House's fourth-ranking Republican. "That's why House leaders worked directly with our citizens to develop far-reaching legislation capable of meeting the needs of our great state and our people."
Senate President Eli Bebout said the House is entitled to its position on education. But he disagrees with much of it.
"I am not in favor of increasing taxes period right now," the Riverton Republican said. "The timing is not right, and the constituents I have talked to want to have responsible reductions. That's been the Senate's position for two months."
More reaction
Kevin Christopherson, the chairman of the Natrona County school board, said he generally preferred the House's approach, but said he wasn't in favor of tax increases.
It was difficult to form a strong opinion because of how frequently legislation has changed in Cheyenne, he said. Still, he acknowledged that one way or the other, cuts were coming.
"We need to do cuts, we need to tighten our belts, and the other revenue sources, that's fine," he said. "As an institution, the schools have been funded (very well) in Wyoming."
Gov. Matt Mead doesn't have an opinion on which piece of legislation he prefers, since the situation is fluid, said his policy director, Mary Kay Hill.
He has pressed lawmakers to assemble a committee of educators, business people, parents and others to look at the education system find solutions. Both HB236 and the budget bill have different committee proposals, she said.
"The governor's original position, which hasn't changed in two years, is that (it should be) a combination of cuts and revenue — whether that's (tax) revenue or diversions (from investments) or (the rainy day fund) or whatever, a combination of reductions and infusions of funding into the School Foundation Program account is likely necessary," she said.