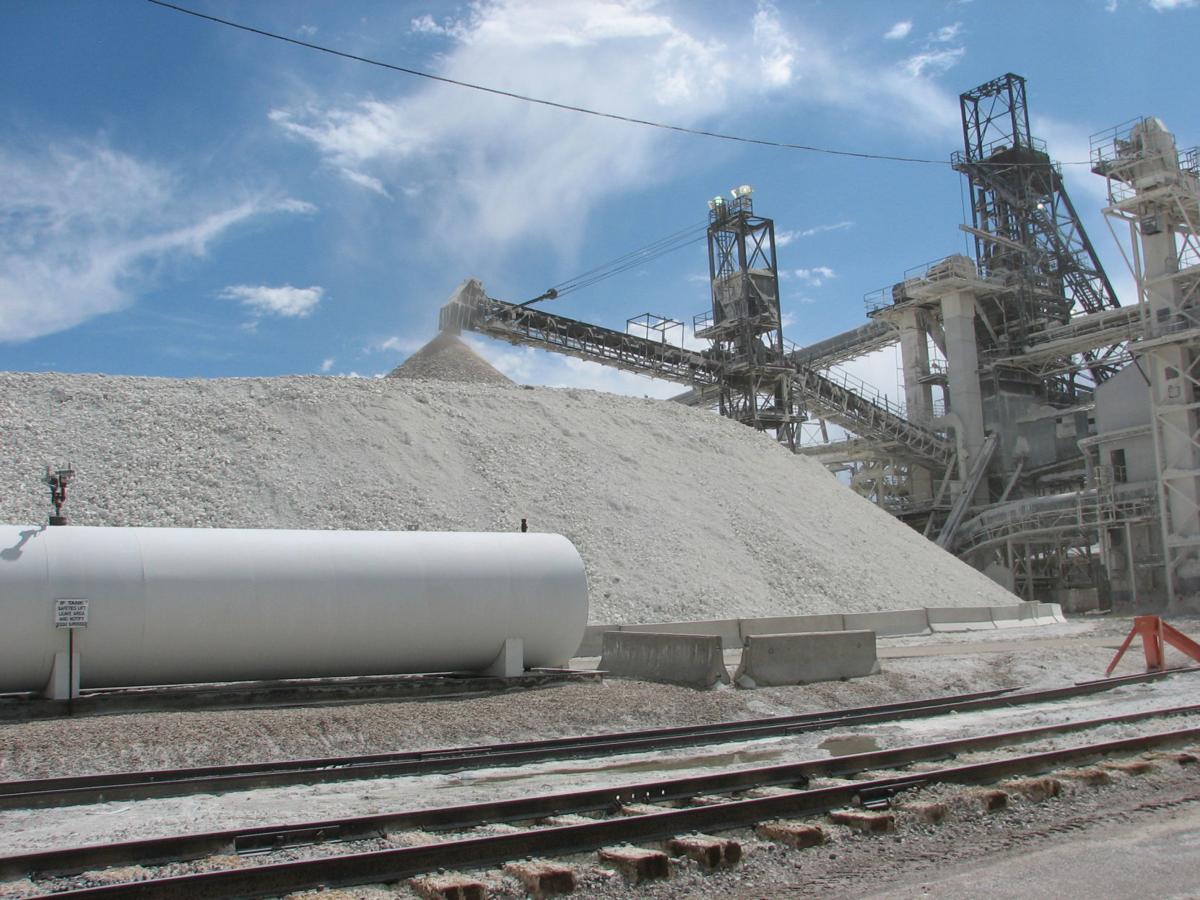 If Wyoming plans to double down on minerals to save its future, then trona – one of the Equality State's most critical natural resources – is probably its safest bet.
Worldwide, Wyoming stands as one of the world's richest stores of the mineral, whose natural byproduct – soda ash – is a key ingredient in everything from the baking soda in your kitchen to the glass facades of the world's skyscrapers. The fate of the mineral is also closely tied to the world's GDP and, with strong domestic demand, it remains a reliable source of revenue for Wyoming regardless of the performance of more volatile resources like oil and gas.
The mineral is such a reliable source of revenue, in fact, that it has become a key component of a massive deal for 5 million acres land and mineral rights in the southern tier of the state. Gov. Mark Gordon described the possible deal for Occidental Petroleum land as a means to invest in a range of revenue-earning assets at a time when Wyoming's constitutionally protected, traditional investments are struggling to turn profits.
"We won't proceed if we're going to see a significant reduction in investment returns," Gordon said Wednesday. "This is not a real estate, not a trona, not a coal or an oil and gas play. This is an investment opportunity."
But, like any other investment, trona – which is the most likely source of stable revenues in the deal, according to testimony last week by the state's investment advisory team – has risks. And the factors behind those risks are well out of the state's control.
Like it has done with uranium and rare earth minerals before it, China – with a state-run monopoly, few environmental regulations and an unparalleled level of industry subsidization – remains the world's largest producer of soda ash, using synthetic processes and an unscrupulous regulatory environment to take over an outsized share of the global market.
Despite growing pressures from countries like Turkey and the United States, China remains an influential producer of the mineral, even amid the collateral damage felt by all countries in the wake of the COVID-19 pandemic. China's dominance has been prevalent for so long that policies to make American soda ash more competitive have been standard fare in Washington D.C. for decades, with efforts by Wyoming's congressional delegation to slash royalty rates introduced seemingly every few years.
The pressures of low-cost rare earth minerals and uranium from China have helped to keep Wyoming's reserves of those minerals in the ground for decades, said the Wyoming Mining Association's Travis Deti. And as Wyoming looks to increase its stake in trona, state leaders are already acknowledging similar challenges from abroad in the soda ash business.
"There is a substantial risk that China would ramp up its support of its domestic trona industry," Gordon said in an interview Thursday.
While China and the Trump administration have been engaged in a longstanding trade war, mounting pressure on the country due to its role in the COVID-19 pandemic, scrutiny over its government's actions toward the people of Hong Kong and other growing geopolitical concerns have fueled increasingly bullish rhetoric toward China from United States Secretary of State Mike Pompeo, as well as top Republican leaders like Sen. John Barrasso.
"There needs to be a relationship, but we have to have it with both eyes open to realize what their ultimate goal is," Barrasso told the Star-Tribune. "They're on this long-term, centuries-long march with respect to the rare earth minerals. They have been attempting to corner the global market for years."
But in increasing sanctions, the United States also runs the risk of invoking one of the few tools China has in a direct trade dispute with the United States: an ability to mine a lot of minerals at cut-rate prices.
For decades, China's state-run monopoly on rare earth minerals has been one of the few arrows in the country's quiver, Kristin Vekasi, a researcher at the University of Maine, said in a National Press Foundation briefing on U.S-China trade relations last week, and one that it threatened to use in a 2010 trade dispute with Japan in 2010.
While Japan responded by diversifying its sources of rare earth minerals, she said, countries like the United States – where rare earth elements and other materials remain prohibitively expensive to extract – remain vulnerable to China under a similar scenario. China boasts a greater capacity to flood markets with an overabundance of minerals, wiping out any prospective gains for the United States and for Wyoming, particularly when the state already ships roughly half of its soda ash to China on an annual basis.
"The competition, particularly from China, is just cutthroat," said Deti. "I mean, it is ruthless. They are our No. 1 competitor over there. As far as in the international market for our soda ash, frankly, we need all the help that we can get."
While the economics of the world's soda ash markets do trend in China's favor, both Gordon and Barrasso see advantages for the state's trona industry. Trona's byproducts are much cleaner than the synthetic processes used in Chinese soda ash, a major selling point in a world increasingly concerned with climate change.
"In a carbon constrained world, going forward, trona has a distinct advantage," said Gordon.
U.S.-produced soda ash also offers security in a global economy that – amid increasing tensions and supply chain vulnerabilities laid bare by the COVID-19 pandemic – has countries looking to divest themselves away from China and Russia, which have begun to use their cheap supplies of minerals as a wedge in their foreign policy.
"I think this crisis has indicated the challenge with offloading all your supply chains," Gordon said. "We saw that N-95s, with rare earth minerals, etcetera. So, there may be a little bit of a rebound with domestic production. Who knows?"
Get Government & Politics updates in your inbox!
Stay up-to-date on the latest in local and national government and political topics with our newsletter.