CHEYENNE — Several hundred demonstrators gathered Monday outside of the Wyoming Capitol in Cheyenne to protest Gov. Mark Gordon and the state's COVID-19 public health orders.
The demonstration was led by a group of current and former state lawmakers who harshly criticized Gordon's response to the pandemic, which has so far killed 438 Wyomingites and slowed the state's economy to a crawl. Outgoing Rep. Scott Clem, R-Gillette, organized the protests.
The protest, which took place as several members of the 66th Legislature were sworn in inside, comes amid a decline in COVID-19 cases and hospitalizations in Wyoming. That drop followed the statewide mask order enacted last month, which some health care officials have credited for slowing the virus's spread in the state.
In spirited remarks, Clem urged people to sue the state over public health orders that have included a mask mandate and limits on the size of public gatherings. He criticized the lack of public input on the orders, some of the strictest of which were enacted after the state experienced a deadly surge in cases that placed historical stresses on the state's hospital system.
And he encouraged attendees at the rally — several of whose signs described themselves as "knuckleheads," a reference to Gordon's labeling of people who weren't taking the virus seriously — to exercise civil disobedience toward those orders, as well as to respect the rights of private business owners who require customers to wear masks.
"You're all a bunch of knuckleheads," Clem said to cheers.
Wyoming, Clem said, was governed by the rule of law, not science.
"We are here because we love our freedom and because the man in that building is a tyrant," Clem, whose time as a lawmakers ended this week, told the crowd.
At one point, Clem asked demonstrators whether they would vote for Gordon, a Republican, when he's up for reelection in two years.
"No," the crowd loudly responded.
Peaceful protest
A number of police officers equipped with helmets, wooden clubs and plastic handcuffs waited inside of the Capitol doors, but they were ultimately not needed for the peaceful protest. However, the event did have its moments of tension. One man, who identified himself as a business owner from Upton, challenged law enforcement to try to shut down his business and "see what happens," beckoning them with his hand.
While Clem thanked counterprotesters for exercising their rights to free speech and urged the crowd to be respectful, a counterprotester at the rally, 74-year-old Cheyenne resident Pat Baird, told the Star-Tribune he was harassed by a number of protesters. His sign urged people to respect one another and said he supported "the efforts by Governor Gordon in the war against our common enemy, COVID-19."
At one point, some demonstrators burned masks, only to have them stomped out by a Wyoming Highway Patrol officer standing nearby.
"They don't like us burning masks, but they love trampling on our freedoms," Clem said.
Sen. Anthony Bouchard, R-Cheyenne, used the rally to push for the use of hydroxychloroquine as a COVID-19 treatment and criticized the media several times for not reporting on studies supporting its use in the treatment of other ailments, like sepsis. The treatment was pushed by President Donald Trump last year, but a National Institute of Health study in November found hydroxychloroquine provided no benefit to adults who had been hospitalized after contracting the virus.
At one point, Bouchard called Gordon a "criminal" for not allowing the use of hydroxychloroquine, although the governor does not dictate treatment options for doctors or other health care personnel. Bouchard also called for State Health Officer Dr. Alexia Harrist to resign or be fired.
Sen. Lynn Hutchings, meanwhile, cited several quotes from the founding fathers while arguing that people should take "personal responsibility" for their own health care decisions. Parents, she said, should decide whether kids wear masks. Wyoming public schools have required students to wear masks when social distancing is not an option.
Hutchings did receive some jeers from the crowd, however, after urging them not to call the governor names, and to be respectful. One woman in the crowd called Gordon "a traitor." At one point, Clem encouraged the governor to resign if he did not roll back his public orders, saying that people's rights are "non-negotiable."
He also praised South Dakota Gov. Kristi Noem, at one point joking to the crowd they should call her office and see if she could give "one of her testicles to our governor."
Jacob Dalby, a Gillette resident, was working his way through the crowd with a petition in opposition of a number of public health orders both active and hypothetical, including mandatory vaccinations, quarantines, curfews, mask mandates and any restrictions on businesses or people's ability to visit elderly family members in long-term care facilities or hospitals.
Dalby, said he had not worn a mask since the pandemic began, claimed he has gathered more than 900 signatures since drafting the petition Dec. 8. He said he plans to meet with Gordon later this month to present his petition directly to Wyoming's highest-ranking government official.
"Anything going against King Gordon at this point, I'm all for," he said.
Asked how the governor's public health orders have affected his life, Dalby said they hadn't personally impacted him but instead affected other people in struggling sectors like the hospitality industry.
"It hasn't affected me too much," he said. "The thing that gets me the most is he put these health orders in place close to Christmas time. You got all these waitresses, bartenders, all these people losing income. How do you think that affected Christmas with their kids? He doesn't care, because he hasn't missed a bit of pay."
Gordon has been donating his salary since the spring.
A precursor to a primary?
The protests occurred shortly after several new members of the 66th Wyoming Legislature were being sworn in at their desks in the first of several socially distanced ceremonies. Wyoming Supreme Court Chief Justice Michael K. Davis read the oath of office from behind a plexiglass barrier at the front of the largely empty House and Senate Chambers.
For Clem, his time in the Legislature is over. However, some in the crowd openly speculated if he could potentially mount a bid against Gordon in the 2022 Republican gubernatorial primary. Clem's name was mentioned by one speaker alongside Bouchard and former gubernatorial candidate Harriet Hageman, who finished third in the 2018 Republican primary and was elected as the Wyoming Republican Party's National Committeewoman at its convention last summer.
Bouchard mentioned in a conversation with a Star-Tribune reporter that some have encouraged him to run, but did not say he would. When asked if Clem was running for something, Rep. Dan Laursen — a member of the new House Freedom Caucus — smiled and responded, "it sure looked like it."
While Clem told a Star-Tribune reporter he was not running for Gordon's seat, he added moments after leading a chant calling for Gordon to be a one-term governor that it was still "too early to tell" who he would support in a hypothetical primary.
There is a base, however. Gordon won a six-way Republican primary in 2018 with just one-third of the vote and two highly conservative runner-ups — Hageman and GOP financier Foster Friess — comprising more than 40% of the vote between them. Top officials with the Wyoming Republican Party, Executive Director Kathy Russell and Chairman Frank Eathorne, were also in attendance at Monday's rally.
"People are desperate to do something, desperate to help, desperate to turn what looks like a marching course toward disaster," Russell — who was there as an "observer" to Monday's protests — told the crowd, before encouraging them to get involved in their own community's politics.
"We are not helpless, and we are definitely not hopeless," she added. "The principles of this country are on our side. We know how to get things done — look around."
Over the weekend, a Change.org petition calling for Gordon's removal began to circulate on various social media pages throughout the state. As of Monday, nearly 6,200 people had signed it.
Some support
Though few in number, several counterprotesters at the rally professed support for the governor and attended Monday to show that the views held by the hundreds in attendance were not universally held.
"I support the governor," Baird said. "I think he's walked a fine line and tried to keep things open and lessen the pandemic too. If the governor had done nothing, if more people had died, and the hospitals were full, people would be out here saying 'Governor, you didn't do a damn thing for us.'"
"I'm concerned about mankind," said Gregory Scott, a 72-year-old Vietnam veteran and former railroad worker holding a sign across the street from the protests. "It probably won't make a difference. Some people might question their beliefs and whether they're listening to someone else or actually using their own wisdom and reason to try and figure this out."



Photos: Crowd protests COVID-19 health orders at Wyoming Capitol
PHOTOS: Crowd protests COVID-19 health orders at Wyoming Capitol
Freedom Protest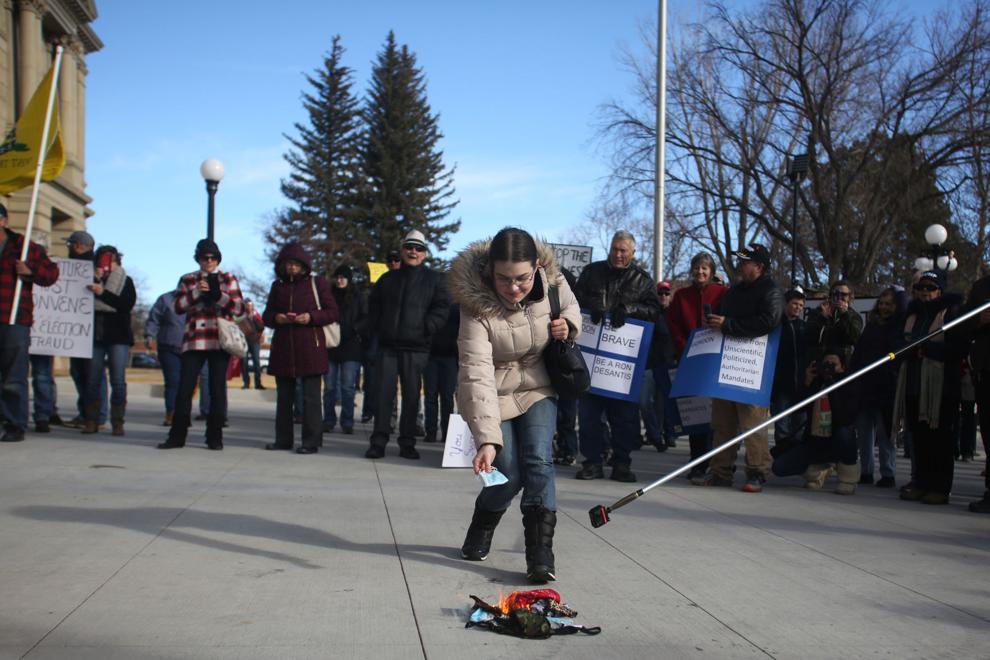 Freedom Protest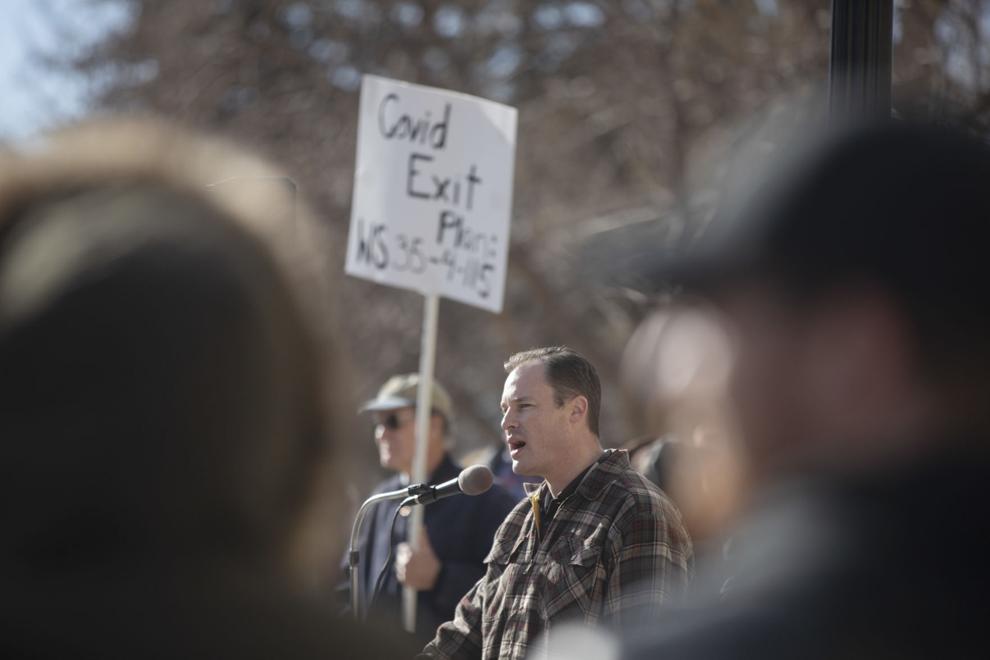 Freedom Protest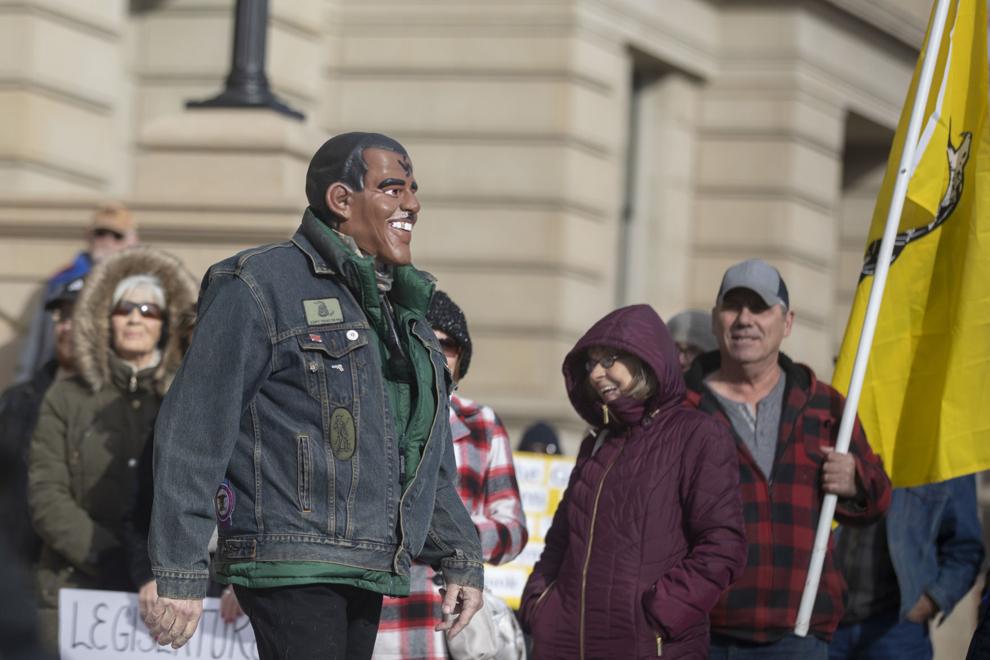 Freedom Protest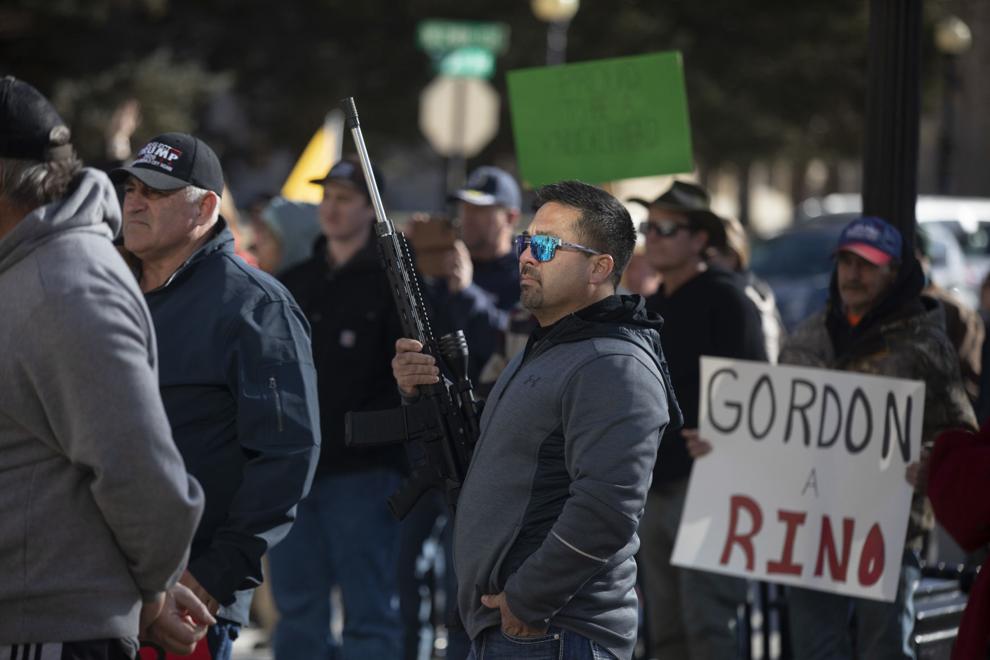 Freedom Protest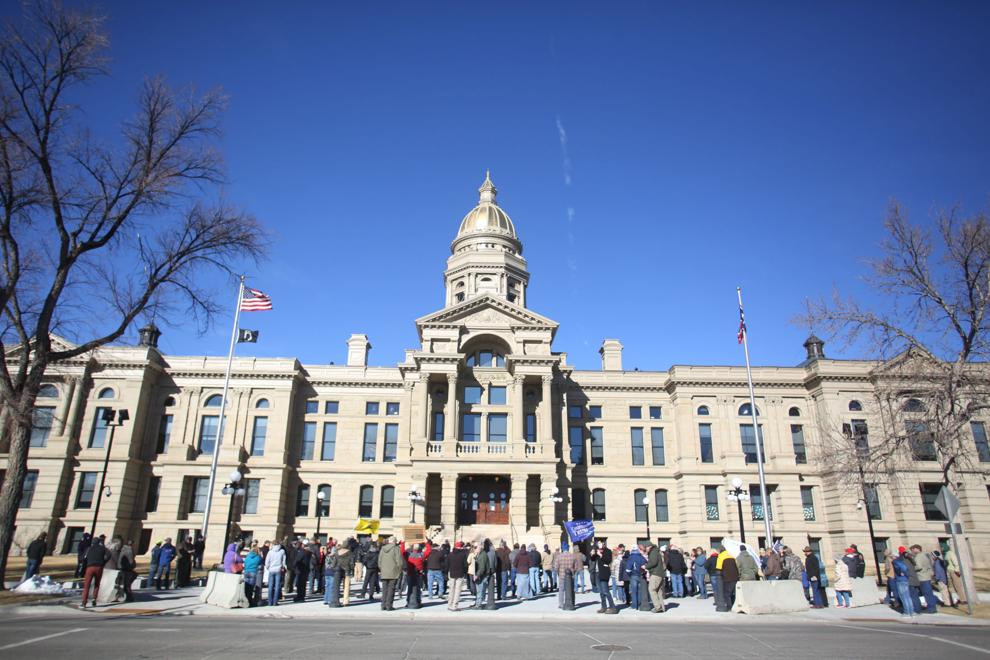 Freedom Protest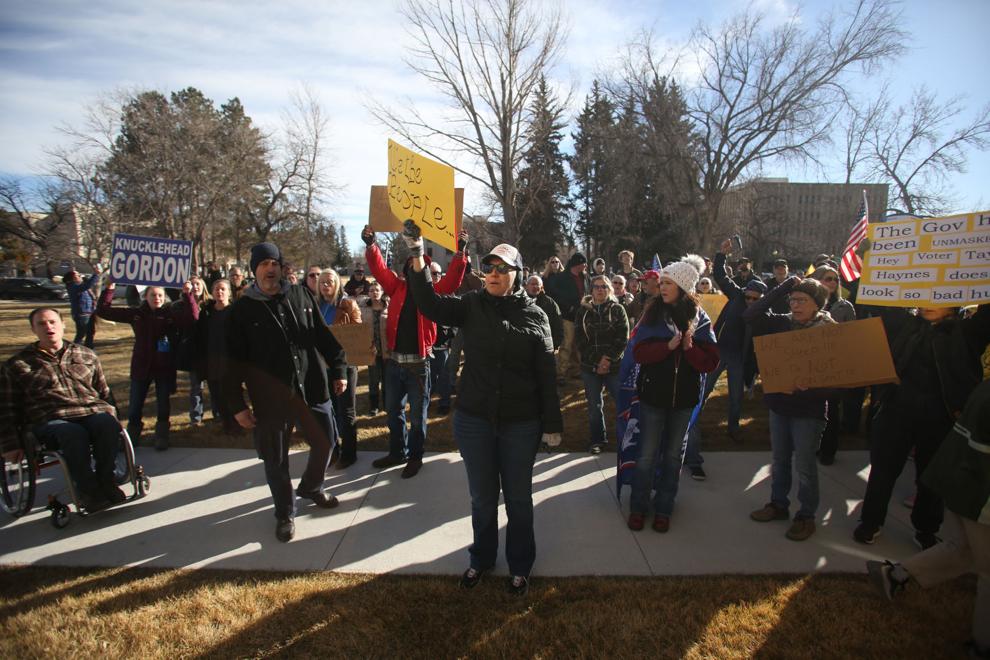 Freedom Protest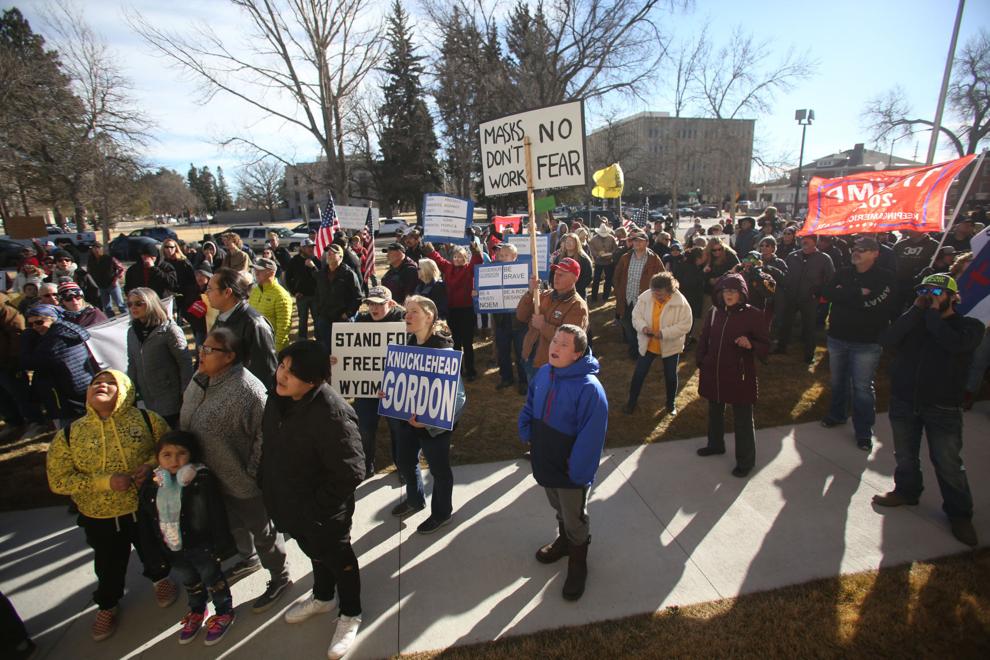 Freedom Protest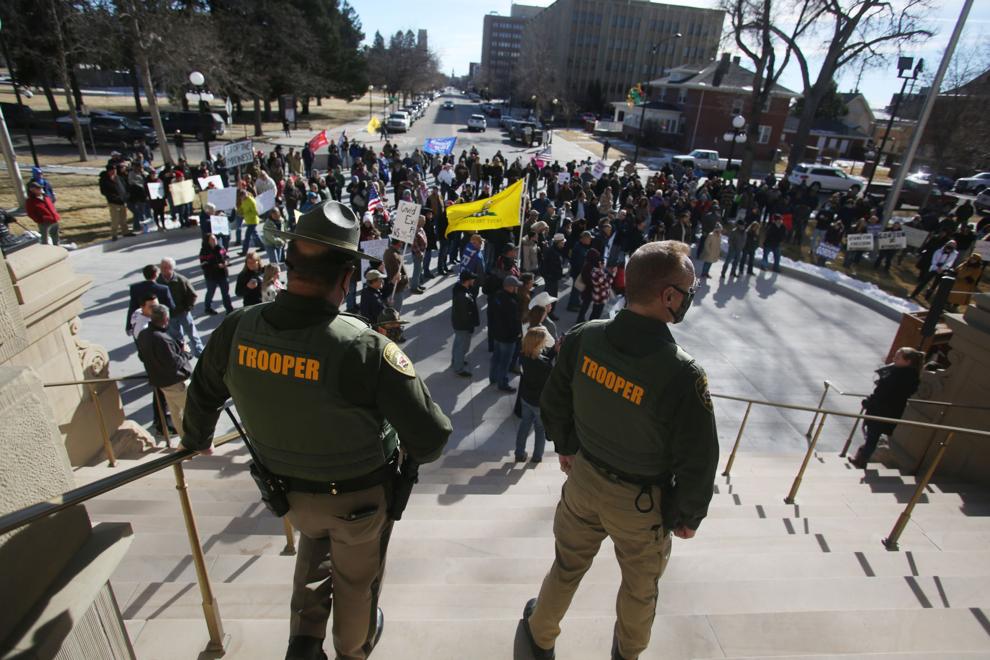 Freedom Protest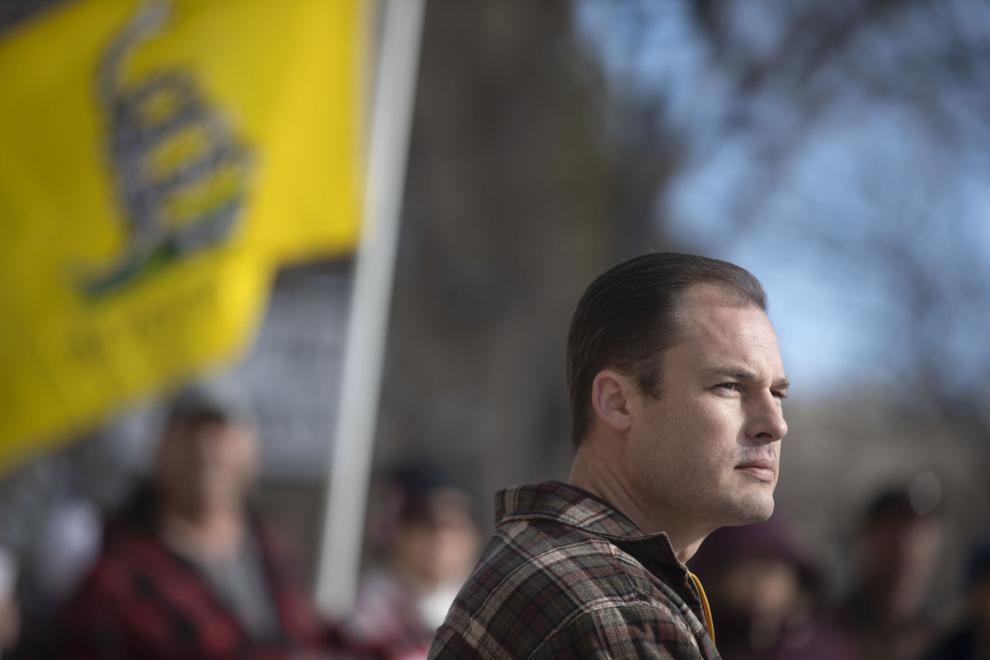 Freedom Protest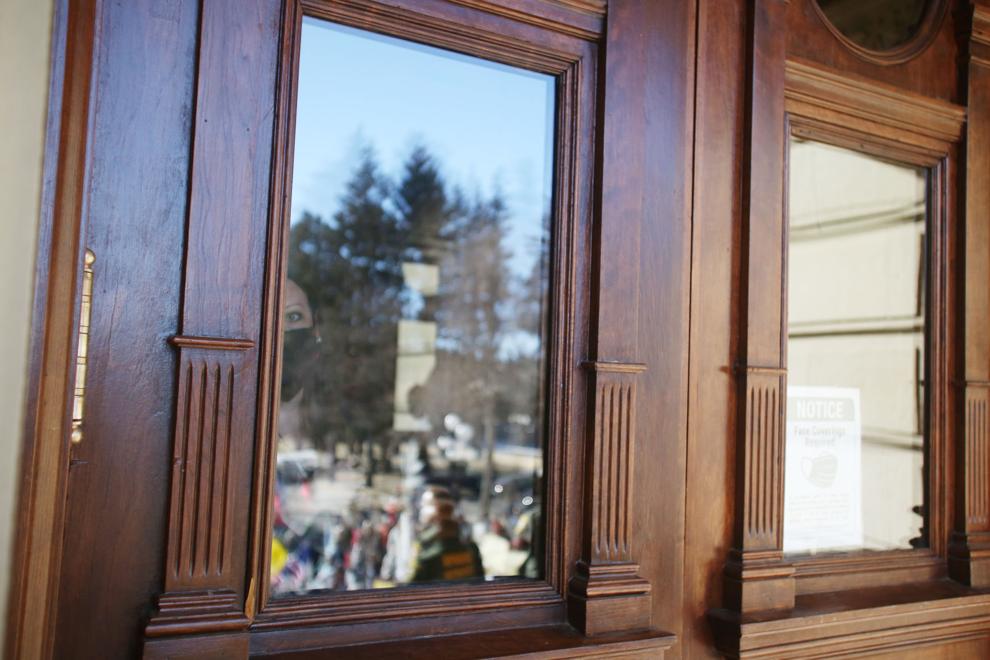 Freedom Protest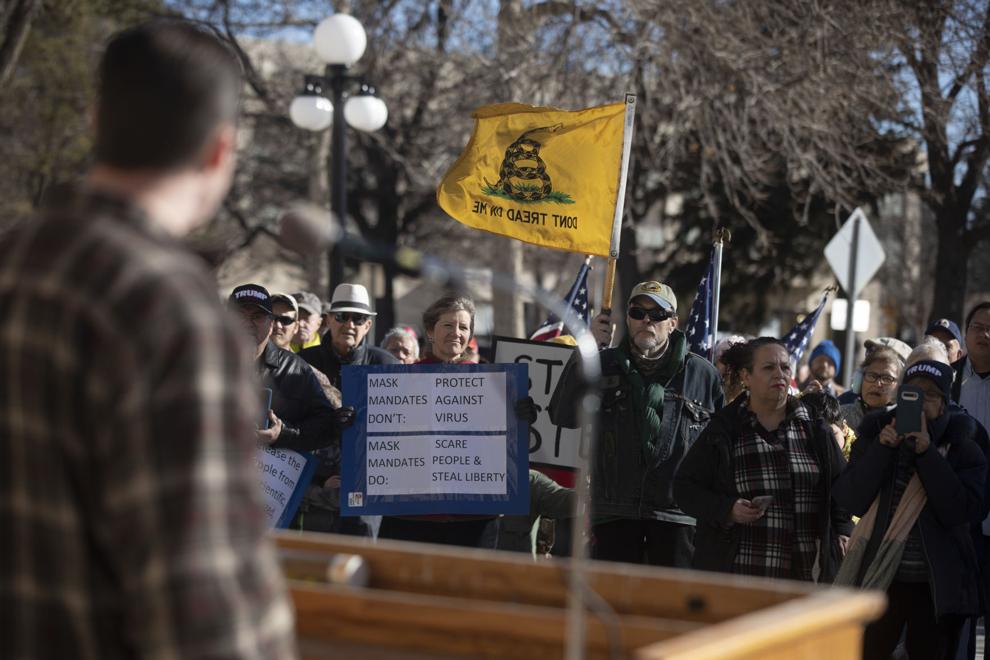 Freedom Protest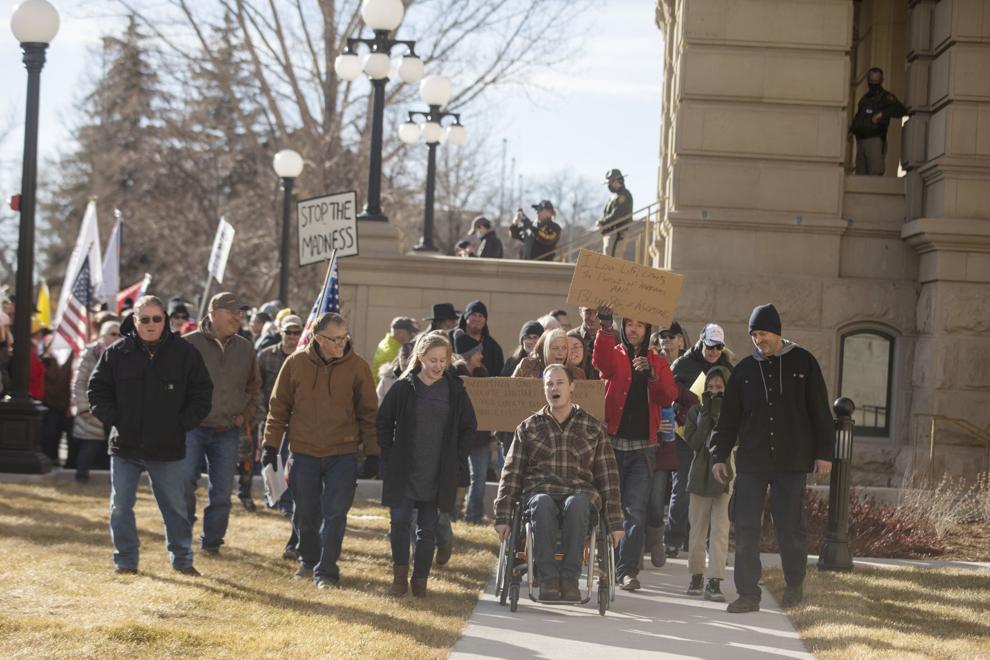 Freedom Protest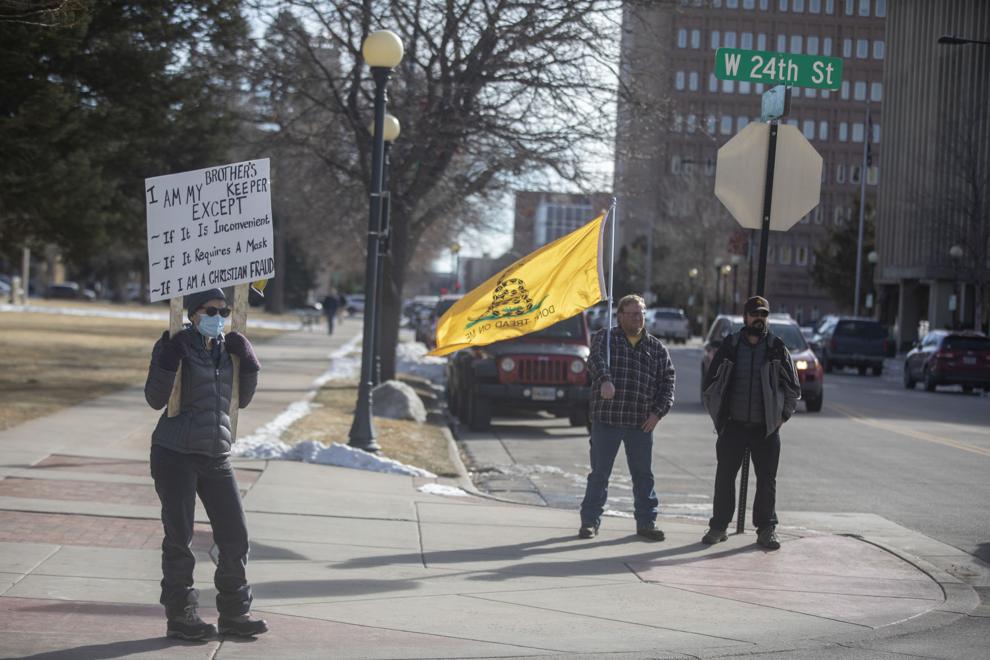 Freedom Protest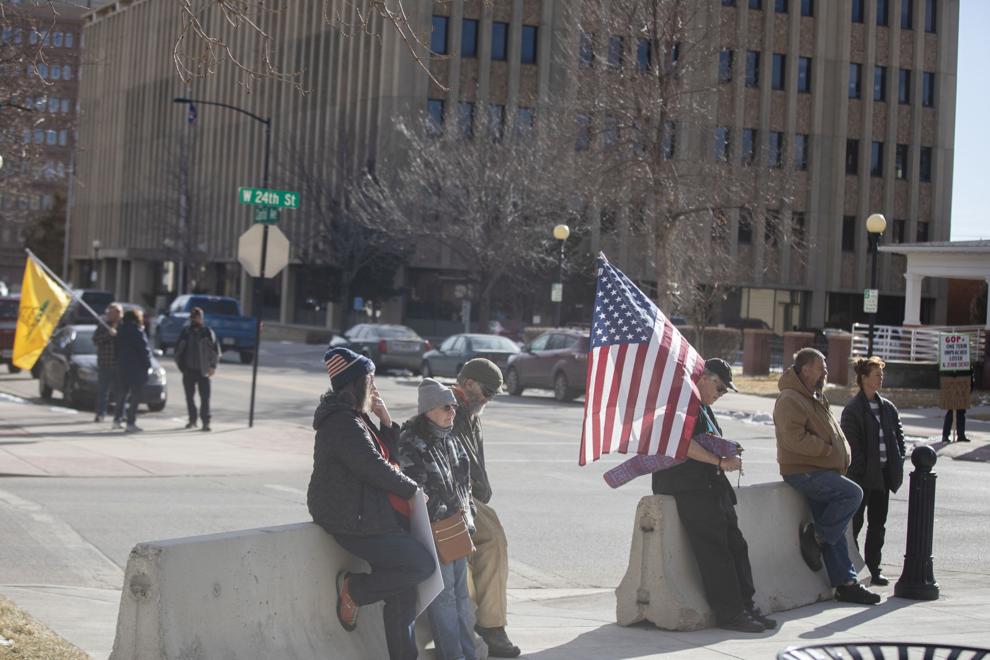 Freedom Protest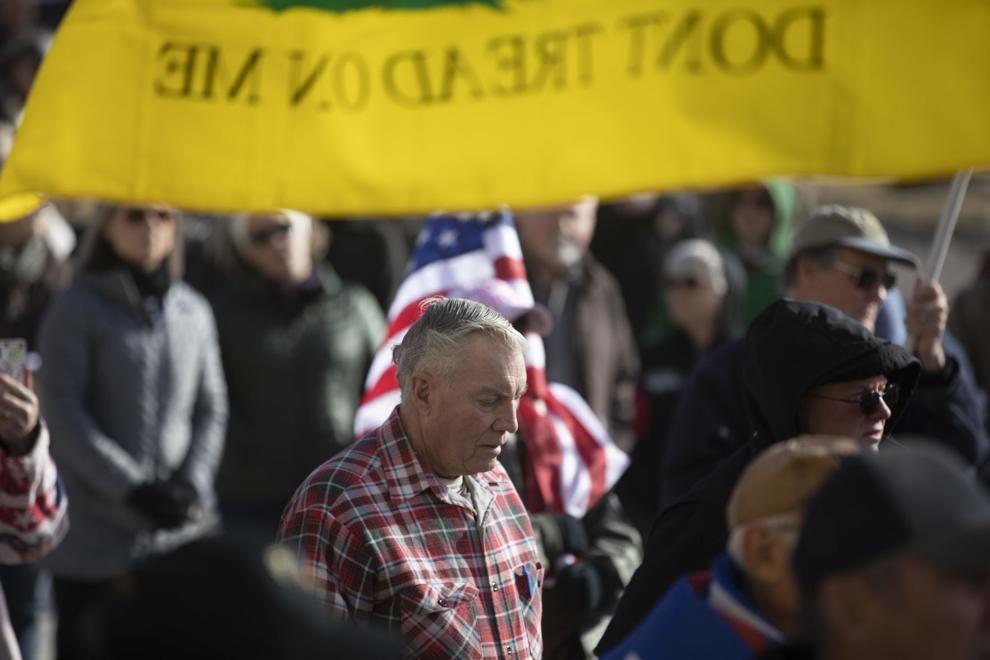 Freedom Protest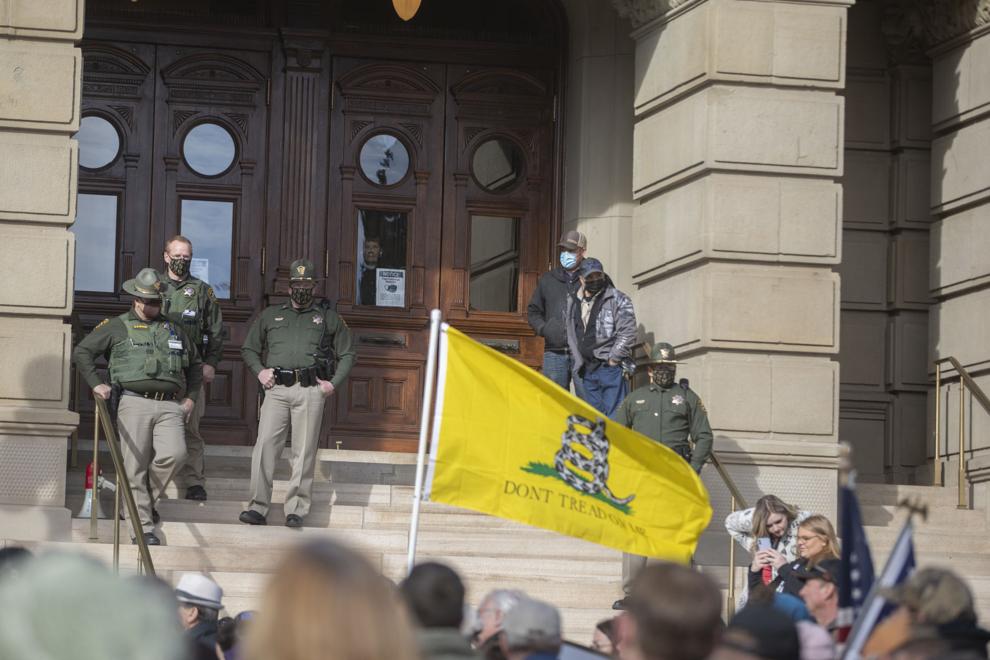 Freedom Protest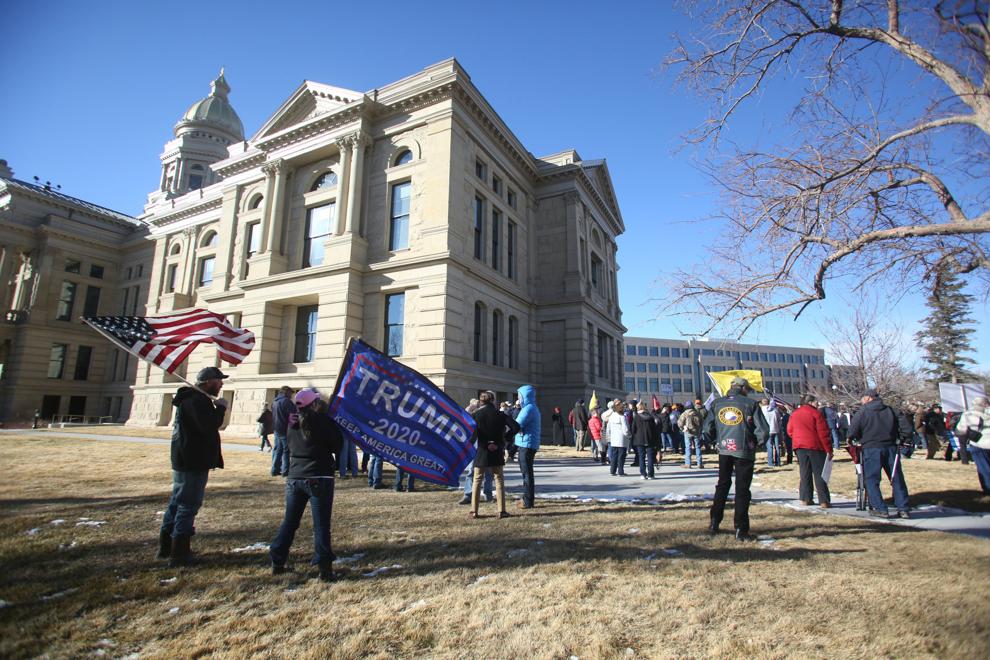 Freedom Protest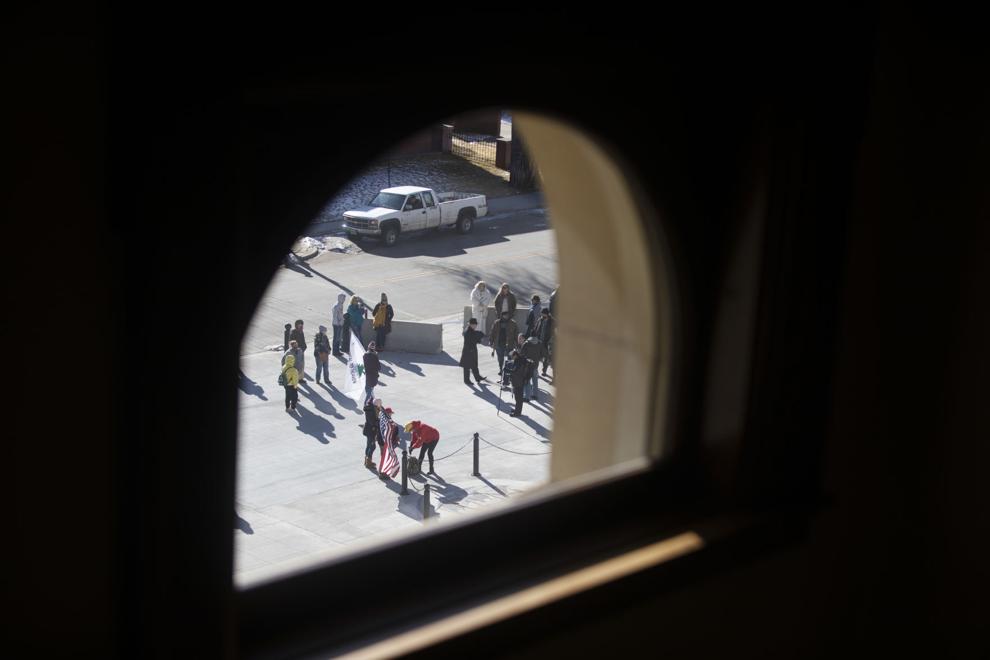 Freedom Protest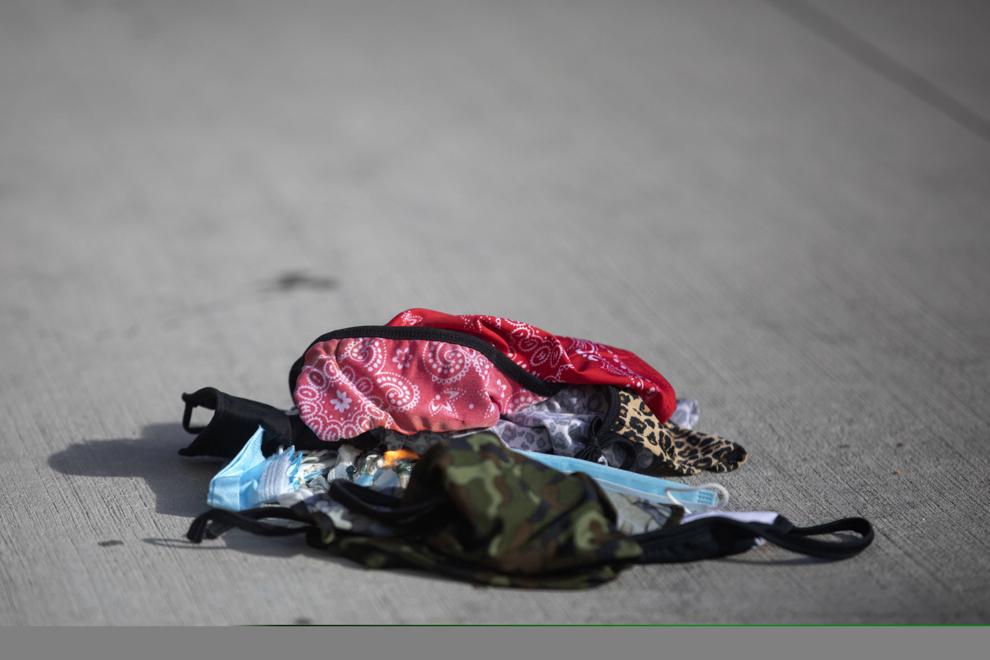 Freedom Protest