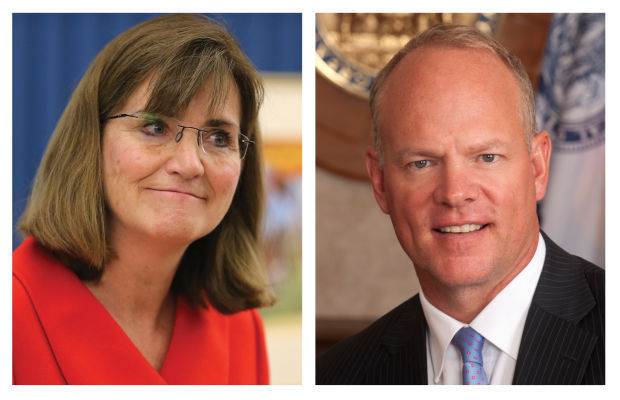 Superintendent of Public Instruction Cindy Hill, who is running for governor as a Republican, promised that she will prohibit her employees from refusing to release public documents for reasons that the Wyoming Supreme Court recently declared legal.
On June 26, the Supreme Court ruled that state officials may refuse public inspection of the documents they used to make final policy decisions. The legal concept is called the deliberative process privilege.
Hill recently called the privilege a loophole that can be used to hide documents from the public. She sent the media a draft of an executive order that she would put into effect if she becomes governor.
The two-page order states that the deliberative process privilege will not be recognized. The order also limits agencies from charging more than 5 cents per page to copy a document and not charge for research time.
State employees must also respond to document requests in a timely manner, as outlined in state law, the draft executive order states.
Violators will be referred to the Department of Administration and Information human resources director and the Wyoming Attorney General's Office, where they could face a $750 fine, the draft order states.
Democracy works when the public is informed, Hill said.
"We shouldn't be putting roadblocks between our citizens and their own information," she said.
Gov. Matt Mead, also a Republican, who is seeking re-election, has supported the deliberative process privilege.
Hill has publicly battled Mead over Senate File 104, the 2013 law that temporarily removed her from the Wyoming Department of Education, until the Wyoming Supreme Court struck it down as unconstitutional.
"Our sitting governor thinks people on the public payroll should have their written ideas and proposals withheld from public view," Hill said in a statement. "That's unacceptable. Those persons are paid by the citizens of Worming and what they do is paid for by the citizens. I find it hard to believe that anyone would suggest, even in jest, that such information should be blocked from the public."
But Mead's spokesman, Renny MacKay, said the state had supported deliberative process before Mead took office. The state exemption is similar to the exemption in the federal Freedom of Information Act, with an extra requirement for state officials to consider public interest, he said.
"Deliberative documents may be disclosed or not disclosed depending on the public interest analysis required of the custodian by the Public Records Act," MacKay said in an email. "Blanket disclosure would indicate a records custodian was not doing his or her job."
Hill's commitment to public records was called into question in the July 2013 MacPherson Report, which looked into her performance as state superintendent.
A Wyoming Department of Education employee told investigators she saw Hill and two other employees discard random pages from an agency response to a public records request made by the Star-Tribune.
Hill denied discarding any pages and said she requested that the state's Human Resources Division investigate the matter.
Dean Fausett, the Human Resources Division administrator, said Wednesday that he did investigate an allegation that documents at the Department of Education had been discarded, but not the matter in the MacPherson Report.
Get Government & Politics updates in your inbox!
Stay up-to-date on the latest in local and national government and political topics with our newsletter.