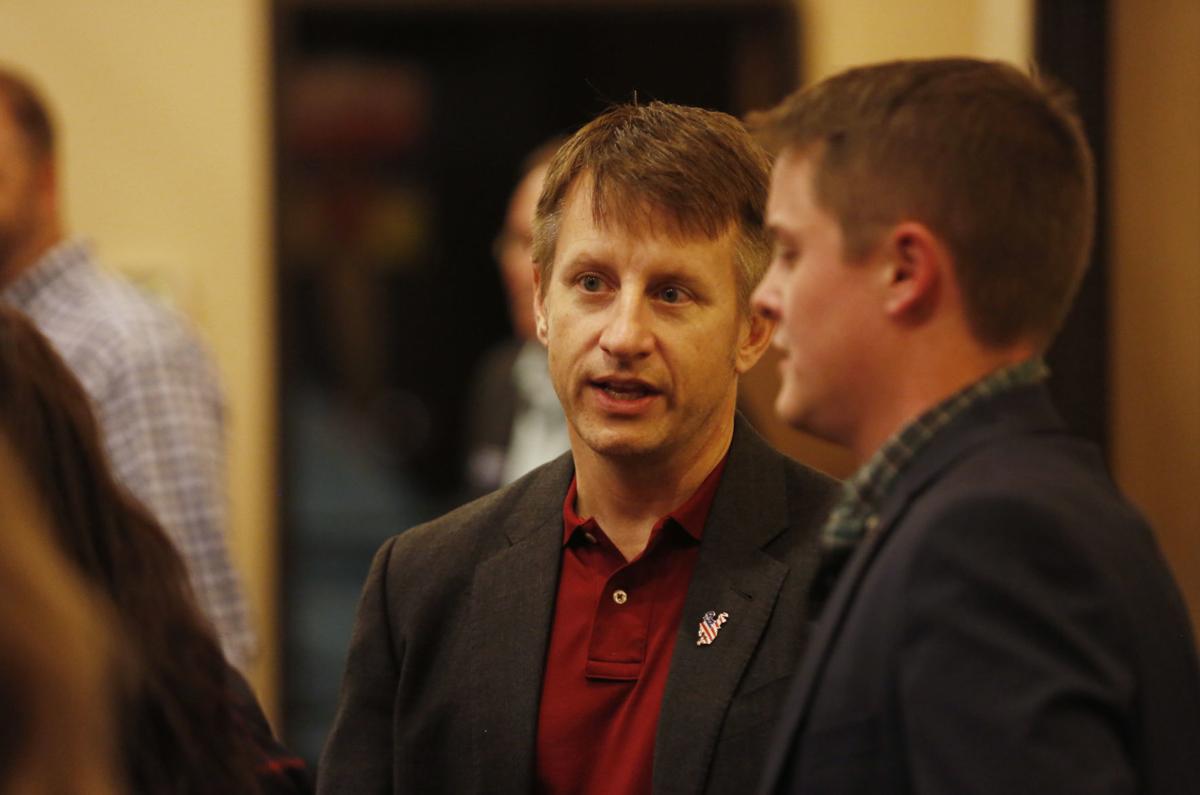 The Natrona County Republican Party overwhelmingly voted in favor of several motions to defy a of a number of proposals churning at the state party level.
The executive committee voted 15-5 at its meeting Tuesday night to pass a formal resolution opposing proposed changes to the state's national delegate selection process — a sore spot for the state's largest counties in recent weeks. The committee also voted to oppose two as yet unproposed policy stances it believes are expected to come up at the state committee meeting in Lovell next month: one that some have perceived could become a conservative litmus test for statewide elected officials and one restricting public employees from running for elected office.
"What we're trying to do as a county party is represent Republicans in Natrona County," county chairman Joe McGinley said following the meeting. "The state party is an umbrella representation of all the counties, and what's important to us here in Natrona County may be different than any other county across the state. So what we wanted to do (Tuesday night) was to have an open debate and discussion so that everyone agrees with that assessment and comes to a general consensus."
Dissent and discontent
Though several of the motions were merely consensus positions against resolutions that might be introduced at the state committee next month, the votes could be seen as a shot across the bow of a state party that has increasingly pulled to the right in recent years.
After the chairwoman of the Laramie County Republican Party wrote a blog post accusing state party leadership of "corruption" within the state party last week, the Natrona County Republican Party — the state's second-largest Republican group — has taken the step of openly defying priorities the state party is currently pursuing. Many say the state party has become increasingly reflective of and controlled by its minority, rural membership, which is much more conservative than its more urban counterparts.
McGinley declined to go that far in his assessment of the committee's decision, however, despite the county party leadership's overwhelming support of the motions.
"As far as a 'shot across the bow,' it may be perceived as that, but we're just looking out for the best interests of Republicans in Natrona County," McGinley said. "That's our job."
In Laramie County, opposition to changes in the delegate selection process is still ongoing. In an email Tuesday night, Olsen confirmed that the committee there is now pursuing a legal review of the proposal that could potentially be taken up by the Republican National Committee.
"We requested for a legal review to be conducted by the state party, however they have not appointed a new person to fill the legal counsel role for the party," she wrote in an email Tuesday night. "They have asked the parliamentarian to review the issue, but he is a parliamentarian and not a legal mind so we have not been able to get a proper review conducted by the state party. Today I submitted a request for the RNC to conduct a legal review due to the absence of counsel at the state. I have not heard back from the RNC yet but hope to soon."
Limiting the scope
You have free articles remaining.
In bringing Tuesday night's motions, members of the Natrona County executive committee mentioned a number of discussions they say took place earlier this year at a meeting of the state central committee in Riverton.
Beyond the changes to the delegate selection process, the state central committee could be considering two additional resolutions that could be perceived as a means to refine who can run for public office as a Republican.
The first is implementing a type of "grading system," where a committee of Republicans at the state level would somehow evaluate lawmakers' voting records and how they align with the statewide party platform. Though few details are known about how the system would work, some saw the resolution as a means for a select group of Republicans to set their own definitions for what it means to be a Republican in Wyoming — a definition that could prove to be highly subjective.
"No matter how you look at it, it's grading. You can paint it any way you like," said Rep. Pat Sweeney, R-Casper. "But I wonder whether it's even constitutional, taking unfairly things that could be out of context on the last vote. I make it pretty clear what I vote on. I don't understand why the state party (would do it). ... I would like our county to actually take a stand against this action."
Rep. Joe McGuire, R-Casper, said that a grading system could be used to create a "moving target" against legislation the state party doesn't like — for example, the party using lawmakers' voting records on commercial air service to justify pulling financial support from them in contested elections last year, despite the fact there was no mention of commercial air service anywhere in the state platform.
A grading system, Sweeney said, could also ignore realistic issues lawmakers currently grapple with, like the collapse of the state's coal industry, by issuing blanket opposition to any new taxes. The prospect also raises the question of whether the state party's job is to support Republican lawmakers and candidates or to define what a Republican is and serve as a lobbying organization for an arbitrary collection of conservative values.
"I am on the revenue committee. I will always be at odds with the party platform, because we're always trying to come up with revenue solutions," Sweeney said. "That's our job."
Though the committee voted 15-5 to take a position opposing such a system, some members on the committee were in favor of such a system. One member of the committee said that politicians, as elected officials, should expect to be scrutinized, while another said there was a greater trend across the country of Americans tiring of people calling themselves a Republican but not voting like one.
"Your party is like your religion," she said. "You don't just join any church. You go to a particular one, because what they believe in aligns with what you believe."
The county party also opposed potential rules that could bar public employees from holding public office while receiving money from the state — a rule meant to limit potential conflicts of interest but one that could, some speculated, bar anyone from a school teacher to a rancher with permits on federal lands from holding public office.
Though constitutionally dubious, the initiative also calls into question whether the state truly wants a citizen legislature, particularly given that a disproportionately large proportion of the state's workforce is employed by the public sector.
"If you want to kick schoolteachers or ranchers out of the legislature, you ought to change the constitution," said Rep. Steve Harshman, R-Casper, who was in attendance at the meeting. Harshman is a teacher at Natrona County High School.
Follow politics reporter Nick Reynolds on Twitter @IAmNickReynolds