By all appearances, Wyoming's Republican leaders should have it easy. The state is, by various metrics, the most conservative — and most Republican — in the country. But there's a paradox in that control: When everyone's a Republican, what does it mean to be a Republican?
That question was on open display in Cheyenne last November, when a top party official castigated the Legislature's revenue committee — dominated by members of his own party — for deigning to consider tax increases.
The Wyoming Republican Party platform was explicit in its opposition to new taxes or fees, Charles Curley, the party secretary, told lawmakers. But 12 Republican legislators looked back at him impassively.
Sen. R. Ray Peterson, R-Cowley, was especially unswayed. He fired back that it was the revenue committee's explicit job to suggest ways of raising revenue.
The party, it seemed, didn't have much power to whip votes. Political watchers largely agree.
"If you look at the condition of the state Republican party, its influence and effectiveness, it seems like every cycle it gets worse and worse," said GOP political consultant Bill Cubin. "There's not that much competition, so there's nothing to make them better."
Party chairman W. Frank Eathorne disputes that characterization, arguing that in fact Republican activists across the state are more energized than ever and will seek to elect candidates in the 2018 election that hew to the official party platform. Earthorne argued Curley's comments to the revenue committee shouldn't be taken as a red flag, saying that he was comfortable with the variety of positions held by party members.
"We see the number of Republicans in Wyoming being so large as a strength because of the diversity of opinions," Eathorne said. "We're not interested in making robotic statements."
The diversity of Wyoming Republicans is especially relevant heading into this legislative session, as lawmakers decide how to fill an $850 million budget deficit. Questions facing the GOP-controlled body include how to balance raising revenue with cutting spending, how much Wyoming should put toward its public schools and whether it's appropriate to divert savings to cover government operations. And Wyoming lobbyists will tell you that looking at the letter next to a lawmaker's name doesn't offer much insight into how they're planning to vote.
"The Republican Party is not a monolith, and particularly here in Wyoming — probably because it's been this way for so long — you have a lot of people who disagree with each other in one party," said ACLU of Wyoming's executive director Sabrina King. "It changes the dynamic."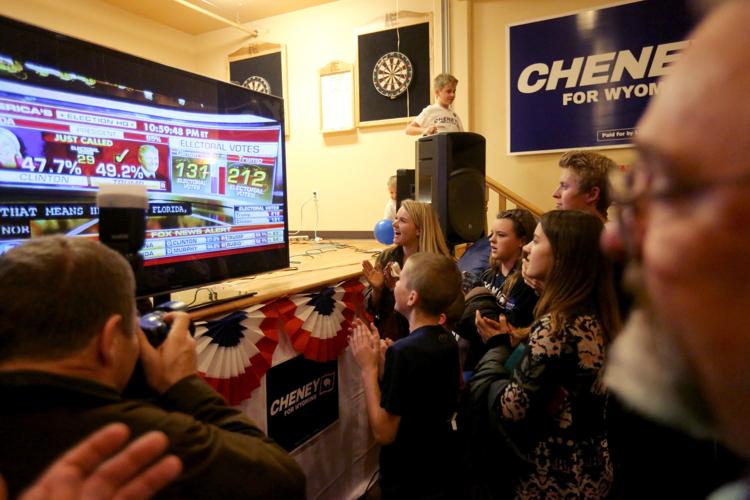 Most conservative
Republicans hold 87 percent of seats in the Wyoming Legislature, the largest share anywhere in the country. With just three Democrats in the Wyoming State Senate, some of the topical working groups, like the agriculture and health committees, are composed entirely of Republicans.
"The notion you have committees without any minority party members — that's pretty remarkable," said Steven Rogers, a professor at St. Louis University who studies partisan politics in state legislatures.
Other than the governorship, which was held by a Democrat as recently as 2009, Republicans have controlled every statewide elected office — auditor, schools superintendent, secretary of state and treasurer — since 1995.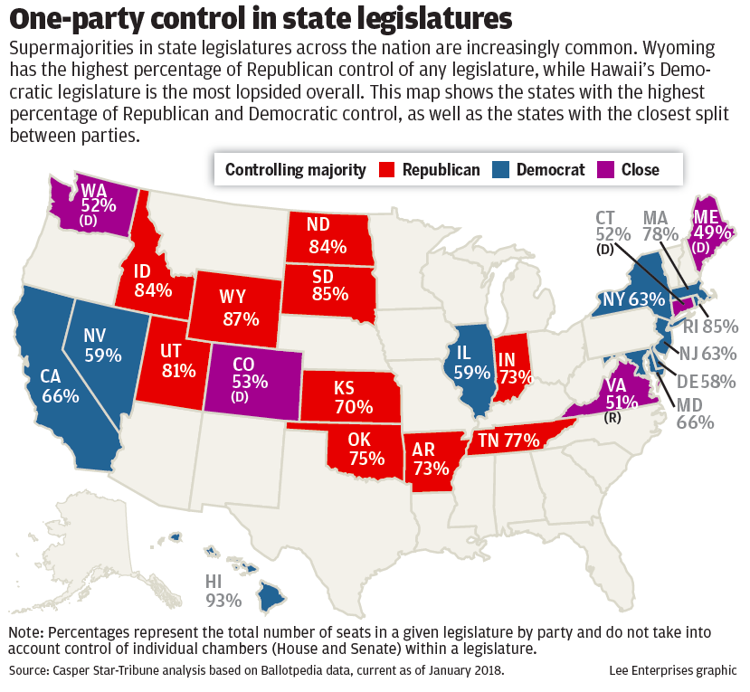 While relatively few public opinion polls are conducted in Wyoming, those there are underline the GOP's dominance. Wyoming has long been a conservative state, and Republicans have held the Legislature for over 50 years, but political observers say the trend right has only increased in recent years. January's Colorado College Western States Survey found 67 percent of Wyoming respondents were registered Republicans and that the percentage of self-identified moderates had fallen from 37 percent in 2011 to 32 percent this year.
"The Republicans have always had a majority," said League of Women Voters lobbyist Marguerite Herman, who covered the Legislature as a journalist. "But this is about as dominant as I've seen."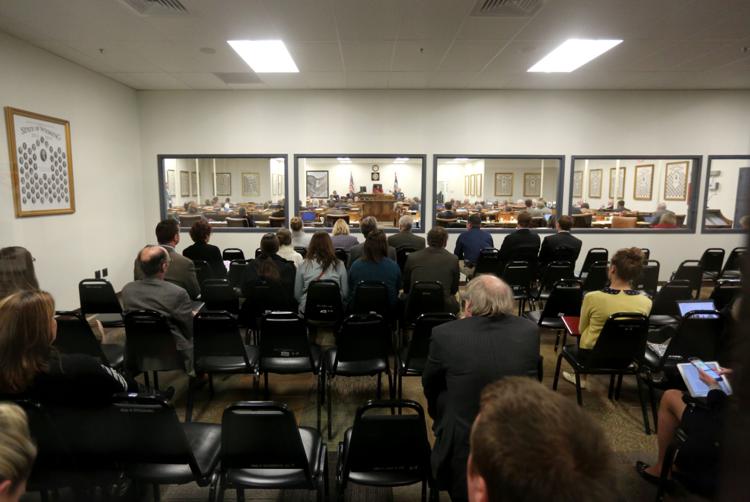 Not based on the letter
But beyond a few areas of near-universal agreement, experts say party affiliation doesn't say much about what direction the Legislature will take on a given bill.
Mike Moser, a longtime Republican lobbyist who works largely on behalf of alcohol and tobacco interests, said that while he sees the most party unity on revenue issues, even there some Republicans stray from party orthodoxy.
"What does it mean to be a Republican?" Moser said. "One could say 'fiscal conservative,' but if one is supporting tax increases it's hard to live by that. I think there's enough free thinking we can't really say we're a doctrinal Republican state."
Some seek to explain the views of different Republican lawmakers by grouping them into factions:
libertarians, who are reluctant to spend on government services but are also opposed to some typically conservative positions like restricting abortion or barring same-sex marriage;
social conservatives, who lobby for just those issues and often fail to convince enough of their Republican colleagues to move such bills forward;
moderates, derided by critics as "RINOs," or Republicans-in-name-only, who don't support socially conservative causes and aren't eager to slash state spending or kill all new tax proposals.
This view presents Republican lawmakers as something of a pie. Take a full slice of moderate lawmakers, a piece of the libertarian slice and sprinkle in the handful of Democrats hanging around the Jonah Business Center to find enough votes to block new abortion restrictions. Or take the socially conservative slice, pull in a few moderates concerned about reelection, and those same restrictions might pass.
"The coalition building is similar to other states," Moser said. "Except that we do it among Republicans."
You have free articles remaining.
But there's another view that does away with the idea of cohesive factions within the party and focuses instead on lawmakers as individuals.
Phoebe Stoner is executive director of the Equality State Policy Center, a coalition of left-leaning organizations. But the group lobbies on a wide variety of issues, including some good government items with bipartisan support. Stoner believes in approaching legislators as individuals, setting aside where they fall on the Legislature's ideological spectrum.
"It takes more time because of that," Stoner acknowledged. "You can't just make a judgement based on the letter beside a person's name. You have to understand where they're from and what they do there and what their values are."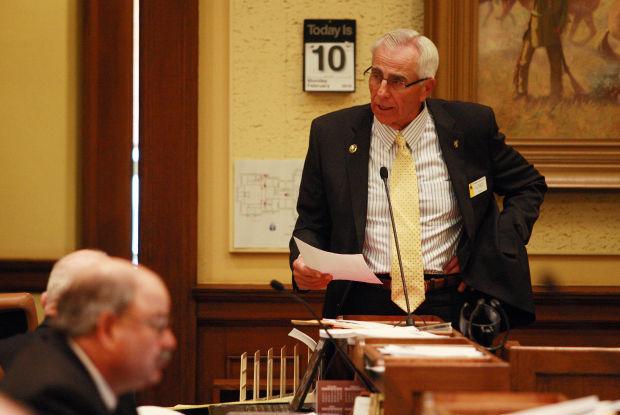 'We can do different things'
One might think that the reduced importance of party affiliation in a Legislature where nearly 90 percent of the members are Republican would make life difficult for the body's leaders. But Senate President Eli Bebout, R-Riverton, said he doesn't mind. While he may never get as many votes as he wants on a given bill, the upholding of key Republican priorities — like low state spending and few new taxes and regulations — is almost always guaranteed. With votes to spare, Bebout is happy for lawmakers to vote their conscience.
"If it was 16-14 and there was an agenda driven by our party, I would expect the Republicans to support that vote," Bebout said. "But the beauty of having a super majority is that we can do different things."
"Different things" explains how a veteran Republican lawmaker like Rep. Mike Madden, R-Buffalo, can repeatedly attempt to pass modest cigarette tax increases, only to be shot down by his Republican colleagues. Or, conversely, how the socially conservative brigade of the Legislature, arguably led by Rep. Cheri Steinmetz, R-Lingle, often fail to find traction for hardline restrictions on abortion, despite that being a typically popular GOP issue.
Bebout's comments also underline the difference between his view on revenue — it's hard to say whether Bebout has ever seen a tax that he likes — with the more flexible stance of his House counterpart, fellow Republican Rep. Steve Harshman.
(Further underlying how meaningless party affiliation can be, while Bebout is arguably the most conservative member of the Legislature's leadership, he was a Democrat until the mid-1990s.)
Not changing soon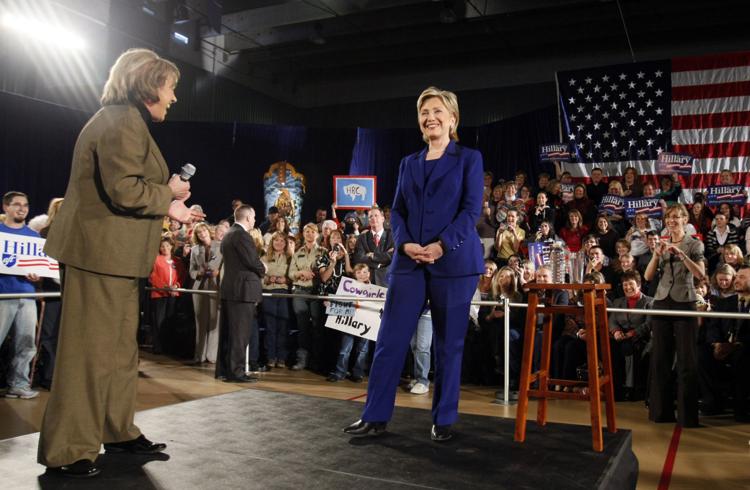 If the sheer dominance of Republicans lawmakers is more stark in the Cowboy State than elsewhere, it's not surprising that Wyoming has an increasingly large GOP supermajority. University of Missouri professor Peverill Squire, one of the nation's leading experts on state legislatures, said that one-party dominance has become common across the country. Indeed, according to a Star-Tribune analysis, 10 states have at least 70 percent of their legislative seats controlled by Republicans, including several of Wyoming's neighbors: South Dakota (85 percent), Idaho (84 percent) and Utah (81 percent). Three states have the same level of Democratic control.
"We have seen increased polarization in state legislatures, with the two parties pulling farther away from each other and a wider gulf emerging," Squire said. "That's become more pronounced in state legislature in the same way it has in Congress."
As voters get set in their party affiliations on a national level, Wyoming's long-held reputation as a state where personality matters more than party during elections seems to be fading. There were early warning signs of this trend decades ago, when Democrat Kathy Karpan lost her 1994 bid for governor following two terms as a popular secretary of state.
"After the election, so many people actually came up to say, 'I like you and I think you did a good job. But I just don't like Bill Clinton,'" Karpan told WyoHistory.org.
While conservative Democrat Dave Freudenthal, a former U.S. Attorney, was able to win the governor's race twice in the early aughts, no down-ballot Democrats have won statewide office in Wyoming since Karpan's reelection as secretary of state nearly three decades ago.
Rogers, the St. Louis University professor, said that his research shows that unlike governors or U.S. senators, most voters don't know who their statehouse representatives are and don't pay much attention to what the state legislatures do. As a result, they tend to vote based on party affiliation alone. And in an age when both Republicans and Democrats are demonized by their opponents, Wyoming voters appear less willing than ever to cross party lines on their ballot.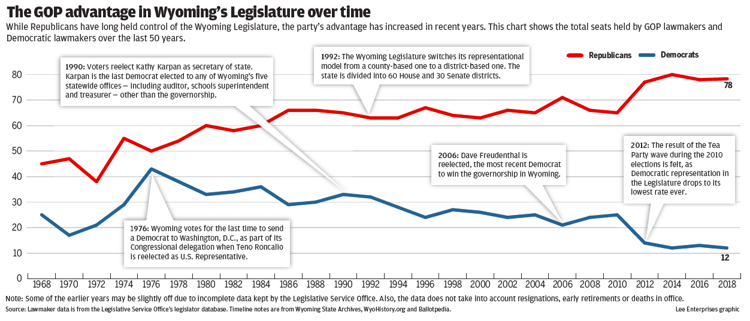 Speaking about this year's governor race — and by proxy the climate for Democrats to win any previously competitive races in Wyoming — Cubin, the GOP strategist, said it was hard to see a path to victory for non-Republicans.
"It's pretty brutal out there right now," Cubin said. "I have a hard time seeing any Democrat winning unless the Republicans just totality implode."
The trends that have created this climate seem unlikely to change. Americans increasingly segregate themselves along cultural and political lines, meaning that conservative regions are likely to become more so, as liberals flee or stay away — and vice versa. Bill Bishop, author of "The Big Sort," a landmark book outlining this phenomenon, said that as this happens, individuals become entrenched in their community's view. In other words, while there might be diversity within Wyoming's Republican party, politicians are unlikely to actually leave the party or advocate for policies that truly go against its core interests.
That means that while there may be significant diversity within the Legislature's Republican caucus, at the end of the day, most lawmakers continue to be bound by at least some rhetorical and substantive constraints. Lawmakers may come down all over the board on less controversial measures, but it is harder to buck the traditional conservative line on the most visible issues. Staring down the $850 million budget deficit, not even moderate Republicans want to be the first to call for, say, new taxes, or to suggest that Wyoming boost spending on public schools.
"Nobody in an all-Republican group wants to be thought of as a closet Democrat," Bishop said in an email. "There's a kind of subtle (and probably unrealized) competition as everyone tries to be a good member of the group."
One way to understand this phenomenon is to examine the revenue committee's January meeting. The committee had taken their task to find ways to raise hundreds of millions in new revenue for the Legislature seriously last fall, debating sales and property tax increases. In November, co-chair Peterson had chastised the Republican party official for criticizing the committee's willingness to consider taxes. But two months later, Peterson joined every one of his Republican colleagues on the committee in killing all the major tax proposals without any discussion. The willingness to violate conservative orthodoxy seemed to go only so far.
"You can't just make a judgment based on the letter beside a person's name. You have to understand where they're from and what they do there and what their values are." — Phoebe Stoner, Equality State Policy Center executive director

"The Republican Party is not a monolith." — Sabrina King, ACLU of Wyoming executive director

"The beauty of having a super majority is that we can do different things." — Senate President Eli Bebout, Riverton Republican

"You can't just make a judgement based on the letter beside a person's name. You have to understand where they're from and what they do there and what their values are." — Phoebe Stoner, Equality State Policy Center executive director

"The Republican Party is not a monolith." — Sabrina King, ACLU of Wyoming executive director

"The Republicans have always had a majority. But this is about as dominant as I've seen." — Marguerite Herman, League of Women Voters lobbyist