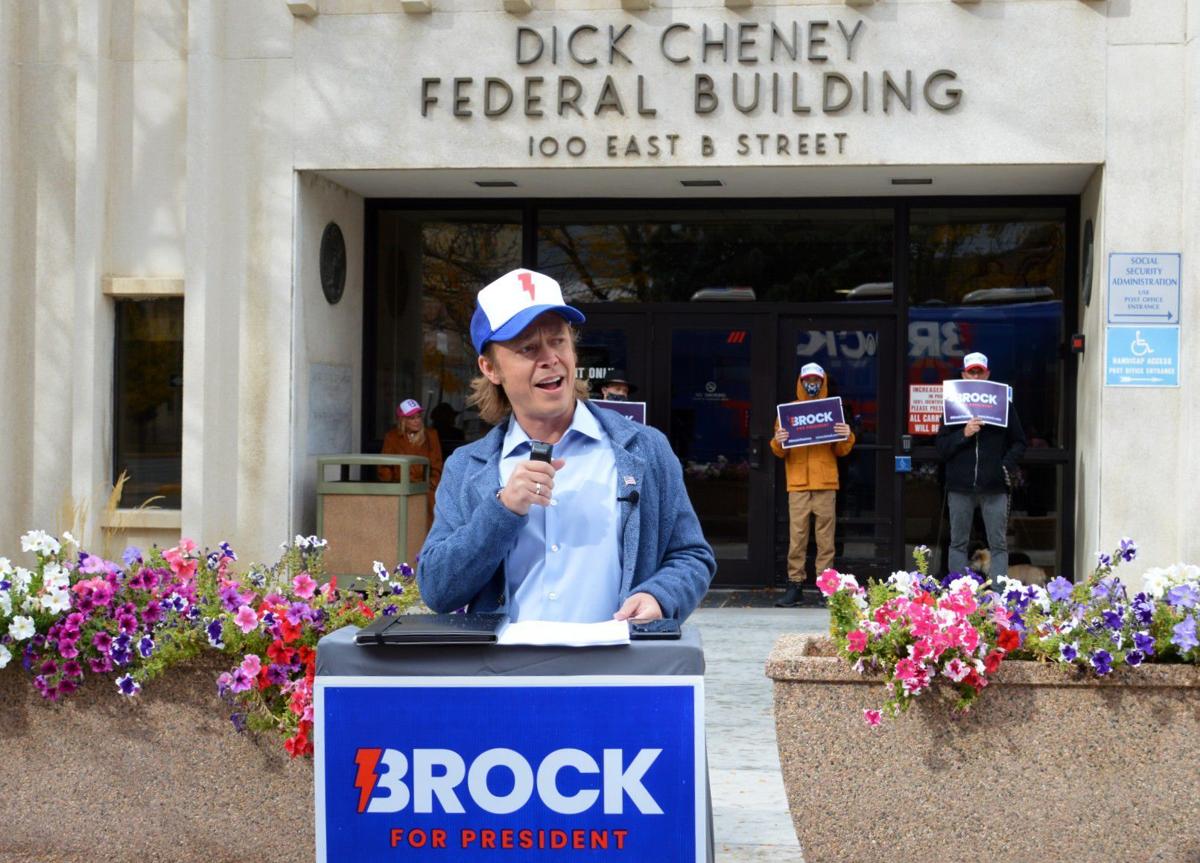 Every four years, the Republican, Democratic, Green, Libertarian and Constitution parties each hold a national convention to nominate candidates, set their platforms and chart a course for their party's future.
On Oct. 23 and 24, the nation will also see an Independent National Convention, where minor, third-party candidates of all stripes will be able to gather and share their messages with whoever will hear them.
And it will be happening in Cheyenne.
In a brief, windy press stop in Casper on Sunday, independent presidential candidate and cryptocurrency billionaire Brock Pierce announced he was organizing the "first ever" Independent National Convention to take place later this month at the Little America Hotel and Conference Center in Cheyenne.
"I'm gonna predict that the INC — in its first inaugural year — will be bigger than the DNC and RNC combined this year," he said. "Wyoming will be participating in making history yet again thanks to this event."
Pierce is the sole independent candidate for president to qualify for the ballot in Wyoming. Kanye West, who lists Cody as his residence, did not submit enough signatures to get on Wyoming's ballot. Pierce did not say whether the rapper will be involved with the convention.
Hotel staff confirmed the date to the Star-Tribune on Sunday afternoon. It will be hosted by the Pierce campaign with the blessing of Cheyenne Mayor Marian Orr, who confirmed her participation in a text message to a Star-Tribune reporter Sunday.
"I believe there's a real conversation to be had regarding a third party in light of the divisiveness going on in our current GOP," Orr wrote. "Of course, this is me speaking personally, but as mayor I welcome the opportunity to showcase and highlight all that Wyoming and Cheyenne has to offer, both in terms as a place to start a business, raise a family, and experience our great outdoors and recreational lifestyle opportunities. Marry that with being the state leading the way in blockchain and cryptocurrency banking, and you have a possible perfect partnership in diversifying our state's economy as this new frontier unfolds."
Blockchain works like a digital ledger book spread out over a system of computers. Because the data is kept in many locations, it becomes more difficult for someone to hack the system. That added security has many applications, including in cryptocurrencies like Bitcoin.
Billed by Pierce as a first-of-its kind event, the Independent National Party — a small, self-branded organization of independent voters — appears to have already held an Independent National Convention of its own back in July, nominating independent candidate Terry Wayne Wheelock out of a list of three candidates with 72% of the vote.
With more than 1,200 independent candidates running for president, however, the first INC was hardly comprehensive.
So far, it is unclear how many of those candidates will be participating in the event. However, the event schedule includes a long list of well-known figures in third party politics like Chad Peace, the legal strategist for the Independent Voter Project; Frank McKay, the Independence Party of America national chairman; and the state chairman for the Independence Party of New York, which endorsed Pierce earlier this year.
The event will also feature Free and Equal Elections Foundation founder Christina Tobin, who has become known for hosting a number of "open debates" for third-party candidates traditionally excluded from national media coverage. Tobin hosted a debate featuring Pierce, as well as candidates for the Green Party, the Party for Socialism and Liberation, and the Constitution Party last week.
"We could have done it anywhere in the country," Pierce said of the convention. "But we wanted to honor this state because of all the history that has been made here, and how much it's chosen to innovate. And then we have a mayor who said 'Let's do it here,' a mayor who is fighting to secure opportunity for her city. She convinced us and, therefore, we will."
Pierce's claim that the event will be bigger than both the Democratic and Republican national conventions is a more attainable goal than in a typical election year. The DNC's in-person attendance list at its Milwaukee convention this year was capped at less than 300 people because of the COVID-19 pandemic, while the RNC was similarly restricted. However, Wyoming's public health orders currently constrain indoor gatherings to no more than 250 people, making his claim an improbable one.
Pierce — whose main residence is in Puerto Rico — has recently made Wyoming a key component of his well-funded bid for the presidency, which will take him into Utah later this week. He recently donated a large sum to the University of Wyoming during its annual hackathon — a large event put together by a number of players in the state's burgeoning blockchain and cryptocurrency sector — and has been rumored to be looking at purchasing property outside of Laramie.
While the nearly $3 million he's spent this cycle is nowhere near the $60 million watermark set by independent spoiler candidate Ross Perot in the 1992 presidential election, Pierce sees this year's campaign as a vessel for setting the stage for a more serious presidential run in 2024.
In a wide-ranging speech in front of the Dick Cheney Federal Building in downtown Casper on Sunday, he spoke against everything from economic lockdowns tied to the COVID-19 pandemic to the "fading" of the country's standing as an economic powerhouse because of political dysfunction and a lack of vision by America's leaders. Pierce criticized the nation's leaders for losing sight of the needs of the American people and small businesses while giving large corporations "massive tax cuts."
"Now is the time to elect independent leadership and to unite our nation and ensure that our cherished freedoms are ensured for all Americans," he said. "Now is the time to secure our liberties rather than live in fear of our safety."
You can learn more about the convention at inc2020.us.