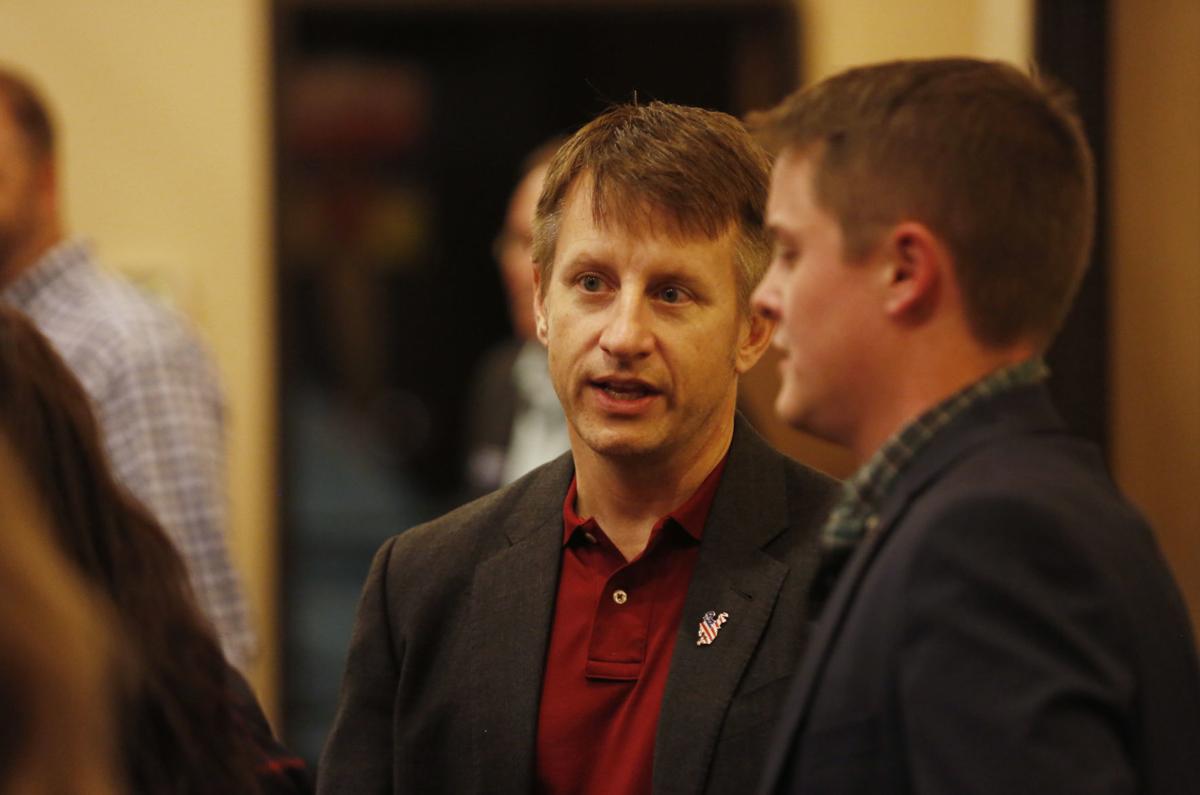 The leader of one of Wyoming's largest county-level GOP organizations says he and several top Republicans have become subjects of a secretive investigation carried out by members of their party's state executive committee — the latest in a growing rift within the party between county bosses and executive leadership.
In an interview with the Star-Tribune this week, top officials with the Natrona County Republican committee said that executive committee leadership approved secret investigations into several county committee chairs for activities deemed to be "detrimental to the party," Natrona County GOP chairman Joe McGinley said.
McGinley's allegations were corroborated in separate interviews with Republican leaders in two other counties.
The investigations — which were revealed in an executive session of a meeting of the state central committee in Lusk over the weekend — came following a number of resolutions passed by both committees seen as defiance against a party apparatus McGinley said has become hijacked by extremists. McGinley, as well as Laramie County GOP Chairwoman Dani Olsen, have garnered intense scrutiny from state party leadership throughout the past several months for their vocal opposition to a number of actions taken by the party this year, writing columns alleging corruption by party insiders and supporting a number of resolutions seen by many as openly defiant of the state party.
Olsen, who did not confirm or deny she was one of the officials under investigation, said that the party has taken an extreme turn in its previous two meetings, passing a number of resolutions designed to quell dissenting voices within its ranks.
At its meeting in Lusk last weekend, members of the state central committee approved a number of extreme measures, including one apparently designed to punish those whose views do not fall in line with those of the rest of the party — views that majorities of the largest county committees often disagree with — while rejecting measures submitted by the Natrona County GOP that would have protected free speech.
"As a conservative Republican myself, it's horrifying," said Joann True, state committeewoman for the Natrona County Republicans. "To watch people go up there and speak against transparency and the ability for people to go up there and express an opinion without repercussions is just absolutely baffling. It's a little embarrassing to walk out of there and have people read that knowing I'm a member of the central committee."
According to a copy of the resolutions obtained by the Star-Tribune, the Wyoming Republican Party now reserves the right to dictate the stances of all of its members, arguing that while "the First Amendment applies to all Americans in affairs public, governmental and social, it does not supersede the conduct and expression within the confines of a private organization made up of voluntary constituents."
Those that don't fall in line, the resolution reads, could be subject to discipline.
"Any notification from a governing body, including the Wyoming Republican Party, that violating our party's principals (sic), by-laws, governing documents or rules of order, could subject a fellow Republican to a disciplinary committee review or disciplinary actions runs directly in lock step with Republican Party and Constitutional principles of individual responsibility, good order and the sovereignty of a private organization," a provision contained in a copy of the resolution obtained by the Star-Tribune reads.
"I know many times with the resolutions and the processes that were happening, I was looking around the room at the other delegates around me, and we were just left with our jaws dropped, asking, 'What is happening?'" Olsen said in an interview. "There were different practices happening than what the central committee members preached.
"We're limited with the tools we have to show our disagreement and, based on their anti-free speech resolutions, now face disciplinary action for not speaking in unity," Olsen added. "We all have a fine line we're trying to walk, making sure we're not coming too close to the extreme side or getting too far away from it."
Officials with the Wyoming GOP did not respond to several requests for comment about the existence or nature of such an investigation. On Wednesday afternoon, however, the party put out a news release seeming to address the leak of the investigation's existence, the nature of which was revealed during a closed portion of the meeting.
"The Wyoming Republican Party is governed by its bylaws and Robert's Rules of Order," it read. "Some processes are marked as strictly confidential. While the majority of the body has respected this rule, a few members of the State Central committee don't seem to understand this rule."
Phone calls to party officials Wednesday and Thursday following the release have not been returned.
The investigation
For McGinley — the leader of one of the largest Republican organizations in the state — news he was under any sort of disciplinary investigation came as a surprise. No reason was given publicly for the investigations nor the names of who was being investigated, despite the need for any investigative committee to be ratified by the entire body.
Members of the state central committee in attendance at those meetings said in interviews with the Star-Tribune that the formation of the committee to investigate party members occurred at the state central committee's last meeting in Greybull during the summer. Chairman Frank Eathorne did not state the purpose of that committee or who was being investigated, however, declaring it an emergency action.
Per Robert's Rules of Order, this action could not be undertaken unilaterally and needed to be ratified by the full committee — which happened on Saturday, according to a publicly available copy of the meeting's agenda. However, while Robert's Rules arguably dictate that the names of the people investigated and the purpose needed to be revealed, the reasons for the investigation were kept secret ahead of the vote, despite the protests of numerous members of the committee.
Despite the secretive nature of the committee, however, those in attendance interviewed by the Star-Tribune noted a strange number of people at the meeting seemed to know exactly what was going on — individuals who were already in lockstep with the beliefs of the far-right contingency of the party.
"I had no idea what anyone was talking about," said Robert Short, state committeeman for the Converse County Republican Party and the chair of the Converse County Commission. "But there were others who obviously did.
"The common folk like myself were completely caught unawares," he added.
Meanwhile, those who were being investigated were kept in the dark.
"At the time of the mentioning of my name, I had never received any notification whatsoever that I was going to be investigated and for what reason," McGinley said. "We were told it was all in the name of confidentiality that we can't discuss any of this but vote on it. That was the drumbeat — we can't discuss any of this or why, because of confidentiality.
"The process was atypical, to say the least," he added.
A move to the right
As the party proceeds to silence what McGinley deemed as more "mainstream" Republicans, its platform appears to be growing increasingly more conservative.
Most of the resolutions passed by the full committee over the weekend were driven by hard-line conservative ideology, with the list including resolutions supporting voter identification requirements and an objection to a state law requiring vaccinations to be reported to medical providers — a measure taken to prevent public health outbreaks. Even a resolution to support the state's mineral industry — an innocuous proposal on its face — included language in its text denying fossil fuels' role in climate change: a role that has been acknowledged by industry executives themselves since as early as 1982.
"Words are important," McGinley said. "You'll see the title and say, 'That's not that bad,' and start reading all this stuff in the middle, and that's where the craziness comes out. And these were all accepted in an unedited manner, with us saying 'Yeah, we agree with that.' As a representative for us here in Natrona County, it's challenging for us to say we agree with this. Some of us would feel embarrassed to say that this is what we represent."
Those resolutions often translate to the political agendas carried by state lawmakers into Cheyenne over the winter. Notably, several of the resolutions passed by the state central committee over the weekend include references to specific pieces of legislation discussed in the 2019 legislative session and, historically, the resolutions passed by committee members are often used to inform the party's legislative priorities each year.
Over the past year, the state central committee's ideologically driven discussions have begun to cross over into the Legislature itself, commanding a significant amount of committee time during the legislative session. A bill pushed extensively by party leadership intended to ban crossover voting was killed and re-introduced several times last winter. Other priorities — like tougher requirements for voter identification at the polls — persisted well into the 2019 interim, only to be defeated.
No complaints have been filed with the state yet, a spokesperson for the secretary of state's office confirmed this week. But lawmakers are well aware of the pressure.
Few lawmakers over the past year have been singled out more than Casper Republican Pat Sweeney, a moderate whose support of measures like Medicaid expansion have made him a frequent target of the right wing of the party.
Over the weekend in Lusk, one member of the committee moved to have Sweeney censured, offering no reason why; the motion was ruled out of order, Eathorne wrote in an email. And a little more than a week ago, Sweeney was given a score of "0" on an anonymous website intended to call out Wyoming "RINOS," or "Republicans In Name Only." (The state GOP quickly distanced themselves from the website, despite the site drawing heavily from the state Republican Party's platform.)
All of these measures, Sweeney said in an interview, are tools used to try to influence duly elected officials in the Legislature.
"My first three sessions, they made it very clear how they wanted you to think and vote," Sweeney said. "There are duly elected representatives and senators who tend to vote the platform, rather than their constituents. And they absolutely try to adhere as much as they can to that platform."
But Sweeney — who won his seat by more than 20 points in a primary against a much more conservative incumbent — said he will continue to stand by what he believes his constituents believe, rather than a party he says is increasingly out of line with the beliefs of mainstream Republicans. Some say that feeling is shared around the state.
"Don't think for a second this is just Natrona County," said Peter Nicolaysen, a state committeeman for the Natrona County Republican Party. "There are other counties. It's just that us and Laramie County are the loudest. That's the thing they don't like more than anything else. You can think whatever you want, as long as you're quiet about it, and we're a big tent. But once we start talking about issues and not agreeing with how things are run, that's a problem."
One year out from an election year, Sweeney said he'll leave it up to his constituents to decide if he's doing that — not the state central committee.
"I hope at re-election time, if my constituents believe I've done an okay job, that they'll re-elect me," he said. "If not, they'll give me the boot. That's the process."
Many of the county chairs interviewed by the Star-Tribune feared that the recent actions by the state central committee are beginning to jeopardize their abilities to fundraise or recruit younger members to the party. In Converse and Natrona counties, both Short and McGinley said that Republicans were becoming increasingly reluctant to donate.
"Unfortunately, the party suffers because of these activities," McGinley said. "I've had people say they're refusing to contribute if the money has any chance of going to the state party. … By contributing, you're endorsing this activity. That's the bottom line.
"As a county party, I'm glad we have funds in the bank, because getting people to donate is really a challenge right now," he added.
Short fears the executive committee's escalating feud with lawmakers and those who disagree with it symbolizes the beginning of the end for the party as a mainstream force in state politics.
"There's a big concern for me personally," Short said. "Is this the tectonic plate movement that causes such a fracture that the party implodes? 1860 was when this party was formed as the inclusive party but it seems like it's gone the extreme opposite, where you can be included but only if you agree with the extreme aspects of our definition for being a party member. It's so antithetical to our origins as our party."
This trend to the right, some believe, means it's time for change in the party.
"I believe that Chairman Eathorne ought to step aside," Sweeney said. "He is allowing this, and I think he should have the strength to say this isn't what the party needs. He should get this under control, and I know I'm not the only one (who thinks that). Though no one else has called for his resignation, I think he should if he can't get this under control. I know others have asked, and he's chosen to do just the opposite."
Get Government & Politics updates in your inbox!
Stay up-to-date on the latest in local and national government and political topics with our newsletter.