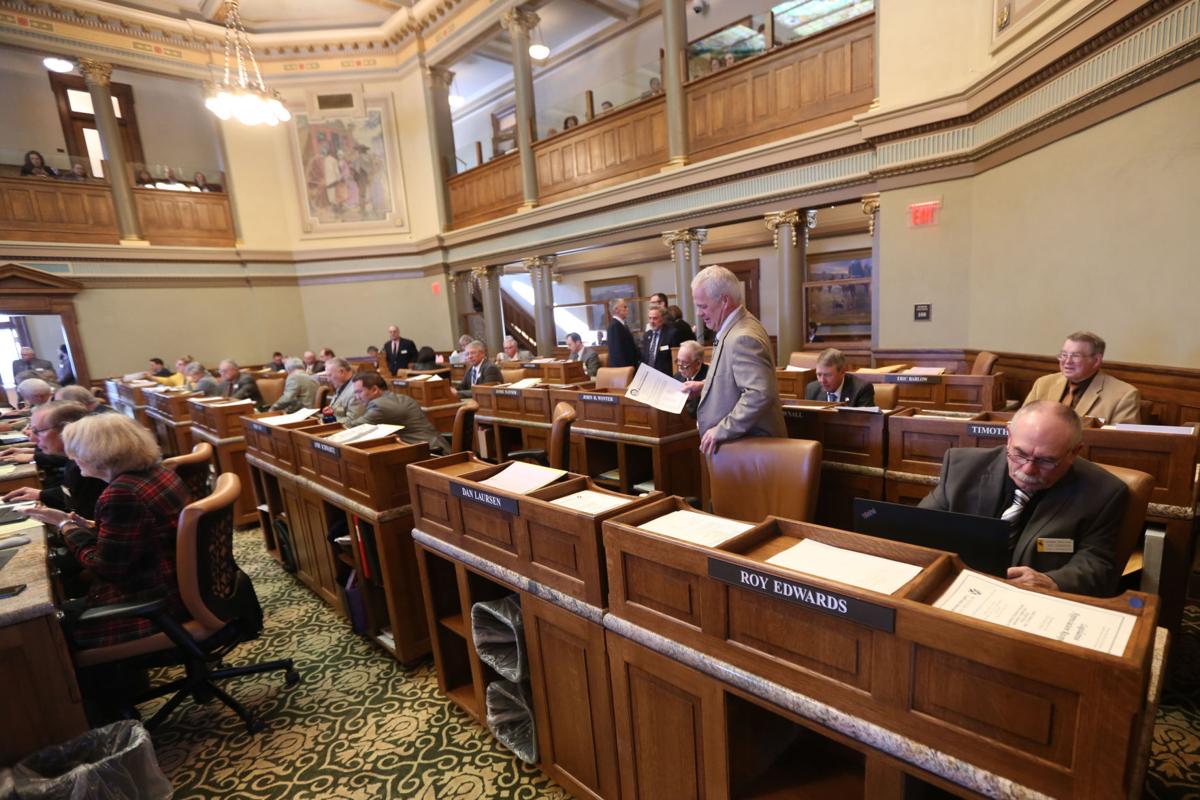 Two opposing factions have emerged ahead of a Saturday vote to decide who will lead the Wyoming House of Representatives for the next two years.
Throughout the week, House lawmakers have been barraged with dozens of emails attempting to influence their votes on speaker of the House and a number of other key leadership positions — a rare politicization of a process that has long been an internal matter among members of the Legislature.
The presumptive nominee for speaker, current House Majority Floor Rep. Eric Barlow, R-Gillette, will face off against Wyoming Republican Party activist and Sheridan Rep. Mark Jennings on Saturday in a bid to replace Rep. Steve Harshman, R-Casper. The power struggle is unusual for a position that has traditionally been bestowed to the second person on the hierarchy.
Several other presumptive nominees for leadership positions — Pinedale Rep. Albert Sommers (majority floor leader), Worland Rep. Mike Greear (speaker pro tempore, replacing Sommers) and Cheyenne Rep. Jared Olsen (house majority whip, replacing Sundance Rep. Tyler Lindholm) — were also rumored to be facing challenges in their bids by a slate of more conservative legislators. Those challengers include Reps. Clarence Styvar, R-Cheyenne, and Dan Laursen, R-Powell.
Three Republican lawmakers told the Star-Tribune that Gillette Rep. Roy Edwards was also planning to mount a challenge for a leadership position prior to his Nov. 2 death. Edwards, whose son said he had COVID-19 when he died, was reelected the next day.
In an email, Jennings said he understood it was traditional for the second person in line to move up to the speaker position. But he said that long-standing tradition was broken two years ago when Harshman took the rare step of running for a second term as speaker along with changing "a number of other House traditions."
With precedent broken, Jennings said it was worth trying something new ahead of the 2021 legislative session.
"The conservative right has seldom even been invited to the table and so I was asked by numerous people to at least throw my hat in the ring to try and bring more conservative ideas to the table (inclusiveness)," Jennings wrote in an email.
Barlow did not respond to a voicemail or email requesting comment by press time.
A new kind of campaign
The insurgent slate of candidates, according to copies of emails reviewed by the Star-Tribune, are being boosted by a group of conservative activists around the state. The Republican Women of Sheridan County have urged their members to push lawmakers to support candidates who closely represent the Wyoming Republican Party platform.
"I am a resident of Wyoming and a member of the Republican party," a copy of the form letter obtained by the Star-Tribune reads. "It is of utmost importance to me that Republican members of the Wyoming Legislature and its leadership team substantially uphold the Wyoming Republican Platform, it is a contract they make with their constituents upon election. I am writing to ask for your support in electing a Speaker of the Wyoming House of Representatives, and team that will serve with him, who has the highest rankings substantially upholding our Platform."
Their standing against the platform, according to the emails, were based on two separate ratings systems found on the websites EvidenceBasedWyoming.com and WyoRINO.com, a pair of platforms created by conservative activists that use subjective rankings of "true Republicans" against what they deem "Republicans in name only," or "RINOs."
The effort has been echoed by Wyoming Republican Party chairman Frank Eathorne, who wrote in a recent editorial that candidates who do not closely adhere to the party platform should not be considered Republicans at all — a threshold some critics have characterized as a "litmus test."
The group of insurgent candidates, Jennings said, only express an allegiance to the platform they were elected to uphold.
"I don't know that this was a slate, but it is a group that believes leadership should reflect closer alignment with the Republican Brand that they got elected on," he wrote. "As to whether we should be an arm of a political party, no but elections have consequences, and clearly a good share of the people want their elected officials to adhere closer to their party's platform that they ran on."
Also popping up in an email chain regarding the elections was GOP megadonor Dan Brophy, who successfully supported a number of far-right candidates in their bids to unseat more moderate Republicans in this summer's primaries.
"There is no more important matter in Wyoming right now than this upcoming election of Speaker of the House," Brophy wrote in the email. "The choice is between conservative (reflecting the direction voters set in this year's election results for legislature), or more big government in Wyoming which has got our state in such trouble."
In an email exchange with a Star-Tribune reporter, Brophy said the email — which was forwarded to lawmakers by outgoing Johnson County Republican Richard Tass — was intended to be sent only to his "own circle of contacts," and that the elections are internal matters "to be hashed out among the members."
Unprecedented step
The rhetoric of the emails, while commonplace in the 2020 Republican primary elections, represent an unprecedented shift in Wyoming politics: namely, the injection of outside influence into a vote that has traditionally been held and debated internally by members of the Wyoming Legislature.
"I have never — in eight terms — seen emails trying to influence the election for speaker of the house," said Rep. Dan Zwonitzer, R-Cheyenne, one of the longest-tenured members of the Wyoming House of Representatives. "It just has never happened. There have been former legislators who retired or didn't win their races who would email us with the name of the person we should pick and send it to newer members, but I've never seen outside people who were not legislators feel compelled to email the rest of us on who we should select for leadership."
It also represents a marked shift in the way leadership elections are carried out. While the process of selecting leadership positions typically is conducted through person-to-person conversations between lawmakers, Jennings' candidacy for speaker of the house was unknown to most legislators until the form emails begun to pop up in their inboxes. Other members named alongside Jennings have not yet publicly announced their intentions to run for those leadership positions, according to several Republican lawmakers interviewed by the Star-Tribune.
That, Olsen said, represents a troubling shift in the manner business is conducted in Wyoming politics.
"We're a very civil group in the way that we conduct ourselves," Olsen said in an interview Wednesday afternoon. "The debate is very professional. And in my opinion, the caucus leadership runs have always been very professional and very civil. I have never seen anything like these outside sources. Frankly, I'm surprised. I'm actually surprised that Representative Jennings hasn't responded to our body and said that it isn't appropriate for outside sources to talk about is like that, that it's not necessary, and that he can win an election talking about himself and not talking about somebody else."
Jennings — who stated in an email he has since begun making his intentions known — said he did not solicit the emails sent to members. Still, the public has a right to express their opinions to their elected officials, he said.
"I don't understand why any elected official would be opposed to hear the public's opinions," he wrote.
The Wyoming Senate — which has so far been tight-lipped about their leadership elections — have not experienced a similar power struggle among their ranks, said presumptive Senate President Dan Dockstader, R-Afton.
However, conversations over committee assignments — while clearer on the House side — have been "ongoing" on the Senate side, Dockstader said.
"I want to make sure I talk to everybody first," he said.
Correction: A previous version of this article said Rep. Richard Tass, R-Buffalo, was from Sheridan.