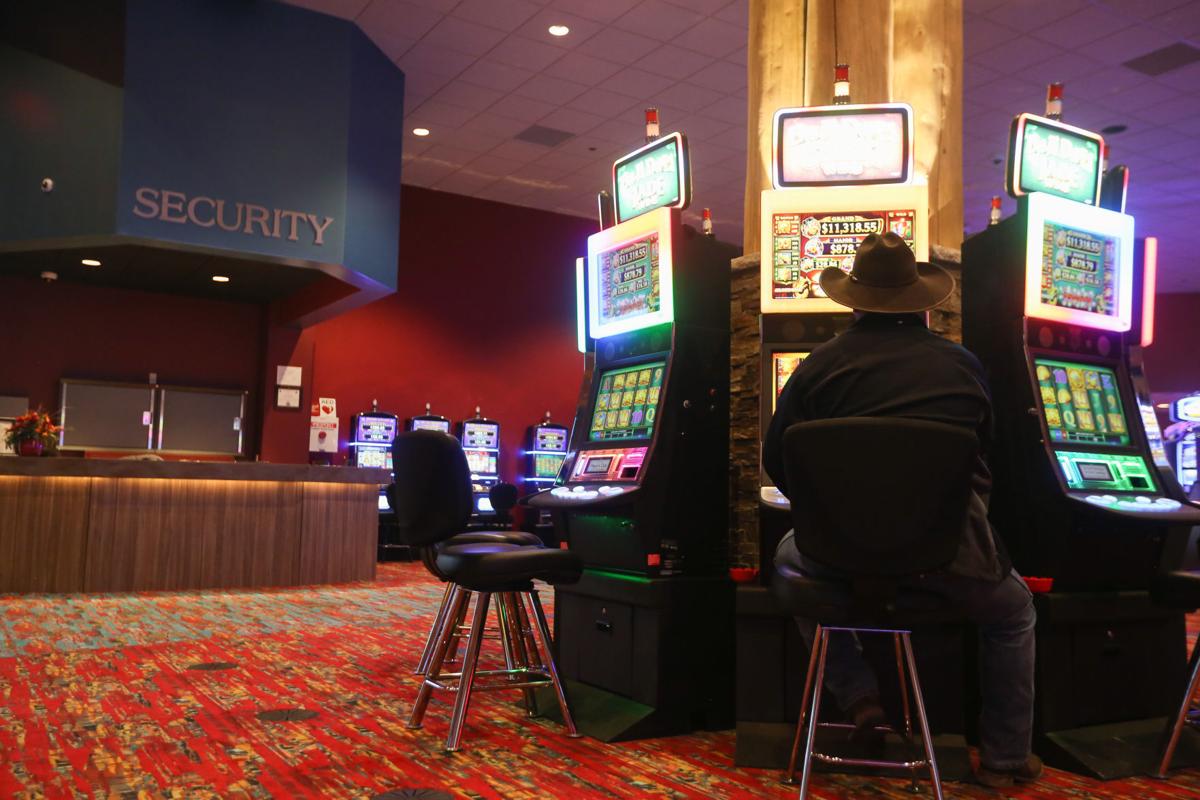 DUBOIS – Despite a last-ditch lobbying effort from the Northern Arapaho Tribe, the Wyoming Legislature will be taking up regulated gambling in the 2020 budget session.
At a Thursday meeting in Dubois, the Legislature's Joint Committee on Travel, Recreation and Cultural Resources agreed to advance a bill that would expand the duties of the state's Pari-Mutuel Commission – which oversees horse racing – to encompass gaming.
According to the draft legislation, the new gaming commission would be responsible for the regulation and enforcement of legalized gaming in any county that chooses to implement it, with all proceeds from skill game operations going to the municipalities and counties in which they take place – a significant change from previous versions of the legislation.
The bill does not legalize gambling wholesale, however: counties will have to opt in to the commission and its regulations, making legalized gambling a choice for voters.
The legislation also allows for the hiring of a law enforcement officer to the commission, who will ensure that all existing laws on the books regulating gaming in Wyoming are enforced.
Many of the new changes to the bill came following a meeting in Thermopolis, where Chairman Sen. Ogden Driskill, R-Devils Tower, invited a diverse group of interests ranging from the gaming industry to law enforcement to hash out a compromise over regulating an operation many see as growing too fast to control.
"I think this committee realizes that, whether you're for or against gaming, the only way to be able to control it is through a gaming commission," Driskill said. "There just isn't any other way. Under existing statutes, law enforcement currently isn't willing to take on someone running a machine because of the inherent risk of lawsuits that come along with it.
"Nobody really wants to do anything like this," he added. "We don't want any more regulation or any more government. But we have to realize that sometimes, in order to get what you want, you have to do something like this."
Who wasn't represented at the table, however, were leaders of the Northern Arapaho Tribe. Some leaders and former advisers have said a significant slice of the money used to fund tribal services would be threatened should the state begin to sanction gaming.
The tribe's gaming enterprise is also Fremont County's largest employer with about 500 employees, the vast majority being tribal citizens.
Unlike the Eastern Shoshone Tribe's gaming operations, the Northern Arapaho's gaming enterprise, led by its flagship Wind River Hotel and Casino in Riverton, doesn't have a revenue sharing agreement with the state.
The Northern Arapaho Tribe has used various approaches to defeat gaming regulations in Wyoming, including the creation of a secretive lobbying organization that ran opposition advertising and hired lobbyists to oppose new rules in the 2019 legislative session.
After that lobbying effort became public, the tribe has backed away from its teeth-bared opposition to the legislation. At Thursday's meeting in Dubois, a sole member of the tribe, Business Council member Samuel Dresser, was present to oppose the proposal.
"If that bill passes," he said. "It's going to hurt us."
In an interview Friday, Jim Conrad, the former CEO of the Northern Arapaho's casinos, said an expansion of legalized gambling in Wyoming would devastate the two tribes' gaming operations.
"It'll kill the tribal casinos," he said.
Conrad, whose contract with the tribe expired in June and wasn't renewed, said about half of the Northern Arapaho casinos' customers come from areas like Casper or Rock Springs.
The two tribes' casinos would lose a significant chunk of those customers if legal gambling operations open up elsewhere in the state, especially if they serve alcohol and are closer than Riverton or Lander.
Expanded gaming in Wyoming could lead to $14 million less a year in revenue for Northern Arapaho gaming, Conrad and a former lobbyist previously estimated. That would result in a loss of about 40 percent for a gambling operation that made an average of about $36 million between 2016 and 2018, according to an April casino consulting report previously obtained by the Star-Tribune.
The Eastern Shoshone's flagship casino, the Shoshone Rose Casino and Hotel in Lander, has already struggled financially, announcing in June layoffs of about 20 employees in addition to reduced services and shorter hours of operation.
Some Northern Arapaho leaders have disputed that they authorized the creation of the lobbying effort and say estimates of catastrophic revenue losses are exaggerated.
Regardless, Dresser said the Legislature's openness to gaming is a dramatic turnaround from the state's stance on gambling when the Northern Arapaho first said it planned to open a casino.
He said the tribe approached the state in the early 2000s and said it wanted to open a casino.
But the state said no and wouldn't negotiate, forcing the tribe to take the issue to federal court. The courts ruled in favor of the Northern Arapaho in 2005.
"From the beginning, they told us 'absolutely no,'" he said. "Now Wyoming wants gaming."
Follow politics reporter Nick Reynolds on Twitter @IAmNickReynolds