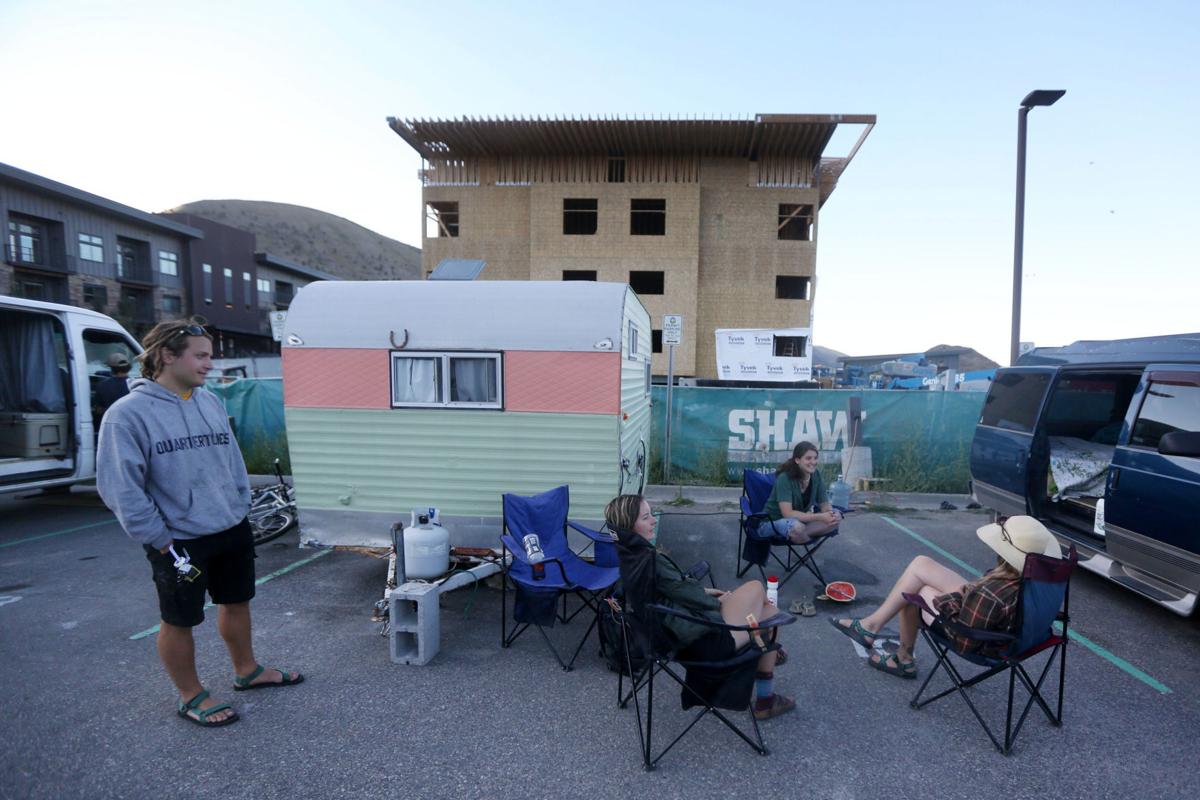 Wyoming lawmakers voted 8-6 to advance a bill outlawing a number of affordable housing tools used almost exclusively in Teton County — another blow to local control for a community that has often found itself in Cheyenne's crosshairs.
The proposed legislation — passed Monday by the Joint Committee on Corporations, Elections, and Political Subdivisions — is seen as a gut punch to affordable housing efforts by local leaders in Jackson. A lack of workforce housing availability and soaring real estate prices has led local leaders there to rely on public financing for affordable housing while requiring new businesses to provide housing to their employees.
Voting in favor of the bill were Reps. Shelly Duncan, Roy Edwards, Tyler Lindholm, Scott Clem, and Jim Blackburn, as well as Sens. Cale Case, Wendy Davis Schuler and Charlie Scott.
Reps. Dan Furphy, Danny Eyre, Aaron Clausen and Andi Clifford, as well as Sens. Bill Landen and Tara Nethercott voted against the bill.
If passed by the full Legislature this winter, the bill will effectively eliminate those local ordinances as well as ending the practice of using exactions on new residential and commercial development to pay for affordable housing.
Exactions — defined as conditions or impact fees imposed by local governments to offset market effects of housing construction — have been in place in Teton County since 1995 and, in the eye of many local officials, have been one of its only tools in limiting the type of residential and commercial development that contributes to inflating market costs. Recently, the Town of Jackson updated its zoning ordinances to increase density in the downtown core and has passed other reforms, like a 2-1 workforce housing bonus in certain residential and commercial zones, as ways to improve the affordable housing stock beyond exactions.
"Those actions are critical to achieving our housing vision along with exactions," David Vandenberg, chairman of Jackson's Planning Commission, wrote in a letter to committee members. "If the exaction tool is taken away, our housing issues will only further exacerbate over time."
However, some see the regulations as too expensive or too overreaching.
You have free articles remaining.
Local organizations in Teton County like Save Historic Jackson Hole and JH Working, a group that met with Corporations Committee members at its last meeting in Jackson and helped inspire Monday's legislation, have organized in opposition of some of the local requirements. Exactions as an affordable housing practice have been opposed by the private sector on a national level as well, with the industry seeing an incentive-driven model as the most effective means to fulfill that need while maintaining competition.
"Our leadership and our members very much support housing, and many of our members have been integral in private and private-public housing solutions in Teton County," a statement from JH Working said. "These regulations are a barrier to mom and pop businesses and part of a no growth agenda that does not supply meaningful housing."
From the few who testified in favor of the legislation on Monday, lawmakers were moved primarily by the significant costs faced by those property owners due to the high price of exaction fees, which some believe stunt the type of growth that can help address the problem.
"A lot of everyday people don't understand the impact that these exactions are having," said Duncan, a former President of the Wyoming Association of Realtors and the bringer of the bill. "Until you face it, and until you have the fees sent to you by the city, you don't understand."
Though the legislation would be implemented statewide, the problems faced by Teton County are unique, leaving local leaders concerned that decisions made at the state level could have significant ramifications on their ability to respond nimbly to a persistent housing crisis. According to a memo submitted to the committee, Teton County is subject to almost unlimited housing demand — most of which is fulfilled by the ultra-rich — making the principles of supply and demand ineffective to solving their housing crisis.
"Because of Jackson Hole's supply and demand dynamics, high-end homes are the most profitable to build and sell," the memo reads. "As a result, for two decades Jackson Hole's housing developers have increasingly emphasized high-end homes, further squeezing the supply our workforce might be able to afford."
While Teton County continues to attract the ultra-rich, the working class are increasingly being priced out of the market, a memo to committee members from the Jackson/Teton County Housing Department explains, while many of the seasonal workers helping to drive the economy lack housing at all, resorting to sleeping in cars or tents during the summer months.
Though leadership there recognizes critiques of their local exaction policies, those like Jackson Mayor Pete Muldoon wrote to committee members that local disputes should be resolved locally.
"We continue to assess the effectiveness and the fairness of our housing exactions, as we recognize many of the same concerns the Committee has discussed," Muldoon said in written testimony to the committee. "We have access to and utilize extensive data and use that data to plan strategically to realize the vision that our community has adopted in its Comprehensive Plan. However, while there continues to be a robust community debate regarding the optimal housing exaction rates, we are united in our belief that those rates should be determined here locally."