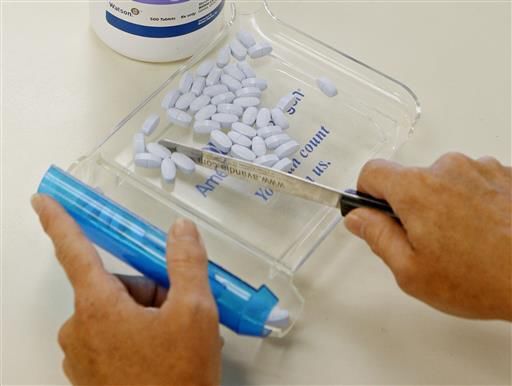 A Fremont County lawmaker is introducing legislation exploring the potential for Wyoming to import certain prescription drugs from countries like Canada, an effort he believes can help address the high cost of medicine in a state with one of the nation's oldest resident populations.
Announced on Monday by Rep. Tim Salazar, R-Riverton, in a working draft of a bill released to members of the press, the proposed legislation would enable the Wyoming Department of Health to study the feasibility of a prescription drug importation program in the state, a "free market solution" to potentially lowering health care costs in Wyoming that could bring the Equality State into a state-led movement to tackle rapidly ballooning medical costs across the country.
"Since Congress has not acted to help the shocking rise of prescription drug prices, it has fallen to state legislatures and their 10th Amendment Rights to explore opening up state markets for importation of drugs that meet U.S. quality standards and let Wyoming citizens attain the same cost savings as consumers in other countries," Salazar said in a statement accompanying the bill text.
Salazar's bill is likely to accompany a bill currently in the works by Rep. Eric Barlow, R-Gillette, intended to not only explore the financial impacts on the state and private citizens but also whether the state could consider options like a wholesale warehousing program for prescription drugs. A concept similar has been used by the state's liquor commission and floated by figures like Gov. Mark Gordon, who discussed the idea in a telephone town hall by Wyoming AARP earlier this winter.
The text of that bill has yet to be made public.
While Salazar's bill would simply authorize the study of a drug importation program, the bill comes with a few specific sideboards: According to the bill's text, all imported drugs would have to be tested for authenticity and safety by the manufacturer, be labeled for sale in the U.S. and, most importantly, would already have to be approved by the U.S. Food and Drug Administration.
However, Salazar's concept is not a new one, nor is it radical: State lawmakers in Florida, Vermont and Colorado have already successfully passed their own drug importation plans, all of which now await approval from the federal government. Even more states are expected to follow suit following the approval of a Trump administration plan in December allowing states to engage with Canadian pharmaceutical companies directly.
"This would potentially allow for the sale of these drugs at lower prices than currently offered to American consumers, giving drug makers new flexibility to reduce list price," Health and Human Services director Alex Azar said to reporters at the time of the rule's announcement.
Theoretically, bills like Salazar's could apply market pressure to America's pharmaceutical industry, which has levied steady increases on drug prices for the better part of a decade, according to a 2019 report from the health care policy group Health Affairs. Countries like Canada, meanwhile, have managed to keep prices largely under control for a number of reasons, including stricter regulations that force drug companies to justify price increases.
According to AARP Wyoming policy director Tom Lacock, this means significantly lower prices over the border. In 2017, one capsule of the nerve damage treatment Lyrica, for example, cost more than $6 in the United States compared to just 63 cents in Canada, with similar price disparities seen for other common medications in both countries.
This is of particular concern in Wyoming, which has a large proportion of aging Medicare beneficiaries who typically rely on a multitude of prescriptions to stay healthy. According to numbers provided by AARP Wyoming, the state's average Medicare enrollee relies on 4.5 different prescriptions a month, all of which must be managed on a median income of $26,000 a year.
It's a significant enough issue that, in a late 2019 survey of eight legislative priorities sent to its members, the AARP said prescription drug prices was their most immediate concern.
"Ordinarily, when you break something up among that many concepts, the winner might have about 25-50 percent support," Lacock said in an email. "But the prescription drug piece came out at 70 percent as our number one request, to say 'hey, fix this.'"
But the bill could mean benefits for more than just seniors.
"This proposal, I believe, will help many of my constituents who live on fixed incomes, working families and those who have no health insurance," Salazar wrote in a statement.