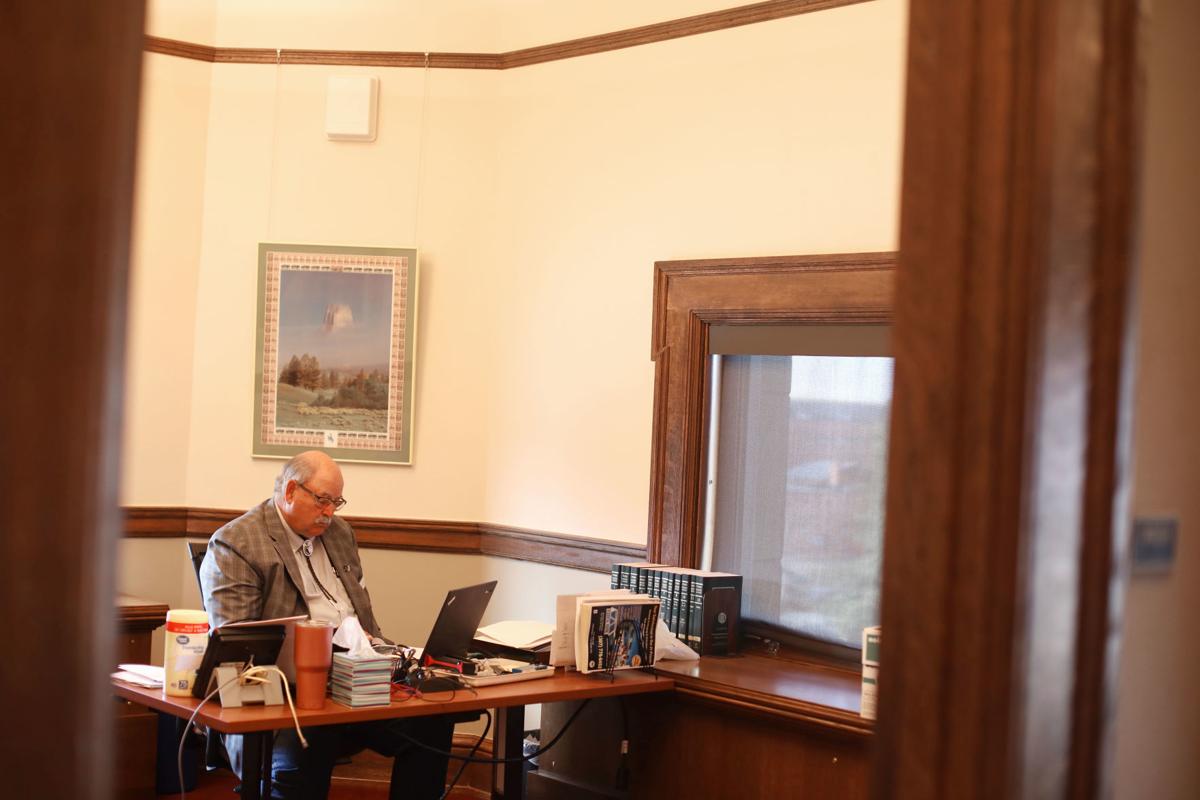 CHEYENNE — After debate threatened to derail discussions on an eviction assistance program for Wyoming's renters, the Legislature reached a deal Saturday on a controversial piece of legislation that would exempt businesses from liability if patrons incidentally contracted COVID-19 there.
Initially brought as an amendment by Rock Springs Democrat Liisa Anselmi-Dalton to a larger component of a massive, $1.25 billion relief package, the legislation originated as a standalone bill introduced at the last second by Sheridan Republicans Richard Tass in the House and Dave Kinskey in the Senate.
While the Senate passed their version of the legislation by a wide margin, both bills were put in jeopardy after members of the House killed Tass' bill and House leadership, knowing it didn't have the votes, refused to hear it on the floor.
For members of the Senate, the legislation was seen as a necessary protection for small business owners around the state who were anxious about their liability for a lawsuit as the state begins lifting social-distancing restrictions, pitching the idea as a way to increase business confidence as they begin reopening their doors to the public.
It was not a foreign concept: In 2017, the Wyoming Legislature passed a law exempting ski resorts from liability for injuries sustained by their customers on the slopes, for instance. However, members of the House of Representatives — as well as some critics in the Senate — saw the legislation as a potentially unconstitutional law that would rob members of the public from their right to pursue damages for their injuries and objected to the quick timeline that offered little room for them to scrutinize the bill.
Introduced the day before the session gaveled in, the bill was never subject to public comment or a thorough vetting by legislative leadership, leaving top lawmakers nervous about the potential, unexplored implications it could have.
"This is far too big to get wrong today," House Minority Leader Cathy Connolly said in debate on the bill.
Sen. Ogden Driskill, R-Devils Tower, however, pushed hard for the immediate inclusion of the language, saying that "hundreds" of business owners around the state reached out to him looking for some assurance of protection should a client contract the virus.
Though Sen. Tara Nethercott, R-Cheyenne, pointed out that Wyoming already has strong liability protections for business owners who fall in compliance with state law, the impasse presented enough of an issue that the Devils Tower Republican threatened to blow up the entire bill, taking unemployment insurance reform and eviction assistance down with it, even after Connolly proposed to swap one of the House amendments for one of theirs.
"Even if you caved on every other position and pulled this provision out, you have a grave chance the bill fails regardless of what's in it," Driskill said in response.
The impasse was eventually resolved after Nethercott introduced a toned-down amendment several hours later, guaranteeing protections for businesses who work "in good faith" with state and local public health orders.
The amendment will likely be revisited by the Legislature's Joint Judiciary Committee in a second special session late next month.
"When we take away somebody's rights, we want to be able to talk about it," House Speaker Steve Harshman, R-Casper, said Saturday.
Get Government & Politics updates in your inbox!
Stay up-to-date on the latest in local and national government and political topics with our newsletter.