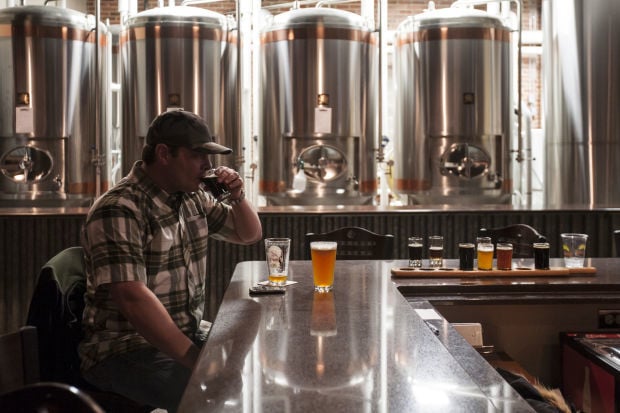 CHEYENNE – Inside the walls of the former Minuteman Print Shop on 19th Street, dust swirled as Tim Barnes, co-founder of the Wyoming Brewer's Guild and Sheridan-based Blacktooth Brewing, showed off features of his soon-to-open brewery in the state capital.
There was a reclaimed barn door from a ranch on the edge of town, his two serving stations for busy nights, and the original 10-barrel brewing system from his first brewery more than 300 miles up I-25. Broad windows brought natural light into this former industrial space and, in the corner, a stage was already set up, ready to host bands on warm, summer weekends.
For Barnes, Cheyenne made sense. While brewers in states such as Oregon, Washington and Colorado have seen their most successful breweries go national, those in places like Montana, South Dakota, Wyoming and Nebraska – due to population and geography – face difficulties growing far beyond their borders. Factors like Wyoming's low population and its longstanding water scarcity naturally limit the scale of its brewing industry.
"The largest appeal has been staying local and being recognized in your own market," Barnes said.
Knowing that, Barnes eyed Cheyenne – and the well-paid, professional class in the city's public sector – as an opportunity to expand his business.
Even with a long time to go until opening, the business already has a head brewer, manager and several staffers lined up. But there was one thing that wasn't certain: whether the new brewery could even be a part of his already-established company on the other side of the state.
It wouldn't have prevented him from opening, but would have forced him to open a second LLC – one with its own worker's compensation policy, its own paperwork, its own structure, a process that he said could have held him up as long as two to three months.
When a staff is already hired, that's a long time to wait, and a lot of money, particularly at a time where Barnes was looking to expand his business on the heels of a new, $2 million-plus investment in downtown Cheyenne.
"When I sat down and spoke with the liquor division 12 months ago about this, we identified we were not trying to do a satellite operation," he said in an interview with the Star-Tribune. "They had indicated initially that nothing would prevent us from that. But upon review of our plan and our permit, they identified very specific language about being at a single location."
With their investment facing some opposition, the brewers turned to Rep. Cyrus Western, a Republican from Sheridan, to carry a bill to essentially strike that language for any brewer looking to do something similar. That legislation will likely be signed into law soon.
"This isn't special legislation just for one business," Western said in an interview at the Capitol. "This is something that can benefit an entire class of business. If any brewery wants to expand to a second location – whether it's in that town or in another town around the state – this can cut some of the red tape for them."
What might be more significant, however, is the turning of a corner for the Wyoming Legislature, which – while generally favorable to small business and the state's burgeoning microbrewery industry – has at times, eyed alcohol-related legislation with a wary eye.
That has changed in the last few years, however. Last year, the Legislature passed Laramie Democratic Rep. Charles Pelkey's Beer Freedom Act – which allows microbreweries to receive 24-hour event permits to sell their wares. This session, the Legislature looked favorably on legislation sponsored by others like Rep. Bunky Loucks, R-Casper, to allow for expanded contract brewing in Wyoming. This would essentially allow breweries with rooms in their tanks to provide additional capacity to smaller breweries that may require more room in order to meet their demands during the high season.
Lawmakers see the legislation as an easy tool to help bolster economic development in small communities around the state, an easy way to retain wealth in their communities and help encourage further investment in their downtowns.
"I saw a picture of Cheyenne's downtown around World War One, and there were people all over the place," Western said. "It was bustling. If you look at it 10, 15 years ago, there's nothing. It's businesses like this that absolutely bring those downtown areas back to life."
That change in attitude, Barnes said, could potentially be chalked up to a change in perspective: while some may look at breweries in a similar category to bars and clubs, the state's brewers prefer themselves to be seen more like light manufacturing. This year's slate of legislation, to him, is a sign that perception may be shifting, particularly as every town from Ten Sleep and Gillette to Evanston and Saratoga can boast at least one brewery within their limits.
"[The legislation has] always been about excise tax or liquor law liability, things of that nature," said Barnes. "This is the first time that there's been a couple of bills unrelated to those subjects. They were very business-oriented and just growth-oriented. The state has always been favorable to the craft brewing industry and this year is no different."
Get Government & Politics updates in your inbox!
Stay up-to-date on the latest in local and national government and political topics with our newsletter.