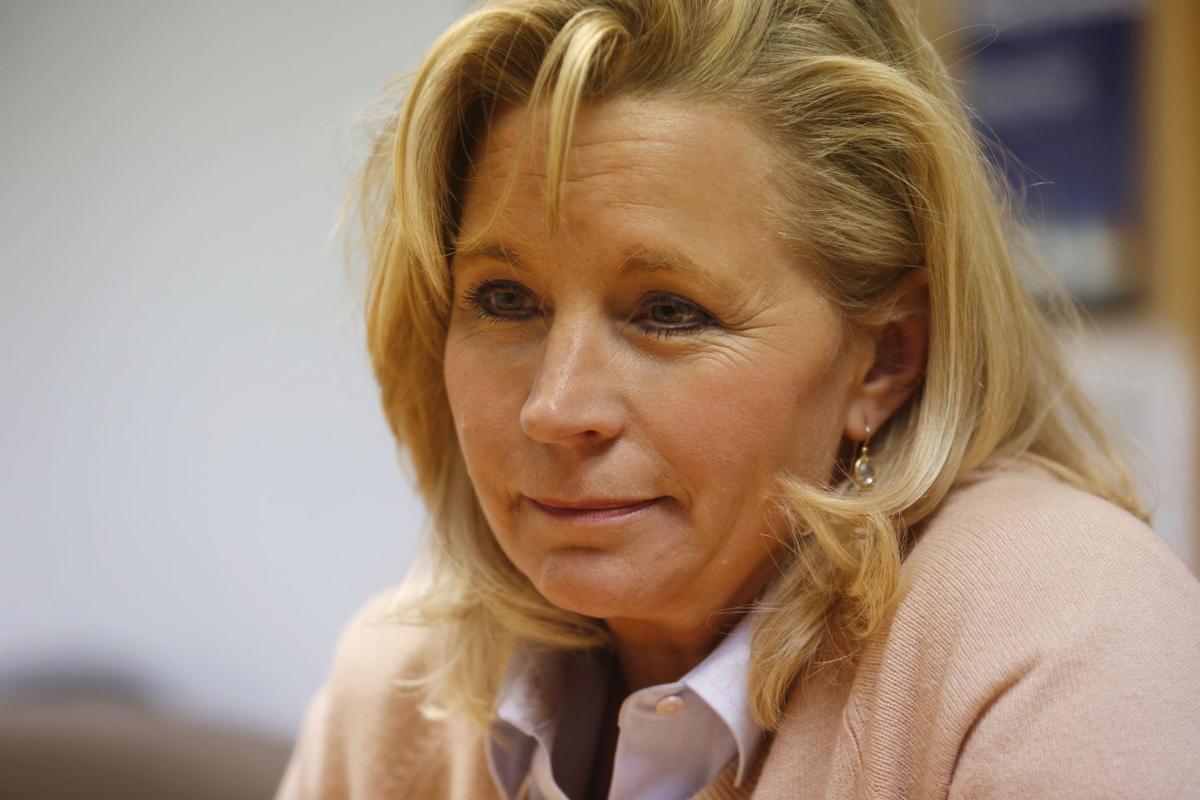 Liz Cheney, the daughter of the former vice president, is leading in the GOP contest for the U.S. House, though over 52 percent of Wyoming Republicans are still undecided, according to the first poll of the race made public.
The poll, commissioned by the Casper Star-Tribune and Wyoming PBS, was conducted by Pulse Research of Portland, Oregon, during the second week of July. Although some campaigns are believed to have surveyed Wyoming voters, none has released results to the public.
Cheney, daughter of former Vice President Dick Cheney, has nearly 21 percent of the vote, according to the poll. Tim Stubson, the third-ranking Republican in the Wyoming House, follows with 8.7 percent. Leland Christensen, a state lawmaker who is chairman of the Wyoming Senate Judiciary Committee, has 4.1 percent. And Darin Smith, who does humanitarian work for the Christian Broadcasting Network, has 2.5 percent.
None of the other Republican candidates in the race has more than 2 percent. The poll's margin of error is plus or minus 5.65 percent.
U.S. Rep. Cynthia Lummis, a Republican, is not seeking re-election, saying she wants to return to Wyoming after eight years in Washington. Nine Republicans are vying for the seat, although one – Rex Rammell of Gillette – planned to hold a news conference Thursday in Casper to announce he's exiting the race.
The top four candidates in the poll are also the top fundraisers, with Cheney raising $1.2 million, much of it coming from out-of-state donors at exclusive GOP events featuring her father. Stubson has raised $200,000. Christensen has raised $107,000. Smith has raised $32,000.
"We're not taking the lead for granted," Cheney said. "We're not taking any votes for granted. We've been focused on making sure people get out the vote early. We've got about two weeks left now."
Stubson believes being in second place in the poll gives him an advantage with undecided voters.
"It's really encouraging to us," he said. "We know, of course, Liz Cheney has 100 percent name ID. We believe most of those 52 percent are up for grabs."
The victor in the GOP primary will face the Democrat who prevails in the minority party's primary contest. Ryan Greene and Charlie Hardy are facing off in that race.
The primary is Aug. 16. The general election is Nov. 8.
Pollster
The large number of undecided voters isn't unusual in a race with so many candidates, said John Marling, president of Pulse Research.
"We pushed to do everything we could to get them to make a commitment, ask them who are they are leaning to," he said. "Fifty-two percent is definitely undecided."
Marling has over 30 years of polling experience.
"It's not unusual for voters to make up their minds last minute, particularly when you have such an extended field," he said. "I think that lends itself to the undecided. You've got a lot of focus on the national elections. This isn't a stand-alone election, which leads to more attention and focus. It's not the top of the radar because of the national situation."
Pulse Research employees called registered Republicans' land lines and cellphones July 8-15. They interviewed people between 5 p.m. and 9 p.m. Monday through Friday and from noon to 8 p.m. Saturday and Sunday.
The researchers wanted as even a split between men and women as possible. In the end, 50.9 percent of respondents were men and 49.1 percent were women.
Of the 300 people who were interviewed, many lived in the state's two most populated counties: Laramie, with 78 respondents, or 26 percent of the people interviewed, and Natrona, with 51 respondents, or 17.1 percent.
The survey included registered Republicans in all of Wyoming's 23 counties, but the calls to registered Republicans were made on a random-sample basis. Pulse Research did not set up county quotas, Marling said.
Cheney
Cheney said she has a campaign organization in all counties and an aggressive get-out-the-vote effort. She entered the race five months ago.
Two years ago, she was a candidate for U.S. Senate, challenging Sen. Mike Enzi, but dropped the effort, citing family reasons.
"We are going to continue to do what we've been doing since February," she said.
Cheney said she's logged tens of thousands of miles across Wyoming. She's had television ads airing for weeks and began radio advertising this week, she said.
She's not nervous about the large percentage of undecided voters, she said.
Cheney has been accused of moving to the Cowboy State primarily to win federal office, having purchased her home in Wilson in 2012. 
But Cheney, who said she was speaking from the campaign trail in Cheyenne, maintained she can bring attention to the problems ailing the state, which is heavily dependent on energy production. Wyoming Republicans blame President Barack Obama's climate change regulations for a slump in production in oil, natural gas and coal, and Cheney said she is the voice to fight for the state.
"We're going to continue to earn every single one of those votes," she said. "We're facing a crisis in this state. What's been resonating with Wyoming voters is my deep Wyoming roots and my ability to bring attention to these issues. I'm going to continue to make the case we've got to have somebody to fight on the national level for these issues. That's what I'm going to do every single day."
Stubson
Stubson, a Casper attorney, said name recognition has been the largest hurdle in his bid for the U.S. House.
He said he was pleased at finishing second in the poll. That makes him the strongest alternative to Cheney, he said.
"We believe we're becoming the clear alternative to a candidate who really has been bought and sold by out-of-state money," he said.
Stubson said has a strong volunteer network throughout the state. He's visited senior centers as well as events that might draw a crowd. He visited Cheyenne Frontier Days over the weekend, he said.
He raised $200,000 this year, including a $60,000 personal loan to his campaign. He's raised the money by talking to friends, neighbors, colleagues and friends of friends, he said, adding that he was on the campaign trail in Pinedale.
Christensen
Christensen, an Alta auctioneer, said he's happy to be among the top candidates in the poll. Although his poll numbers and fundraising has been behind Stubson, the other state legislator, he said he has the most dynamic digital campaign of all the candidates, with social media engagement 10 times his opponents'.
He entered the race in January.
"Our support base is growing exponentially," he said.
Christensen said a campaign requires work, not just money.
"I've spent my time knocking on doors and building relationships. That's what I was doing, was hustling around the state," he said. "While it changes the dollar numbers for the second quarter, I think the return in relationships and talking with people, I think that's going to be a bigger benefit. The Wyoming way, they want to see you."
Christensen said he too was on the road Wednesday, in Greybull.
"I think the fact that 80 percent of Wyoming voters are soundly rejecting Liz Cheney speaks volumes," he said. "She's been spending hundreds of thousands of dollars. She's spent probably three-quarters of a million dollars. People aren't with her. It's kind of what we've always thought: Voters want a Wyoming representative, not a Virginia representative."
Christensen accused Cheney of not being in Wyoming for most of the last month. In addition to fundraising events, Cheney and her husband own a house in Fairfax County, Virginia. Wednesday morning, Christensen's campaign released a statement saying she had been spotted with her father at O'Hare International Airport during a candidate forum in Niobrara County.
A surrogate for Cheney attended the Lusk event in her stead, and said she was campaigning elsewhere in Wyoming, Christensen said.
Janine Bay Teske, a member of the Teton County School District Board of Education, confirmed to the Star-Tribune that she saw the Cheneys at the Chicago airport.
"If you're lying to the Farm Bureau in Lusk, and giving misleading statements to your own supporters, it begs the question who else is she willing to mislead for a U.S. House seat?" Christensen said.
Cheney's campaign manager Bill Novotny said in an email that her campaign provided the surrogate an outdated statement about her whereabouts. He said Christensen's attack is an attempt to divert the public's attention from him not providing complete campaign finance information to the Federal Elections Commission.
"Leland has been practicing Hillary Clinton ethics," Novotny said. "Instead of spending his time mudslinging, Leland should focus on fulfilling his legal obligations to disclose his sources of income and donor information to the people of Wyoming."
Smith
Darin Smith, who is an attorney in Cheyenne in addition to working for the Christian Broadcasting Network, said he has internal polling that shows he is doing even better than the poll from the Star-Tribune and PBS.
He declined to share the polling.
"I truly think that this is anybody's race. Well, not anybody's. There are four others," he said, referring to himself and others who claimed over 2 percent.
Yet he also said he expects to win.
"I believe if you vote for anybody but Darin Smith, you've voted for Liz Cheney," he said. "I'm the alternative candidate."
Smith touted his executive experience outside of state government as a strength. He said it makes him a political outsider, what he believes Wyomingites want in Congress.
"Much in the same way Donald Trump has had success in the real world, I've had success in the real world, and I want to go in and fix this mess," he said
Smith said he's proud of his journey from zero name recognition to being among the frontrunners.
He plans to work hard over the next 20 days, he said from Cheyenne before embarking on a campaign trip to Torrington.
"I've got lots of things in store," he said. "I can't give away my plans… But rest assured: We're surging. We're closing in like a freight train. The establishment, they can hear us."
Follow political reporter Laura Hancock on Twitter @laurahancock.