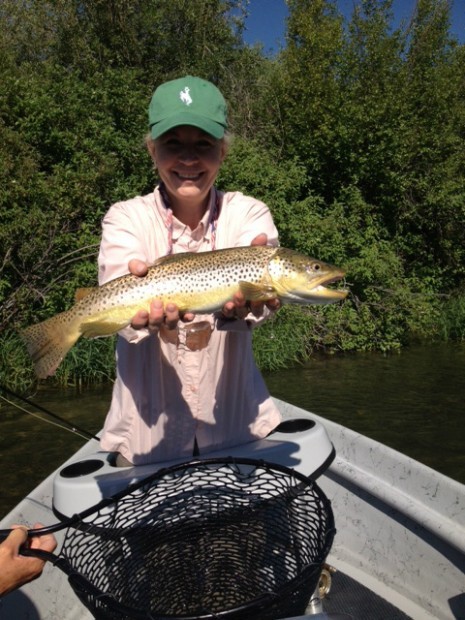 Senate candidate Liz Cheney improperly received a state resident fishing license based on an application with incorrect information, according to Wyoming Game and Fish Department records.
Cheney, who last month announced she will challenge Sen. Mike Enzi in the 2014 Republican primary, received her resident license just 72 days after closing on her Wilson house in May 2012. State law requires residents live in the state 365 consecutive days before they can receive a resident hunting or fishing license, which are cheaper than out-of-state licenses.
Cheney's application also lists her as a 10-year resident of Wyoming.
The Game and Fish records are incorrect, Cheney told the Star-Tribune.
"The clerk must have made a mistake," she said. "I never claimed to be a 10-year resident."
One year ago — more than two months after Cheney moved to Teton County from Virginia — she bought a fishing license at Westbank Anglers in Teton Village. Cheney said the clerk asked if she was a resident. Cheney said she replied with a yes.
When residents purchase fishing and hunting licenses, store clerks have a list of questions from a Game and Fish application that they are required to ask customers. The questions include proof of address, date of birth and length of residency.
"You can't go further if you don't answer the questions," said Ned Smith, an employee at Westbank Anglers.
Cheney said she answered all of the questions truthfully.
The employee who asked Cheney the questions no longer works at Westbank Anglers, Smith said.
Game and Fish officials don't know how the discrepancies happened, said Mark Nelson, project coordinator for Game and Fish.
There are penalties for submitting incorrect information on an application, he said.
The fine for a false statement on the application is $220 and is a misdemeanor, he said. If Game and Fish imposes the fine and Cheney chooses to contest the fine in court, a judge could ratchet up the fine to $1,000.
"At this point we're going to follow up on this like any other residency issues," Nelson said. "It's at the initial stages of verification."