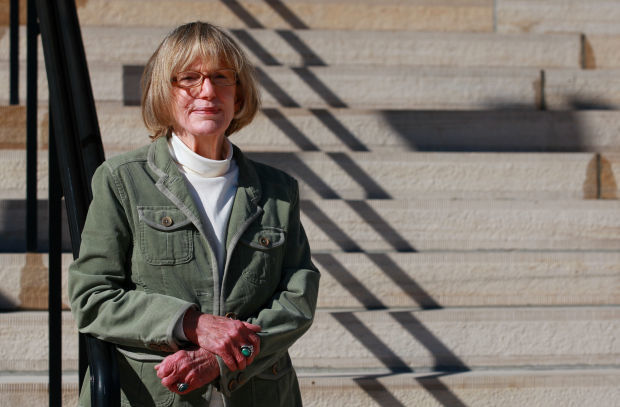 Year after year, the faces in Wyoming's capitol are constantly changing.
Governors, auditors and secretaries of state come and go while lawmakers – depending on the voter's whims – can appear and evaporate as quickly as they've arrived.
Almost nothing is constant in state government. Except for Joan Barron.
For 48 years, Barron – who officially retired in 2014 – roamed the halls of the Wyoming State Capitol as a reporter for the Casper Star-Tribune's Cheyenne bureau, building a deep and well-sourced understanding of the minutiae of government in the Equality State. An understated presence in the capitol, Barron built a longstanding reputation with the state's political class as an even-handed and consistent presence in government, an institution not only in the legislative ecosystem, but to the countless reporters who had passed through the bureau over the years.
"If someone had a question, she always knew who to talk to," said Dan Neal, a former Star-Tribune editor. "That long-term involvement with the government let her get to know everyone in government, everyone in the bureaucracy. She got tips that nobody else got because people knew they could get things to her, and she'd do something with it."
That reputation will be cemented this winter when Barron – now in her 90s – will be inducted into the Wyoming Press Association's Hall of Fame.
Until now, the WPA Hall of Fame has inducted publishers, editors, business managers and photographers. Barron is the first person to be inducted solely for her work as a reporter in the institution's 16-year history.
Barron began her career as a stringer for the Star-Tribune in 1966. Four years later, she moved to Cheyenne where, over the next several decades, she would go on to cover the administrations of several governors, 50 legislative sessions and, through her work, come to define the relationship between the press and the state's executive branch that continues to stand today.
"I never really wanted to do anything else," Barron said in an interview. "I really had no desire to be an editor, I just loved covering government. I was just fascinated by it. I still am: The public policy, the people."
Her best work arguably came during the Hathaway and Herschler era, where Barron's reporting helped bring transparency to the long-secret process of judicial appointments while shining a light on the use of unmarked cars by police departments around the state.
You have free articles remaining.
"I wouldn't say there's a Watergate story in Joan's past," Neal said. "But just story after story about how government operates, who's being helped or hurt in the budget, when personalities get in the way of good decision-making, those types of stories that she just did day after day that enabled people to understand what was happening in Cheyenne."
"She played an important role," said former Gov. Mike Sullivan, who Barron covered throughout his eight years in office. "She was someone who looked for the answers and worked to get there. She was sufficiently known to everybody in the Legislature and in the capitol building, and she could usually get an audience and find out what she needed to know."
Much of that was due to her demeanor. As an interviewer, Barron was known primarily as a listener, her stories shaped by sharp, insightful questions and longstanding silences that sources say could lead them into revealing too much.
"I think that was one of her 'tricks,'" Sullivan said. "As a reporter, she would never quite let you know what she was thinking or whether she knew how much background she had necessarily. She'd just encourage you to keep talking. Her demeanor – that even-keeled demeanor – could sometimes even encourage you to talk too much. That was part of her talent."
For Barron, covering the capitol was – as she said – "strictly business."
"I don't schmooze," she said. "I don't have time, and I don't think they appreciate it. I ask a question, I get an answer, and we go from that."
In state media, Barron represented a figure for the Equality State that mirrored national reporters like Sarah McClendon or UPI's Helen Thomas, both of whom occupied seats in the front row of the White House Press Room for nearly 50 years each.
But as some things have remained steadfast in Washington, Wyoming has changed significantly.
The ample press corps that once prowled the capitol full-time is no longer there, now stretched thin by too much news and not enough staff to cover it all, and Barron – retired, but still writing a well-circulated column for the Star-Tribune – no longer dedicates her hours to flitting between committee rooms with ears bent for stories.
"There is not one news outlet that maintains a daily presence in the state capitol anymore," said Neal. "I think that's a tragedy. Things will happen that people should know about, and they won't know about it."
Once in the Hall of Fame, Barron will have a place where her work – and her impact – can be remembered. That era, she said, is likely over.
"It's never going to happen again, I think," she said.