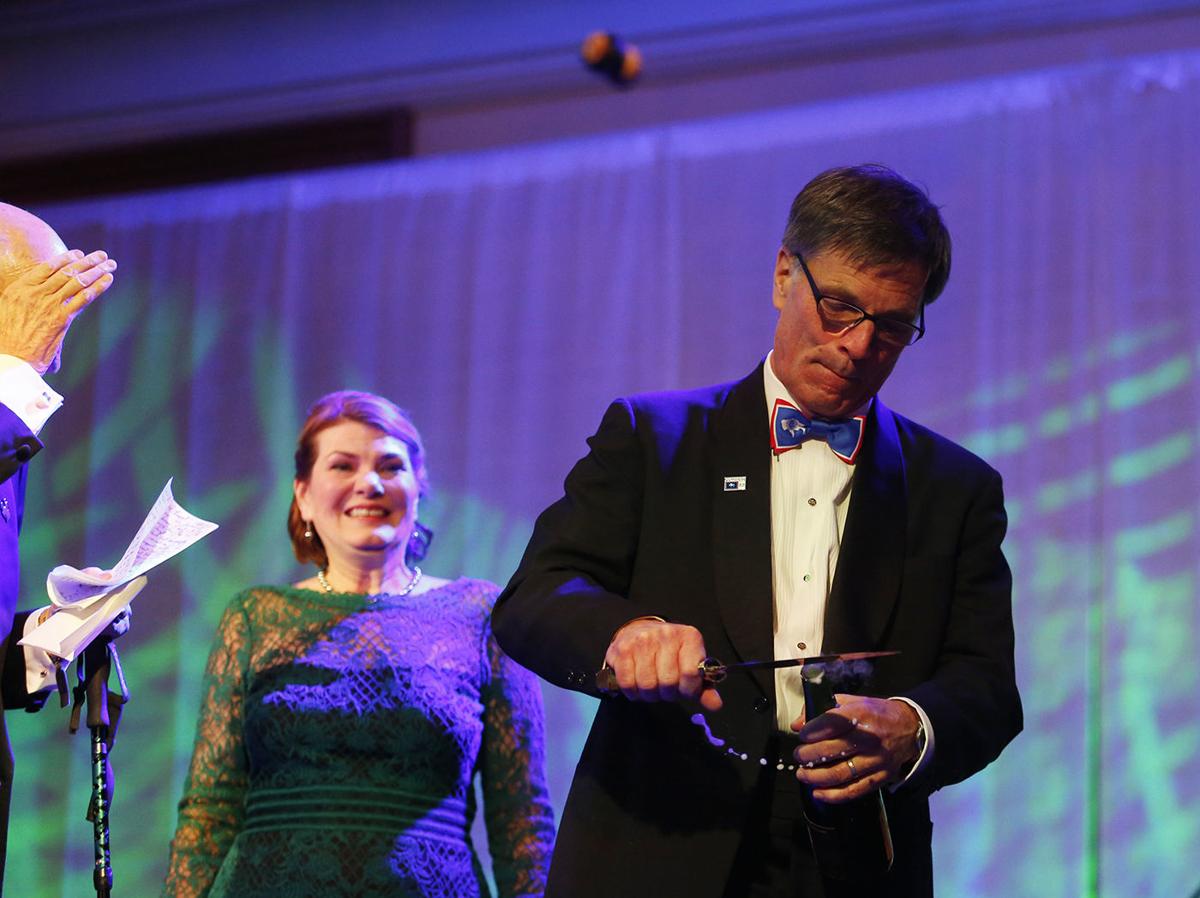 If one word could best summarize Wyoming's political landscape this year, it would be "transition."
In 2019, an almost completely new executive branch took over in Cheyenne, with a new auditor, treasurer, and governor taking their oaths of office in January. As the new administration began, the state underwent an upheaval of its own, with 2019 bringing with it the most tumultuous period ever seen in the state's coal industry — the direst symptoms of permanent decline so far for the struggling industry.
Meanwhile, the state's political bedrock underwent a transformation as well. The Wyoming Democratic Party — now several years removed from a revolution in its ranks — seemed to at last turn a corner while the state's Republican Party faced an insurrection between its right and far-right factions, opened a deep rift that, entering the new year, has yet to be rectified.
But 2019 was also a year for new voices and one of a populace yearning to be heard in state and local politics. From issues like women in public office and the repeal of Wyoming's death penalty to a U.S. Immigration and Customs Enforcement facility in Evanston and outrage over fatal shootings by police in Laramie and Riverton, Wyoming's citizens rose up with a voice they haven't had in some time.
A new governor takes office
When The Associated Press called the race for Gov. Mark Gordon just one minute after the polls closed last November, the only surprise was among the reporters expecting a tighter contest.
In a race full of outsiders, then-Treasurer Gordon had long been the choice of the establishment, a capable and well-connected manager whose steady hand had helped create millions of dollars in stable revenues for a state long accustomed to booms and busts. Unlike his predecessor, Matt Mead, Gordon arrived well-aware of the climate he was walking into, having already spent a term and a half within the executive branch and haggling with the Legislature.
With that experience, he had the network — and the confidence — to quickly place his mark on the governor's office. From his administration's first speech at the Cheyenne Civic Center, where he reaffirmed his promises on the campaign trail, to his first address to the Legislature, Gordon tried to set the tone of his administration early, promising the same brand of tight management that had become his signature as treasurer.
But Gordon was more than just talk during his first session, vetoing several bills while challenging what he perceived as creeping overreach by the Legislature into the state's budget process. Beyond that, the new governor painted the picture of a collegial relationship with state lawmakers, one that has extended into a productive relationship with figures like Senate President Drew Perkins, R-Casper, on initiatives like government efficiency.
As a leader, Gordon had a number of big moments as governor in 2019, defined by his administration's role in working with the Bureau of Reclamation on a massive irrigation tunnel failure in Goshen County and in his response to the bankruptcies seen in the Powder River Basin, which required the mobilization of the entire Department of Workforce Services to try to soften the blow.
The governor has had his critics, however. A veto of a bill to sue Washington state for access to its coal export terminals has been scorned by champions of the cause like Casper Republican Rep. Chuck Gray, while his first budget was criticized for its lack of cuts at a time when revenues are slowing and the cost of government continues to rise.
Whether his methodical approach to the budget — and his efforts to understand the state's energy decline in future budgets — are heeded by lawmakers in year two of his administration will likely be the greatest indicator of his relationship with the Legislative branch.
Wyoming's economics turn a corner
If anything in Wyoming experienced a transition in 2019, it was the longstanding bedrock of the state's economy: energy.
Wyoming's coal industry took a few shots square to the chin this past year, with a number of bankruptcies rocking the Powder River Basin and Wyoming's politicians left scrambling to do something — anything — to stop the bleeding. A task force was formed to explore the lost revenues to communities coming from coal bankruptcies. Lawmakers grilled non-political groups like the Public Service Commission over their obligation to serve their mission to ratepayers or set policy for the good of the industry. Wyoming legislators even tried to legislate the problem away, introducing legislation to try to stave off the closure of coal-fired power plants a little while longer.
You have free articles remaining.
Wyoming is no stranger to good times, nor is it unfamiliar with the bad times. But something changed this year: Wyoming seemed to be in the throes of a bust it wouldn't come back from soon. In October, a report from Wyoming's Consensus Revenue Estimating Group offered one of the bleakest pictures for the state's revenues ever presented, while in Cheyenne lawmakers began to fret over the future.
Other options for revenues — a proposal to toll Interstate 80, for instance, or a long-shot bid to build a spent nuclear fuel storage facility — all received due consideration, with varying success. But a quick read of 2019 suggests that the most progress to be had in that regard is still to come.
A campaign begins to brew
When Wyoming's longtime U.S. Sen. Mike Enzi announced his retirement earlier this year, voters in the Equality State were left to reckon with something they hadn't had to worry about for decades: The prospect of an open-seat race for one of the state's two U.S. Senate seats.
Within days, rumors were already swirling over who would step up to run. In Washington, articles began to circulate bearing rumors Wyoming's lone congresswoman — Liz Cheney — would take another crack at a seat she tried (and failed) to capture in a primary race several years earlier, while on the ground, a handful of candidates on the fringe filed their paperwork and hit the campaign trail early.
With Cheney's run still up in the air, a former Wyoming representative, Cynthia Lummis, began dropping hints at a run of her own in early spring. At summer's start, she announced her candidacy in a telephone conference with reporters in Washington and Wyoming, focusing primarily on border security and a close alliance with President Donald Trump.
While others have been rumored to be considering runs for federal office, 2020 will begin with uncertainty and silence until Cheney, who could potentially mount a bid for speaker of the house in her current position, makes her move.
While Democrats rebuild, the GOP goes to war
2019 was also a year of partisan contrasts.
The state's Democratic Party — just years removed from internal revolt and still a minority in public life — entered the year with momentum, rolling into 2019 fresh off several upset victories in state legislative races across the state. Meanwhile, staffing remained stable, uncommon for a party known more in Wyoming recently for turmoil. And fundraising, often a challenge, began to see its first signs of a turnaround, thanks largely to greater grassroots organization.
Meanwhile, the state's Republican Party — seemingly at the height of its powers in 2019 — has been at war with itself. In a 2019 legislative session where the party worked to extend its dominance and advance its agenda with high-pressure tactics on lawmakers, Wyoming's legislators largely resisted. Several GOP-led initiatives to end the practice of crossover voting and implement voter identification requirements failed, downing two of the party's main priorities this year. (The party did, however, succeed in defeating a statewide nondiscrimination bill.)
The party's priorities themselves — and a powerful contingent on the far right of the party — began to upset many in the party. Beginning with a blog post over the summer by Laramie County GOP chairwoman Dani Olsen alleging corruption in the state party, Wyoming's largest Republican organizations began to rise up in revolt against the state party, culminating in an increasing level of hostility between the two factions.
Activism on the rise
While the past year featured plenty of headlines made by elected officials, many others were made by people fighting for causes in their own communities.