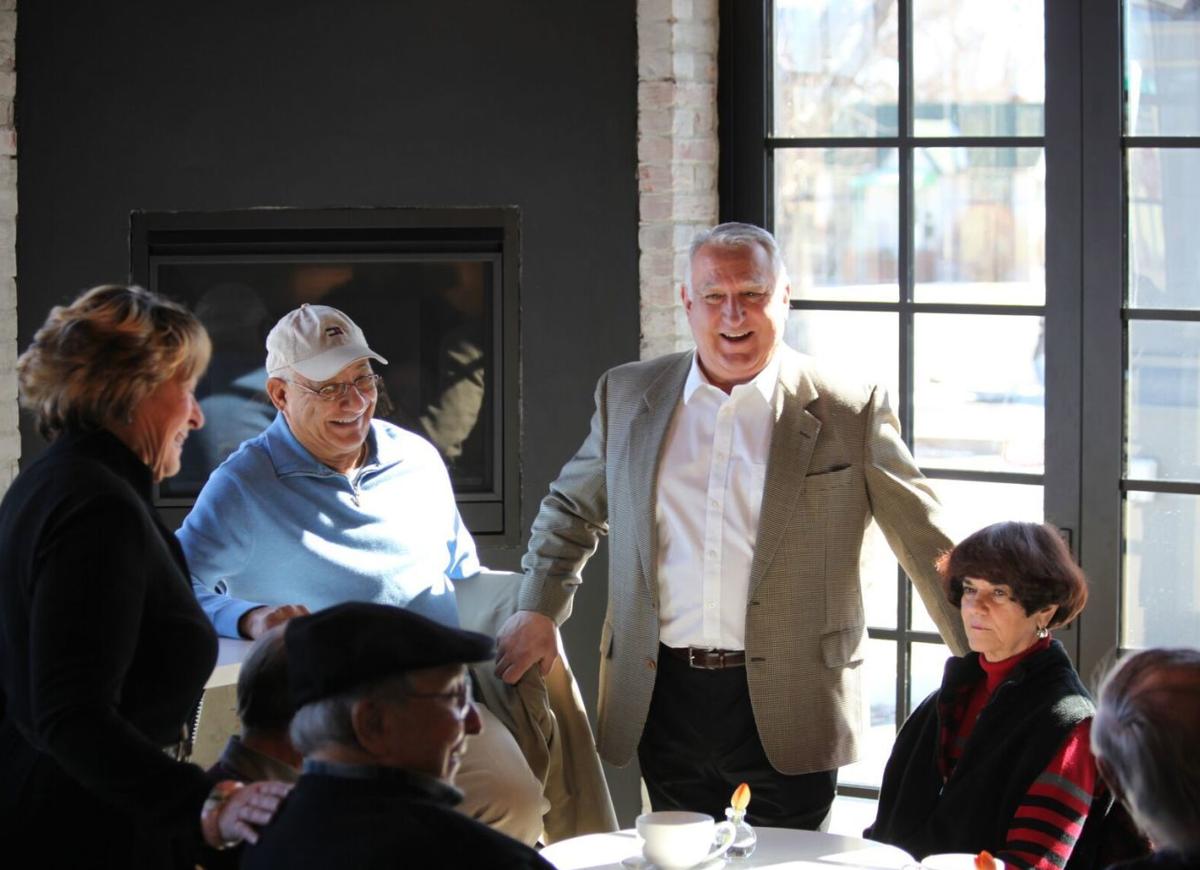 Former U.S. House Rep. Cynthia Lummis endorsed Cheyenne businessman Sam Galeotos's campaign for governor Wednesday, marking one of the first big-name endorsements of the 2018 campaign.
"You have a unique skill set and background that matches up perfectly with what Wyoming needs right now," Lummis, who served four terms in Congress, told Galeotos in an online video.
Lummis said that Galeotos's experience running "huge organizations" during "difficult times" — a reference to his time as a high-ranking corporate executive — closely mirrored what the Cowboy State needs in its next governor.
"We're going to have to downsize and have a lean, robust state government," Lummis said. "Nobody is better prepared to lead that effort than (Galeotos)."
Though Galeotos has focused more on economic growth than reducing the size of government, he did call out "excessive government spending" during a speech at the Wyoming Republican Party convention in Laramie last weekend.
"We must ... cut government spending," he said. "Cutting spending is something I have done over and over again in my career."
The Legislature grappled with a roughly $850 million deficit during its budget session earlier this year, eventually deciding to reject many drastic options for cuts and choosing to rely more on savings to cover the gap and actually increasing spending on social services. However, lawmakers still reduced spending on schools by almost $30 million this year, following previous cuts of more than $70 million.
A big Wyoming name
Lummis was widely seen as the frontrunner to replace Gov. Matt Mead before she announced that she would not enter the race last fall. She served as a longtime state legislator before being elected treasurer in 1998 and then to the U.S. House in 2008.
She will serve as co-chair of Galeotos's campaign, according to spokeswoman Amy Edmonds.
The Wyoming governor's race has been thrown wide open after former U.S. Rep. Cynthia Lummis …
You have free articles remaining.
During the 2008 House race, Lummis ran against Mark Gordon, the current state treasurer, in the Republican primary. Gordon is also running for governor this year, and after Lummis and former secretary of state Ed Murray bowed out, Gordon is the only candidate who has previously won statewide office.
Former Wyoming U.S. senator Al Simpson endorsed Gordon in March.
"Mark is the only candidate in this race who has the experience, values, savvy and grit to get crackin' and get the job done – from day one," Simpson said in a statement at the time.
'Like Trump'
Galeotos grew up in Cheyenne before leaving the state to work in the travel technology industry. He served as CEO of Cheap Tickets, Inc., before its sale to Cendant, where he would go on to supervise a 5,000-employee division.
Education and "good-paying jobs" in Wyoming has arguably been the key plank of Galeotos's platform. He said that is achievable by reducing regulations on the energy industry and focusing on growing the tourism and agriculture sectors.
Cheyenne businessman and Republican Sam Galeotos plans to announce Wednesday that he is ente…
"Like President Trump, Sam has successfully run huge organizations," Lummis said in a statement released by the campaign. "He has shown the fortitude and the savvy to make tough calls and to do the right thing."
Galeotos said he was happy to receive Lummis's support.
"She always held true to her conservative principles and that allowed her to serve Wyoming well, both here and in Washington," Galeotos said in the statement.
Galeotos also received the endorsement of first-term State Senator Affie Ellis, R-Cheyenne, during the GOP convention.
"Sam has the vision and private sector experience to lead Wyoming in a world that is becoming more dependent on technology and global markets," she said.
The other Republican candidates for governor are Sheridan businessman and political novice Bill Dahlin, perennial candidates and right-wing hardliners Taylor Haynes and Rex Rammell, and Jackson financier Foster Friess. Former state lawmaker Mary Throne is the lone Democratic candidate to have announced for governor.