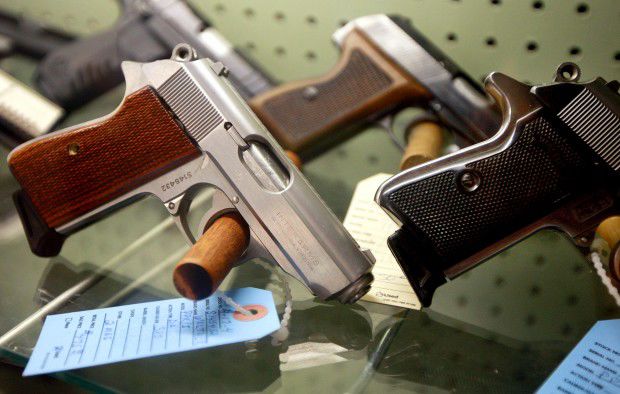 Gov. Matt Mead vetoed a bill Wednesday that would have allowed people to carry firearms at state and local government meetings, calling the legislation murky.
As the same time, the Republican signed a bill that will allow local school boards to decide whether to allow employees and volunteers to carry weapons.
Mead said he vetoed the guns-in-government-meetings legislation because it would undermine local control and create different restrictions for the Legislature and all other government bodies.
The governor, who is in his second and final term, announced the veto and bill signing late Wednesday afternoon in a news release and letter to Wyoming Secretary of State Ed Murray, who officially records vetoes.
Aside from some line-item vetoes of the budget bill, Mead's action Wednesday was his first rejection of a measure passed by the 64th Wyoming Legislature, which met for 40 days, from Jan. 10 through March 3.
Mead has until Saturday to sign, veto or allow to pass without a signature remaining bills adopted by legislators.
House Bill 137, sponsored by Sheridan Republican Rep. Bo Biteman, would have allowed concealed carry at meetings for city and county commissions, school boards and other government meetings.
Mead outlined in his letter to Murray all the gun-related legislation he's signed and the 10 national court cases that he instructed the Wyoming attorney general to weigh in on. The governor said he has also worked to recruit new gun manufacturing businesses to the Cowboy State.
But HB137 strips authority from locally elected officials to decide whether they should allow guns at meetings and events, he wrote.
"We place great value on government closest to the people, in cities, towns and counties," he said.
Furthermore, Mead said the bill has different rules for guns at legislative meetings and other government gatherings. In fact, Mead said the way the measure was written creates a greater likelihood that firearms will be barred from the Legislature's meetings.
"If that was the intent, an explanation is necessary as to why," he said. "If the bill is suited for local government, why not for the legislative body?"
He wrote that a bill of such importance "must be thoughtful and clear, not subject to question or misinterpretation."
Biteman did not return a message from the Star-Tribune.
Co-sponsor Rep. Mark Baker, a Republican from Rock Springs, said he was disappointed about the veto.
"As a state lawmaker, I've always taken the position where I feel like our Bill of Rights is something that supersedes local control," he said. "Beyond that, I think it does kind of send a message to the community that we've been trying to go out and cater to and bring these manufacturers to the state and broaden our economic base. There's been a lot of effort to drawing these manufacturers to Wyoming."
"When it comes time to put your money where your mouth is, the state is having a hard time getting real gun legislation passed."
The Legislature this year passed more conservative legislation that had floundered during past sessions. HB137, for instance, passed the House 47 to 13.
In the Senate, it passed 20 to 10.
The guns-in-schools law will allow local school boards to create rules governing who can carry guns and in which buildings the weapons will be allowed. The law requires 24 hours of training for each authorized employee and volunteer and mandates that school districts work with local law enforcement when creating the regulations.
Lawmakers crafted the bill for rural school districts that are far from law enforcement. However, the law covers all school districts in Wyoming.
Follow political reporter Laura Hancock on Twitter @laurahancock