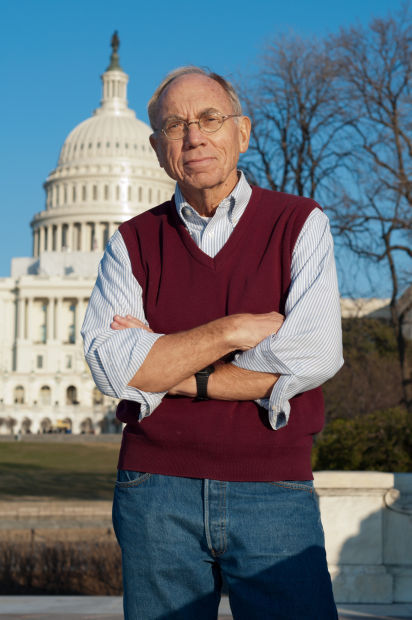 Former Catholic priest Charlie Hardy will run as a Democratic candidate for the 2014 U.S. Senate race in Wyoming.
Hardy is 74 years old and has never held office or won a primary election.
"He is a public servant not a politician," said Hardy's campaign co-chair Craig Thompson. 
The unfamiliar face in Wyoming political circles will have an uphill battle taking on Sen. Mike Enzi, a Republican establishment figure who is now the lone member of the GOP in the race. Enzi's challenger in the Republican primary, Liz Cheney, dropped out of the race earlier this month.
Hardy is the first candidate from a different party to announce a candidacy against Enzi.
A Wyoming Democrat hasn't held a congressional seat for more than 30 years. It's part of the reason why there's gridlock in the Capitol, Hardy said.
"It's time for fresh ideas," he said.
This time around Hardy plans on using campaign contributions to fund his campaign. He's already raised more than $5,000 and received contributions from donors in 20 other states. Enzi raise more than $800,000 between July and October, according to reports from the Federal Election Commission.
Hardy said campaign contributions won't be the deciding factor in the race.
"If it's a question of whoever has the most money will win the election, we will not win the election," he said. "We will do a grassroots campaign with small contributions from lots of people. We need fresh leadership. If that's what the people are looking for we have a good chance of winning."
Hardy was born and raised in Cheyenne. He preached in Rock Springs, Laramie, Casper and Cheyenne during his career. He has a master's degree in education administration from the University of Wyoming. He also worked as a missionary in Venezuela for eight years and wrote a book about his experience called "Cowboy in Caracas."
Hardy's platform will focus on providing affordable health care and putting an end to "business as usual in Wyoming politics," Thompson said.
"Hopefully we will break out of one-party domination," he said. "I don't think it's served Wyoming well."
Now that Enzi has a new opponent he will have to balance his Washington workload with campaigning at home. It won't be a problem for him, said Enzi for Wyoming spokeswoman, Kristin Walker.