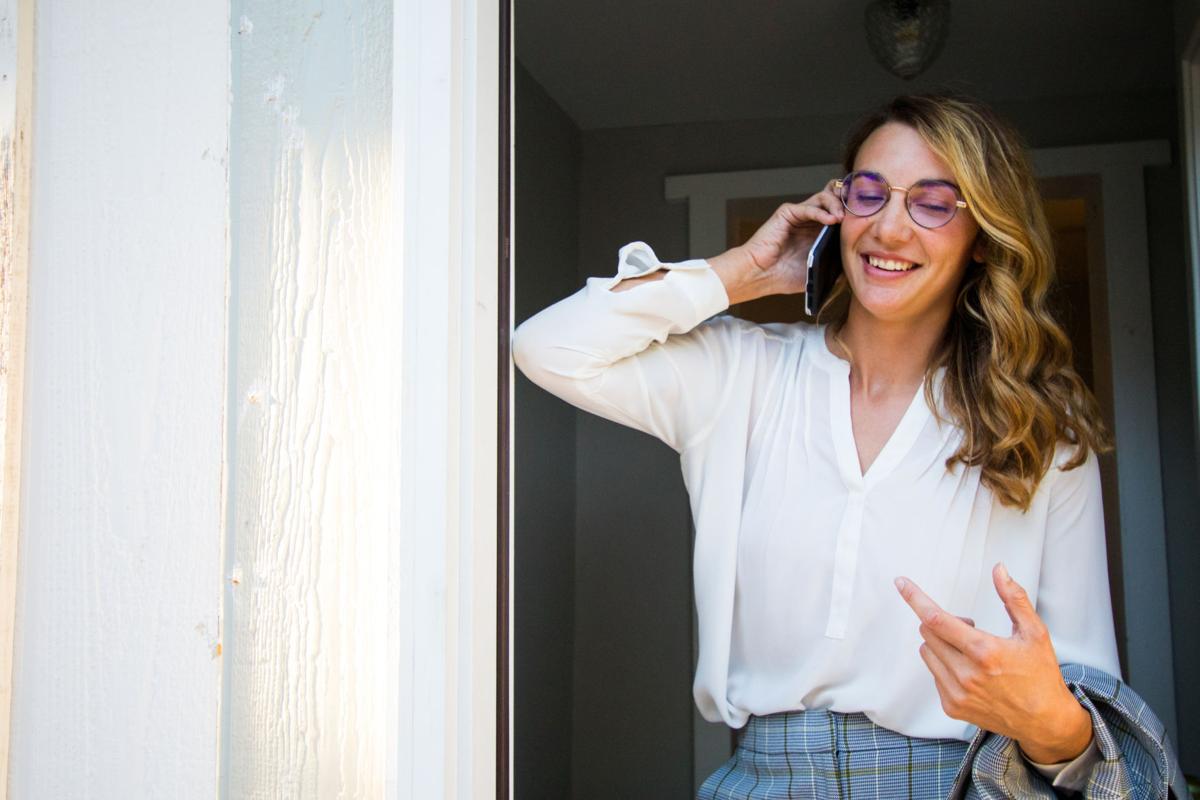 As Monika Leininger sought to complete her master's degree, she dreamed of combining her dual majors of social work and natural resources into a career. She found that opportunity working for the Powder River Basin Resource Council.
"I've always had a real deep connection and care for people," the 2018 University of Wyoming graduate said. "All of my work and everything I do is driven out of care and concern and recognizing the humanity of people."
She credits her parents for helping direct her path. Both work in the psychology field.
"They steered me in the direction of social work," Leininger said. "I always wanted to find a way to incorporate some sort of environmental aspect into my work and my education. I ended up declaring a dual major in environment and natural resources after I'd taken a class in environmental justice through the political science school."
She views that as a missing link in social work.
"Most of my educational focus … has been on environmental justice issues and, in particular, putting them under a lens of social work and how social workers can be more aware, screen and assess their clients for issues like pollution," Leininger said.
Social workers think about "all the factors contributing to people's lives" but pollution isn't "ever taken account," she added.
"It's not really something I felt was in the main discourse of social work education, educating around environmental justice issues. I made that the horse I was riding on."
This is a new realm in social work, according to Dr. Kirsten Havig, associate professor of social work at the University of Wyoming.
"Research tells us over the last few decades that impoverished and communities of color are more likely to be exposed to environmental pollutants of all sorts (and they) have less political power," she said. "If our environments affect our lives … we have to make sure all people have the same access to clean water, air, etc. It all comes down to fairness and protection and uncovering vulnerability and oppression and trying to do something about that."
A publication centered on Leininger's thesis, Promoting Environmental Justice Research and Practice for Social Workers in a Rural State: Methodology and Findings of a Pilot Qualitative Study was published in Murray State's Contemporary Rural Social Work Journal.
"That was original research with data she collected right here in Wyoming — the first of its kind," said Havig, who served as Leininger's thesis chair and co-authored the publication.
"Monika is kind of a trailblazer, not only in Wyoming, but nationally," she said. "She's one of the few social workers doing environmental justice work. Monika is making a career of it, and that's quite rare. She's truly a leader in that."
Leininger began her work as an organizer with Powder River Basin Resource Council while in Laramie. Her primary focus was agricultural but then more projects were added.
"We had some Laramie members … wanting to try to work toward carbon emission reduction," the Natrona County High School graduate said.
Working with those members, city officials and others, she helped a "carbon-neutral by 2050" resolution pass in March 2020.
On June 1, she relocated to Lander.
"There's interest in Lander following in the footsteps of Laramie," she said.
Her work involves meeting with community leaders and residents as well as speaking with legislators, and tackling various issues affecting communities, such as groundwater contamination near Pavillion. Much of her work ties back to her education.
"When I wrote my thesis on social workers' awareness of environmental justice issues in Wyoming, I learned about a lot of these issues that I work on today, such as the groundwater contamination in Pavillion, air quality problems in Pinedale, issues in the center of the state … regarding releasing fracking wastewater," Leininger said.
"She is committed, passionate and resourceful, and all within the context of being a really committed Wyomingite," Havig said. "Monika is determined to better her home state."
Leininger speaks to the professor's graduate and undergraduate students at times.
"They call her a 'rock star,'" Havig said.
Leininger said she's "passionate" about encouraging young people, including in the realm of politics and policymaking.
"I'd like to see more young people learn and engage with their government and with the policies that trickle down and impact us all," she said. "Being a young woman at the legislature and at these different regulatory body meetings, I look around and I don't see young people represented. It makes me feel in those spaces that I'm not welcome there, that I don't belong there. The only way we'll ever see the change that I believe my generation wants to see is if we show up and we start making those rooms somewhere where we belong."
She added, "I feel deeply attached and connected to Wyoming as my home. I appreciate my roots and being from this state and proudly want to help make this state better and help provide a sustainable future and economic and energy landscape for those to come. My ability to connect with humans and to want to serve and make the society and the world better for all of us drives my work and keeps me going."
Many have helped her along her journey thus far, she said, including her parents, colleagues, faculty and friends.
"I've had really awesome support and role models throughout my life, including … a myriad of strong, (tough) women," Leininger said. "I just feel so supported, and it's a real privilege to have that in my life."
"I believe she's a rising star," Havig said, "and I believe she will continue her commitment to Wyoming … and improve life for all of us."
Get Government & Politics updates in your inbox!
Stay up-to-date on the latest in local and national government and political topics with our newsletter.