More Wyomingites than ever appear to be using online platforms to rent their homes to travelers looking for somewhere to stay other than a hotel.
Airbnb, the largest online hospitality company, experienced 132 percent year-over-year growth in Wyoming last year, with 56,000 guests using the website to find homes to rent during the first year that the company turned tax revenue over to the state.
The numbers are in on one of the most anticipated tourism events ever to take place in Wyomi…
That growth was greater than some neighboring states including Montana, where guest arrivals were up 91 percent in 2017 compared to the year prior, according to the company.
Wyoming's numbers were helped in no small part by the total solar eclipse in August, which contributed to a 754 percent spike in travelers — 3,900 in all — using Airbnb on the night before the eclipse compared to the prior year.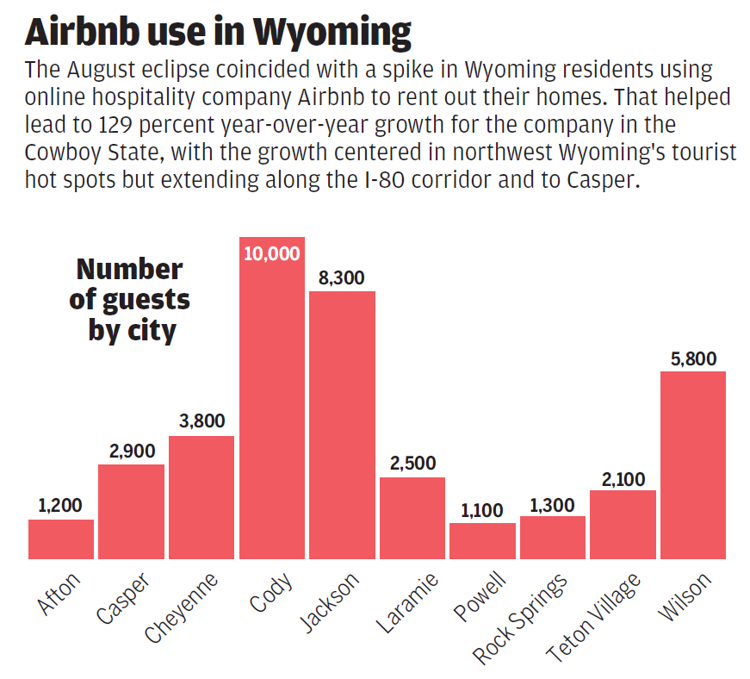 Company spokeswoman Jasmine Mora said that 83 percent of the people who rented their homes on Airbnb during the eclipse signed up specifically to do so.
Airbnb reached a deal with the Wyoming Department of Revenue just weeks before the eclipse to automatically collect lodging taxes from guests using the service and remitting those funds to the state.
Prior to that agreement, individual hosts were expected to keep track of how much lodging tax guests owed to the state, collect that amount from them and send it to the state. But officials say that rarely happened.
Kim Lovett, who oversees excise tax collection for the revenue department, said that while the total amount of lodging tax collected by Airbnb since August was confidential, the process had been relatively smooth.
Several Wyoming towns will experience a 7,000 percent increase in the number of visitors usi…
"There's always kind of a conversation back and forth trying to get the agreement you want, but once we agreed to all the terms it was pretty seamless," Lovett said.
Airbnb said in a press release that Wyoming hosts using the website earned nearly $8.9 million in 2017. It is unclear what portion of that was collected following the tax-collection deal in August, and it is difficult to calculate the total amount of revenue that Airbnb collected because the company applies several service charges on top of what hosts earn directly.
But assuming that the average revenue collected by Airbnb was consistent throughout the year, and that it charged a service fee of roughly 10 percent on top of the money earned by hosts, the state likely collected around $200,000 in lodging taxes from Airbnb during 2017.
Mora said she did not know exactly how much tax revenue Airbnb had sent to the state last year.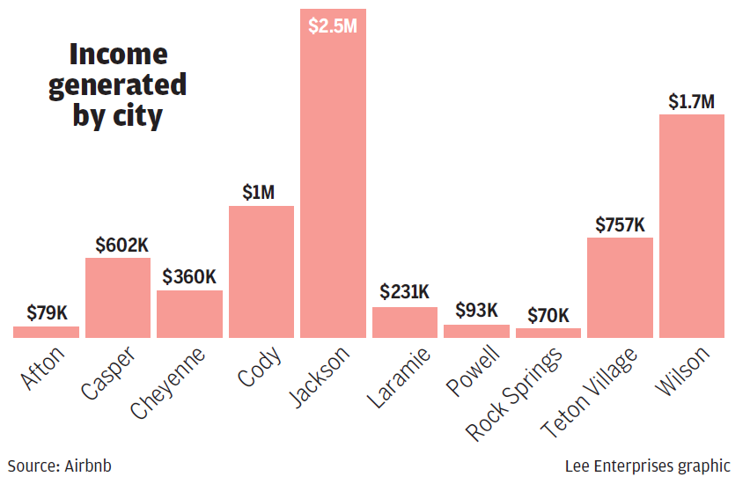 Wyoming collected roughly $1.25 million more in lodging tax between August and December 2017 than it did the year prior, before the Airbnb tax collection arrangement was in place, though that increase also corresponds with an overall improvement in the state's economy.
The most popular destination for Airbnb travelers was the Jackson Hole area, with 16,200 visitors staying in Jackson, Wilson and Teton Village last year and hosts in those towns earning $4.9 million. Jackson had the highest per-capita earnings per visitor at about $300.
Cody and Powell recorded a combined 11,100 visitors. Afton, in the Star Valley south of Jackson, saw1,200 visitors.
Afton had the lowest per-capita earnings of the towns on which Airbnb provided data, with hosts earning an average of $59 per visitor.
Wyoming's major population centers of Cheyenne, Casper and Rock Springs saw far fewer Airbnb travelers. Cheyenne had 3,800 visitors, Casper had 2,900 and Rock Springs 1,300.