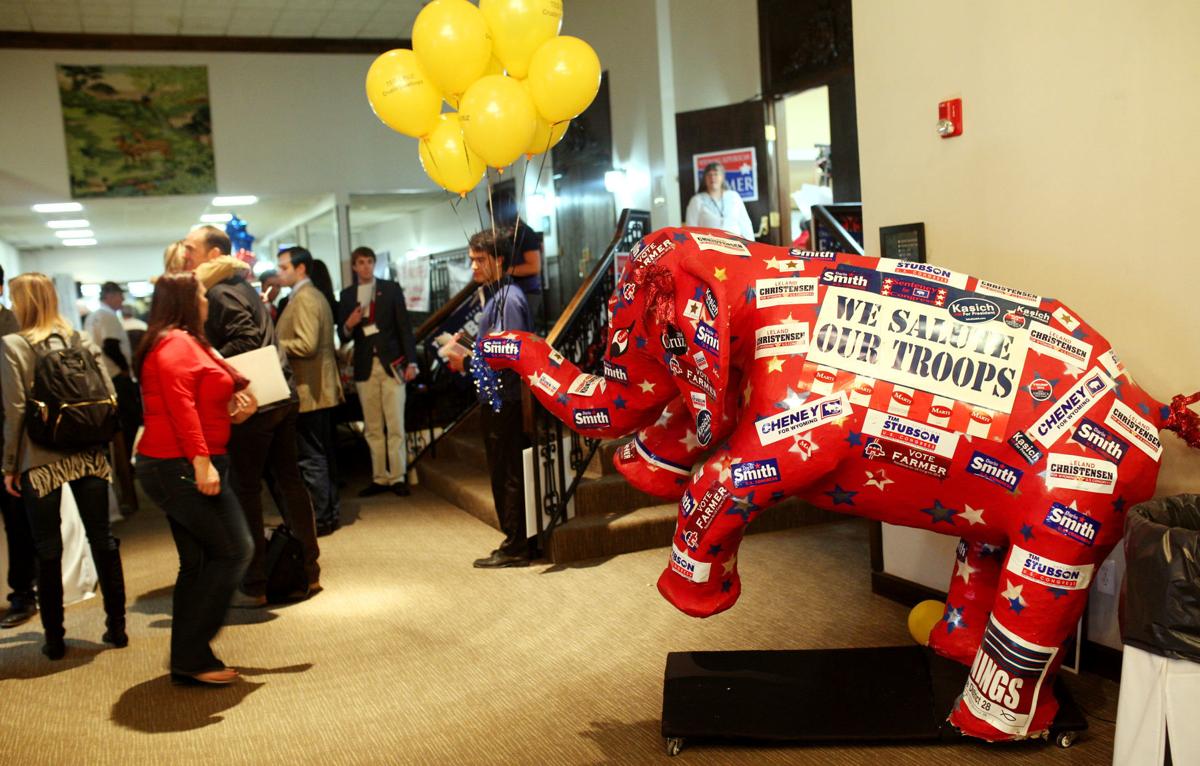 CHEYENNE — An independent group of Wyoming Republicans announced the formation of a new political action committee Thursday morning, with a focus on promoting civility in a political environment they say has grown increasingly combative in recent years.
The group, Frontier Republicans, already claims to have members in all 23 counties in the state, primarily consisting of conservatives who say they have grown disenchanted with the state GOP and affiliated movements discounting moderate conservatives as "Republicans in name only," or RINOs. In recent years, their members claim, the state party has been taken over by "extremists" on the far right, and the group's supporters have begun to speak out against what they see as an effort to force Wyoming Republicans to toe the party line both at the state and county level.
Now looking to expand statewide, the group got its start in Campbell County several years ago when Doug Camblin, a GOP precinctman since 2016, decided to form a group to promote civility in what he felt was an increasingly toxic and polarized environment there.
As the state Republican Party has pursued efforts some critics say are intended to "purify" the party — including internal investigations of officials who speak out and the creation of a review system to judge how closely elected officials adhere to the party platform — Camblin said he believes an effort promoting civility needs to similarly take foot.
"One of the things we're really wanting — and one of the foundations of the Frontier Republicans — is civility, honesty and respect," Camblin said at Thursday's launch at the Capitol. "The most polite way I can put it is that there is an extreme side to the Republican Party that right now has a lot of power in the state central committee. Every party has its swings, like a pendulum, to the far left and to the far right. But somewhere right in the middle is where we need to be."
Camblin, a rancher, said that he had only voted for one Democrat in his entire life — former Gov. Doug Freudenthal — and, since first becoming interested in politics, had always considered himself a Republican. However, something changed in 2018, he said. Wyoming Gov. Mark Gordon, then a candidate in the Republican primary, was consistently under attack, with some online attacking his more moderate stances as signs the long-time Republican was, in fact, a closet Democrat. County officials like Camblin and Natrona County GOP chairman Joseph McGinley faced heat from members of their own party, labeled as RINOs or Democrats despite stances that, by and large, are considered consistent with Republican values.
McGinley said a number of Republicans across the state — including many lawmakers — have faced similar attacks, causing many to feel alienated from a party they still believe is largely representative of their values. The big tent the party once claimed to be, McGinley said, seems to be shrinking, and dissenting voices are silenced by those he said use fear and discontent to marginalize anyone who doesn't toe the line.
"Our greatest asset is our individual freedoms," he said. "But there are extremists in our party and in others that have lost sight of this, and they yell pretty loudly.
"You don't have to have people agree with you to be conservative," he added. "If you're doing what's right, people will eventually see that and come over to your side."
While others — like Sheridan County GOP chairman and state central committee member Bryan Miller — agreed there might be some undue aggression from some groups outside of the party, he disagreed that the group was necessary, saying that it unfairly labelled all Republicans in the central committee as "extremists." Additionally, he insisted members of the Frontier Republicans could work to improve civility from the inside, rather than as a separate group. If those members engaged with party leadership, he said, concerns could be addressed through the existing chain of command.
"What has happened in the Republican Party over the years is a grassroots movement that has gotten more and more people involved," Miller said in an interview after the meeting. "What we've seen from places like Natrona and Laramie counties is they bring things to the state central committee, and 60 people out of 74 don't believe they align with their principles. We don't want to do Medicaid expansion, we don't want to do these things. Our party says no, the platform says no, and we're going to support what the people want.
"It makes no sense to me to create something, to try and do it on the side, and say you're here to help," he added. "It's like in the military — you have a standardized evaluation team — they say, 'You're here to help.' That usually means you're here to look at every little thing we do and ultimately tell us whether or not we pass."