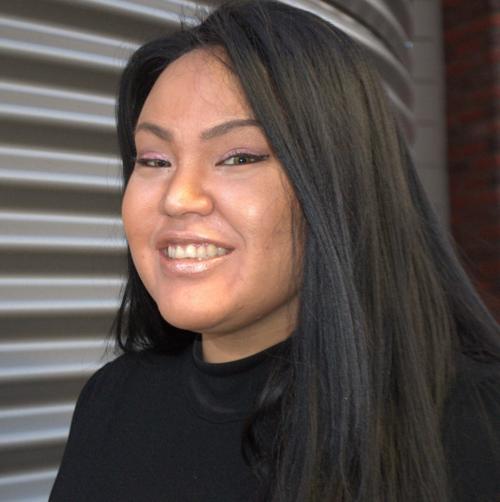 Northern Arapaho tribal member Lynnette Grey Bull officially announced her intention to run for the Democratic nomination for Wyoming's sole U.S. Congressional seat over the weekend. If elected, Lynnette Grey Bull would become the first Native American from Wyoming to hold federal office.
In remarks at the Wyoming State Democratic Convention on Saturday, Grey Bull — who had filed with the secretary of state's office but had not previously made her intentions public — declared a campaign centered on promoting civil rights as well as economic equality across Wyoming and the country.
The current vice president of the Global Indigenous Council and a leading voice on the state's efforts to address missing and murdered Indigenous women, Grey Bull drew heavily on the experience of being a Native woman in her speech, calling on a need for the "Equality State" to become a place of true equality amid a time of political upheaval and international dialogues on race.
"I stand before you as a full-blooded, Native American woman," she said in her speech. "And the statistics that hang over my head is that I am the most stalked, raped, murdered, sexually assaulted, and I suffer domestic violence 50 times higher than the national average compared to any other ethnic group in this country. I share this reality with you not to elicit guilt and unease but so you realize that I understand what this moment is in America. For some 400 years, people of color in this country have been crying, 'I can't breathe.'"
Like other Democratic candidates in the race — namely, her primary opponent Carl Beach — Grey Bull stated a commitment to running a campaign centered not just on racial justice but also issues like socioeconomic justice and equality for women. She said she is running on a promise to help veterans who are homeless, ranchers and farmers who no longer have access to markets, energy workers who has lost their jobs due to factors beyond their control, and LGBTQ couples denied service by business owners based on who they are.
"This is about us," she said. "This is not 'I,' it is 'we.'"
Her platform reflects that spirit, including proposals for a transition from fossil fuels to renewable energy, a proposal to "decriminalize addiction," widespread police reform and a focus on increased infrastructure spending, particularly in Indian Country.
"The COVID-19 crisis has drawn into stark focus the systemic failure of federal policy and administration in Indian Country and glaringly exposed what indigenous people have known for generations — that institutionalized racism infects virtually every aspect of what is supposed to be the federal-Indian trust responsibility," she wrote in her platform. "Infrastructure in Indian Country does not need incremental repair — Indian Country needs a functional infrastructure! Every aspect of vital infrastructure is lacking in Indian Country and we must change this with bold initiatives, not more of the same incremental failures."
She brings substantial advocacy experience to the table. Prior to her current position, Grey Bull served as executive director of the Wind River Native Advocacy Center as well as the chair of the Arizona Commission of Indian Affairs from 2015 to 2016 and has been actively involved in victim advocacy work as well as political organizing on the reservation.
Her reasons for running for Congress, however, are more than just a logical next step in that work, but an effort to better represent the demographics and backgrounds of most people living in Wyoming.
"I thoroughly believe that all things can be moved forward in an equitable manner where both parties are represented, and both parties have a say," she said in an interview. "I as a Wyomingite don't feel like I'm being represented the way I ideally would like in Congress. And so I think that Wyoming is ready for a Democrat candidate. I want economic development and job security just like [Republicans]. I want to protect the agriculture and farmers that we do have. All the different things that make Wyoming unique, I want those same things. And it takes a unique person to represent that, because Wyoming is unique."
At a pivotal time in the nation's politics, Grey Bull kicks off the beginning of a new era in Wyoming's politics as well: an increasing role of Native voices in shaping the political conversation.
While just three Native American politicians have ever been elected the Wyoming Legislature, a review of election records indicates no Native American candidate in Wyoming has ever run in a major party election for federal office.
However, the time seems ripe: While just 22 individuals with Native American ancestry have ever been elected to U.S. Congress, two of them — Wisconsin Rep. Sharice Davids and New Mexico Rep. Deb Haaland — were elected in the 2018 midterm election. More than a dozen Native American candidates nationwide have announced congressional bids ahead of the 2020 elections.
That influx of candidates was not lost in her introductory speech, in which Grey Bull declared the need for greater representation of all the people of Wyoming on the national stage.
"Today, there is no holding back," she said. "We must hold this truth to be self-evident that we the people must finally become all the people. For without that, there never will be a more perfect union. I seek this nomination not to represent the party as a Democratic candidate for Native America, but as a proud, Native American who aspires to give voice and serve all the people of Wyoming."
While facing a less crowded Democratic field than that for the open U.S Senate seat vacated by Sen. Mike Enzi, Grey Bull will ultimately have a fight before potentially facing off against Rep. Liz Cheney in the general election. In addition to Beach, Grey Bull will also face off against Carol Hafner, a perennial novelty candidate in races all across the nation.
Hafner, who is from out of state, has already been denied resources from the state party, which has committed to only supporting candidates within its own borders.
The primary takes place Aug. 18.
Get Election 2020 & Politics updates in your inbox!
Keep up on the latest in national and local politics as Election 2020 comes into focus.