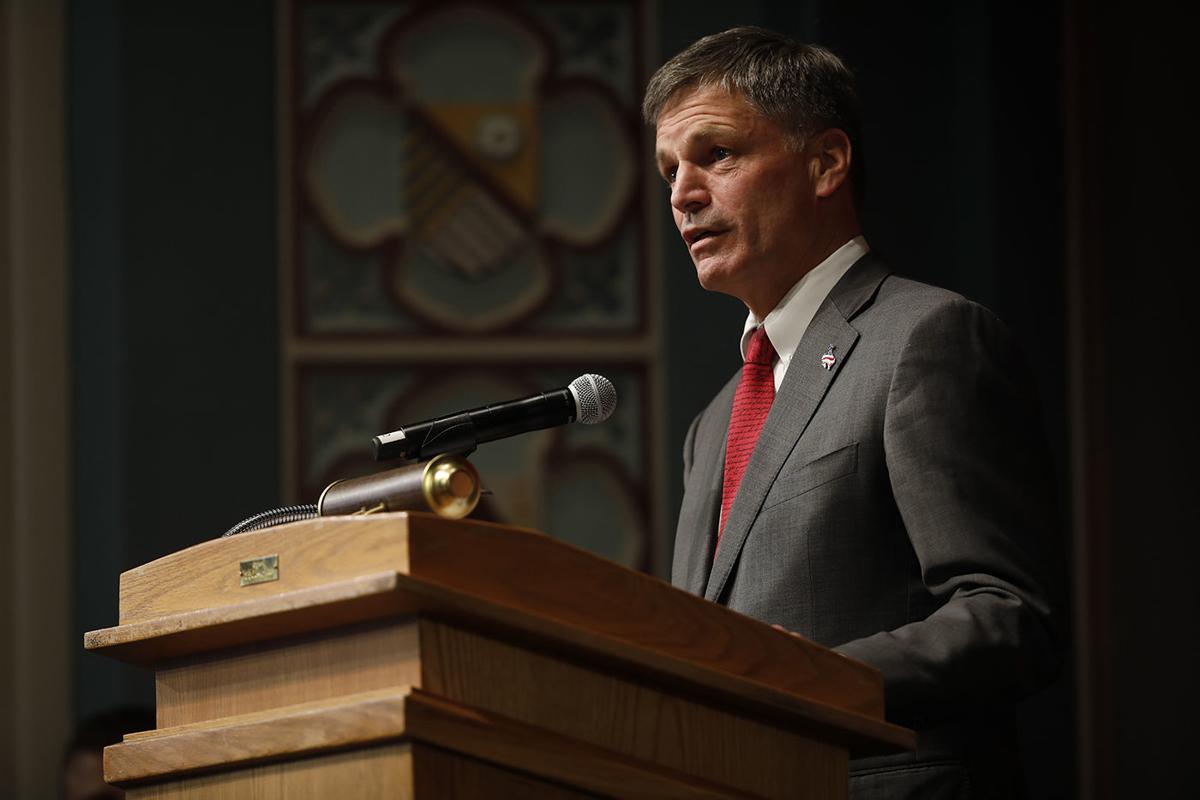 Despite the moniker of being the "Equality State," Wyoming – with one of the largest gender wage gaps in the nation — still lacks pay parity between its men and women.
Following a 2019 legislative session in which a number of bills intended to address the problem failed, Gov. Mark Gordon will sign a proclamation on June 17 declaring the previous Monday – June 10 – as Wyoming Equal Pay Day, a joint effort between the Wyoming Council for Women and the Wyoming Women's Foundation.
The event, according to an announcement, is intended to directly draw attention to the issue by elevating the conversation around the economic potential of improving pay parity between men and women. According to a 2018 Department of Workforce Services report on the state's gender pay gap, closing the gap could result in an economic impact as high as $153 million and roughly $5 million per year in new state and local tax revenue.
"The wage gap is important to the Women's Foundation because it measures the potential that women could be earning if they were making the same wages as men," said Bekah Smith, director of the Wyoming Women's Foundation. "If this potential were realized, women and families would see economic gains. When families prosper, that economic productivity goes back into their communities and Wyoming benefits."
Though data shows women in Wyoming can often earn less than men with similar occupations and with similar levels of experience, some groups and lawmakers have argued that the wage gap in Wyoming is not as serious an issue as some make it seem. They contend that factors such as job choice – particularly an attraction to the high-paying, male-dominated worlds of drilling and mining – and factors like hours worked, education, tenure, having children or growing older skew the numbers, broadening the on-paper disparities between men and women.
"The DWS Study was comprehensive, exhaustive and confirmed what many of us knew," a February 7 blog post from the Libertarian Wyoming Liberty Group read. "Wyoming is a great state. It's a great state for women. Employers pay men and women fairly considering the nature of the job, education attainment and hours worked.
"Due to the high wages paid in the mineral sector, Wyoming is a great state to enable women to choose to work at home raising their families," it added.
But anecdotally, low wages for women in Wyoming have other impacts: namely, an inability to obtain financial independence, an unconscious penalty for motherhood and other detriments that uneven pay for equal work can have.
"The gender wage gap is a pressing economic security issue for women in Wyoming and offers economic development opportunities for everyone in our state," said Jen Simon, the vice chair of the governor's council on women's issues and the founder of the Wyoming Women's Action Network.
Monday: Wyoming Legislature's Judiciary Committee meets in Gillette.
Tuesday: Senate Committee on Environment and Public Works will hold a hearing on the nomination of Teton Village resident Rob Wallace to be assistant secretary for fish, wildlife and parks at the Department of the Interior.
Wednesday: Legislature's Education Committee meets in Casper.
Thursday: State Loan and Investments Board meets in Cheyenne.
Have an event you'd like highlighted here? Email me with the date, time, and place!
Wyoming faces big questions on state budget: Whittling down the months to the 2020 budget session, the Wyoming Legislature finds itself at an interesting crossroads – trying to raise revenues while, at the same time, trying to downsize government. (via Trib.com)
Opinion: Is Wyoming spending millions for pie-in-the-sky 'savings'? The New York-based consulting firm, Alvarez and Marsal, has been awarded two efficiency study contracts in Wyoming totaling $2.175 million through the Government Efficiency Commission. The way this is set up, A&M makes more money for each new efficiency study they conduct. And they get paid whether the state saves any money or not. (via WyoFile)
Legislator to proceed with effort to ban 'sanctuary cities': In the midst of a "border crisis," Casper Rep. Chuck Gray is trying to bring back legislation to ban laws limiting local participation in enforcing immigration law, despite no real efforts to create one anywhere in Wyoming. (via CowboyStateDaily.com)
The Western Governor's Association sent a letter to Environmental Protection Agency director Andrew Wheeler last week expressing "continued concerns" about the agency's plans to revise its guidance on the implementation and administration of the Clean Water Act Section 401, which has been used in states like Washington to block the transport of Wyoming coal to foreign markets.
"Any regulatory change to the Section 401 certification process should be developed through genuine consultation with state and local governments and must not come at the expense of state authority," the letter read.
The policy has been of particular concern to Wyoming, which has long sought a greater role in implementing water permitting within its own borders.
"I'm working on that," Gov. Mark Gordon told the Star-Tribune on Friday. "That's leftover policy from Gov. Mead's time. As you know, we've tried to cut a slightly different path and give states the authority to handle the water permitting within their states."
Escalating trade war with China causes concern for Wyoming producers: Despite bright moments for the United States' foreign trade policy earlier this month, an escalating trade war with China — a growing market for Wyoming goods and services — is presenting significant concerns for Wyoming industry. (via Trib.com)
For the past two decades, a suicide epidemic fueled by guns, poverty and isolation has swept across the West, with middle-aged men dying in record numbers: Toby Lingle was cremated in a 49ers cap, a Star Wars T-shirt and sunglasses shortly after his funeral at Highland Park Community Church in Casper, Wyoming. He was 43. The outfit was the daily wear for an aggressively coarse and casual man. Lingle was that guy, the one who told the crude joke to your kids and insisted on swearing in front of the elderly at restaurants. He would simply amp up the blue material and drop some more f-bombs if you called him on it. (via Rolling Stone)
Tribe leader says casino boss out, but some on council differ: After a 3-3 vote by the Northern Arapaho Business Council last week, Wind River Hotel and Casino CEO Jim Conrad received a letter from NABC chairman Lee Spoonhunter which stated Conrad will not be offered a new contract. (via The Riverton Ranger)
Mills is one of the few growing towns in Wyoming. But that growth has come with consequences: Nearly a century has passed since the genesis of the blue-collar borough, but Mills' identity is largely the same: a central Wyoming town formed and sustained by industry. While still true to that identity, Mills is changing. New middle-class subdivisions have emerged. Retail is expanding. (via Trib.com)
How Wyoming manages to keep its rural schools open: The one-room schoolhouse may seem like a distant memory from U.S. history, but about 200 of them still exist today, including Wyoming's tiny Valley Elementary School. It has only six students, but in Wyoming, education funding is redistributed so that students can have access to similar resources, no matter how small or remote their location. (via PBS News Hour)
Sen. John Barrasso introduced legislation allowing for the burial of nuclear waste at Yucca Mountain in Nevada, a topic he visited in a Wall Street Journal op-ed on increasing the nation's reliance on nuclear energy in an effort to fight climate change.
Sen. Mike Enzi had a fairly calm Memorial Day week.
Rep. Liz Cheney began her week with a bombshell of a quote suggesting two former FBI agents' text messages in the lead-up to the 2016 election sounded "an awful lot" like a coup and "could well be treason," a statement boosted by the president and criticized by many, including retired Air Force Col. Morris Davis.
Follow politics reporter Nick Reynolds on Twitter @IAmNickReynolds