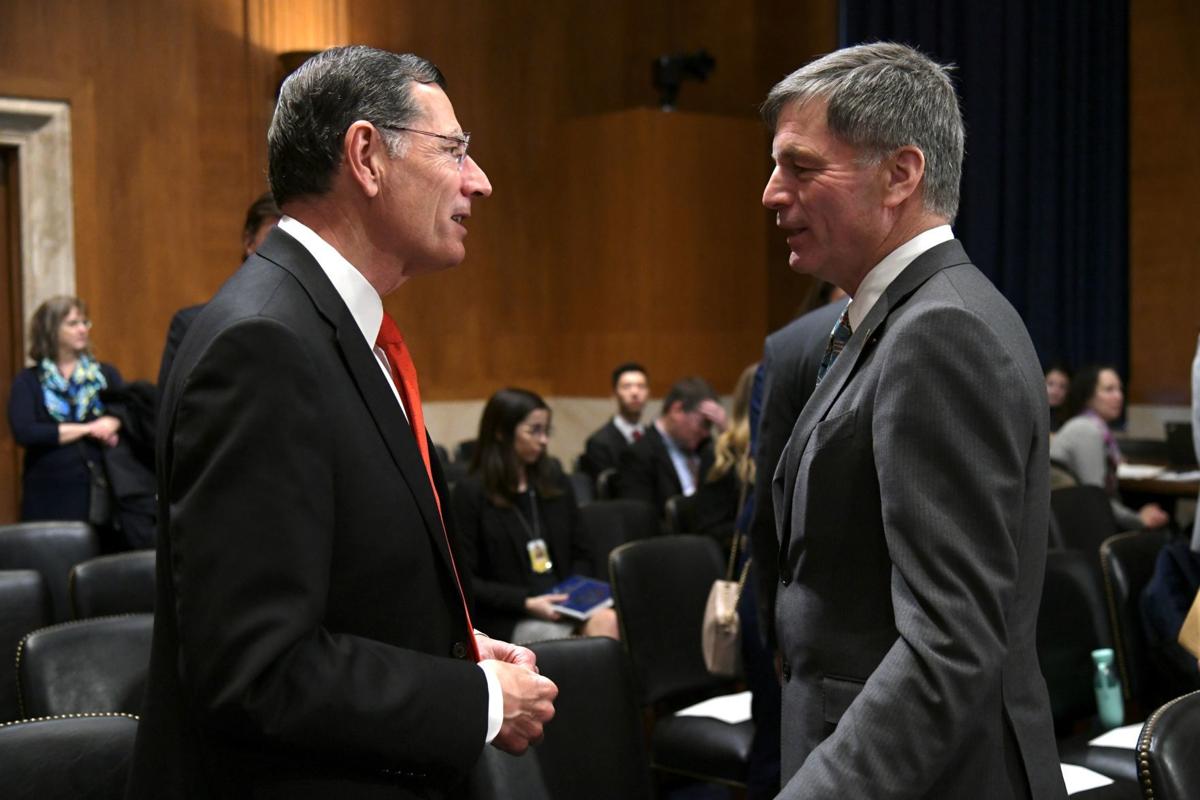 Not even one year into his administration, and Gov. Mark Gordon has already made an impression on Washington.
One of his biggest moments, however, may have been last week, when the governor was offered a rare opportunity before Congress to testify on the implications of reforms to Section 401 of the Clean Water Act, an appearance facilitated by Wyoming Sen. and EPW Committee Chairman John Barrasso. The hearing – which was several hours in-length – offered the state's chief executive a rare opportunity to testify on the complicated relationships states have with federal environmental policy while, simultaneously, serving as an ambassador for one side of a highly polarized environmental debate.
But Gordon wasn't done, however, using his trip to reconnect with some old friends in Washington: Rep. Liz Cheney, Sec. Bernhardt and Sec. Perry.
While no new proposals came out of the meetings, per two officials present, Gordon's high-level discussions with the two officials did bear some positive news for the first-year governor on long-standing concerns like migration corridor management and sage grouse habitats, both areas which Gov. Gordon has pushed for increased influence over, while thanking the DOI's involvement in securing emergency funding for the Goshen County Irrigation District in the wake of an irrigation tunnel collapse there.
"The Governor and Sec. Bernhardt have developed a very good relationship," said Gordon spokesman Michael Pearlman, who traveled with the governor. "I think I can accurately characterize that they tend to see eye-to-eye on state and federal guidance. It's been a good and cooperative relationship."
Other areas discussed with the three officials include:
Coal bankruptcies in the Powder River Basin.
Future funding opportunities for carbon sequestration research – a key focus of the governor's.
The potential modernization of an ICBM launch system at F.E. Warren Airforce Base in Cheyenne, which could millions of dollars in economic benefit to the community.
Though last week's meetings yielded encouraging news for Wyoming's current relationship with the federal government, it underscored a level of regulatory uncertainty that could await the Equality State in 2020. Sec. Perry – one of the longest-tenured members of Trump's cabinet – announced his pending resignation last month and, as an impeachment inquiry continues against the president, the world outside the Beltway is gearing up for an election in 2020 that could have drastic, unforeseen consequences for the state's minerals-based economy.
While officials in the Gordon Administration anticipate little short-term change, boasting solid relationships with officials on-the-ground and support staff in the Department of Energy, they say there is too much political uncertainty ahead to anticipate a reliable regulatory environment beyond 2020.
At least for now, Wyoming is enjoying a healthy relationship with the federal government. Beth Callaway, Natural Resources Policy Advisor to Gordon, said her division has had an open line to federal agencies since taking office while the state's congressional delegation has kept its policy relationship very close with the interests of Cheyenne.
"I can't speak for previous administrations," Callaway said. "But I can say that Wyoming has really carved out this role, at least with federal land management and natural resource agencies, in a very strong way. Compared with other states, I think we've had a long-standing level of interaction and cooperation."
The Week Ahead
It's Thanksgiving Week – Enjoy Yourselves!
Have an event you'd like highlighted here? Email me with the date, time, and place!
You have free articles remaining.
Wyoming Politics
The Wyoming PSC's uncomfortable moment in the spotlight: WyoFile's Andrew Graham takes a look at how a non-partisan agency's mission to provide the best possible prices for ratepayers is proving to create some discomfort with lawmakers, who see that mission at-odds with their efforts to support the state's minerals industry. (via WyoFile)
Inside the Wyoming GOP, critics are silenced as party leadership turns increasingly to the right: In case you missed it, my deep dive into an effort to crush dissent within the Wyoming GOP. (via Trib.com)
Residents push for removal of Dayton mayor: About 30 of Dayton's 757 citizens applauded a public statement asking for Mayor Norm Anderson's removal from his post this week after allegations of gamesmanship around building permits and hiring practices. (via the Sheridan Press)
Rep. Mike Yin's second home fee needs work: Teton County's Mike Yin didn't have much luck with the passage of a bill to impose fees on owners of second homes who leave them unoccupied in the offseason, seeing his legislation shot down by the Joint Corporations Committee last week. However, he seemed encouraged that it has some promise. (via The Jackson Hole News & Guide)
Around Wyoming
Wyoming Supreme Court hears public defender arguments: Isabella Alves of the Wyoming Tribune-Eagle has the latest on a rather interesting case in Wyoming Supreme Court this week: Whether an overworked public defender's office can decline to represent someone for a misdemeanor offense. (via the Wyoming Tribune Eagle)
Will tribal police soon be allowed to arrest non-tribal members? Officers on the Wind River Indian Reservation - who are commissioned by the Bureau of Indian Affairs - have authority to arrest and cite tribal members. That could change if lawmakers at a Wyoming Legislative Tribal Relations subcommittee meeting last month who sought to revive a defunct 2013 proposed bill that would grant Indian Country agents inherent law enforcement authority over non-enrolled offenders are successful next interim, however. (via the Riverton Ranger)
Judge won't show personnel files to Nichols: Albany County district court Judge Tori Kricken will admit former University of Wyoming President Laurie Nichols as a party in a court case regarding the release of records related to her exit from the post earlier this year. However, she won't be able to view those records – the main reason Nichols joined onto the case. (via the Laramie Boomerang)
Eye On Washington
John Barrasso introduced another Nuclear Waste Policy Act reform bill, with provisions including a formal licensing of a storage facility at Yucca Mountain license, measures to allow adequate funding for the construction and operation of a multi-generational infrastructure project, and directions to the Department of Energy to move forward with a temporary storage program – something the Wyoming Legislature briefly considered this interim.
Mike Enzi co-sponsored a handful of bills, including legislation that would amend the Immigration and Nationality Act to extend the period of detention for illegal residents set for deportation.
Liz Cheney began her week by joining Sens. Ted Cruz and Lindsey Graham in a statement applauding the Trump administration for announcing the end of the waiver for civil nuclear work at Iran's Fordow, the latest in a string of critiques on an existing nuclear deal between the United States and Iran. The once secret site – which was used to enrich uranium – was converted to a civilian research facility in 2015, however the United States announced it would be ending that provision of the deal after a recent announcement from Tehran that enrichment activities would continue.
Cheney also met with several Wyomingites this week, counting appointments with Jackson Hole Kayak School owner Aaron Pruzan, Northern Arapaho Business Council Chairman Lee Spoonhunter and White House fellow Dakota Roberson, who received his doctorate in electrical engineering from the University of Wyoming in 2017.
Finally, Cheney facilitated a meeting between Gov. Mark Gordon and Deputy Secretary of Defense David Norquist, to talk F.E. Warren, and spoke with the governor about continuity in the state's Abandoned Mine Land funding.