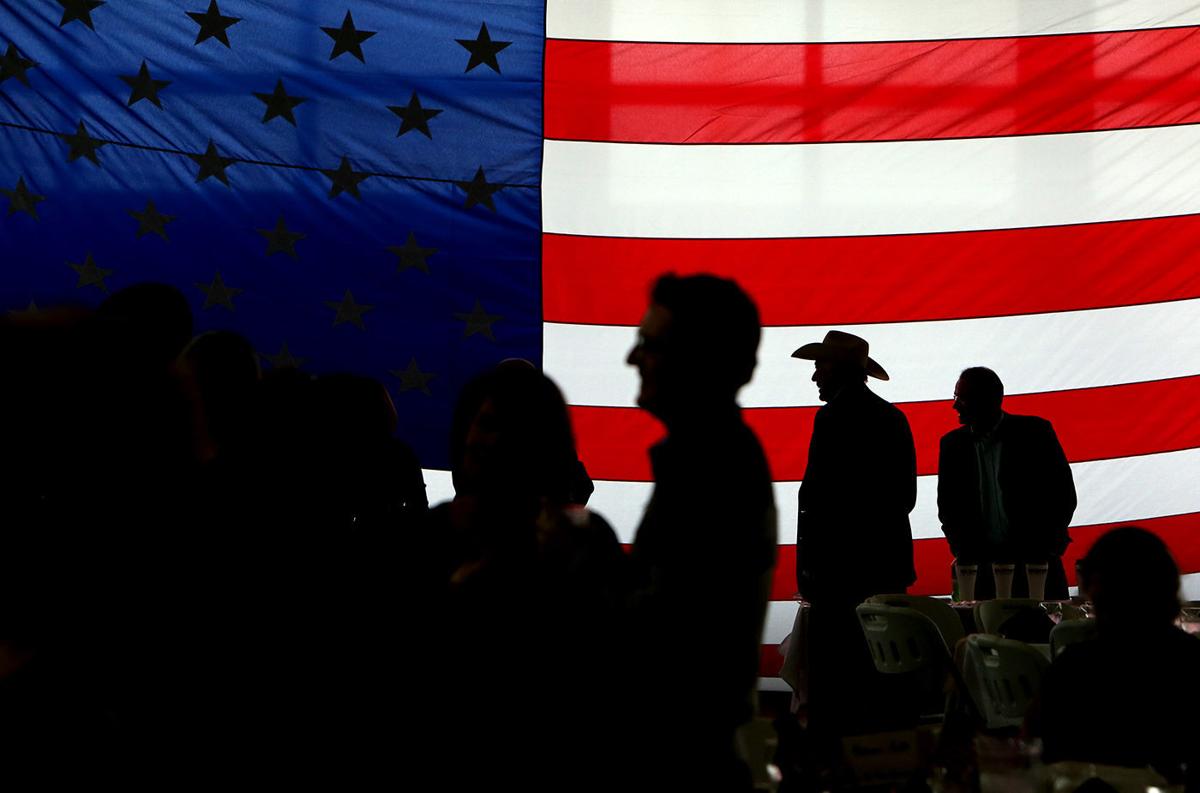 After months of conflict, last week's meeting of the Natrona County Republican Party's executive committee seemed like it would be a blockbuster.
Just weeks removed from learning he was the subject of an internal investigation by the state central committee, Natrona County GOP Chairman Joe McGinley found himself facing down an audience filled not only with local officials, but with several visitors from around the state in the opposing camp.
Carbon County Republican Party Chairman Joey Correnti – donning a pair of cowboy boots and openly carrying a handgun on his hip – was in attendance, and several officials within the state central committee made the journey to Casper as well to monitor the latest in what state party officials have determined to be open revolt by McGinley.
His crimes, according to documents pertaining to his investigation read aloud at Thursday's meeting, are many, and what McGinley described as "comical": opaque charges of misrepresenting the state party platform, for one. Talking about a closed-door investigation by party officials being carried out against him (which he said, he has still not been contacted for) with the press, for another.
Finally among the charges: McGinley is accused of engaging in "active revolt" against the party, an allegation which manifested itself with Natrona County Republicans collectively voting over the summer to withhold all financial support to the state central committee over activities the county party disagreed with.
"It's actually rather embarrassing these members went through all these efforts to disparage members of their own party," McGinley said.
Yet, for all the venom of 2019, Thursday night – with all that was at stake and with all the guests in attendance – counted itself among the calmest meetings of the Natrona County Republican Party in recent memory.
Correnti – who presented delegates of the NCGOP with semi-vulgar gag gifts at a meeting of the central committee over the summer – used his time in the meeting's public comment period to apologize, saying he "meant no disrespect" with his gifts. One official from Converse County quoted George Washington in an appeal to quell the conflict within the party. Another suggested the county party should introduce a resolution at the state central committee centered on something every Republican has in common — a desire to re-elect Donald Trump as president – as a means to calm some nerves. (The suggestion was not acted upon.)
So what changed? Attitudes, perhaps, or a desire to try and get things done. But it was difficult to ignore the fact that, as of Thursday night, the Wyoming GOP has been experiencing one of its worst fundraising years in recent memory.
According to campaign finance documents, 2019 has, to date, been the third-worst fundraising year for the state party in a decade, managing to raise a little more than $31,000 from a decade-low 58 donors. And Casper – which has accounted for nearly one-fifth of all of the party's in-state fundraising over the last 10 years, according to a Star-Tribune analysis – accounted for roughly one-third of that amount, $10,000 of which came from just two people.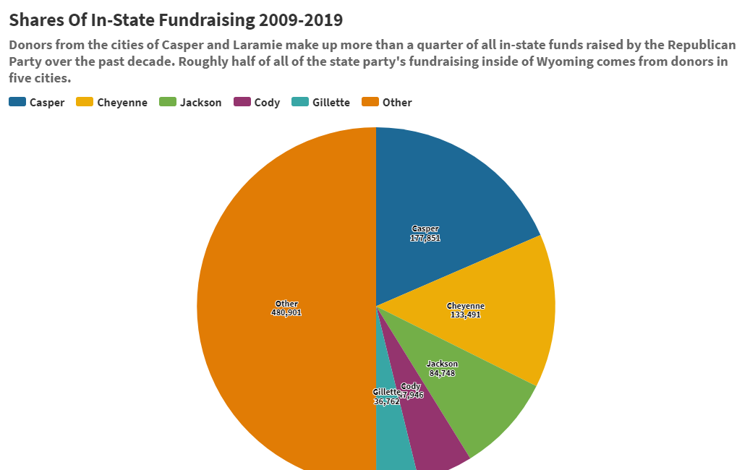 Compare that to Republicans in Cheyenne – which gave a paltry $3,000 in donations so far in 2019 after contributing more than $133,000 over the decade – and it becomes apparent: the party needs its cities.
It may need them now more than ever, particularly as the committee currently sits on a war chest of just over $34,000, according to the FEC. According to a Star-Tribune review of 10 years of campaign finance reports, the state Republican Party is currently sitting $10,000 behind its annual haul in off-years (i.e. non-midterm, non-general election years) and significantly behind its annual in-state fundraising average of $87,000.
Other recent setbacks – like the resignation of Diemer True as the party's finance chairman – and the indefinite postponement of a planned Jan. 12 fundraiser in Cheyenne (delayed, according to Chairman Frank Eathorne, due to there being too short of a planning window) are only likely to exacerbate the problem. However, the party – albeit under True's direction – recently completed an October mailing campaign, and the ultimate impacts will likely not be seen until early in 2020.
Correction: Joey Correnti was previously listed as being the chairman of the Sweetwater County Republican Party. He is actually chairman of the Carbon County Republican Party.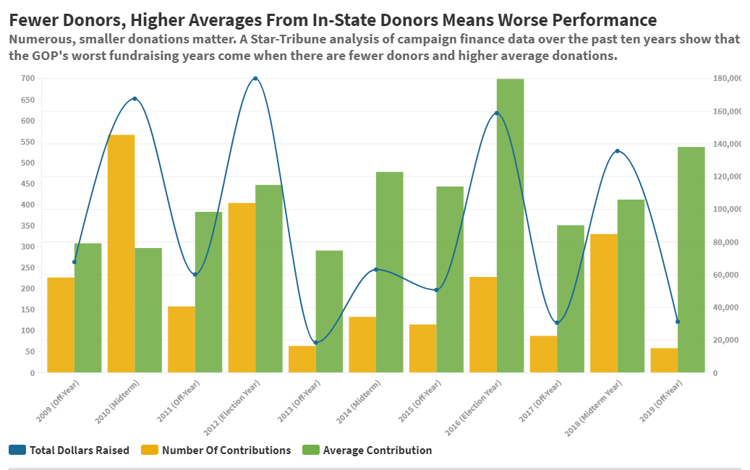 Appropriations Committee convenes for the first time. They will meet up until session starts. Gov. Mark Gordon to participate in tele-town hall with AARP members. Reception for Women's Suffrage to take place in Cheyenne.
You have free articles remaining.
Women's Suffrage Parade takes place in Cheyenne. Wyoming Oil And Gas Commission meets in Casper. Wyoming Stockgrowers Association holds annual luncheon in Cheyenne.


Capitol Building Rehabilitation and Restoration Oversight Group meets in Cheyenne.


State Building Commission meets in Cheyenne.


Wyoming Business Council to host a summit on food insecurity in Casper.


None.


Have an event you'd like highlighted here? Email me with the date, time, and place!Wyoming Politics
Educators raise concern about planned release of name, salary of every school district employee in state:
A state senator requested information on every state employee, he said, causing a slight panic among the education community. (via Trib.com)


New report shows Wyoming lawmakers work more, earn less than counterparts: The title speaks for itself, but it kicked off quite a debate on Twitter, which you can follow here. (via Trib.com)Around Wyoming
If you read anything this week, the Star-Tribune released our long-anticipated special issue looking at the 150th Anniversary of Women's Suffrage in Wyoming, and what it means to be a woman in the Equality State today. Pick it up on newsstands or check it out on Trib.com.Eye On WashingtonJohn Barrasso
hosted his and his wife's annual cookie party for Senate staffers, as well as announced the release of the December 2019 Senate scorekeeping report, which tracks the budgetary impact of legislation approved by Congress.


kicked up a lot of dust on the national stage, both by invoking the "Pocahantas" slur toward presidential candidate Elizabeth Warren (which many tribes denounced when President Donald Trump first invoked it) but also for the predictable announcement she would be voting "no" on articles of impeachment.


Beyond that, Cheney had a very productive week, voting to pass a bill intended to cut down on robocalls and hosting Vice President Mike Pence at the House Republican Conference. On Thursday, she met with the Coal Caucus to discuss coal production around the country, and revived efforts to pass a bipartisan NDAA that has been held up by, among other things, impeachment talks.