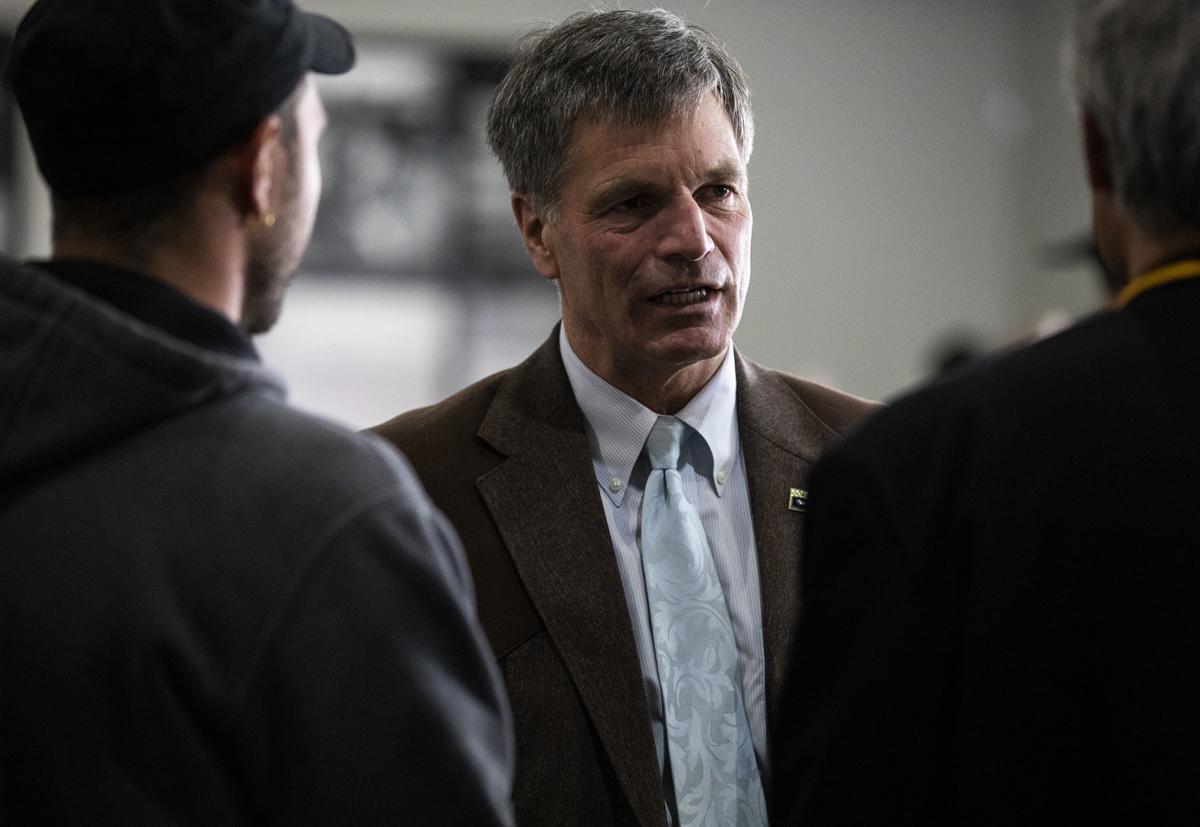 This week, Gov. Mark Gordon will release the first full budget of his administration, setting a process in motion that will define the course of state government for the next two years.
Entering Monday's news conference outlining Gordon's recommendations, only one thing is already certain: The operating budget for the next biennium will be significantly smaller than in recent years.
Simultaneously, dispatches from committee meetings this week presented an even bleaker picture. In a meeting in Cheyenne early last week, the Joint Committee on Revenue continued to shy away from approving legislation to generate new dollars for the state. Having already rejected a property tax increase that could have raised an estimated $100 million at its last meeting in Pinedale, the committee last week proceeded to kill a bill that would have imposed a phased-in, 2 percent increase to the residential and commercial property tax assessment ratio — likely due to its equivalency to a 20 percent tax increase.
As the state's coal revenues continue to decrease, the future for Wyoming's other revenue options are beginning to look less than optimistic. In a meeting of the Select Committee on Capital Financing and Investments in Casper last week, lawmakers were treated to the expectation of a net zero return on the state's investments over the next decade while Patrick Fleming — the state's chief investment officer — outlined the state's plans for coping with a recession many analysts have warned could be coming.
"On a long-term probability, I feel very confident that (number) will be in the ballpark," Fleming told committee members.
While it's universally agreed that Gordon's budget will result in cut services, state lawmakers remain embroiled in debate on the best way to make up for a loss in revenues. Some have proposed new taxes and fees with earmarks attached, while others have argued cutting taxes to spur development is the best solution, despite the long-held theory that every untaxed job likely costs the state more in services than it generates in income.
Though much talk has been had about the state's structural deficit — a product of Wyoming's overreliance on diminishing energy revenues paired with a high cost of services — some lawmakers believe that the worst impacts of coal's decline can be offset within the state's current tax structure, rather than with "new" taxes.
Rep. Andy Schwartz, D-Jackson, suggested in an interview with the Star-Tribune last week that the simplest solutions would likely come from small increases to existing taxes.
"That implies it's structural, and we can't change it," he said. "But it's really about policy decisions, about how much you want to spend and how much you want to change your revenue streams. I would argue that we need to look at the revenue streams, that there are tax options we're not taking advantage of. Whether that's raising the sales tax, raising mills on property tax, whatever that may be. It's not structural; it's policy."
That said, few options have been palatable to policymakers this year. Members of the Revenue Committee have rejected most of the sizable options that have come before it, while at its November policy meeting the Wyoming Taxpayers Association — one of the state's more influential lobbying organizations — chose to put its support behind just one tax on the table in 2020: a 3-cent increase to the state's fuel tax. Not due to some anti-tax animus — the organization is explicitly a sound tax policy think tank — but because of the fairness of those tax proposals, few of which meet the organization's cornerstones of taxation.
Meeting those will likely mean having some difficult conversations, having to take sides on taxes that while "fair" may be unpopular with constituents.
"Individuals and legislators are going to have to prioritize whether they want services to go down, or if they want to see new revenue sources come in," said Ashley Harpstreith, the association's executive director.
With all the best options gone and a two-thirds vote needed to introduce non-committee bills in a budget session, an ideal solution is likely not going to come anytime soon.
Monday: Corporations Committee meets in Cheyenne. Laramie County Democrats meet in Cheyenne. Gov. Mark Gordon announces his 2020 budget recommendations.
Tuesday: Gordon to testify before the Senate Committee on Environment and Public Works in Washington, D.C.
Thursday: Wyoming's Tomorrow Committee meets in Cheyenne. Sweetwater County Democrats meet in Green River.
You have free articles remaining.
Weekend: Wyoming Republicans host a craft fair and fundraiser at the Holiday Inn Riverton.
Have an event you'd like highlighted here? Email me with the date, time, and place!
Rep. Mike Yin to introduce bill that would impose fee on second homeowners: A Teton County representative wants to introduce a bill putting a flat, square footage-based tax on homes that sit unoccupied at least six months out of the year. Money collected would go to Wyoming's Property Tax Refund program, benefiting people statewide who make under 75 percent of the median household income for their respective county. (via Jackson Hole Community Radio)
Wyoming Democrats, Republicans tackle civility during discourse at Governor's Business Forum: A recap of one of the big discussions at the annual Governor's Business Forum in Cheyenne. (via the Wyoming Tribune-Eagle)
Governor says he stands behind Health Department amid allegations of obstruction: After a former high-ranking official declared obstruction by state officials in their investigation of Medicaid fraud, Gov. Mark Gordon declared he is standing behind the department. (via Trib.com)
Senior Center drama – board dispute leads to threat, staff discontent: Leo Wolfson of the Cody Enterprise has one of the crazier stories you'll read this week, where a number of disputes on the board of a local senior center have now become the subject of a criminal investigation and a possible employee walkout. (via the Cody Enterprise)
Federal hate crimes report underscores Wyoming's lack of enforcement: A report released by the U.S. Commission on Civil Rights notes that hate crimes are not only increasing in America, but are often unreported. Wyoming is one of the worst states in the country for tracking these crimes, reporting just four incidents in 2017. (via Trib.com)
Teton County's emergency services need help as dispatcher staff shrinks: Teton County is reportedly one dispatcher away from being unable to handle all of its emergency phone calls. Currently, the dispatcher's office staff is only about half of what it should be. Low pay was named as the culprit. (via the Jackson Hole News & Guide)
County attorney, state hospital fight over patient's admission: A very interesting story about a state Supreme Court case involving a 22-year-old Cody resident who was involuntarily committed to the state's mental health facility but was refused admission by hospital staff who questioned whether he was still suffering from psychiatric problems. (via The Powell Tribune)
John Barrasso co-sponsored several pieces of healthcare legislation, including bills to amend the Public Health Service Act as well as repeal changes that carved out exceptions to the prohibition on certain physician referrals for hospitals.
Mike Enzi spoke out on ways to reduce teen tobacco use, calling on the Food & Drug Administration to commit to regularly reporting to Congress every two years on how the Tobacco Control Act is working. It has done so just once in the last decade.
Liz Cheney slammed President Donald Trump for a tweet criticizing a former Ukraine ambassador who testified against him in impeachment proceedings last week. Beyond that, the congresswoman garnered a number of positive headlines, including an effort with Wyoming's VFW Post 1881 to secure replacement medals to the son of a WWII veteran that were stolen from him and her introduction of a resolution looking to designate Dec. 10 as "Wyoming Women's Suffrage Day."
Rep. Cheney hosted a number of Wyomingites in Washington this week, hosting Wyoming Reps. Tyler Lindholm and Andi Clifford on military issues (Lindholm has been a critic of Cheney's involvement in perpetuating the United States' role in "endless wars") and the Wyoming Department of Environmental Quality's Alan Edwards, who was invited to testify on Wyoming's experience with the AML program.
Cheney also joined Sens. Ted Cruz and Lindsey Graham to introduce legislation that would dismantle a key part of the Iran nuclear deal and, amid all this activity, found time to speak to the centrist Republican public policy organization known as the Ripon Society, where she reiterated her belief that impeachment proceedings against President Trump have distracted the House Intelligence Committee from other pressing matters, leaving the U.S. vulnerable to interference from foreign adversaries.
"The House Intelligence Committee is one of the most important committees in Congress when it comes to the security of our nation," she said. "When you take the Intelligence Committee and consume it with impeachment, that means the Committee's members are not spending their time getting briefings on what's happening around the world, whether it's in Syria or North Korea or China or Russia."