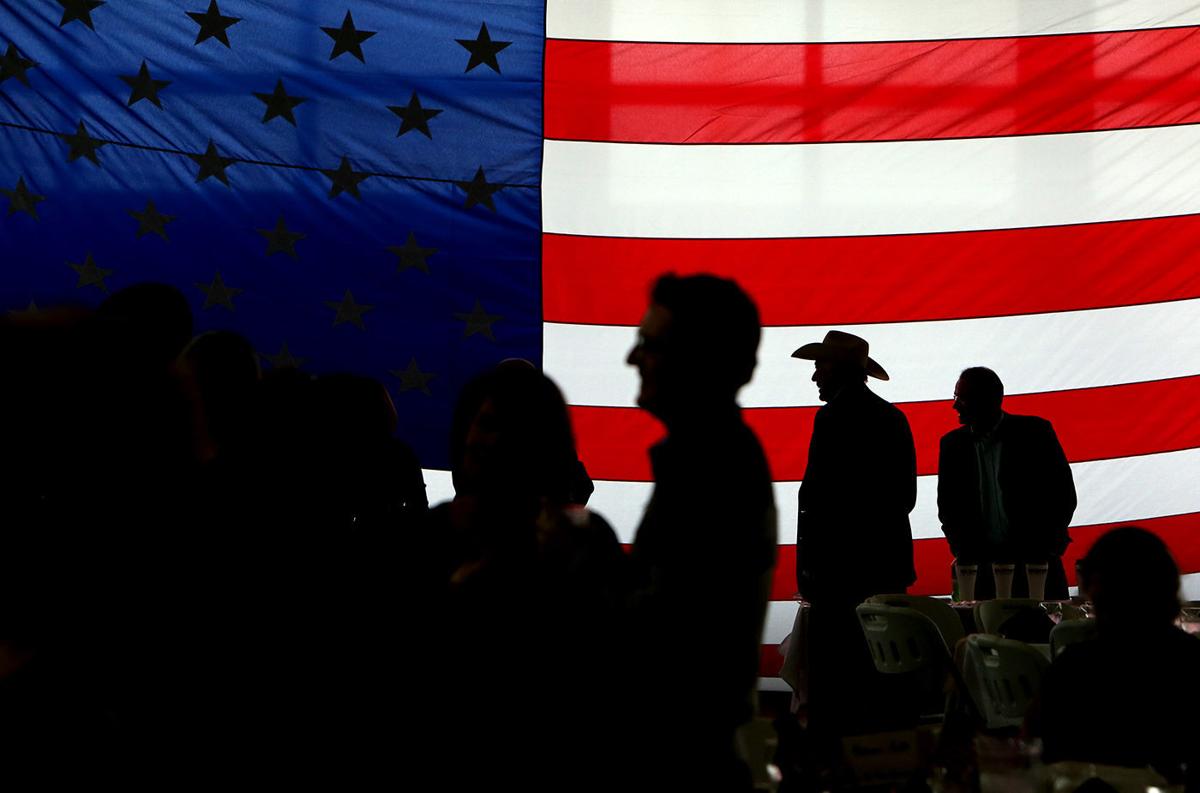 Roughly one in every four Republicans in Wyoming comes from either Natrona or Laramie counties.
Though technically in the minority, the group representing that 27 percent seems to have wanted more of a say in the minutae of state party politics.
Over the past several weeks, the two largest voting blocs in the Wyoming Republican Party appear to have declared open revolt against the state central committee. The powder keg was lit with a scathing blog post penned by the chairwoman of the Laramie County GOP and capped with a meeting of the Natrona County Republican Party early last week, where the party approved three motions opposing several state-level initiatives being pursued by party leadership.
It's been an intense summer, a culmination of a growing dissent within the party that was hinted at in a piece by the news site WyoFile midway through the 2019 General Session born of ideologically driven litmus tests and attempts to pull legislators in line with positions many lawmakers say are moving further to the right.
An official within the state central committee, however, said he was somewhat baffled by the recent revolts taking place in the party, noting that many of the issues they are now concerned with have been in motion for several years.
"It doesn't make sense to me – when they were all involved from the beginning – why they're now playing complete ignorance," said Bryan Miller, chairman of the Sheridan County Republican Party. "I think they may be getting pressure from their legislators, who may be thinking we're doing something that we're not doing."
Miller serves as the head of the state party's Governance Review and Feedback Committee, which evaluates legislation against the party platform every session – a process some have feared could be used to create a conservative litmus test for lawmakers. The committee's work has been in the planning stages since November 2017, when the state party's political plan was adopted after roughly six months of development, Miller said.
In Miller's committee, lawmakers under the Republican Party banner would be subject to a self-assessment review (essentially, lawmakers having to evaluate for themselves what they say versus what they do), a legislative agenda success review – which essentially determines how successful the party was in passing its agenda that session – and a county level review, which the county's central committees would then use to determine for themselves whether their lawmakers are fitting the local party platform.
It is illegal under state statute to "vet" candidates through any expenditure of funds or resources. However, Miller said that the work of his committee would be no different than that of any special interest group that issues questionnaires or otherwise evaluates legislation and the people that vote on it. The party, he said, is merely compiling information, which can then be used by the county parties to inform voters.
"If there's any point somebody is going to get 'rated' – if you want to use that term – it's at the county level," Miller said. "So that's their own issue."
"There was not a litmus test – we are not evaluating legislators," he added.
However, there is the process by which those lawmakers are evaluated to consider. To evaluate a party position on bills working their way through the Legislature, Miller and his fellow committee members looked at all the bills and judged them on 26 parameters set by the state central committee, which they used to take formal positions on 180 of the bills. Evaluating each bill through a five-tier system, the committee then used those to build a legislative agenda centered around what the party supported most versus what they opposed most. The party would then, on social media and in other external communications, issue "action alerts" to their constituents, who would then contact their lawmakers to offer their perspective on whether they should support or oppose legislation – a method that proved to be effective.
"We had a lot of constituents contacting their lawmakers this year," Miller said. "So many so that some [lawmakers] would say they had a difficult time getting messages from lobbyists, because their emails were full, their texts were full. But the two folks that told me that, I would say 'you know what you just said? You're putting lobbyists ahead of your constituents?'"
In the Natrona County Republican Party's Executive Committee meeting last week, some expressed sentiments that holding candidates accountable to their voting records is not something to be avoided. Yet, some would say the agenda to which lawmakers are being evaluated under was written out of line with the reality of what was occurring during the session.
Last session, the party had five priority areas, which consisted of opposition to things like new taxes, laws with language based on sexual orientation or gender identity, laws containing language sourced from special interest groups and the legalization of marijuana. At the same time, the party pushed for things like an end to crossover voting and support for increased access to free market health care solutions – issues many moderate Republicans may have differing perspectives on.
In Natrona County in particular, party officials have questioned whether or not the state party should be involved as a de facto lobbyist group, opposing or supporting certain pieces of legislation. Whether the county parties have been kept out of the loop or not, there appears to be some sort of disconnect between the two parties in revolt and the members making up the state central committee, which Miller said is more or less on the same page.
"The state party leadership is no different than the state Legislature in where the state party is made up of the county parties, which are made up of people in precincts," he said. "Campbell County is a big county, Albany County was fully on board with this process last time around – so all the other counties are saying the same things."
If there is a misunderstanding, Miller said, he hopes to address it soon. Several days before the state central committee's meeting in Greybull (it was formerly in Lovell) on Aug. 24, Miller said he would be speaking to the Natrona County GOP to discuss the committees' work and to lay out a timeline of how things have proceeded – a way to address a revolution he believes came from an honest misunderstanding of what the party is doing.
"Hopefully it will give me an opportunity to fix this misconception that's out there – to fix this thing that got set and has been out there ever since," he said.
Wednesday: Wyoming's Tomorrow legislative committee meets in Pinedale; Opioid Addiction Task Force meets in Riverton. U.S. Secretary of Agriculture Sonny Perdue to visit Wyoming's Thunder Basin National Grassland with Gov. Mark Gordon.
Friday: Democratic National Committee chairman Tom Perez visits Jackson for fundraiser.
Have an event you'd like highlighted here? Email me with the date, time and place!
After a half-year in office, Gov. Mark Gordon currently stands as the fifth-most popular governor in the nation, according to new numbers from the Morning Consult, boasting an approval rating of 59 percent.
This marks a 6 percent jump from his first quarter in office, a predictable trend line as more and more voters become familiar with his policies. (He is among the nation's leaders in voters with "no opinion" of his administration.)
So far, early setbacks – like coal mine closures and a skirmish with the mayor of Cheyenne — have had little discernible impact on his approval ratings, though a lack of robust analysis could factor into that. His performance was recently rated as somewhat pedestrian by the website Governing.com, however, rating his early work only as "surviving" in the midst of the nation's rookie class of governors. (To be fair, the piece appears to have been very lightly researched and highly subjective, as most roundups tend to be.)
Also joining Gordon in the popularity games are Wyoming's Sens. John Barrasso and Mike Enzi, who both boasted approval ratings in the top 10 of all 100 lawmakers in the upper house of Congress.
After prodding from leadership, Wyoming lawmakers revive regulated gambling proposal: Just three weeks ago, members of the Wyoming Legislature's Joint Committee of Travel, Recreation and Cultural Resources decided it was giving up on an attempt to regulate gambling in the Cowboy State. Legislative leadership had other ideas, however. (via Trib.com)
Partnerships and money could help state's homeless population: For Wyoming to successfully treat and reduce the number of homeless people in the state, there has to be extensive collaboration between all stakeholders and increases in funding. (via The Wyoming Tribune-Eagle)
'A really good first step': Task force could help state understand missing and murdered Indigenous people problem: Advocates say the state's new task force to address the high rates of missing and murdered Indigenous people is a good first — but far from final — step in tackling the problem. (via Trib.com)
Plan to fill empty jail cells: Sheriff looks at taking Carbon County inmates: Park County Sheriff Scott Steward said the county is considering accepting inmates from Carbon County, Montana for custody at the Park County Detention Center in the near future. The move could bring in around $200,000 in new annual revenue. (via The Cody Enterprise)
State commission approves $7.57 million for Central Wyoming College campus in Jackson: The State Building Commission approved a 50-50 match of $7,577,330 to support building a new Central Wyoming College facility in Jackson. The decision comes about a month after the Wyoming Community College Commission named the Jackson campus its top funding priority for the 2020 Legislature. (via The Jackson Hole News & Guide)
Officials settle on short-term fix for collapsed Goshen County irrigation tunnel: A Missouri-based contractor will begin clearing debris from the collapsed tunnel – which provides water for thousands of acres of cropland in eastern Wyoming — and shoring up a few hundred feet of the tunnel so water can be run through. Officials estimate that it will take at least 25 days and $2 million to complete the process. (via Trib.com)
John Barrasso appeared on Fox News and CNN this week to discuss matters including single payer health care and election security, particularly in finding ways to reduce the risk of continuing interference by Russian intelligence in U.S. elections and the propriety of President Donald Trump's 2016 campaign seeking assistance from foreign governments.
The senator also signed onto a number of pieces of legislation, including the Palliative Care and Hospice Education and Training Act and the Middle Class Health Benefits Tax Repeal Act of 2019, which repeals excise taxes on "high-cost employer-sponsored health coverage."
His Environmental and Public Works Committee also hosted an official from Wyoming Game and Fish to discuss ways new technology can be used to reduce conflicts between predators and humans in the Rocky Mountains, particularly in the Greater Yellowstone Ecosystem.
Mike Enzi had a relatively quiet week amidst an otherwise enthusiastic time for Congress, sponsoring a successful resolution declaring July 27 as the National Day of the American Cowboy.
The Senate Homeland Security and Governmental Affairs Committee unanimously passed a government transparency bill co-sponsored by Enzi called the Taxpayers Right-to-Know Act, which would require the federal government to make a public inventory with the details, costs and assessments related to every federal program.
Liz Cheney signed on as a co-sponsor for two bills, including the House of Representatives' version of the Palliative Care and Hospice Education and Training Act as well as the Strengthening America's Security in the Middle East Act of 2019 which, if passed, would offer security and financial assistance to Israel as well as to reauthorize the United States-Jordan Defense Cooperation Act of 2015 and to "halt the wholesale slaughter of the Syrian people," according to the bill text.
Though late in signing on (the bill was introduced back in February) Cheney has been long supportive of it, and spoke in favor of the legislation on the House floor early on in the process.
Cheney was also blocked by the Democratic majority in her attempt to bring the 189-co-sponsor Born-Alive Abortion Survivors Act to the floor for an up-or-down vote — the 75th time they have done so, her office said.
"It is indefensible that Democrats refuse to bring up this legislation that would protect babies born alive," her office said. "Rep Cheney will continue fighting to protect the sanctity of every human life."
Follow politics reporter Nick Reynolds on Twitter @IAmNickReynolds
Get Government & Politics updates in your inbox!
Stay up-to-date on the latest in local and national government and political topics with our newsletter.