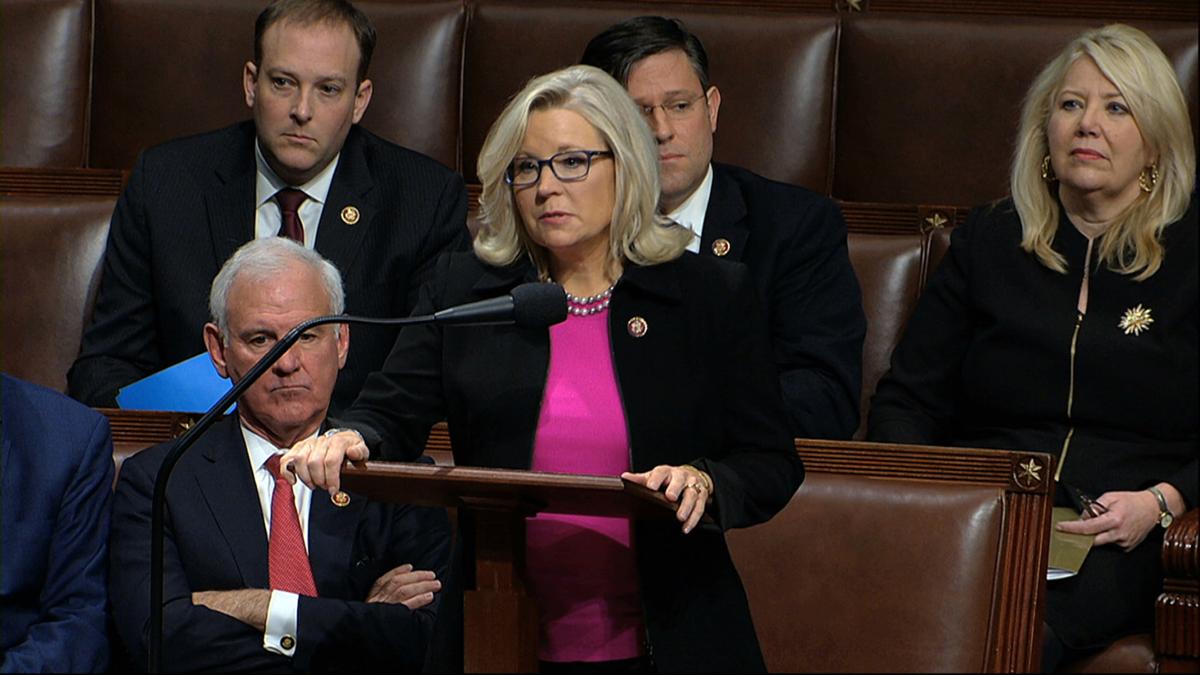 The result of Wednesday's impeachment vote in Washington was considered a foregone conclusion. But Wyoming Congresswoman Liz Cheney came out swinging anyway.
The Democratic majority of the House of Representatives — as has been expected for months — voted to approve two articles of impeachment against President Donald Trump, making him just the third president to have been impeached. House Republicans fought back, claiming the process has been secretive, lacking in evidence and, above all, an effort to overturn the results of a tight election won by a minority of voters in a majority of red states.
For Cheney, however, Wednesday's vote meant something more: the setting of a precedent to impeach a president for the crime of being unpopular.
In an impassioned speech on the House floor Wednesday, Cheney made the argument that House Democrats have so far failed to prove their case for impeachment, stating their membership has searched for an offense on which they could impeach the president since they retook the majority in the 2018 election.
So far, she said, they have failed to produce any direct evidence of any impeachable offense and instead have been relying on evidence that is largely circumstantial — creating a precedent that, in her mind, could lead to the ouster of future presidents without due process.
"Passage of these articles of impeachment may permanently damage our republic," Cheney said.
It's a message that Wyoming's lone congresswoman, who leads the communications strategy for the House GOP as chair of the House Republican Conference, has helped test, practice and carefully curate.
At the end of last week, Cheney was one of dozens of Republican lawmakers calling for a minority-led trial in the House prior to impeachment and, in the day's leading up to Wednesday's vote, she has been a mainstay on cable news in support of the president, calling the Democrats' efforts last week "rushed" and "irresponsible" in appearances on Fox News.
"No self-respecting elected official representing the American people would be in a position where they would be putting themselves in support of these impeachment articles," she said Dec. 10 in an interview with Fox News' Dana Perino. "It's a system and a process we've never seen before, and it's really disgraceful."
Throughout the process of impeachment, Cheney and other House Republicans have focused their energy not just on the left wing of the Democratic Party and the easy targets of its left-leaning districts but also on the vulnerable moderate Democrats occupying seats in conservative-held districts.
Prior to the vote on Wednesday, Cheney rose to the podium to call for a manual roll call vote to adopt the articles of impeachment so "the American people can see precisely who is supporting the impeachment of a duly elected president," putting moderates in vulnerable seats on the record and on video in support of removing a president who may have carried — or came close to winning — their districts in 2016.
You have free articles remaining.
"Members should be able to stand and identify themselves openly and on camera on the adoption of these articles of impeachment," Cheney said Wednesday.
The plan could work: In New York, for example, Democratic Rep. Anthony Brindisi was a reluctant supporter of impeachment, facing a re-election battle next fall against the district's Trump-aligned former congresswoman, Claudia Tenney, who was voted out in the blue wave election of 2018. Meanwhile, impeachment has been a difficult topic for some Democrats in battleground states like Pennsylvania, where a number of Democrats managed to flip Republican districts in 2018, while impeachment pressure has also led one Democrat, New Jersey's Jeff Van Drew, to consider switching his party for self-preservation.
For Cheney — and for an impeachment often framed by the GOP as a recasting of the 2016 election — it's all about keeping the pressure on. In a news conference Tuesday night, Cheney accused House Democrats of conducting impeachment proceedings in secret and of ignoring due process. She also accused Democrats of using focus groups to "decide what crimes to accuse the president of" — a claim sourced from a Washington Post article last week describing effective language sought by the Democratic Congressional Campaign Committee to help its candidates in battleground states.
"Voters are absolutely going to hold them to account for this," Cheney said in an appearance on Fox News on Wednesday morning.
Senate response
Wyoming's delegation in the Senate, meanwhile, has been a study in contrasts. Sen. John Barrasso and Sen. Mike Enzi have struck decidedly different profiles on impeachment over the last several weeks, the former acting as a vocal supporter of the president while the latter has remained largely in the shadows, declining all comment on impeachment until the start of the Senate trial.
"Democrats have been obsessed with impeaching President Trump since day one," Barrasso said in a statement. "Tonight, they cast one of the most divisive votes in American history. This political and partisan impeachment is rapidly losing public support."
"Senate Republicans are ready to proceed to trial," he added. "We will then get back to work and focus on policy issues important to the American people. These include lowering out-of-pocket health care costs, securing our borders, fixing roads and bridges, and continuing a strong, healthy and growing economy."
While Enzi's position on impeachment is so far unknown, Barrasso — a close ally of the president and the third-leading Republican in the Senate — has been a reliable vote for acquittal, in lockstep with Senate Majority Leader Mitch McConnell and fellow members of leadership, who for months have signaled the likelihood of impeachment flopping in the Senate.
"If the House of Representatives wants to do what they seem to want to do, which is travel the path to impeachment, let them," Barrasso told Fox News' Neil Cavuto in May. "There's going to be no appetite for that in the United States Senate."