Rep. Steven Harshman apologized Friday for cursing a fellow lawmaker on a hot mic that was heard in the Wyoming House of Representatives. In response, a third lawmaker signaled that he would ask his colleagues to censure Harshman sometime next week.
Harshman, a Casper Republican, was participating in Thursday's special session remotely when the former Speaker of the House used derogatory language against Rep. Chuck Gray, R-Casper. During an unrelated conversation, the comments were picked up on a Zoom broadcast and heard in the chamber.
"Chuck Gray, f**** [inaudible]," Harshman was caught saying. "Little f****** [inaudible]."
Friday's special session began with Harshman publicly apologizing to the entire body and Gray specifically. Harshman said he had driven to Cheyenne specifically to apologize.
During Thursday's House session, Harshman said he had murmured the degrading words without realizing his computer microphone was on. Doing so breached the decorum of the House, he explained.
"I apologize for that distraction because we have real work to do for our people," Harshman told his colleagues. "It wasn't right and it won't happen again," he later added.
Speaker Eric Barlow, R-Gillette, then took action against Harshman, revoking his privileges to participate remotely.
Barlow identified three breaches: Addressing the body without permission from the chair, using a name of another member and inappropriate language.
"Whether intentional or inadvertent, there was a breach in that decorum," Barlow said.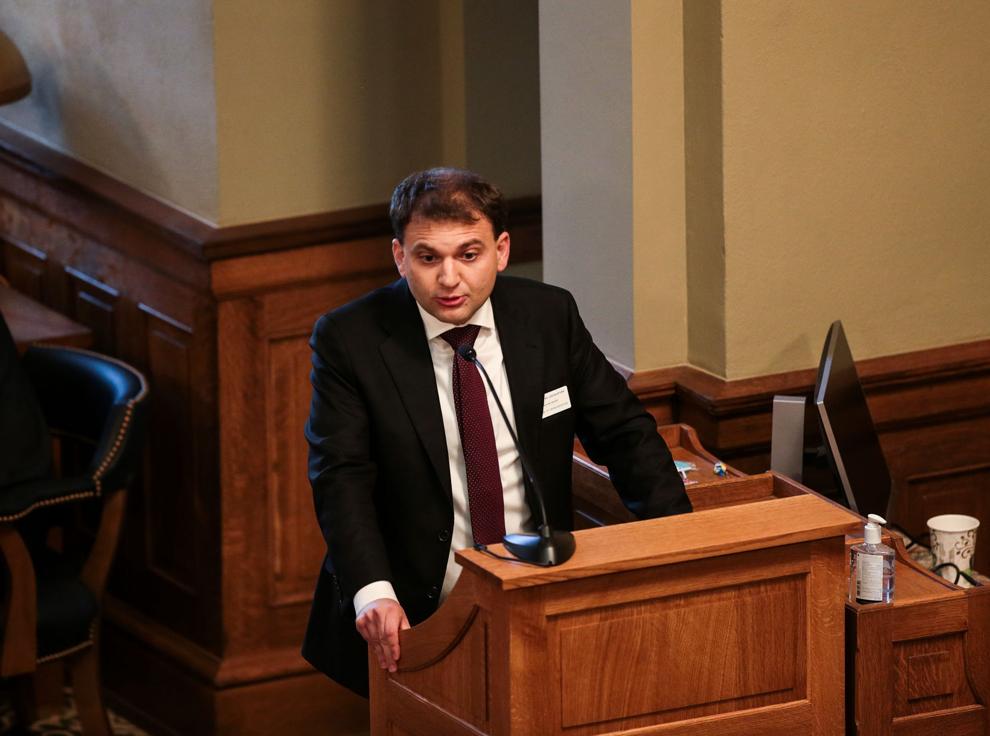 Afterward, Rep. John Bear, R-Gillette, told lawmakers that he was going to bring a motion to censure "one member and possibly two members" of the body. Presumably, one is Harshman, but Bear didn't identify either person. Two sources with knowledge of the situation told the Star-Tribune that Barlow was contemplated for the second censure attempt.
However, Bear later told the Star-Tribune that he had decided there would not be an attempt to censure a second person.
Bear's speech before the body had a religious thread.
"I'm going to ask that each of you fast," Bear said. "Why do I want you to fast? Because I want you to be focused in prayer."
Harshman served as Speaker of the House from 2017 to 2020. He has served with Gray since Gray took office in 2017.
Gray did not address the comments on the House floor Friday morning. But he did provide the Star-Tribune with a statement that afternoon.
"Yesterday, I brought an amendment to stop Biden's unconstitutional mandate," Gray said. "I asked for a recorded vote, because it's pivotal for elected officials to be on the record about the work they do. Rep. Harshman's wrong comments demonstrate how some members of the Legislature react when conservatives call for accountability through recorded votes. I will continue to stand for accountability in government."
Speaking to the Star-Tribune later, Harshman wouldn't confirm what he said on the hot mic, indicating that he didn't remember. He said he spoke privately with Gray and apologized to him. Gray, Harshman said, accepted the apology.
Follow state politics reporter Victoria Eavis on Twitter @Victoria_Eavis