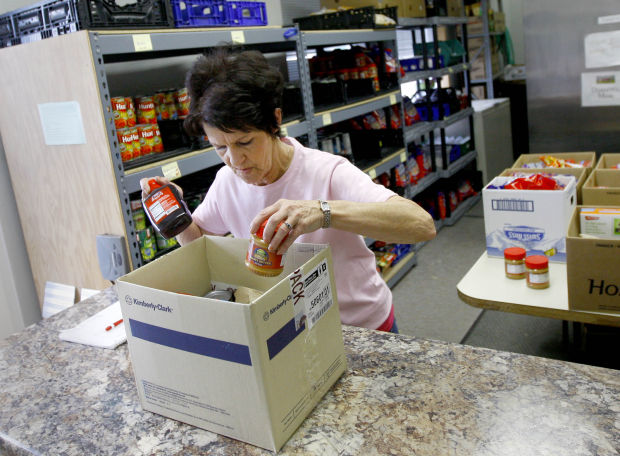 More than 100 new clients lined up at the Joshua's Warehouse food bank in Casper on Oct. 31.
A sizable cut to the federal Supplemental Nutrition Assistance Program was set to kick in the following day.
Individuals and families were losing 5 percent of their monthly income from SNAP, a program commonly referred to as food stamps. Food banks in the state were the only place people could turn.
"We saw an immediate upswing," said Jay Martin, CEO of Joshua's Storehouse.
A provision in the 2009 stimulus bill boosted the amount of assistance people received during the economic downturn. That section of the stimulus expired on Nov. 1, leaving 15,824 Wyoming households with less money to buy food.
Across the state, food banks and other related programs aiming to feed the needy are worried the supply to meet the uptick in need during the holiday season won't meet the growing demand for food caused by the expiration of SNAP benefits.
"People are scared to death of the lack of food availability," Martin said.
Martin called Joshua's Storehouse a reliable barometer for measuring the rate of need in Casper. The number of people using the food bank skyrocketed before the reduction in SNAP, he said.
Fewer than 2,000 people used the food bank in October 2012. Last month 2,500 people went there for help.
The numbers will keep rising, he said.
Food banks in Riverton, Green River and Rock Springs have also seen hikes in the numbers of people coming in for assistance.
Ten new families sought help at the Rock Springs Food Bank less than a week after the SNAP reductions took effect, said Brittany Ogden, office manager for the Food Bank of Sweetwater County.
Sweetwater County has seen more than 90 new families come for assistance in 2013, she said.
"And we expect to see an increase for the rest of the year," she said.
The future for SNAP looks grim. Signals from Washington hint that additional decreases in food stamp allocations are likely, said Jacqueline Herb, a region manager with the Wyoming Department of Workforce Services.
"There's going to have to be budget cuts," she said.
Congress allocates money for SNAP in agriculture legislation referred to as the farm bill. SNAP funding is always a top point of contention in Congress when lawmakers debate the legislation. Congress hasn't passed a farm bill in five years, keeping SNAP and other programs at 2008 levels of funding. In the current, dead-end discussions over the legislation, the Senate agreed to cut $4.5 billion over 10 years while the House passed a provision to chop $39 billion over 10 years.
Food banks are using the recent reduction to start new campaigns to supply more food.
"They have to do it," Herb said.
The Food Bank of Sweetwater County is hosting new fundraisers, turkey drives and other projects in an effort to make up for increased demand.
Joshua's Storehouse scheduled similar events and is working to unroll a partnership with the Riverton Community Food Bank, said Nancy Eckstein, vice president of the Riverton food bank
Eckstein has also encouraged SNAP recipients to go to Dollar Tree stores in Casper and Riverton to do some of their shopping. Packages of flour, sugar, spaghetti sauce and other items that cost more at grocery stores sell for $1 each, she said.
The cuts in SNAP amount to $36 per month for a family of four. The number seems small, but for a family in need that amounts to 144 meals, said Shanna Harris, executive director of the Wyoming Food Bank of the Rockies.
"That's significant for a family that's food-insecure," she said.
"It's how many calories I can get for a dollar," she said.
The working poor who receive SNAP will have to levy money usually spent on gas, electricity, prescriptions and other items to buy food, she said.
SNAP recipients will likely avoid buying fresh fruits, vegetables, meats and other healthful options, Herb said.
"They will buy junk food," Epstein said.
Purcell expects food banks and other community organizations to make ends meet for the neediest citizens during the holiday season. But the impact of the holiday season isn't as great as the impact after it's finished, she said.
"It's easy to help people around Christmas," she said. "Sometimes people forget after December 25th."