A second woman has accused Wyoming Secretary of State Ed Murray of sexual misconduct. Theresa Sullivan Twiford said that nearly 30 years ago, when she was 18 years old and babysitting for the Murray family, Ed Murray forcibly kissed her in front of his house.
Murray said in a statement Tuesday that he did not remember the night in question and declined to directly address the allegation. He also announced that he would not run for reelection or enter the governor's race this year, where he was widely predicted to be a front-runner.
"To be certain, I have absolutely no recollection of this incident whatsoever and, as such, will not engage in any conjecture about it in the media," Murray said.
Twiford, the daughter of former Wyoming governor Mike Sullivan, decided to share her experience following the allegation made last month by a Colorado woman. The woman, Tatiana Maxwell, said that Murray sexually assaulted her in the early 1980s. Murray has denied that claim.
Twiford said in a statement to the Star-Tribune that she was 18 years old and staying with her parents during the University of Wyoming's winter break when she agreed to babysit for family friends Ed and Caren Murray on New Year's Eve 1988. Her father was serving as Wyoming's governor at the time.
It was about an hour after midnight when, she said, the Murrays arrived home. After saying goodnight, Twiford said she went outside and Ed Murray followed her to her car.
"As I walked around to the driver's side, Ed continued to follow me. I opened the driver's door but before I could sit down, Ed came up to me and abruptly put both of his hands on either side of my face, pulled me to him and forcibly kissed me," Twiford said in the statement. "I was shocked and appalled. As I backed away from him, he said, 'Everyone should have a kiss on New Year's Eve.'"
Twiford said that she decided to come forward following Maxwell's claim.
"I had always said to my husband that if someone else were to come forward with a similar allegation, I would consider speaking out as well," Twiford said in her statement.
She added in an email that she does not know Maxwell and has not had any contact with her.
Twiford, who now works as a real estate agent in Virginia, is a member of one of the more prominent Democratic political families in Wyoming.
Murray, a Cheyenne businessman and Republican, was widely considered a front-runner in this year's race to replace Gov. Matt Mead. Murray had previously said he planned to make a decision on whether to run by the end of 2017, but had remained silent on the question until his statement Tuesday morning.
"It's a great privilege to serve as the Secretary of State of Wyoming and I will continue to work diligently throughout the remainder of my term" Murray wrote. "However, I've decided that I will not seek reelection or run for higher office in 2018. There will be other great candidates who can lead our State forward. I'm blessed to have the wife and family of my dreams and, in the end, we're strong and united together."
Twiford said there was no political motive behind her decision to recount her experience publicly now, but said that political considerations may have discouraged her from speaking out earlier.
"I may have been more likely to report it up at the time if I hadn't come from a political family," she said in an email. "Even now it makes it harder to tell the story, because so many are more eager to make it about their politics than to address inappropriate sexual conduct in its own right."
Maxwell, the other woman to accuse Murray of sexual misconduct, has donated about $73,000 to Democratic candidates and organizations in Wyoming, Colorado and nationally since 1998, according to federal election records. Maxwell also said that political considerations did not play a role in her decision to publicly post her accusation of sexual assault against Murray.
Sullivan supports daughter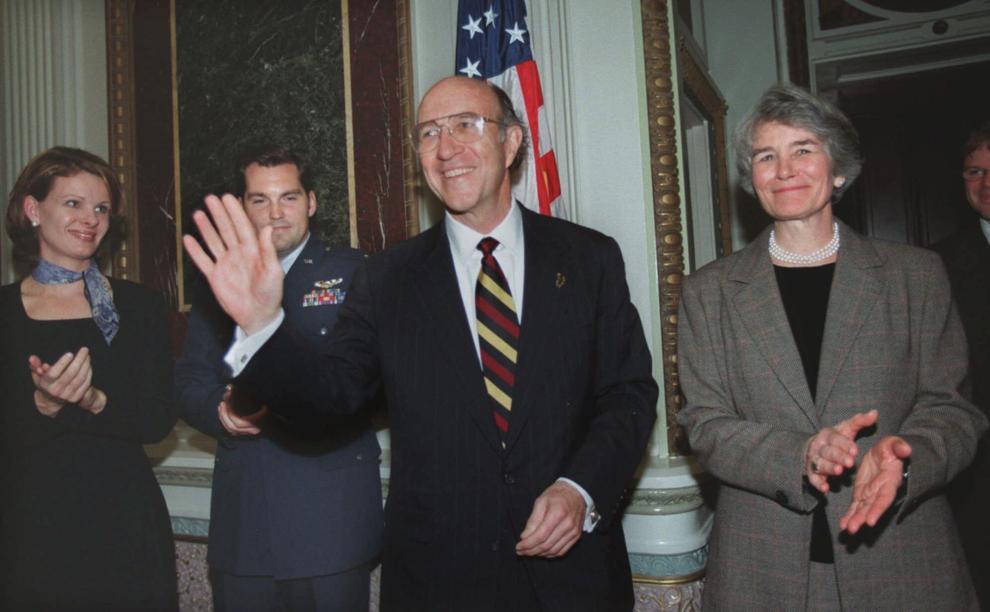 Mike Sullivan, Twiford's father, served two terms as governor, from 1987 until 1995. A Democrat, he was later appointed U.S. ambassador to Ireland by President Bill Clinton.
Sullivan said in an email that he believed his daughter "absolutely without reservation."
In a statement, Mike Sullivan and his wife Jane, Theresa's mother, said that they have a strong friendship with the Murray family but supported their daughter's decision to come forward with her account.
"To even consider asking our daughter Theresa to not comment would only serve to compound her pain related to the original incident and would be contrary to attributes we tried to instill in our children as we were raising them; independence, courage, values and honesty," the statement read in part.
Murray affirmed in his statement that his family was friends with the Sullivans. He said he was "deeply concerned and saddened about the allegations surrounding New Year's Eve, 1988."
"I've read Theresa's statement, as well as Mike and Jane's, and fully appreciate the difficulty expressed in each one. As a husband and father, I'm also able to grasp the enormity of the pain and unconditional support of those you love and cherish the most," Murray said.
Husband recalls incident
Twiford's husband, J.R. Twiford, was dating Theresa at the time and said he recalls her recounting the incident to him shortly after it occurred. He confirmed that the events described in Theresa Twiford's statement match what she has previously told him.
"It is completely consistent with my memory of what she told me in 1989 and in many conversations since," J.R. Twiford wrote in an email.
J.R. Twiford, a retired Air Force colonel, said Theresa Twiford told him about the event within about week of it taking place and that the two have discussed it more than once in the years since.
"Multiple times," J.R. Twiford said in an interview. "I mean, not only then but since -- unambiguous."
Whitney Painter, a childhood friend of Twiford's who attended Natrona County High School with her in Casper and has kept in touch since, said that Twiford did not tell her about the incident at the time but mentioned it last year following revelations in the media about sexual misconduct on the part of various celebrities.
"This incident never came up until the 'me too' movement started," Painter said in an interview, referencing the use of the hashtag #metoo on social media used by women describing their experiences of sexual assault. The trend began last fall and escalated as women began coming forward to accuse prominent men of various forms of sexual misconduct, including Hollywood producer Harvey Weinstein, television anchor Matt Lauer, U.S. Senator Al Franken and comedian Louis C.K.
Painter said that sometime during the summer or fall she was telling Twiford about her own experiences of being sexually harassed when Twiford told her about Murray's alleged forcible kiss.
"She was really clear about it: what age we were at the time, why she was babysitting for Ed and his wife," Painter said. "She didn't know a lot of people because it wasn't the town she grew up in so she was available to babysit on New Year's Eve. So it was all very specific details about him following her around the car, grabbing her face with both hands."
Painter said Twiford told her about the incident with Murray before Maxwell posted her account on social media in mid-December.
Details of night
Twiford said that though she was being paid, she agreed to babysit for the Murrays on New Year's Eve largely as a favor to the family. When she arrived, she said Ed Murray chatted with her about the Air Force cadet she was dating, her now husband.
Twiford said that when the Murrays arrived home and she prepared to leave, Caren went upstairs while Ed followed her out the front door to her car, where she said that he forcibly kissed her.
"This incident, in the early hours of New Year's Day 1989, made me feel belittled and insignificant," Twiford said in her statement. "If a woman like myself, with a stable life and supportive family, does not make her voice heard, how can we expect those with less support to do so?"
Twiford said she recalls having babysat for the Murrays once before, a year earlier. The first time she babysat for them she did not have a driver's license and she said her father dropped her off and picked her up. Twiford said she did not babysit for the family following New Year's Eve 1988, but that she did see Ed Murray at various events in subsequent years.
"I never did bring it up to Ed Murray," Twiford said in an email. "This being Wyoming, I would occasionally run into the Murrays at social or political events -- not environments conducive to such discussions."
Twiford is currently a successful real estate agent in Falls Church, Virginia, where she made headlines for closing the largest-ever home sale in Northern Virginia. She worked on the $18.5 million sale of a portion of President George Washington's Mount Vernon estate.
Twiford attended the University of Wyoming and Boise State University, according to a biography on her website.
Previous allegation
The previous allegation against Murray dates to 1982, when Tatiana Maxwell was an 18-year-old intern at a Cheyenne law firm where she said Murray was working.
Maxwell said in a public Facebook post and in subsequent interviews that Murray invited her to meet him at the law firm office after working hours and that he brought pizza and beer. She said Murray attempted to kiss her but that she resisted. Following that, Maxwell said Murray wrestled her to the ground, opened his pants, lifted up her shirt and ejaculated on her stomach.
Murray strongly denied the accusation but has so far declined to answer any specific questions about the alleged incident, including whether he knew Maxwell or engaged in any kind of romantic or sexual contact with her.
"There is no basis to this falsehood whatsoever and it is deeply hurtful to me and to my family, as well as to everyone I serve," Murray said in a statement at the time.
Murray declined to provide any additional details about his denial of the Maxwell incident in his statement Tuesday, including whether he knew her, dated her or engaged in any sexual activity with her.
Twiford said in an email that while proof is rarely available when it comes to such accusations, her experience adds credibility to Maxwell's claim because "establishment of a pattern of behavior becomes the proof."
Twiford said she personally does not need anything from Murray, but believed it was important for her story to become public because of his status as an elected official.
"Wyoming voters need to hear from him how he reconciles his actual conduct with the expectations of the office he holds, and perhaps the office he seeks," she wrote in an email sent prior to Murray's announcement Tuesday that he would not enter the governor's race. "I think Wyoming citizens expect more."
Update: This article has been updated to clarify Twiford's comments regarding what she was looking to come from her disclosure.