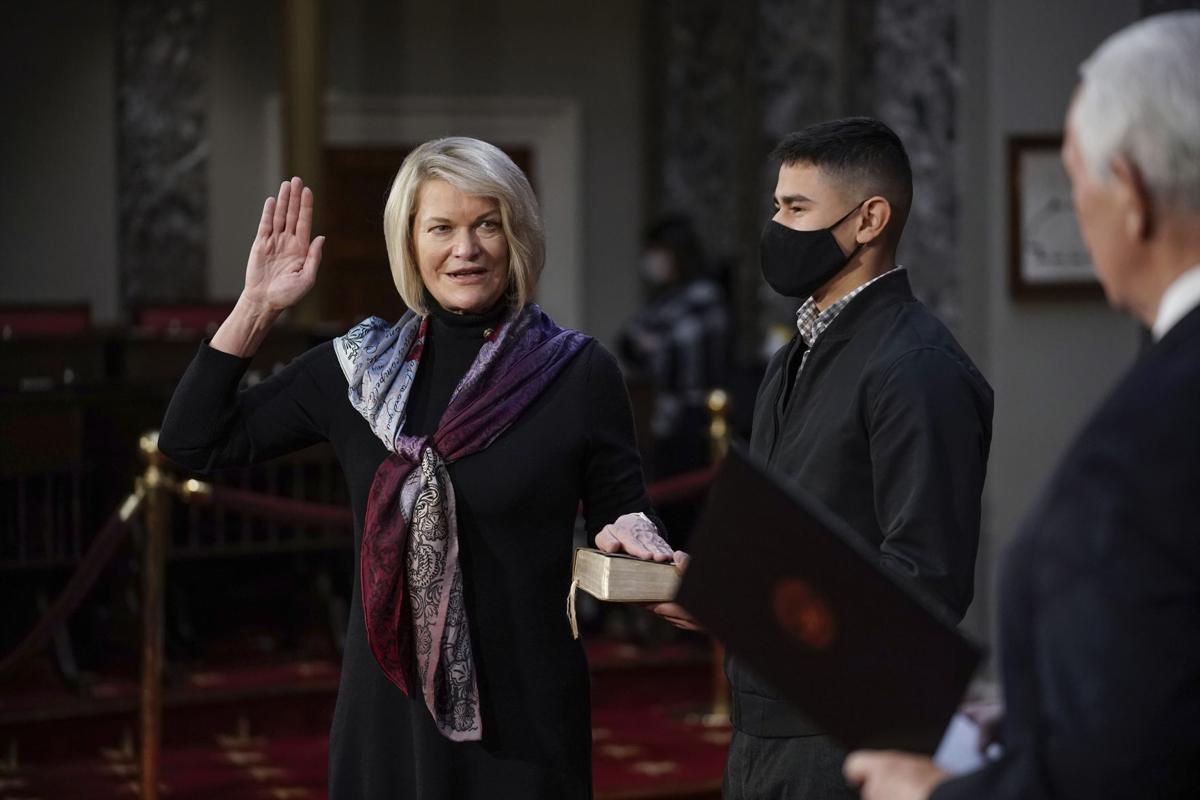 Breaking with a vast majority of her colleagues in the Senate, Sen. Cynthia Lummis voted to overturn election results in Pennsylvania, one of two states being contested by conservative members of Congress early Thursday morning.
Lummis' vote — which represented one of just a handful of dissenting votes in the 92-8 result — lent credence to unsubstantiated claims by President Donald Trump that the vote there was rigged in favor of President-elect Joe Biden.
But it also set her apart from most of the holdout Republicans who pledged last week to reject the result of the Electoral College vote in a number of states closely won by Biden. Lummis and Florida Sen. Rick Scott were the lone Republicans from that group of eight who did not also vote to object to the result in Arizona.
So why Pennsylvania and not Arizona?
Lummis said that her objection arose in an effort to "shine a light" on a number of concerns over voter irregularities raised by a group of 64 Republican Pennsylvania state legislators in defiance of the Pennsylvania's Democratic secretary of state, who declined to pursue a recount due to Biden's nearly 82,000 vote margin of victory in the state — a number no recount would overturn.
"Let me be clear: My objecting to the certification of the votes in Pennsylvania was never intended to change the outcome of the election. Congress cannot and shall not dictate the results of a presidential election to our states," Lummis said in a statement Thursday. (She was not available for an interview Thursday, according to her staff.) "That would be the death of our Republic."
The premise of the objection is based on an obscure provision of U.S. election law called the 1887 Electoral Count Act, which gives Congress the opportunity to weigh in on a contested result between two presidential candidates. While Sen. John Barrasso and Rep. Liz Cheney argued that a federal effort to weigh in on a state's election results would constitute federal overreach, the language of the act is extremely vague and riddled with questions, leaving some — like Lummis — to argue Congress has a role to play in interpreting the law.
"I remain deeply concerned that the electoral votes of the Commonwealth of Pennsylvania were not 'regularly given' under Pennsylvania law, as required by the Electoral Count Act," she explains in a statement accompanying her vote. "Serious concerns have been raised about the constitutionality of Pennsylvania's vote-by-mail statute. Also, Pennsylvania election law may have been applied unevenly by state officials, including signature verification and voter identification requirements."
Those serious concerns Lummis mentioned centered around GOP concerns with additional guidance issued to county clerks by the secretary of state's office ahead of the election without the full approval of the Pennsylvania Legislature. These policy changes, among other things, included urging county officials to check unopened mail ballots for obvious problems — like incomplete dates or illegible signatures — and, rather than tossing them out, to contact voters in an attempt to correct issues before the polls were closed.
"Unfortunately, further changes were implemented to our elections and new guidance was issued just prior to the General Election day," Republican lawmakers argued in a Dec. 4 letter to the Pennsylvania attorney general's office. "This resulted in confusion, irregularities, and a lack of statewide continuity concerning how our elections were conducted."
However, a similar argument could be made in almost any state. Due to the COVID-19 pandemic, numerous secretaries of state issued guidance without the oversight of their state legislatures in an effort to streamline vote counting on election night due to increased volumes of absentee and mail-in ballots.
In Wyoming, the secretary of state gave county clerks the authority to begin processing absentee ballots days before polls closed, open polling places up to 45 days before the election and allow for the return of certain eligible voters' ballots via dedicated fax or secure email for both the primary and general elections, according to copies of the directives provided to the Star-Tribune. Numerous other secretaries of state throughout the country introduced similar measures in an effort to facilitate record turnouts of absentee voters in the 2020 elections.
Missouri Republican Sen. Josh Hawley's argument to objecting to the vote, however, focused not on those concerns, but instead argued that Pennsylvania's Republican-controlled Legislature did not have the right to pass a 2019 law allowing universal mail-in voting in its elections.
However, Hawley's argument holds little water when considering Kansas — a state Trump won by 14 points — passed mail-in voting regulations almost identical to Pennsylvania's back in 1996, experiencing no legal challenges since.
Arguments against the law's unconstitutionality, meanwhile, have been consistently rejected by the courts and in fact were not being made until it appeared Trump would lose Pennsylvania, a point emphasized by Sen. Bob Casey, D-Pennsylvania, in a floor speech Wednesday.
"The law in question, Act 77, was passed in 2019 and implemented without any serious question as to its constitutionality," Casey said. "It was only after the 2020 presidential election when it became clear President-elect Joe Biden won Pennsylvania by a little more than 80,000 votes did some Republican politicians in our state decide to challenge the constitutionality of the law."