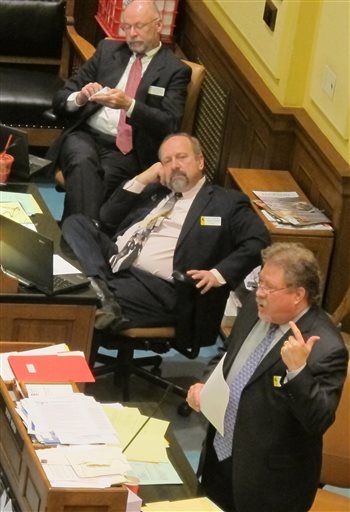 CHEYENNE — The Wyoming Senate voted Tuesday to stick to its plan to put up $5 million in state funds to help hospitals cover the cost of uncompensated charity care.
Members defeated a push to cut the bill's funding in half.
The vote followed a decision last week by the Senate to reject a federal offer of $120 million a year in federal funds to expand the Medicaid system in the state. The expansion would have given insurance coverage to an estimated 17,600 low-income adults.
Gov. Matt Mead had urged lawmakers to approve Medicaid expansion, saying it would relieve the pressure on hospitals that are absorbing hundreds of millions of dollars a year in uncompensated care by treating people without health insurance.
Many senators who opposed Medicaid expansion said they didn't trust federal promises to fund the program.
The uncompensated care bill's sponsor, Sen. Ray Peterson, R-Cowley, voted with the majority of senators against Medicaid expansion. He has said his bill sends a message that legislators understand the problems facing hospitals.
Eric Boley, president of the Wyoming Hospital Association, said Medicaid expansion would have been more helpful, but hospitals would be grateful for any assistance.
Sen. Tony Ross, R-Cheyenne, proposed cutting the hospital funding to $2.5 million. Ross, chairman of the Senate Appropriations Committee, said the state can't afford the full amount.
Lawmakers are set to start considering a budget bill that would supplement the $3.5-billion, two-year budget lawmakers enacted last year. Falling energy prices have left the state facing a decline in projected revenue of more than $200 million.
To cover the shortfall, the supplemental budget under consideration calls for intercepting nearly $200 million that had been set for deposit in the state rainy day fund. Lawmakers are also considering allocating hundreds of millions of dollars from investment returns the state hasn't booked yet.
Ross said the funding bill wouldn't solve the problem of hospitals being stuck with the costs of uncompensated care.
"I suggest to you that this is not the solution to a problem that's way bigger than we have money for," he said.
Peterson urged fellow senators to resist Ross' suggested funding cut. He said his bill would allow lawmakers to tell their constituents and hospitals at home, "We understand there's uncompensated care. We get it. This is the best we can do in these tough times. It's a matter of priorities."
Sen. Bill Landen, R-Casper, spoke in favor of the hospital funding bill. He said he understands some senators thought Medicaid expansion would have been a better option to help Wyoming hospitals.
"That said, at least I feel like at least there's a target we're shooting at that we know is an appropriate target," Landen said. "Our hospitals are struggling out there."