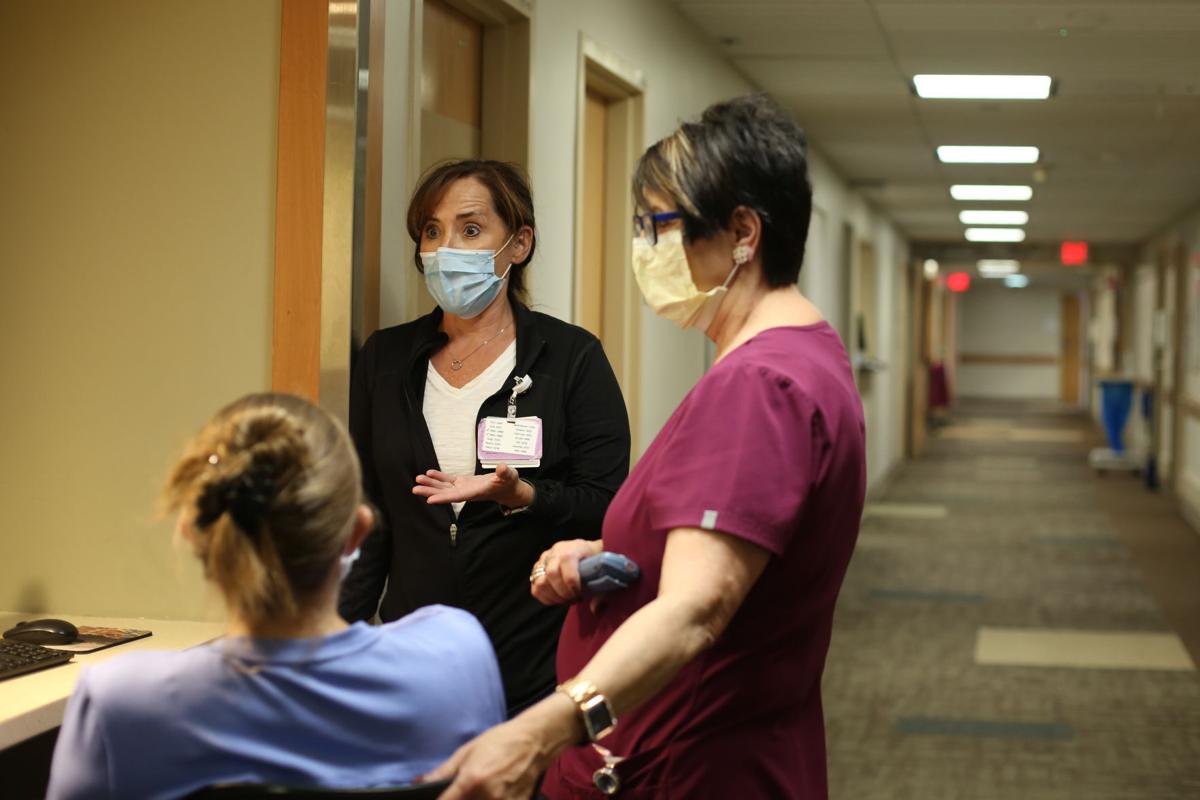 Medicaid expansion will not happen in Wyoming this year.
The state's Senate Labor, Health and Social Services Committee killed a bill Wednesday morning to expand the federal insurance program, which would have insured an estimated 25,000 additional Wyomingites.
Lawmakers have defeated similar proposals for nearly a decade. Advocates hoped this year might be different. Many House Republicans voiced a change of heart after the COVID-19 pandemic and the decline of fossil fuels rocked the state's economy, leaving many without health coverage. This session was the first in which a bill to expand the program passed a legislative chamber.
The bill, proposed by Rep. John Romero-Martinez, R-Cheyenne, would have expanded the federal program in the state only so long as an improved federal match was maintained. Estimates from the Wyoming Department of Health suggested the state could save $34 million over two years because of a federal increase in the match for the state's traditional Medicaid program.
Opponents of the proposal primarily landed in two camps: those with a philosophical opposition to "socialized medicine," and those concerned the state's savings would dry up after two years with the increased match.
The Senate committee debating the bill Wednesday gave hope to a similar proposal earlier this session when it advanced a bill introduced by Sen. Chris Rothfuss, D-Laramie.
The committee advanced that bill, which would have also expanded Medicaid, on a 3-2 vote when freshman Sen. Troy McKeown surprised advocates by voting for the legislation after speaking against socialized medicine earlier in that meeting.
His vote this meeting was the anticipated swing vote, advocates said. But early in Wednesday's debate, the new lawmaker expressed skepticism and resistance toward the proposal.
"I've really got to applaud everybody's effort on marketing this plan," McKeown said before public comment began, while asking questions of the Wyoming Department of Health. "… I've heard stuff like, 'We're leaving money on the table,' how wonderful this is. … But the truth of the matter is in 2008 I as a business owner was capable of providing insurance to my employees and then we interjected the federal government, so what I was doing is now illegal."
"Following that, now we're going to interject more federal government, create more socialized medicine, and it's like the Hotel California, we can check in anytime we want but we can never leave," McKeown continued, making a reference repeated many times by lawmakers throughout this session.
He added he felt expanding Medicaid would make individuals more reliant on public aid.
The committee heard a range of views on the bill, but the majority of testimony favored expansion. Those in favor include the Cheyenne Catholic Diocese, the Wyoming Business Council, the state's Primary Care Association, members of hospital boards and residents who have needed care themselves.
Sheridan County resident Danielle Arnoux, a single mother who lost income during the pandemic said access to Medicaid through the CARES Act saved her life. She had a master's degree, owns a home and was working to start her own business before the pandemic hit.
During lockdown, she became depressed and was only able to access care through Medicaid because of temporary relief from the federal act.
"If I wasn't able to get Medicaid, I don't know if I would be here testifying right now," she said. "I am an able-body. I work, I work hard, I have a master's-level education, and I truly resent ... when I hear people talk about how if I have Medicaid it's going to cause me to be dependent."
Wyoming Primary Care Association Executive Director Jan Cartwright asked lawmakers to consider these federal dollars as the state does the other federal support it receives.
"Wyoming receives more federal subsidies than any other state, but now we're going to draw the line at people who are poor? That's where we're going to say we don't want to take federal money?" she asked.
A spokesperson for the Cheyenne Catholic Diocese, Mike Leman, also asked the committee to consider low-income residents. He explained emergency rooms cannot turn someone away because they cannot pay for care. He repeated what many have said throughout the session, that when a person does not have health insurance, they don't get primary care and so access care through other means.
Leman said he testified in favor of a Medicaid expansion bill six years ago.
"And the question then was if not this, then what? And when?" he said. "Here we are, the question still remains."
Opponents pushed back on how expansion could affect the state's budget in years to come. While the state will save the state more than $30 million over two years, according to the Wyoming Department of Health, some have wondered what happens after those two years. No one knows the answer for sure.
Speaking against expansion for the Wyoming Liberty Group, lobbyist Cassie Craven voiced a fear about that uncertainty.
"While it might be easy for you to go home and look your constituents in the eye and say, 'I got you free health care this year,' how's it going to feel in two years when you jerk it away?" Craven asked committee members.
The possibility the state might not be able to back out of the proposal in two years has been a sticking point for several lawmakers this session.  
The committee listened to about two hours of public testimony. It had been scheduled to end at 10, but wrapped up closer to 11 a.m after significant discussion. 
To conclude testimony, Reps. Pat Sweeney, and Steve Harshman, both of Casper, asked the committee to give the bill a chance to be heard on the Senate floor. 
"I've always prided myself as the most pro-life speaker in the history of Wyoming," Harshman said, adding of those who could benefit from expansion: "These are lives too." 
Despite pleas to give the bill a chance for a debate on the Senate floor, the bill died 3-2, with Sens. Fred Baldwin and Dan. Furphy in favor. 
Sen. Lynn Hutchings, who opposed the last bill this committee heard, asked Harshman and Sweeney before the vote if sending it to the floor would provide any more information. 
"Should we send this to the floor to hear the same thing over and over again?" Hutchings asked.
This story will be updated.
Follow health and education reporter Morgan Hughes on Twitter @m0rgan_hughes