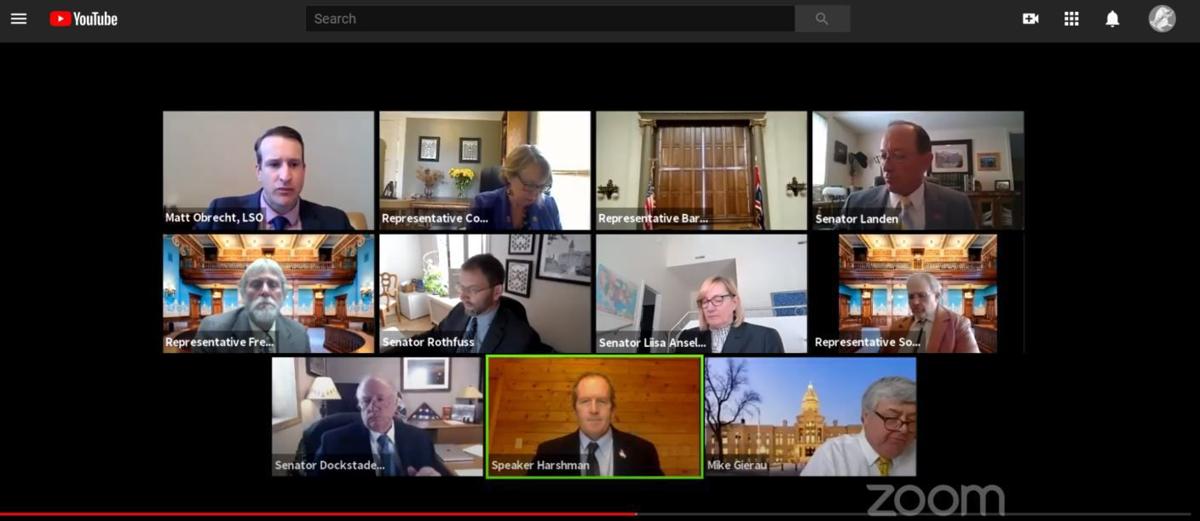 The Wyoming Legislature began piecing together plans Friday to deploy $1.25 billion in emergency federal funding in response to the economic downturn caused by the COVID-19 pandemic.
The plans include the infusion of tens of millions of dollars in new funding for critical medical facilities, the creation of a new eviction avoidance program, assistance for local government, expansion of the state's worker's compensation and unemployment insurance programs, and the potential creation of a fund similar to the federal government's Paycheck Protection Program that will be aimed at small businesses.
Spread across two pieces of draft legislation, the plans – which will be finalized by legislative leadership next week – are based off of recommendations outlined in a meeting of the Legislature's Management Council last week, and written in consultation with state agencies and Gov. Mark Gordon.
The legislation — which is still in draft form — will likely be voted out of committee next Friday. A final decision will come during a special legislative session later this spring.
What's in it?
The two bills are anticipated to direct hundreds of millions of dollars toward a variety of needs such as the purchase of personal protective equipment, capital construction at hospitals and wage relief for workers who had either been laid off or lost income as a result of the COVID-19 pandemic.
Under the proposed legislation, phase one of that funding – encompassing more than $300 million – would be divided between state agencies, hospitals and clinics, and state and local governments to offset a number of costs incurred in responding to the pandemic, according to the bill text.
While the specific funding amounts have not yet been finalized, approximately $100 million of the first round would be set aside for state agencies. About $200 million would go to medical facilities, $40 million would be provided to cities and towns and $20 million would go to counties. Another $10 million would be spent on lending assistance through the Wyoming Community Development Authority for landlords to offset losses specifically for tenants earning 200 percent or less of the federal poverty level.
The draft legislation also includes a number of provisions intended to give more flexibility to the state's Department of Workforce Services to assist those put out of work or whose hours have been reduced. These include a provision creating a "work sharing" program in Wyoming, which would allow those with reduced hours to tap into unemployment insurance to make up for those lost hours.
Though federal guidance released earlier this week offers a number of strict limitations on how the funding can be spent, lawmakers believe they have a broad flexibility under current statute to spend the money on a variety of pressing needs that are parallel to the front-line response to the COVID-19 crisis, including assistance making payroll and other needs.
While more funding could be coming down the pike, some – like Wyoming County Commissioners Association Director Jeremiah Rieman – argued that many of the front-line services to combat COVID-19 were carried out by municipal governments, who should receive more funding in phase one.
"I believe that $60 million in local government appropriations is simply not enough," he said.
Too much or too little authority?
However, the legislation – which includes a number of limitations on how Gordon can spend that money – sets up a possible conflict between the legislative and executive branches.
Under existing law, the governor has significant authority to move unappropriated federal dollars around to existing programs under something called a B-11 process, which the governor's office says gives it all but unrestricted access to the $1.25 billion to do with as it sees fit.
However on Friday, the Legislature put strict limitations on how much money the governor can spend all at once, and eliminated language to allow the governor the authority to set up a number of new programs to deploy those funds quickly.
"There's an interesting tension that would grant the governor some authority to create a program and move money into it, and it improves the flexibility we have to get those funds where they're needed," Gordon's policy director, Renny MacKay, said in an interview with the Star-Tribune on Friday. "The question is how much money would be available for that."
The governor hopes to pursue a program that could potentially offer businesses and their employees hundreds of millions of dollars in payroll to keep cash flowing. However, lawmakers expressed concerns about the challenges in using the funds for loans – noting they have to be expended this year – and for setting up programs that could aid the state's long-term recovery as it emerges from the economic crises stirred by the COVID-19 pandemic, particularly as federal funding has been "fluid" in recent weeks.
Rep. Mike Greear, R-Worland, stressed it was the Legislature's duty to exercise its oversight authority to vet any new programs and spending, even if temporary. However, others – such as Laramie Democrats Rep. Cathy Connolly and Sen. Chris Rothfuss – argued that too many specifics could weigh down the process when the Legislature debates the bills later this spring.
Gordon – who has exercised strict interpretations of executive authority in recent vetoes – declined to comment about the limitations of the bill. But he said he remained optimistic that greater changes could be made before a final draft of the bill leaves the desk of Management Council next week.
"We anticipate further discussions on both bills and remain hopeful of the prospects of making further improvements to them over the next week," Gordon said in a statement. "We appreciate the legislature's willingness to work with the executive branch on these important pieces of legislation."
Concerned about COVID-19?
Sign up now to get the most recent coronavirus headlines and other important local and national news sent to your email inbox daily.