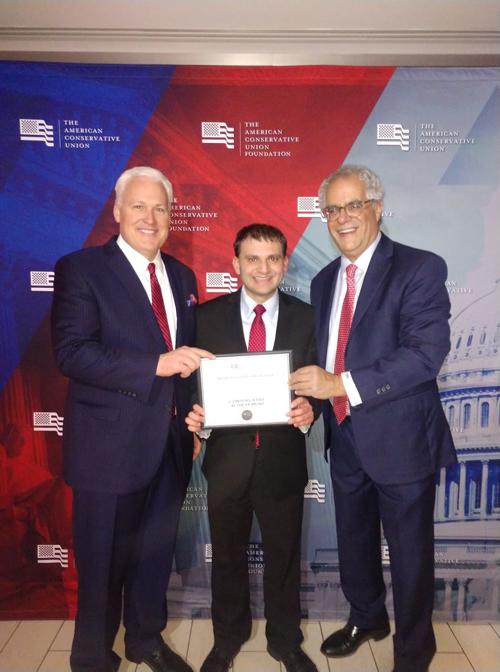 CHEYENNE — Five state lawmakers attended last month's annual Conservative Political Action Conference in Washington, D.C., where an attendee tested positive for the novel coronavirus.
According to social media posts from several of the lawmakers, Reps. Chuck Gray, R-Casper, and Dan Laursen, R-Powell, as well as Sens. Bo Biteman, R-Ranchester; Anthony Bouchard, R-Cheyenne; and Tom James, R-Rock Springs; were all in attendance at the influential conservative political conference. Thousands of people — including top lawmakers, national Republican figures and President Donald Trump — attended the conference Feb. 26-29 in a Maryland suburb of Washington.
All five legislators were in the Wyoming Capitol when the Legislature gaveled in on Monday. Each has been contacted for comment by email and through a GOP spokesperson, with questions including whether they had been in contact with any officials exposed to the virus and if they'd personally been tested for the virus. Four of them did not respond; Gray declined to go on record.
The lawmakers' attendance at the conference was brief, visiting only the final day, according to social media posts, for an awards ceremony for conservative lawmakers and a keynote speech by Trump. At least one Wyoming lawmaker, Gray, had a direct interaction with American Conservative Union executive director Matt Schlapp, who said he had a brief interaction with the individual who tested positive for the virus. In an interview on Fox News over the weekend, Schlapp said he was "taking precautions" and was talking to his doctor, adding he feels "healthy as a horse."
A further statement from the ACU on Sunday said that there have been no additional cases reported from the event. The statement also said no other attendees have tested positive for the virus and, to this point, no restrictions or quarantines related to the event have been called for.
Gov. Mark Gordon said in a statement Monday afternoon that his office aware of the situation, as is Senate and House leadership.
"At this time it does not appear that any members of the Wyoming legislature had contact with this individual," Gordon said in the news release. "Our state health officer has been notified and has identified these legislators as low risk. She advised that these individuals should continue to monitor their health closely at this time."
The incubation period for the virus, according to the Centers for Disease Control and Prevention, is two to 14 days, with most cases reaching maturity within five days. Transmission typically occurs after either direct contact with infectious secretions or excretions, such as mucus, or a period of prolonged exposure with an infected individual, defined by the CDC as more than a few minutes.
"Brief interactions are less likely to result in transmission," CDC guidelines say.
Wyoming's attendees, the state health officer said in an email to House Majority Floor Leader Eric Barlow, R-Gillette, likely would not meet criteria that would put them at-risk.
"In this situation, most of the persons who attended the event would be classified as low risk or no identifiable risk," the email said. "Being in the same indoor environment as a person with symptomatic laboratory-confirmed COVID-19 for a prolonged period of time, but not meeting the definition of close contact, would be considered low risk."
"Because we don't know exactly where the person with confirmed COVID-19 was during the conference, our recommendation is that conference attendees from Wyoming be considered low risk," it added.
Concerns about COVID-19 at CPAC have been enough to compel some high-profile attendees to get tested or limit their exposure to public events. Sen. Ted Cruz, R-Texas, and Rep. Paul Gosar, R-Ariz., both announced Sunday they had chosen to self-quarantine after coming in contact with the infected individual at the conference. Gosar was born in Rock Springs and has family ties to Wyoming.
Wyoming's Rep. Liz Cheney, who spoke at the conference, was not exposed to the individual in question who had tested positive for the virus, according to media reports. However, Wyoming's lone representative has chosen to limit participation in non-essential gatherings, a spokesperson told Politico on Monday. A Cheney spokesperson told the Star-Tribune she has been in Washington since attending the conference.
The U.S. Capitol's attending physician said Monday that "several" members of Congress had contact with the person who developed COVID-19. They "remain in good health," the physician's office said.
Wyoming is one of just 16 states to have not reported a COVID-19 case this year, which as of Monday morning had infected more than 500 Americans and killed at least 22.
While Wyoming has so far been untouched by the virus, it is certainly on the minds of policymakers in the Capitol: On Monday, informational packets about COVID-19 could be seen on the tops of lawmakers' desks. The Wyoming Department of Health has also begun to test for the disease.
House Speaker Steve Harshman and Senate President Drew Perkins released a joint statement Monday stating that leadership has been "closely following the coronavirus" and has encouraged best practices among both members and staff, noting that individuals who are classified as low risk or no identifiable risk and do not have symptoms have no recommended movement or social distancing restrictions.
"We are continuing to monitor the situation and any new information that arises," they added.
Gordon — who has already held a press conference discussing Wyoming's response and prevention efforts — noted that the growth of the virus will inevitably cause more people to come in proximity of it.
"I urge Wyoming citizens to recognize that as Covid 19 becomes more widespread, it is likely that many of us will eventually cross paths with someone with symptoms of the disease and people who are later diagnosed," Gordon said in his statement. "We should continue to follow recommendations from healthcare professionals, including regular hand washing, covering the nose and mouth when coughing or sneezing, and staying home when sick."
The Associated Press contributed to this report.