A state senator threatened to use his power to fire a University of Wyoming professor and end funding for an academic program during a recent confrontation at the Laramie school, according to two students whose concealed-carry project allegedly riled the legislator.
Sen. Anthony Bouchard, a Cheyenne Republican, said he never uttered the threats at the Shepard Symposium on Social Justice earlier this month.
"Never said that...fake news," Bouchard said in an email response Tuesday afternoon.
The Star-Tribune asked him to elaborate on what transpired. He referred the newspaper to comments and pictures he posted to Facebook, which were mostly aimed at the professor.
But freshmen Desmin Lewis and Tyrell Proby said Bouchard threatened to get English department assistant lecturer Allison Gernant sacked and to pull funding for Synergy, a program they are in that provides first-year students with small class sizes, tutoring and mentoring. They said Bouchard, who formerly ran a gun rights organization, was upset with conclusions made by their academic project that they presented at the Symposium.
The school is reviewing the incident, said Chris Boswell, a UW vice president. A report has been sent to the school's Office of General Counsel, which reviews legal matters, he said.
Boswell said he didn't know if the report would be made public.
"I'll have to say that legislators on a pretty regular basis make comments about funding for programs in state government and at the university," Boswell said. "Once in a while those comments are on the aggressive side."
When Bouchard ran the Wyoming Gun Owners organization, lawmakers complained about his lobbying tactics, which included accusing a Republican who opposed one of his bills as having small genitals.
"Bouchard is known to be pretty strident on the subject of the Second Amendment," Boswell said.
Gernant's salary and Synergy are likely safe from any single lawmaker, Boswell added.
UW is mostly funded through a block grant, which means the Wyoming Legislature provides a chunk of money and the university's trustees apportion it. The school has been funded through a block grant since the late 1990s, Boswell said, to protect academic freedom.
"I suppose there's always the opportunity for a member of the Legislature to take action on the university budget," he said. "That sometimes happens."
Boswell said he spoke with Bouchard, who had a different account of the discussion.
The Young Democrats of Wyoming have seized on the interaction to criticize the senator.
"Sen. Bouchard is using his position of power as a lawmaker to threaten, intimidate and silence academic research which he does not agree with," the organization said in a statement.
Senate President Eli Bebout, a Republican, said he's heard a little about the situation at UW. He said he didn't want to say anything negative about Bouchard but that the Senate has a process to address behavior that could be considered unethical.
"If someone files a complaint, we'll deal with it," he said.
Project
Lewis, Proby and a third student, Jerard Swan, are enrolled in an English course that Gernant teaches. She assigned students to write a public service announcement on any issue that was important to them. The professor did not return a message from the Star-Tribune.
The three freshmen, all African-American, decided to explore concealed carry laws. They concluded that background checks and gun safety courses could be toughened. They also cautioned against stereotyping young minorities, arguing that many people are shot over incorrect assumptions that they are thugs.
"Be smart before you stop a heart — that was our slogan," Lewis said.
Lewis described feeling honored that the project was selected to be part of the Shepard Symposium, named after Matthew Shepard, a UW student who was killed in 1998 because he was gay.
As part of the symposium, the students manned a table with materials from their project and talked one-on-one with attendees about their work. They also made a formal presentation before an audience.
Lewis and Proby said that Bouchard approached them and someone with him introduced him as a lawmaker.
Bouchard began arguing with the students about their project, they said. Proby felt Bouchard wasn't interested in understanding the project and instead wanted to argue about guns.
"He kind of switched it up," he said.
Bouchard's former employer, Wyoming Gun Owners, is sometimes further to the right than the National Rifle Association on gun control, calling itself the state's only no-compromise gun rights lobby.
You have free articles remaining.
All three men have fathers or stepfathers who own weapons, Lewis said.
"We're not trying to take away concealed carry," he said. "We're trying to make it more effective."
According to the students, Bouchard also talked about a bill he co-sponsored in the 2017 session that would have allowed people to carry concealed weapons on campus. It failed.
The crowd around the table asked Lewis what he thought about people carrying firearms at UW, he said.
"I came here to get an education, here to learn, to make a better future for myself," he said. "I would personally not feel comfortable with someone with a firearm in an educational place."
Lewis also said he feels safe on campus with university police protecting the area. He said there are emergency kiosks on campus. Rarely do students feel unsafe, but police would appear on the spot if someone needed to use the kiosk, he said.
Bouchard questioned that assumption, both Lewis and Proby said.
"He said something like I want to plant a bomb and see how long it would take university police to find it, or take a gun and see how long" it would take them to spot it, Proby said.
The Star-Tribune ran that allegation past Bouchard.
"HA! You go ahead a run with that. FAKE NEWS," he wrote in an email.
The Star-Tribune again offered the senator a chance to share his account of how the exchange transpired. He didn't reply.
Lewis said Bouchard kept talking about gang bangers.
Professor
According to Bouchard's Facebook account, he asked Gernant her name and she declined to provide it. A Wyoming Gun Owners official found it and posted it to the conversation thread.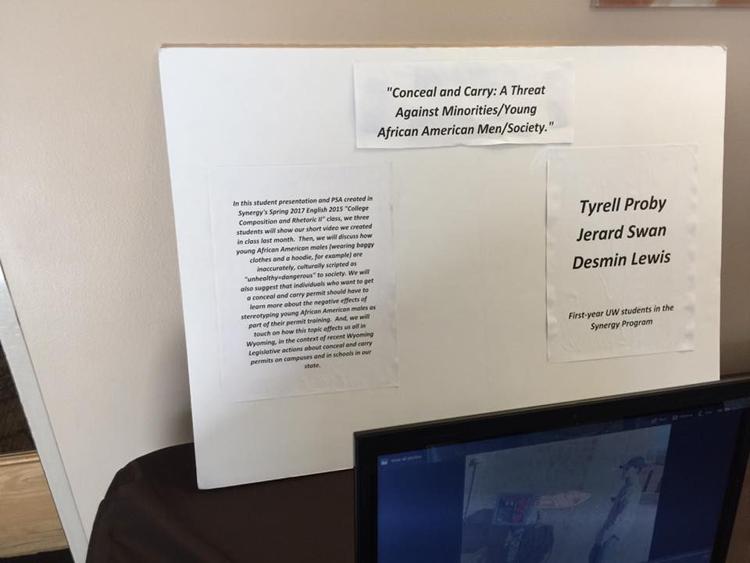 "Instructor ALLISON GERNANT @ Univ of Wyoming," Bouchard wrote. "She's proud of her students pushing for more gun control—"Concealed carry a threat against minorities..." >>>You just can't make this stuff up! *BTW, the students are good kids, they are just being steered by a liberal teacher."
People on the Facebook page talked about how the project was an attack on the Second Amendment.
"This is political race baiting to promote gun control, and does NOT reflect WY values," Bouchard wrote.
Lewis said that the students chose the topic, not Gernant.
UW president
On Wednesday, the students will show their presentation to University of Wyoming President Laurie Nichols, Lewis said.
"We didn't reach out to her," he said. "She actually reached out to us."
The president will offer the students an opportunity to talk about what happened with Bouchard, said Boswell, the UW vice president.
Boswell said the only reports he's heard are that the students behaved well in an unexpected and awkward situation.
"That was even acknowledged by Sen. Bouchard," he said.
Lewis was not equally impressed by Bouchard.
"He honestly did not present himself in a professional manner," he said. "I would have expected a lot more. I was shocked by his behavior."
Robert West, a UW student and vice chairman of the Young Democrats, said Bouchard is acting like he's in campaign mode, even though he was elected to the seat in November.
"You do have to adjust the way you interact," he said. "When you're in campaign mode, you're energizing people to vote for you. But when you're an elected official, you have to represent everyone — including those who didn't vote for you."