CHEYENNE — Rep. Art Washut, R-Casper, was the tie-breaking vote on Wednesday that pushed forward a sweeping abortion bill aimed at nixing rape and incest exemptions currently on the books and bullet-proofing an abortion ban against legal scrutiny.
But just before the roll call, Washut expressed some reservations about his aye vote, given some of the legal risks that passing the bill could possibly result in no abortion ban at all in the end.
"I do have to worry that at some point in the future we may look back and say, 'I wish we hadn't done that,'" he said.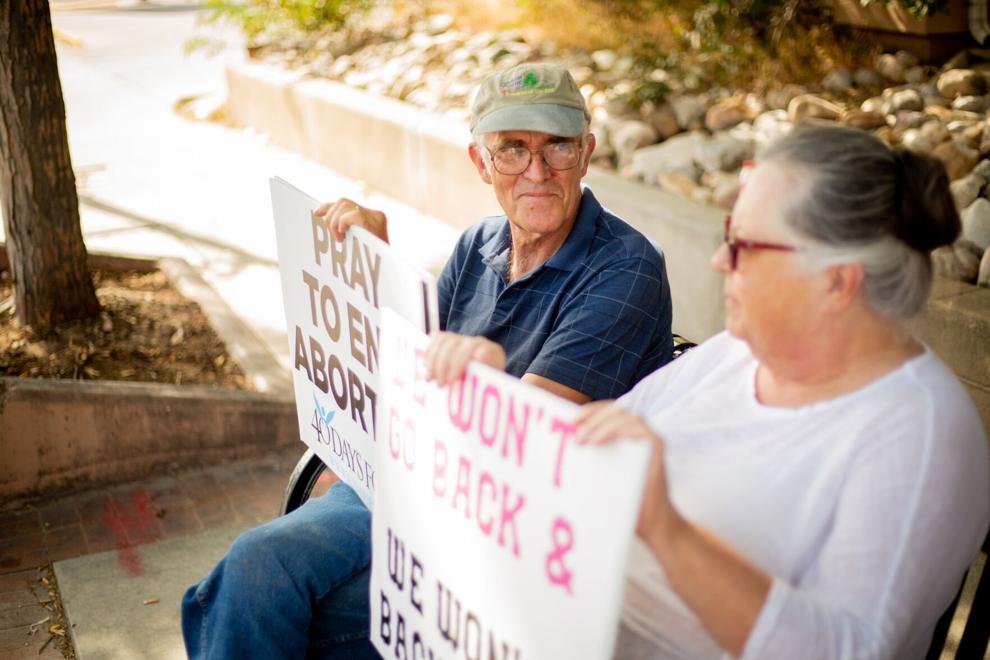 House Bill 152, "Life is a Human Right Act," passed it's first step to becoming law in a 5-4 vote on Wednesday.
Much of the trepidation that Washut and others who support banning abortion expressed about the bill comes from the risk that it may unravel any abortion ban in Wyoming.
The bill would repeal the abortion trigger ban that's already on the books in Wyoming. That abortion ban is currently being challenged in court for its constitutionality.
It appears clear that the "Life is a Human Right Act" was drafted in response to the arguments that have come up over the course of that litigation. The language of the bill attempts to bullet proof the legislation from potential future court challenges if it becomes law.
But some lawmakers still see major weaknesses in the bill's constitutionality, perhaps even more than last year's abortion ban. And that presents a major risk for those who want abortion to be illegal in Wyoming, since the "Life is a Human Right Act" would repeal the trigger ban that's already on the books.
"I believe a yes vote on this is going to cost way more lives than a no vote," Buffalo Republican Rep. Barry Crago, who voted to pass the trigger abortion ban last year, said.
"We're never going to sidestep the courts. It's not going to happen," said Crago, who is a lawyer himself. "All we're doing is pushing this down the road. There will be another injunction the second this passes, and we're pushing that argument another year, maybe two, down the road, instead of just getting it decided."
And if anti-abortion advocates lose that argument, Crago said, then a constitutional amendment requiring a two-thirds vote from the Legislature would likely be needed to put in place an abortion ban.
Crago voted no on House Bill 152.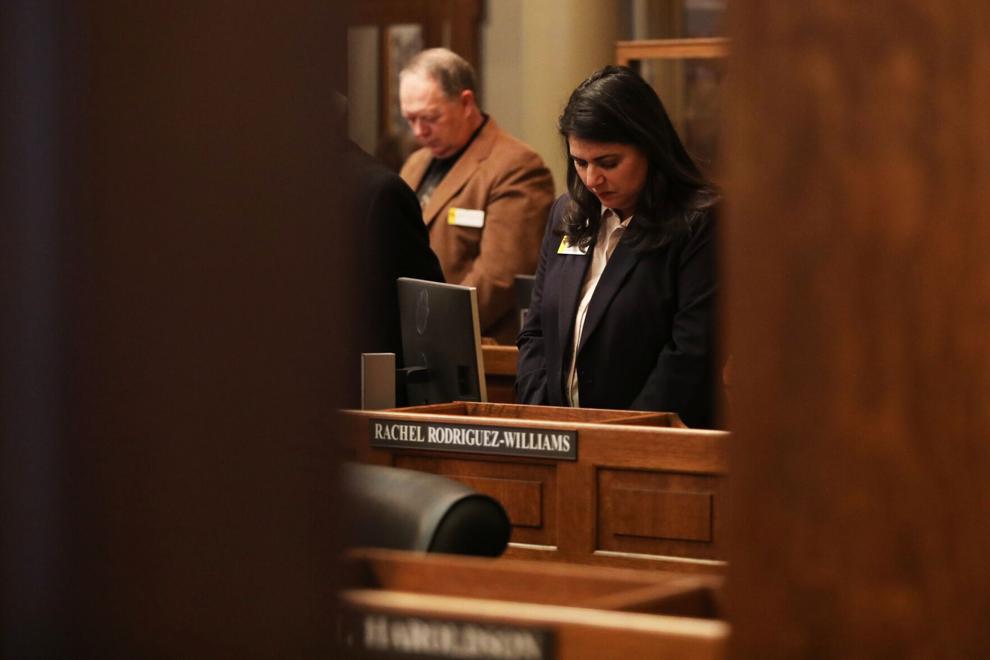 Rep. Ember Oakley, R-Riverton, another lawmaker on the committee who voted in favor of last year's abortion trigger ban but who ended up voting against House Bill 152, raised much the same concern.
"So we're going to abandon this vehicle that works, that we already have, for one that I submit to you doesn't run as well?" said Oakley, who is also a lawyer.
"Literally that's what we're doing. Get rid of the first one. We're going to take the ball and then go over here and play a different game. We're gonna lose that game."
The bill's sponsor, Cody Republican Rep. Rachel Rodriguez-Williams, pushed back on concerns over the bill's constitutionality.
"I've heard the word 'unconstitutional' thrown around so frequently this session, it baffles me," she said, shaking her head. "And honestly, I think it is being thrown around to fear monger. And the people of Wyoming are tired of being fear mongered."
The bill
The "Life is a Human Right Act," has a long list of co-sponsors on both the House and Senate sides. (Rodriguez-Williams was also the sponsor of the abortion trigger ban that is currently being challenged in court for its constitutionality.) It's the most extensive and complex abortion bill up for consideration this session.
The 19-page bill aims to go even further than Wyoming's trigger ban, preventing abortion in cases of incest or rape and allowing district attorneys and the Wyoming attorney general to sue abortion providers. It also seeks to skirt the authority of the judicial system by declaring that the Legislature can interpret the Wyoming Constitution alongside the courts.
The bill, if it makes it into law, would take effect in July.
The bill folds in a lot of what lawmakers have learned over the course of the ongoing lawsuit challenging Wyoming's abortion trigger ban, which went into effect very briefly before a Teton County judge suspended its enforcement. For now, abortions remain legal in Wyoming.
The bill tries to answer questions from the court that have come up during that litigation. It clarifies exceptions and definitions that plaintiffs have argued were too ambiguous in the abortion trigger bill. The first section reads like a resolution, confirming the bringers' interpretations of the Wyoming Constitution as it relates to abortion and explicitly laying out the intent of the bill, additions which could provide additional clout in a potential court case challenging the bill's constitutionality. It also states that lawmakers have the right to intervene in court cases challenging any part of the bill, something which Rodriguez-Williams, as well as House Majority Floor Leader Chip Neiman, have unsuccessfully attempted to do in the current litigation over Wyoming's abortion trigger ban.
The bill also creates a new definition of abortion, one that's modeled off of North Dakota's state statutes, said Fred Harrison, an attorney who represents Wyoming Right to Life, one of the attempted intervenors in the trigger abortion ban lawsuit and who helped lawmakers review House Bill 152.
It defines abortion as "the act of using or prescribing any instrument, medicine, drug or any other substance, device or means with the intent to terminate the clinically diagnosable pregnancy of a woman." That includes the elimination of one or more fetuses in a multifetal pregnancy when termination by those means will likely "cause the death of the unborn baby." Abortion wouldn't include using any medication or device to save a fetus, remove a fetus after "spontaneous abortion or intrauterine fetal demise" or treat an ectopic pregnancy.
Harrison said that some of the other language in the bill also comes from the Alliance Defending Freedom and the National Pro-Life Alliance, some of the nation's biggest anti-abortion organizations. Rodriguez-Williams noted that other Wyoming attorneys, as well as "boots on the ground pro-life advocates," were also involved in crafting the bill.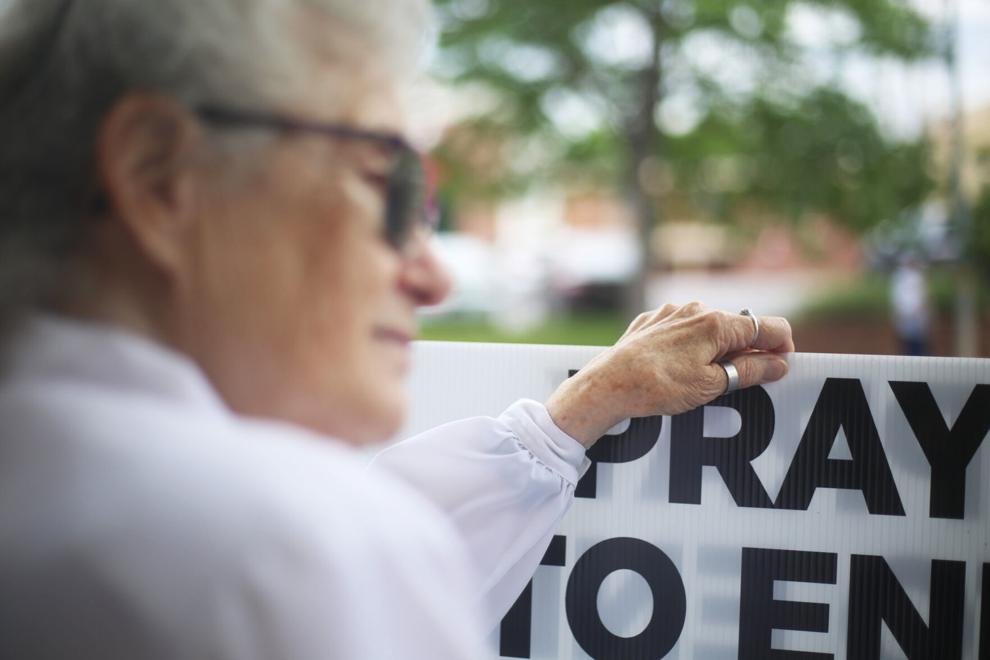 Separation of powers
Lawmakers, as part of the legislative branch of government, can voice their opinion on whether or not laws are constitutional when they vote for or against bills. Governors weigh in on that too with their veto power in the executive branch. But the judicial branch ultimately has final say over the constitutionality of laws.
Some were concerned that allowing lawmakers to intervene in court challenges against the bill might overstep that separation of powers between the different branches of government. Oakley said that provision of the bill "sounds a heck of a lot like infringing on the judiciary."
"Are we pushing legislatures' and individual legislators' role in a way that's a violation of separation of powers?" she asked.
Rodriguez-Williams said, however, that the separation of powers isn't a concern to her as the bill is written, since the legislation wouldn't prevent the judicial branch from having the final say on constitutionality.
Pushing the bill is somewhat of a risk, since it repeals the abortion trigger ban that's already on the books. Crago said he had doubts about the legal fortitude of the proposed legislation and expressed worry that lawmakers would be setting themselves up for a legal failure "right off the bat."
"I've been asking all these questions about the constitutionality of this particular bill not because I am pro-choice. It's the exact opposite. I want to make sure we have a law on the books that prohibits abortions," Crago said to Wyoming Family Alliance President Nathan Winters, a former legislator who spoke on Monday in support of the bill.
Winters assured Crago that those who drafted the bill consulted various anti-abortion organizations such as Americans United for Life and Susan B. Anthony Pro-Life America to review the legislation's legality.
"This is an attempt really to take the arguments that have been lined out in that court case and try to answer them," he said of the bill.
Some lawmakers questioned why Rodriguez-Williams and the cosponsors of the bill were attempting to establish interpretations of the Wyoming Constitution through statute rather than directly trying to amend the constitution. Rodriguez-Williams said she didn't think it would be "in the best interest of the majority of lawmakers within the body to sit on their hands" when they could be "in the business of saving lives."
Laramie Democrat Rep. Ken Chestek warned that the Constitution isn't something that the Legislature "can overturn lightly."
"We have no ability to overturn it through legislative action. This bill does that," Chestek said, adding that it's "obviously targeted at meddling with pending litigation."
Chestek voted against the bill.
Laramie Democrat Rep. Karlee Provenza, who adamantly argued against passing last year's abortion trigger ban, said she was "conflicted" on the new abortion bill because she believes the bill to be "so unconstitutional" that the only parts that would survive legal scrutiny would be the ones that repeal the current abortion trigger ban.
"Part of me wants to say, 'Vote for this so that you can ensure that women have the right to choose,'" Provenza said. (She voted no on the bill.)
Religious freedom
Some critics said the proposed legislation imposes one religious view on people at the detriment of others, the same argument that people have brought up in regards to the trigger ban.
"The idea that I do not have bodily autonomy as a fundamental constitutional right is a religious belief again, proving that the bringers do not understand why their god is not in the Constitution," Greg Hunter, a Laramie resident and 2018 Democratic congressional candidate, said.
"Your god is not in the Constitution because the founders had watched civilized societies tear themselves apart prior to our founding over whose religious authority is correct."
Nikki Kaufman, a Jewish woman, explained that Judaism doesn't share the belief that abortion begins at conception. The Talmud indicates that ancient rabbis saw the fetus as a part of, and fully dependent on, the mother through her pregnancy, and that life only begins once the fetus is born. It's the same point that one woman — Kathleen Dow, a practicing Jew — has argued as one of the plaintiffs in the lawsuit challenging Wyoming's abortion trigger ban.
"I love and respect my Christian friends, my family members and even the people in this room," Kaufman said. "I completely support your viewpoints. I would never tell them that their viewpoints on abortion are wrong when deciding what to do with their own pregnancy, with their own lives, and I hope that you would have the same respect to me."
But Winters, the Wyoming Family Alliance president, argued against the idea "the right to life is really a religious perspective."
"The right to life is so foundational that it's deemed a truth that is self evident," he said, referencing the Declaration of Independence.
Going back again to the constitutionality of the bill, Crago, the Buffalo Republican, said the bill's explicit reference to sections of the Wyoming Constitution that safeguard religious freedom could be grounds for it being deemed unconstitutional.
"Although many of us up here are voting for this issue because of our religious beliefs, (that) cannot be tied to a particular bill," Crago said. "And that's what we're doing. We're tying religious beliefs to a bill, in the language of the bill explicitly."
Medical concerns
Though the bill is much more specific than the one that passed last year, some argued that it still has ambiguities that could make physicians hesitant to take action in situations where an abortion might be necessary to save the life of a mother.
In particular, Christine Lichtenfels, a director of Chelsea's Fund, one of the plaintiffs in the lawsuit challenging the abortion ban that's already on the books, pointed out that allowing a physician to perform an abortion if their "reasonable medical judgement" tells them it's necessary to save the life of the mother "raises the same concerns of being less than clear, especially when there is a criminal penalty associated with it," as Wyoming's current abortion trigger ban.
Yet others, like Dr. Rene Hinkle, a Cheyenne OB-GYN and plaintiff in the lawsuit challenging the abortion ban, questioned the Legislature's authority to declare that life begins at fertilization — which the bill does in its "definitions" section — when different religions and legal points of view disagree on that definition.
"You're making these statements from a Christian point of view, but not every person in this state is Christian," she argued. (Rep. Jeremy Haroldson, R-Wheatland, explicitly referenced scripture to argue that life begins in the womb.) Another plaintiff in the lawsuit challenging Wyoming's abortion trigger ban, Dr. Giovannina Anthony, a Jackson OB-GYN, argued the same point, saying that people "will never all agree on when life begins."
"I think this is very clear from the back and forth occurring today. And in my view, it should not be legislated," she said.
"The Legislature, in general this session, is trying to criminalize physicians," Hinkle, the Cheyenne OB-GYN, continued.
"Doctors are gonna be afraid to treat pregnant patients who have complications. We've seen it already, even though the ban is not in effect. We have transferred patients to Colorado because physicians are are afraid to get involved in a questionable situation where they're using their best judgment, but they're afraid somebody's going to question that."
It could also compromise the legality of at least one other medical procedure in Wyoming. Anthony explained that the bill would essentially make in-vitro fertilization services illegal in Wyoming, since the process requires embryos of "genetic concern" to be discarded.
"This happens constantly and all the time in embryology labs, and no IVF provider would come to the state to practice with this law in place," she said.
Regardless of the arguments on either side, abortion will continue even with a ban in Wyoming. Those seeking the service can still travel to other states where it is legal if they have the resources to do so.
"Women will continue to be going to places like Colorado, where they will take matters into their own hands, which is what we do not want to see. That was the dark times of 1973 and before," Wendy Volk, a Cheyenne resident who opposes the bill, said.
Social impacts
Volk also stressed other social impacts of putting in place House Bill 152, saying that banning abortion could discourage women from staying in Wyoming. She added that neither one of her two daughters want to come back to Wyoming.
"This is a war on women. We should be encouraging our young women to make decisions. If they want to have a family, embrace that. If they're not ready for a family, embrace that," she said.
"I know my body. I know what's best for me. I don't think any of you can stand at my place and know exactly what that is."
Antonio Serrano, ACLU of Wyoming advocacy director, said that restricting abortion access impacts different demographics disproportionately, with potential consequences falling hardest "on those who have low income, live in rural areas like most of the Wyoming and for people of color."
Others shared the negative consequences that abortion has had on their lives.
Cheyenne resident Gary Brown said that when he was in his 30s, his second wife got pregnant twice and got an abortion both times against his wishes.
"I had two of my children deprived from me," he said near tears, adding that "the father's are always left out of this."
Lilia Olejnik, a Cheyenne resident, said her sister's experience of having an abortion "destroyed her life."
"She's now in her 50s, and she continues to grieve the loss of what she did with her baby. And it didn't help her like a lot of people claim to say helps women. It didn't help her at all. It destroyed her soul."
Olejnik specifically addressed the deletion of the exemption for cases of rape, saying that "it's not okay to punish a child for the sins of the father."
"I certainly would not want to be held accountable for the sins of my father," she said.
House Bill 152 still needs to go through several votes in the House and Senate before it can become law.
PHOTOS: Abortion in Wyoming
Pro-choice protest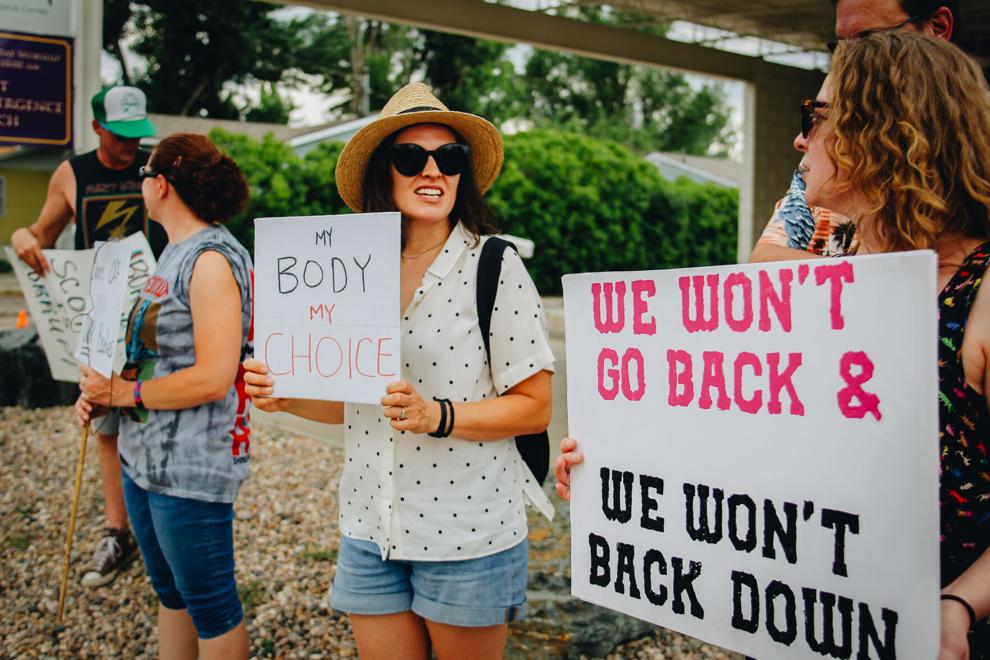 Abortions rights protest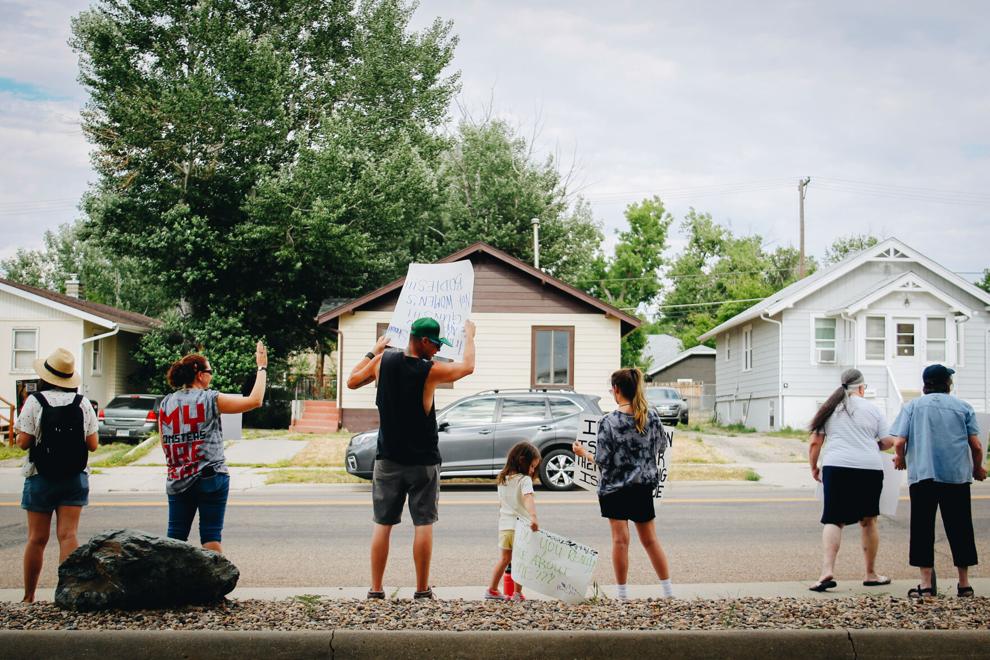 Abortion-rights protesters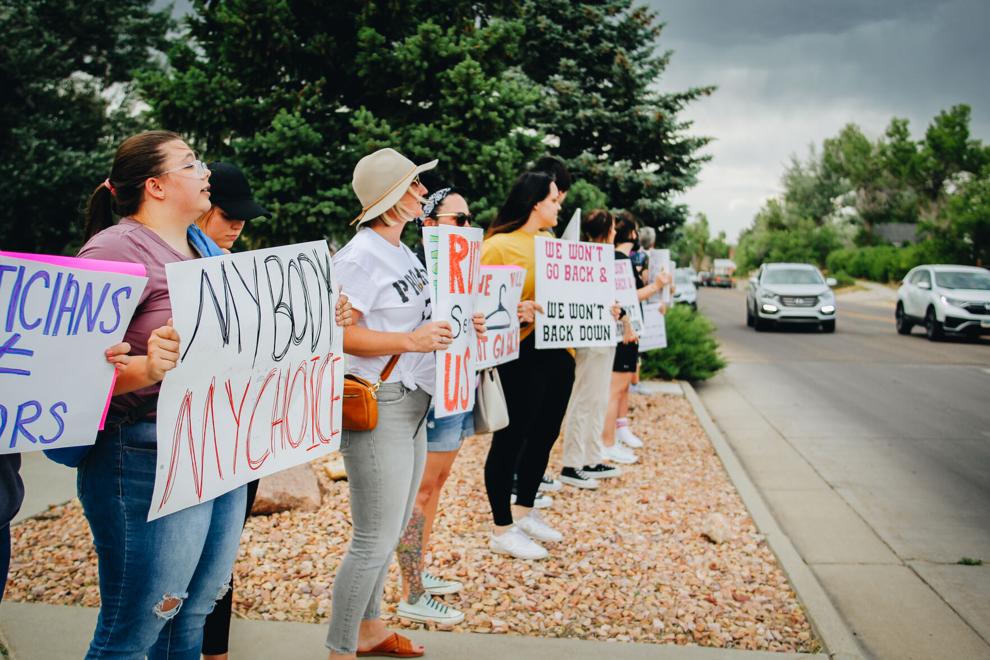 The Women's Health Center and Family Care Clinic of Jackson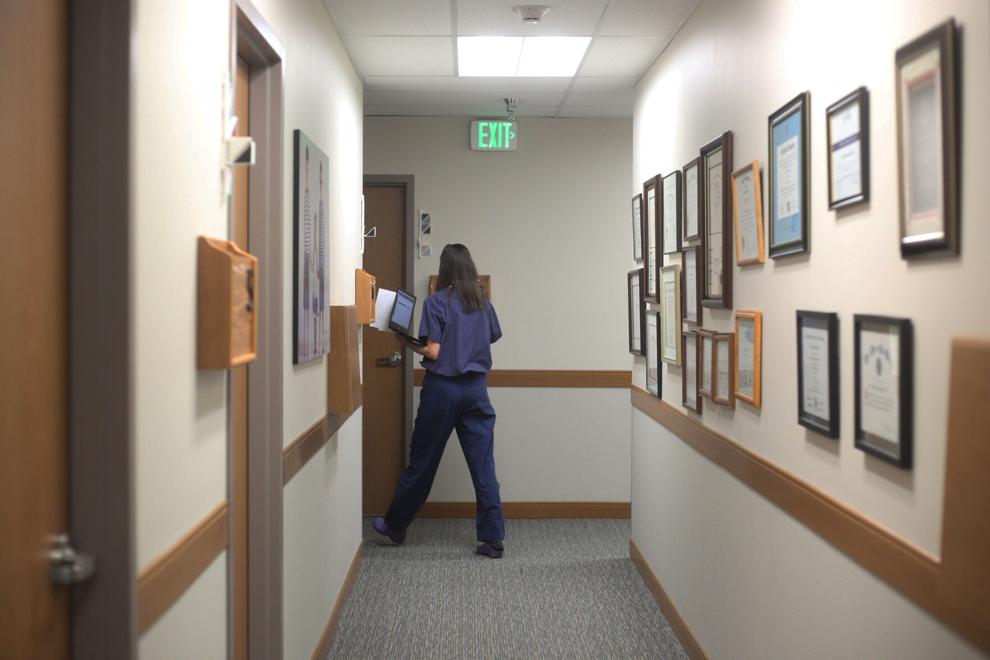 Pro-life Protest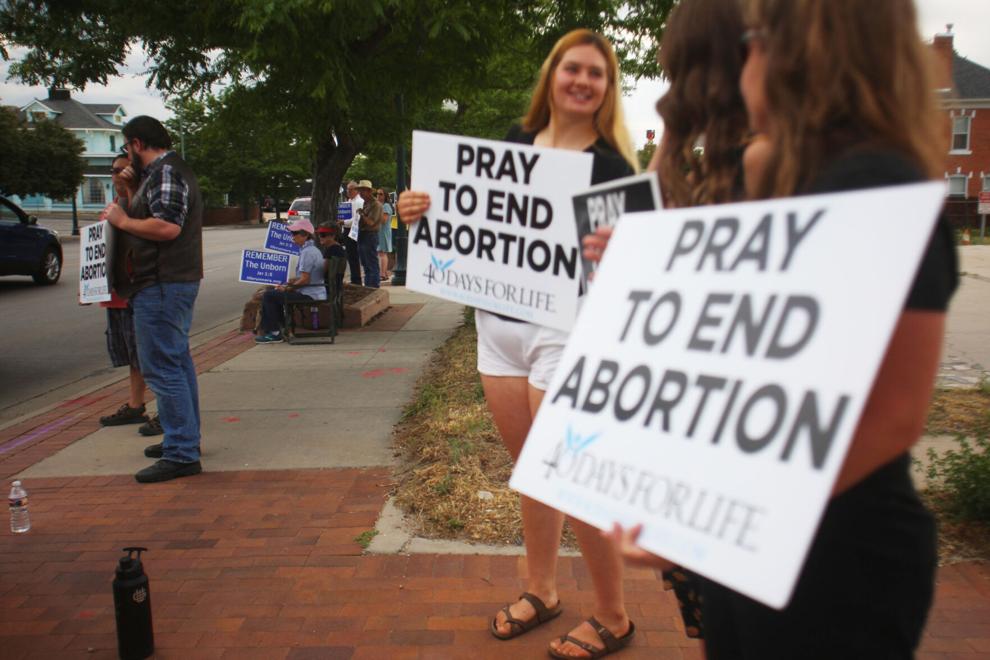 Pro-life Protest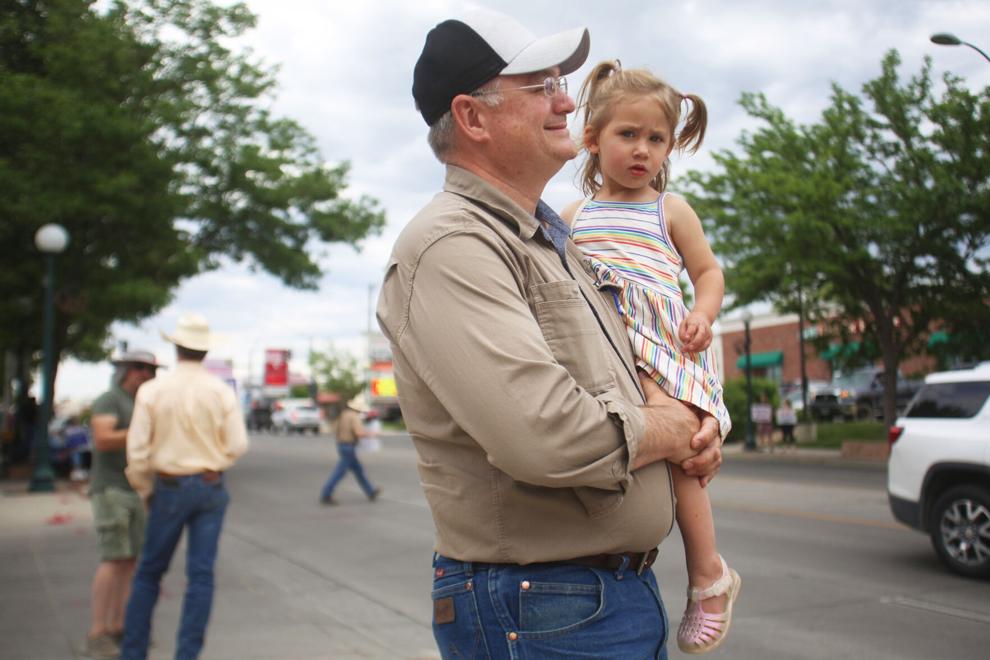 Abortion-rights protest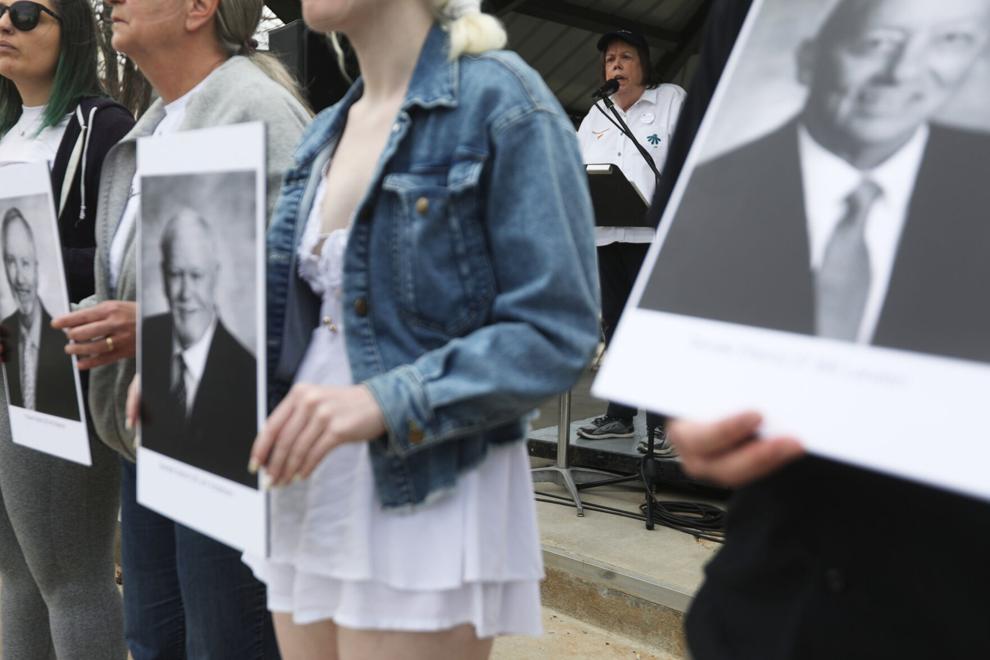 Abortion-rights protest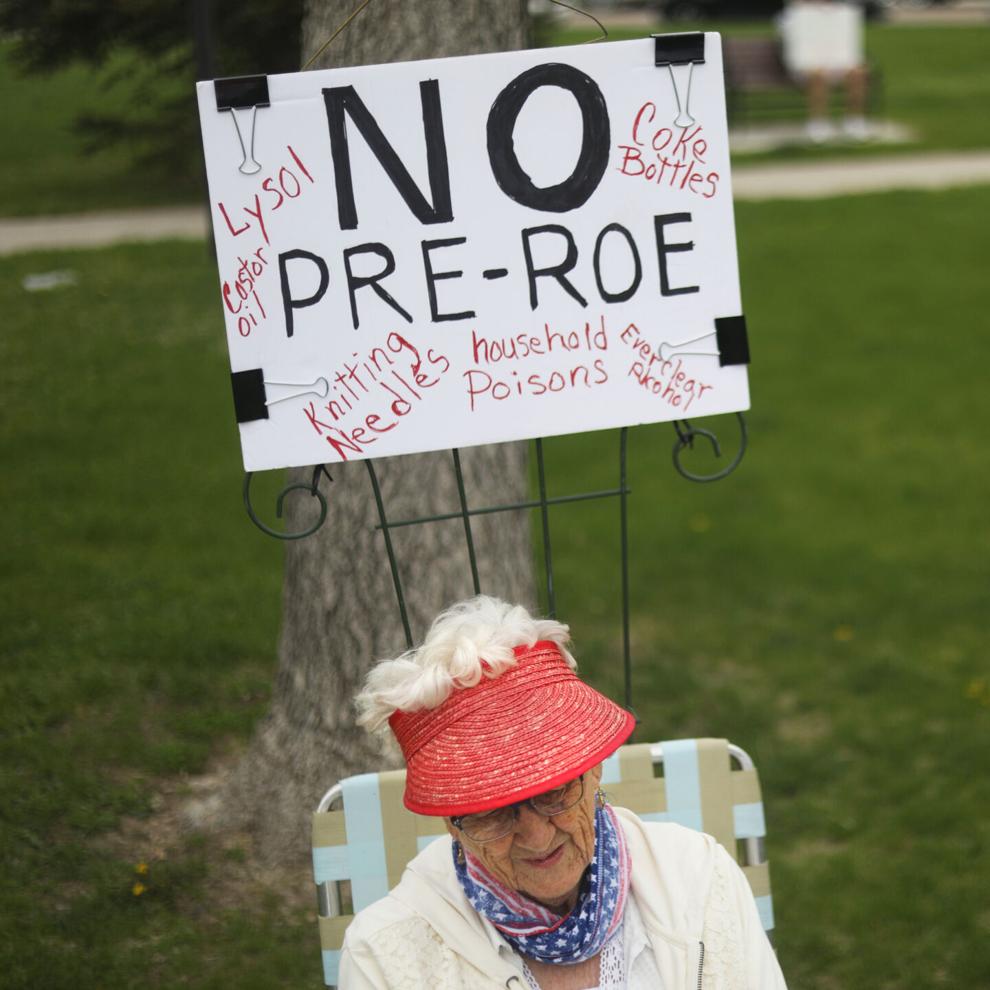 Abortion-rights protest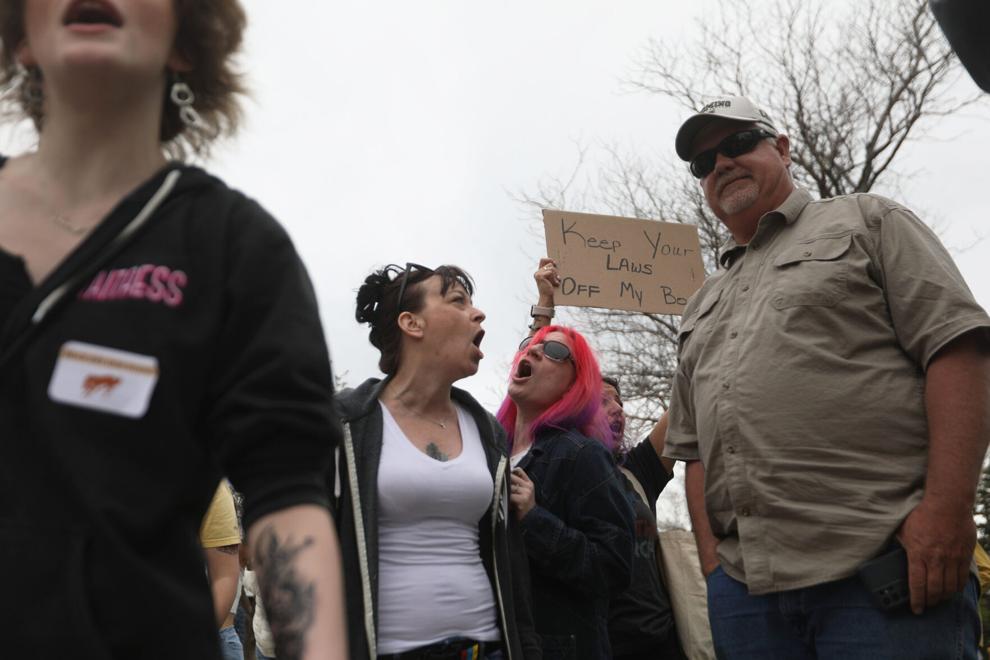 Abortion clinic fire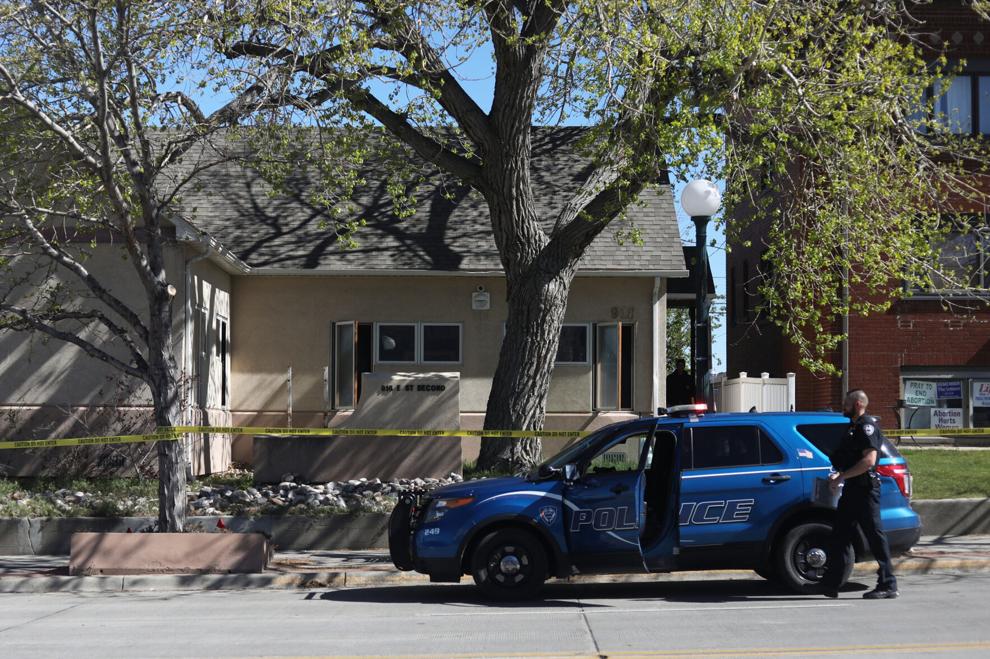 Abortion-rights protest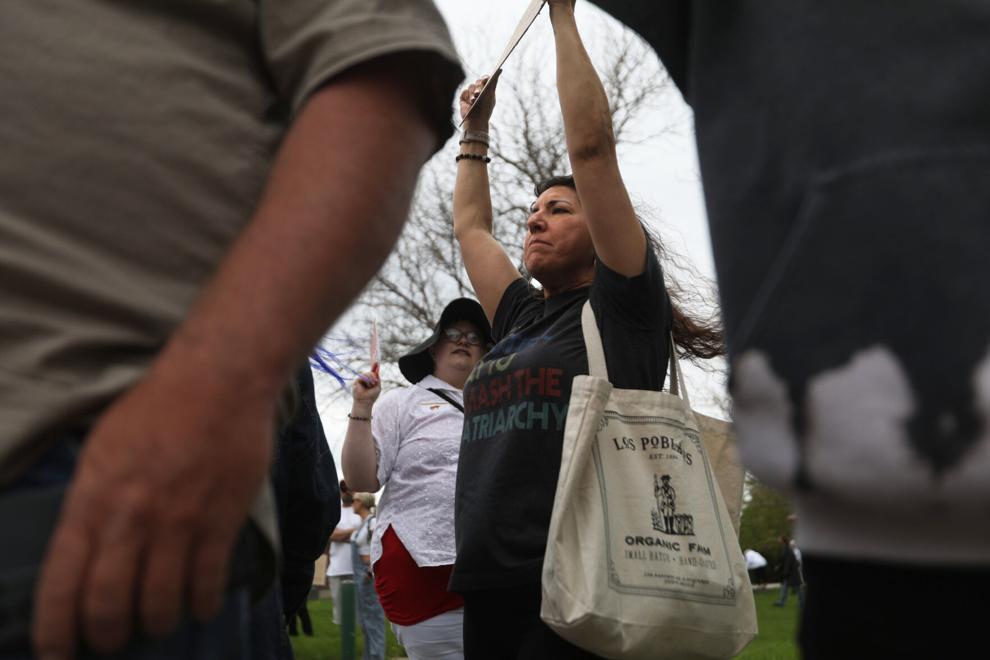 Abortion-rights protest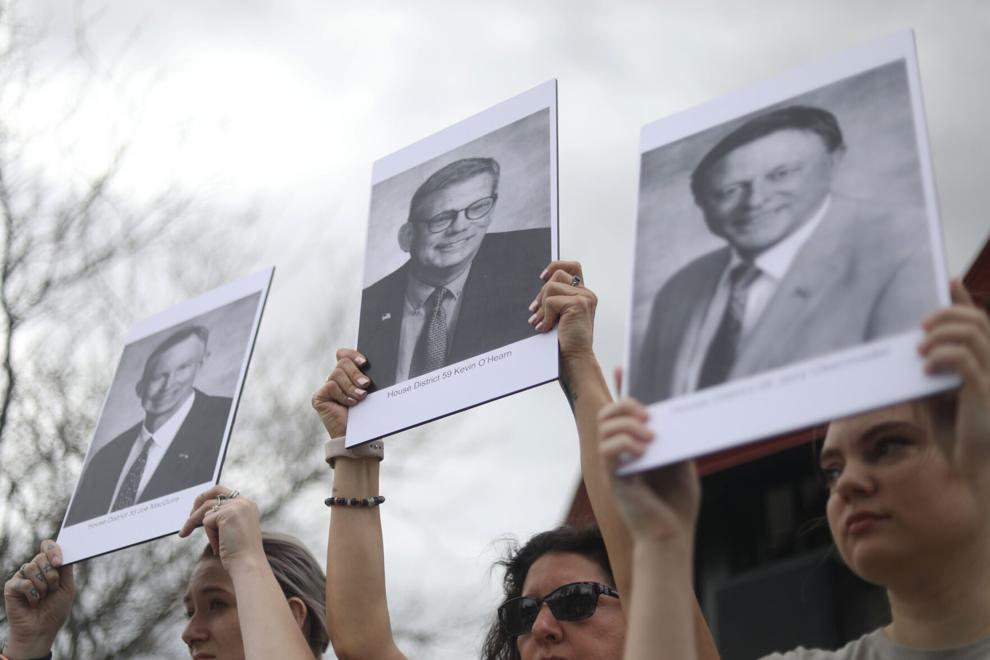 Pro-life Protest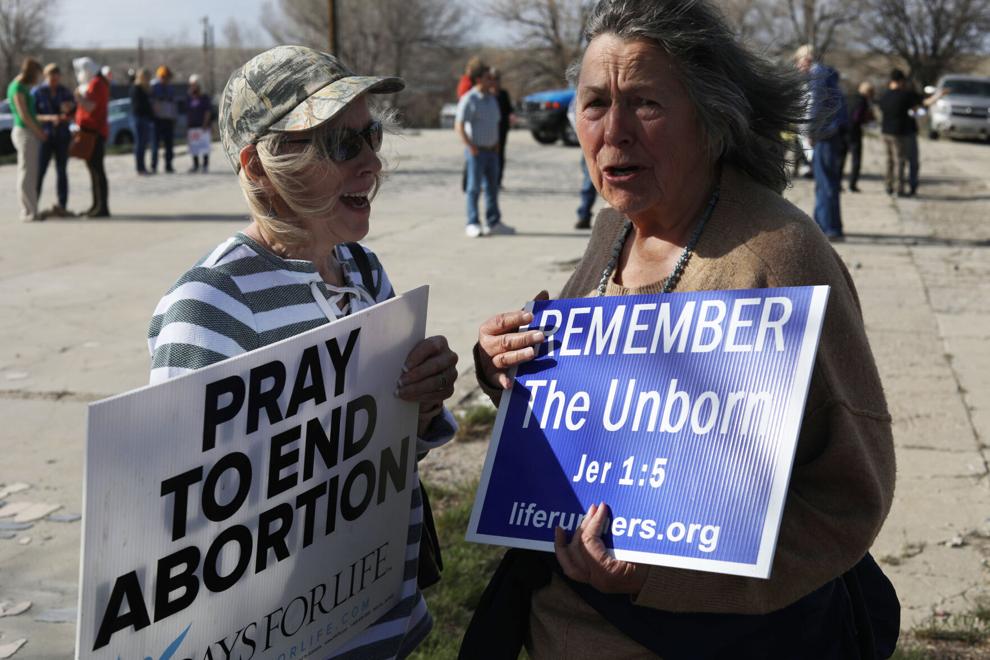 Pro-life Protest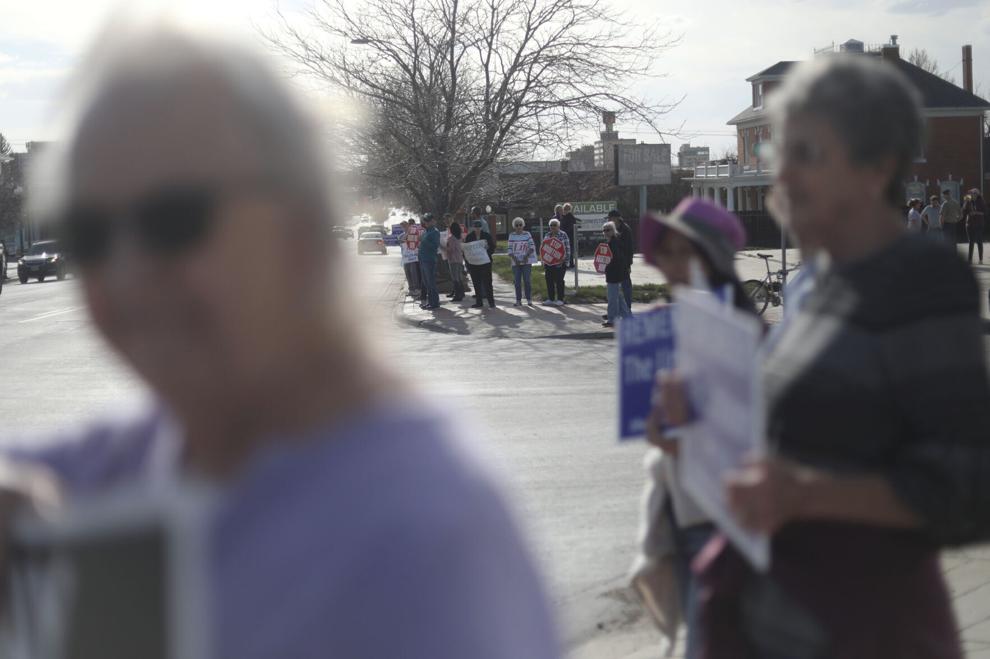 Pro-life Protest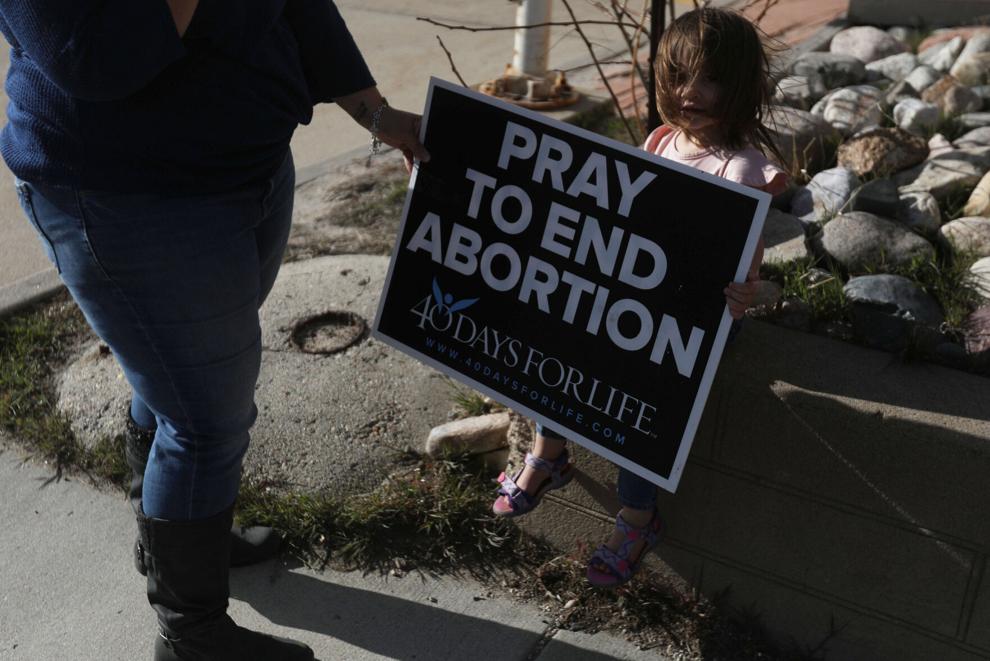 Pro-life Protest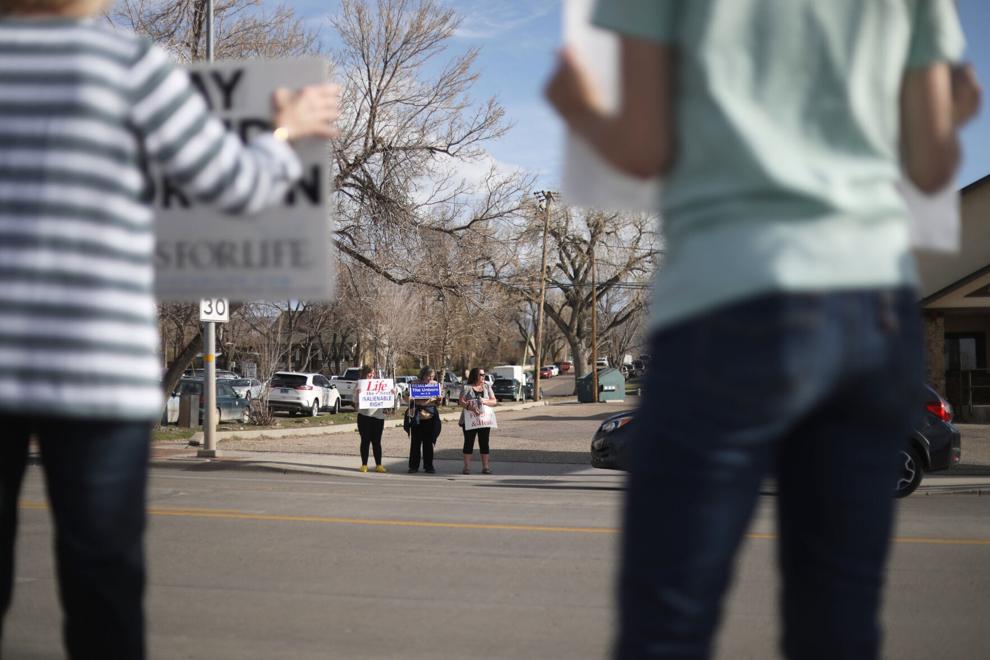 Pro-life Protest