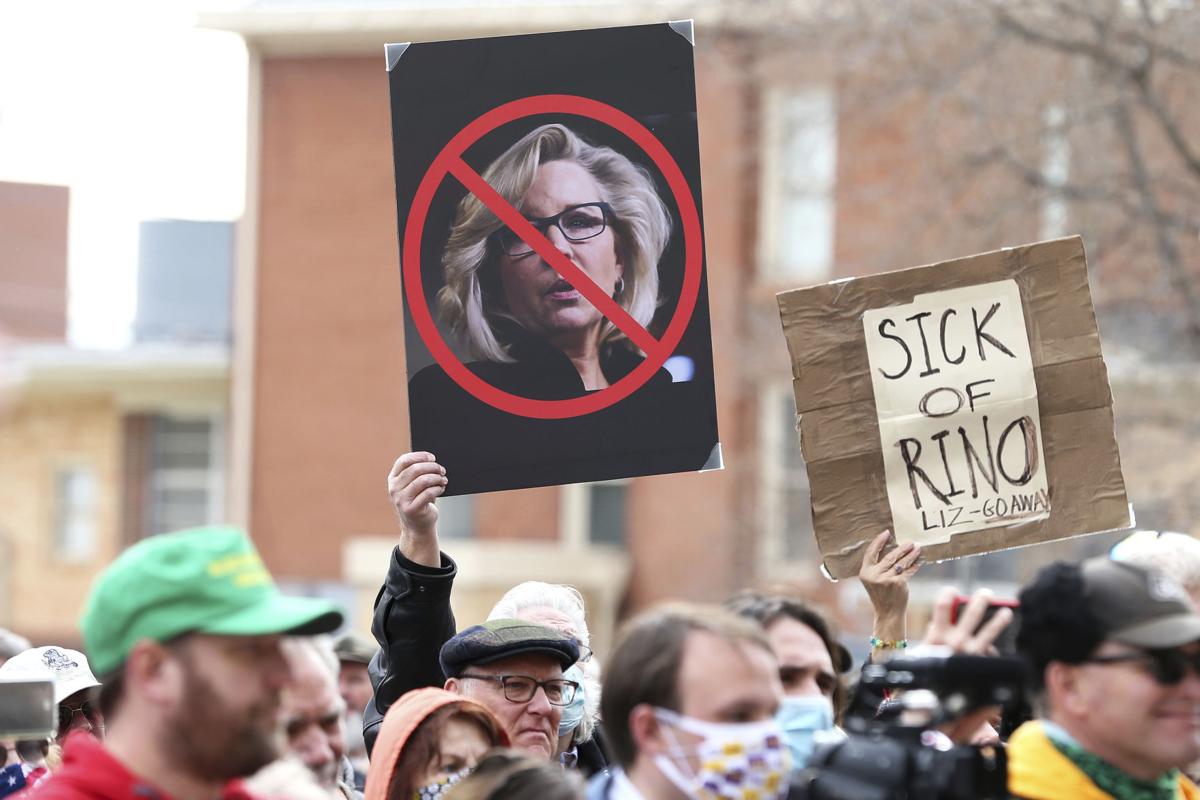 Former President Donald Trump says he will soon endorse a candidate to run against Wyoming Rep. Liz Cheney in the 2022 Republican primary.
Cheney voted to impeach Trump earlier this year for his role in the Jan. 6 attack on the U.S. Capitol. As House Republican Conference chairwoman, she was the highest profile of the 10 Republican representatives who did so.
"So many people are looking to run against Crazy Liz Cheney — but we only want one," Trump said in a statement. "She is so far down in Wyoming polls that the only way she can win is numerous candidates running against her and splitting the vote. Hopefully, that won't happen. I'll make an Endorsement soon!"
The statement from Trump PAC Save America also slammed Sen. Lisa Murkowski, R-Alaska, by celebrating the possibility she might not run for reelection. Murkowski was one of five Republican senators to vote to convict Trump in January.
Thus far, state Sen. Anthony Bouchard of Cheyenne and state Rep. Chuck Gray of Casper have both announced they will run against Cheney next summer. Cheyenne resident Bryan Eugene Keller and former Pavillion Mayor Marissa Joy Selvig have also filed with the Federal Elections Commission.
In January, Florida Rep. Matt Gaetz held a rally at the Wyoming Capitol in Cheyenne in protest of Cheney. Trump's son Donald Jr. called into the rally via speakerphone and said that Wyoming conservatives should not coalesce around a candidate just because they were the first to enter the race. At the time, Bouchard was the only known candidate who had thrown his hat in the ring.
Gaetz is now under federal investigation for alleged sex trafficking.
Trump Jr. also took interest in Wyoming politics with his support of a bill that would have created a runoff election if no candidate won a majority of votes in the primary. The bill, after being amended so that it would have taken effect in 2023, failed to become law in the recently ended legislative session.
Cowboy State Daily reported Wednesday that Cheney had set a quarterly fundraising record with more than $1.5 million.
She comfortably survived a closed-door vote in February during which some members of the House of Representatives sought to strip her of her leadership role.
In response to the pushback she has received from her own party members, Cheney previously told a reporter: "I'm not going anywhere."
Still, she has faced significant backlash in Wyoming, where Trump received a larger percentage of the vote in November's election than any other state. The Wyoming Republican Party voted to censure her for her impeachment vote, as did many county-level parties.
Cheney recently said she would not support Donald Trump if he were the Republican candidate in the 2024 presidential election.
After becoming the first U.S. president to be impeached twice, Trump was again acquitted in the Senate.