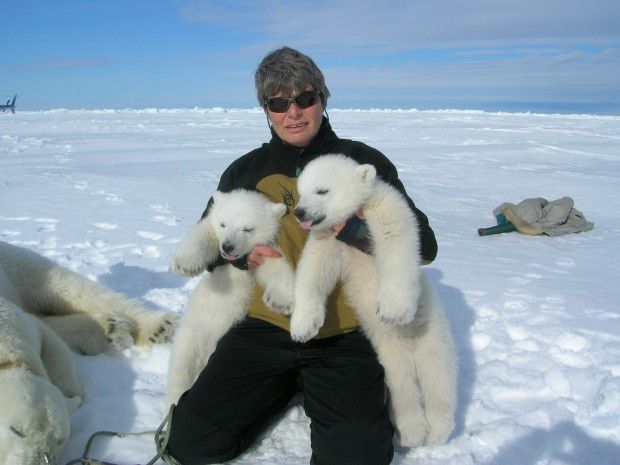 Merav Ben-David is tired of trying to change things from the sidelines.
A University of Wyoming professor now for two decades, the Israel native and former African safari guide always knew she had a role to play, fighting to protect a planet that she had studied her entire life. In addition to being a researcher of global change — including pollution, climate change and their effects on wildlife — Ben-David has been a force for making the types of change she's seen as necessary in the world, both as a resource and as a mentor to more than 1,000 aspiring wildlife professionals, many of whom are actively working in Wyoming today.
"For my entire life, I've collected information to help people make good management and conservation decisions," she said in an interview with the Star-Tribune this week. "So you could say I've dedicated my entire life to that cause."
But Ben-David feels she can do more. And as time progressed, she realized generating that information was not enough. Which is why, at Saturday's Women's March in Laramie, the longtime Democrat was expected to officially announce she is running for the U.S. Senate, hoping to join a wave of scientists elected to Congress in the 2018 midterm elections.
Though running in the state's minority party — and on a cause many voters in Wyoming many see as an existential threat to the state's energy-rich economy — Ben-David says her campaign is based not in being adversarial to the Wyoming way of life but in opportunity. A lover of public lands, Ben-David sees the state's bipartisan love for open spaces as a chance to build a coalition beyond politics, hoping to pull voters in just enough to listen to the vision she's selling.
"I see there are a lot of commonalities among the people of Wyoming," she said. "You can go up to anyone and talk about open spaces and viable wildlife populations or clean air and water. And very few Wyomingites will disagree with that."
Her biggest enemy, she acknowledges, is the current political reality. As the state's fossil fuel sector faces a bleak future, Democrats in Washington have made climate change — and drawing down the nation's use of those fuels — a centerpiece of their party's platform. This has led to a marked whiplash among conservatives in energy-rich Western states who have begun to see real impacts from the greater market forces on resources like coal.
But Ben-David's outlook — while acknowledging these realities — is more optimistic: that transitioning to clean energy can actually offer opportunity, rather than despair. Recent studies have suggested that investments in climate action can actually prove to increase prosperity for rural economies. Given the unique nature of Wyoming's existing economy, the state could potentially benefit from being a proving ground for technologies like artificial intelligence, particularly given the state's relationship with interstate commerce and busy highways like Interstate 80.
For Ben-David — who has worked with the nonpartisan Citizen Climate Lobby in the past — a leader who recognizes those opportunities can help the state seize on them, helping to both gradually phase out the use of fossil fuels while protecting those who would be impacted most by their reduction.
"Things like this have already happened to our coal miners in Gillette — we can see how people are negatively affected," she said. "But what has happened so far is part of a greater trend that we will not be able to resist. The world is changing, the technology is moving so fast. So we have two choices: We can resist and keep relying on revenues from fossil fuels, or we can start moving forward and developing a more diverse economy."
Her national policy interests extend beyond energy, however, with ambitions to reform higher education and student lending policies with a scholarship model similar to the state's need-based Hathaway Scholarship, create a guaranteed jobs program (similar to proposals supported by some Democratic presidential candidates) and improve rights for the LGBTQ community.
Ben-David also supports a Bernie Sanders-style single-payer health care system. However, she said the concept needs a little more consideration — particularly for rural states like Wyoming — before she would be willing to lend her full support to such a plan.
"We don't have the health care infrastructure right now that we need to do that," she said. "It can take a lot of investment that we not only have someone paying for it but that we also don't go bankrupt paying unexpected bills. We need a mechanism to actually provide access, and that's something we need to actually emphasize in Washington, D.C., to tell the people writing these laws what it actually means to live in a very small, rural and isolated state."
For the Democrats, Ben-David's entry into the race will mark the party's first competitive primary election since 2014, when Charlie Hardy — who ran against Sen. John Barrasso as a Republican in 2018 — won nearly 48 percent of the vote in a competitive, four-way primary. (He eventually lost to Sen. Mike Enzi by nearly 55 points in that year's general election.) Yana Ludwig, a socialist from Laramie, announced her bid to run on the Democratic ticket midway through last year and, with the primary not happening until Aug. 18, others have ample time to emerge.
For now, Ben-David — a self-described "progressive" with a few key differences — is focused on campaigning. She also plans on having a little fun along the way, planning to hold a fair number of campaign events hunting and recreating in the great outdoors.
"I'm hoping to travel across the state as much as possible and to visit as many people as I can," she said.
Get Government & Politics updates in your inbox!
Stay up-to-date on the latest in local and national government and political topics with our newsletter.