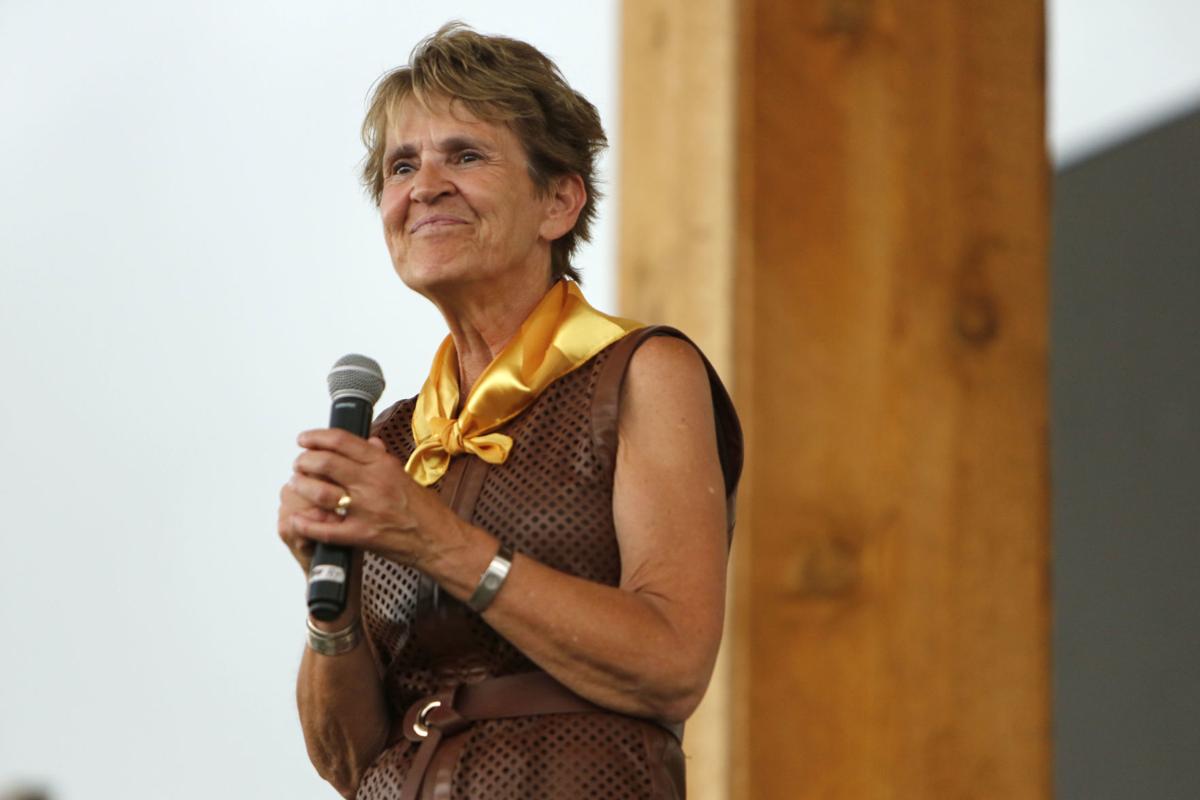 Legal counsel for the University of Wyoming is requesting a number of changes to the state's public records law after a losing effort to shield the circumstances of former President Laurie Nichols' demotion as the university's chief executive last year.
According to a university memo to the Legislature's Joint Judiciary Committee on May 7 made public ahead of the committee's first interim meeting of the year this week, university counsel is seeking to implement a number of exemptions to the law seeming to directly relate to an effort to keep the personnel file of its former president under wraps in the wake of her sudden demotion.
Of particular note is a request to better define what qualifies as a "personnel file" — which are typically exempt from public records law. According to the memo, the lack of a solid definition "creates ambiguity for public records officers" in the process of deciding to release a record or not, forcing them to risk going to court to prevent a record from being made public.
"The University is not advocating for more or less transparency," read the memo drafted by UW's general counsel, Tara Evans. "But we are advocating for more clarity in the language of the exemptions to allow public records officers to more efficiently and effectively respond to requests for public documents with less ambiguity and without the need for interpretation."
The memo also requests clarification on what merits a "clearly unwarranted invasion of personal privacy" under the law, an argument attorneys for Nichols made as the lawsuit made its way to court last summer. UW's administration was later ordered by a judge to release the file — as well as a number of records related to her dismissal — after several media organizations including the Star-Tribune filed a lawsuit.
In her ruling, Albany County District Court Judge Tori Kricken said that though the law covered some aspects of personal privacy, an overly broad reading of the law could open the door to government using the law to hide information it found unflattering.
"In practicality, if the personnel files exception were to be interpreted without limiting its application to documents implicating a personal privacy interest, the state government and its agencies would have the unfettered ability to withhold almost any document from inspection simply by placing it within an employee's personnel file," Kricken said at the time.
Bruce Moats, a Laramie-area attorney who represented the media outlets in that case, said in an email that the amendments recommended by the UW counsel seem to be in direct response and disagreed with the assessment that they were simply seeking clearer guidance on the law.
"I cannot see any changes to these provisions that would result in more transparency," he wrote. "I have also found that added language only results in more litigation about meaning of the new language."
In testimony on Wednesday, however, Evans argued that the university often deals with records requests can involve the handling of highly sensitive subject matter. While the personnel files involved can involve disciplinary files, the scope of those records can also include everything from sexual assault investigations to cases of academic misconduct — the release of which, she argued, could potentially be personally or professionally compromising.
Statutes governing those records, she said, need to be tightened up: "not because we don't want to hand something out, but to know whether we should hand something out."
"There's no definition of what's in a personnel file," she said.
Moats, however, said that any attempt to create a set definition would likely result in more litigation.
"The meaning of 'personnel files' has been litigated in scores of cases throughout the country without anyone coming up with a definition that again answers all questions in all circumstances," he wrote. "It is what the courts do — apply the law to the facts. That is always going to be required."
While UW's request seemed bound to the recent lawsuit, questions about what records belong in a personnel file were not isolated to UW's attorneys. State Public Records Ombudsman Ruth Van Mark said that in three separate cases she's handled, the contents of an employee's personnel file have emerged as the key issue.
Currently, Van Mark is already embroiled in a public records battle with a city attorney over whether she herself can view the personnel file of a police officer in camera, she said, and questions over those files have been a chief concern of both the government and the public.
According to data presented to committee members Wednesday, her office has already denied public records requests for two personnel files since her office was stood up last year, while another was denied for containing personally identifying information in its contents.
"It would be a broad help," she said.
While no action was taken Wednesday, Joint Judiciary Committee co-chair Sen. Tara Nethercott, R-Cheyenne, said that the issue of personnel files would likely be taken up at the committee's August meeting.
Moats, however, said that any continued effort to introduce exemptions to the law would only put further limits on public transparency.
"I am sorry, but I see this as a veiled attempt to narrow what the public is able to see about what representatives are doing on its behalf," he said.
Editor's note: Star-Tribune editor Joshua Wolfson did not participate in the editing of this story due to a conflict of interest.
Get Government & Politics updates in your inbox!
Stay up-to-date on the latest in local and national government and political topics with our newsletter.