Few were surprised last week when Sen. Mike Enzi announced his retirement.
Enzi has served more than two decades in Washington, after all, and it was expected that the 75-year-old statesman wouldn't have much of an appetite for another campaign, followed, presumably, by six more years of constant travel and fundraising.
What caught many by surprise was the timing. Made roughly 18 months out from election day, Enzi's announcement comes much sooner than has been traditional in Wyoming politics, beating out the retirement announcements of his predecessor, Alan Simpson, and of former Wyoming Reps. Cynthia Lummis and Malcolm Wallop by four months.
Within the week, rumors began to swirl around who would replace him in 2020, even with the early announcement. Second-term Congresswoman Liz Cheney dominated most of the conversation, as national media outlets erupted with rumors and speculation that she would leave the House for brighter prospects in the Senate.
But the contest might be more complicated than simply, "Will Cheney run?"
Wyoming pundits have tossed out other major names who could make a bid for the Senate, like Lummis — who sources said is seriously considering a 2020 run — or former Gov. Matt Mead. A potential Cheney run for Senate, meanwhile, could lead to a veritable free-for-all for an open House seat.
At this point, it's still a matter of speculation. But observers say Enzi's decision to leave politics could set in motion what could be one of the wildest races for the Senate ever seen in Equality State politics.
"In an open race, it's fair game," said Liz Brimmer, a political consultant in Jackson. "I don't know if it's anyone's claim."
It all begins with Cheney
In East Coast political circles, many have considered Cheney to be the likely choice to replace Enzi – a fact that will surely play a factor in any other candidate's decision to run.
The speculation is hardly surprising. Cheney has as much national name recognition as anyone in Wyoming politics save for her father, former Vice President Dick Cheney, and she briefly ran for Enzi's seat in 2014 before dropping out while trailing him in the polls.
Numerous Beltway media outlets have floated Cheney as the likely candidate to replace Enzi in the Senate. The conservative news site, Newsmax, cited unnamed sources claiming it was a foregone conclusion that she would run in 2020. Earlier this week, the news site Politico alluded to a looming tug-of-war between the upper and lower chambers of Congress to woo Cheney to stay or move up, while the Washington Examiner wrote that most members of the House expect Cheney to make a move to the upper chamber.
In a tweet, famed University of Virginia professor and political oracle Larry Sabato said Cheney was a likely frontrunner for the seat, though the second-term congresswoman has given little outward indication she was considering a Senate run come 2020, avoiding the Star-Tribune's requests for confirmation that she was mulling the decision.
"Liz believes that this time should be about honoring Sen. Enzi's lifetime of service to Wyoming and thanking him for all that he's done for our state," her Chief of Staff, Kara Ahearn, said in a statement this week.
Several factors complicate the narrative that Cheney will step up in a bid to replace Enzi. If she runs, Wyoming will be in the midst of a presidential election year with two open Congressional races at once, creating an environment of unpredictability at a time when its Washington delegation currently boasts more influence in Washington than it's had since the late 1980s, when Sen. Al Simpson and Cheney's father, Rep. Dick Cheney, held office.
As the third-ranking Republican in the House of Representatives, Cheney is also on a trajectory to potentially rise to the rank of Speaker of the House one day, a prospect alluded to in Enzi's remarks in Gillette last weekend.
"I'm leaving the Senate and House in good hands, since John [Barrasso] and Liz [Cheney] are in leadership," he said. "I can see a future when Representative Cheney will be Speaker of the House and Senator Barrasso will be the Senate Majority Leader."
But Cheney ascending to Speaker of the House anytime soon could be a pipe dream. A blue wave election in 2018 wrested the majority from the hands of the GOP and, with the 2020 election pitting Democrats against the most unpopular presidential administration in the polling era, Republicans face stiff headwinds in their efforts to regain the House anytime soon.
Facing those odds, said GOP fundraiser Rob Jennings, makes a safe seat in the 100-member Senate all the more lucrative.
"[Cheney] is not going to be Speaker of the House anytime soon," he said. "That's all in question. A Senate seat, meanwhile, is a Senate seat. Those don't come along often in Wyoming. You've got to weigh that against maybe being Speaker of the House one day, or taking that Senate seat that's right there in front of her, where she would be a prohibitive front-runner."
"She'd be crazy not to run," he added.
A long campaign ahead
Enzi was not the Senate's only early retirement this year: In March, New Mexico Sen. Tom Udall announced he would be leaving his seat behind, following the lead of Kansas Republican Pat Roberts, Democrat Barbara Mikulski and Republican Lamar Alexander, who announced his intention to retire all the way back in December.
Coming only months after one of the most intense and expensive statewide elections in recent memory, Enzi's early announcement also bore with it something else: the promise of another long and arduous campaign season that has traditionally been uncharacteristic for Wyoming politics.
You have free articles remaining.
According to a 2010 analysis by University of Minnesota political scientist Eric Ostermeier, the average length of a successful Senate campaign over the previous decade for a non-incumbent was 447 days – roughly 15 months. Wyoming, however, has rarely witnessed a campaign season in excess of that — or even something close to it. Liz Cheney, the most recent federal candidate to win an open seat in Wyoming, announced the start of her 2016 campaign in January of that year. In the 2018 governor's race, most candidates waited until late winter or mid-spring to begin their campaigns.
"There is a tradition in Wyoming of not announcing campaigns early," said University of Wyoming political scientist Jim King.
Nationally though, longer campaigns are becoming more characteristic of the political scene, said David Beaudoin, an editor with the nonpartisan election website Ballotpedia. Oftentimes, this means more money is needed for success – something an early announcement offers candidates the time to amass. With statewide campaigns here becoming increasingly expensive – and with a state as big and with politics as personal as Wyoming – that time is more than necessary to build effective candidacies.
"A statewide campaign, even in a state such as this, takes time to structure and to begin operations," King added. "Sen. Enzi has reached an age when many retire from politics, so his announcement isn't a shock. I'm certain any candidate with ambitions for Congress has been preparing for the possibility that Sen. Enzi would retire, thus opening up either the Senate seat or House seat next year."
Making the leap
The pool of candidates who could make a run for Congress in Wyoming is a shallow one, with the barrier to entry for a statewide campaign so high, longtime political operatives say, that only a handful of individuals across the state today could feasibly mount a competitive campaign.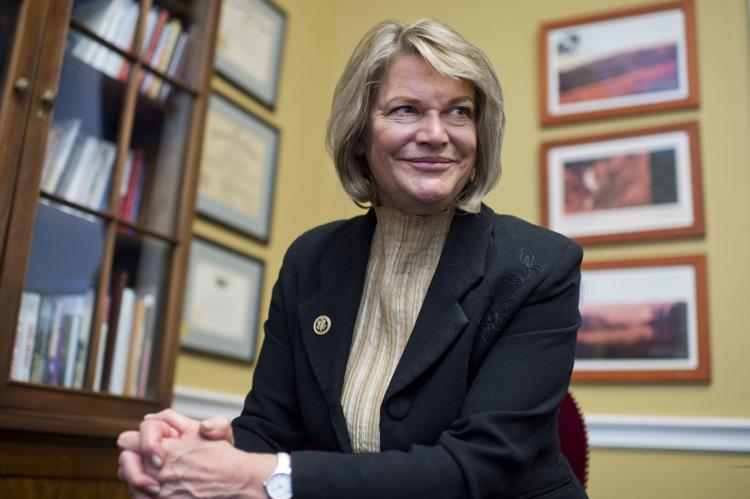 In addition to Lummis and Cheney, other individuals – former governors Mead and Dave Freudenthal or 2018 gubernatorial candidate Harriett Hageman – round out the elite group of politicians who not only have name recognition in Wyoming, but also the necessary networks of fundraisers and volunteers that are required to mount an effective campaign.
"If you're running for the Senate, you're going to need $1 million or $2 million of your own money right out of the gate," said Jennings. "That really narrows down who's going to run. If you don't have that, you're pretty much going to get smoked … unless you really know how to count 35,000 votes to win the primary. It can be done without the million bucks, but you've got to be extremely strategic. I know of few people in Wyoming who could do that."
Several months added to a campaign – as well as thousands of miles of ground for a candidate to cover during that time – means significant amounts of investment, both in travel costs and in building and recruiting staff and volunteers to organize and rally support from voters. This was most recently seen in the 2018 governor's race, where candidates raised millions of dollars and spent significant sums of their own money in their bids to get elected.
"Covering 97,000 square miles and nearly 300,000 voters takes an enormous amount of organizational skill and, in this day, a large amount of money," said longtime lobbyist and GOP operative Dave Picard. "Not only from the personal wealth needed to invest in the race, but also in the ability to create momentum and excitement for your candidacy that will turn into donor dollars to support your candidacy. It is a money game in all of the 50 states, not just in the larger states. It now includes Wyoming."
While money can't buy everything – as seen by the several losing, self-funded campaigns of 2018 – it can at least buy exposure.
Sometimes, said 2018 Senate candidate David Dodson, a message – and the exposure to get the word out — is all you need.
"I didn't know how to run for office," said Dodson, who unsuccessfully challenged Sen. John Barrasso. "I just did my best to get out there and meet as many people as possible, and nearly one-third of Wyoming went to the polls and said they wanted something different. There's something in there that had nothing to do with Dave Dodson."
Wide open field
If Cheney were to run for the Senate seat, it would break the floodgates open for political aspirants of all stripes to take a stab at her seat in Congress, which has traditionally had a lower barrier of entry than the state's two Senate seats.
In Wyoming's electoral history, the Senate is often the final destination for those who have a proven and demonstrated legacy of state service. The past five people to represent Wyoming in the Senate – Malcolm Wallop, Alan Simpson, Craig Thomas, Mike Enzi and John Barrasso – all served in the state legislature prior to election or appointment to the Senate. The House of Representatives, meanwhile, has been split over the past three decades, King said, with delegates like Teno Roncalio, Dick Cheney and Liz Cheney ascending to the post without paying their dues in state-level politics.
Despite the success of those few, state legislators and statewide elected officials remain the archetypal House candidate today, Jennings said, both from their ability to understand the nuances of the state's politics, but also the opportunity to build the grassroots connections necessary for a long and rambling race across the 10th-largest state in the union.
"Having an established reputation here in Wyoming, a record of service to the state and the local community, is vital," said Kristen Walker, a consultant on Gov. Mark Gordon's 2018 gubernatorial campaign. "To be able to leverage that and build a strong ground game is absolutely critical – having a presence and reach in every community across the state. We are definitely retail politics here, and you need to be able to reach people in all four corners of the state."
With some of the biggest names in Wyoming's politics attracted to the Senate race – along with the high-dollar donors they'll likely draw with them – Wyoming's House race suddenly becomes much more accessible to a new crop of candidates looking to move up the ladder.
"We can expect to see several members of the legislature expressing interest in either the Senate seat or the House seat, depending on Rep. Cheney's choice," said King.
Jennings named several current lawmakers – Cheyenne Sens. Affie Ellis and Tara Nethercott, Sundance Rep. Tyler Lindholm and current state Superintendent of Public Instruction Jillian Balow – as politicians who could likely fit that mold: legislators who are well-connected, ambitious, effective and recognizable.
"Wyoming has a lot of strong leaders in the legislature, the county commission, and so forth," said Lindholm, who told the Star-Tribune he was unlikely to run. "I hope that's who runs – people who have been driving all over the state, attending all the meetings and hearing situations throughout the state. The people who aren't just looking to run for office – who are trying to find solutions. That's who I'm going to root for."
In an open-seat race, however, anything is possible. When Picard was working on Barrasso's failed '96 Senate campaign, he kept a list on the wall of his Casper office with 39 names of county commissioners, lawmakers and well-known business people whom he thought could potentially challenge Barrasso for that seat.
"Only three of those became candidates," he said.
Follow politics reporter Nick Reynolds on Twitter @IAmNickReynolds
Get Government & Politics updates in your inbox!
Stay up-to-date on the latest in local and national government and political topics with our newsletter.