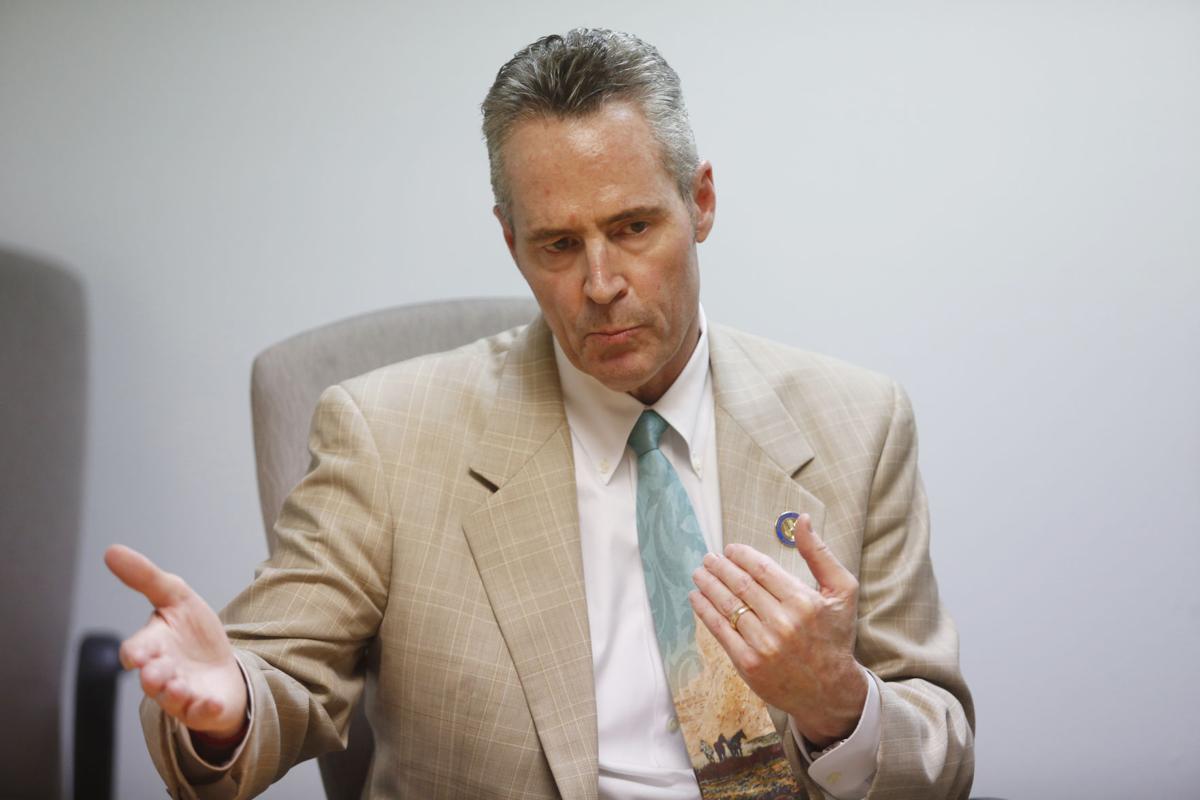 Tatiana Maxwell said she was working as an intern at a Cheyenne law firm in 1982 when a young lawyer at the firm, Ed Murray, sexually assaulted her at the office.
Maxwell detailed the alleged assault in a social media post earlier this week and confirmed the events in a phone interview with the Star-Tribune on Thursday.
"This is not a comfortable thing to talk about," Maxwell said. "It hasn't been a comfortable thing for 35 years, but it's the right thing to do."
Murray issued a statement to the media Thursday saying that he was "shocked and appalled" to read Maxwell's social media post. The statement said that Murray was an advocate for women.
"This baseless claim about an encounter from thirty-five years ago is unequivocally false," Murray stated. "There is no basis to this falsehood whatsoever and it is deeply hurtful to me and to my family, as well as to everyone I serve."
Alleged incident detailed
Maxwell said in a Facebook post Monday that she was working at Dray, Madison and Thomson during the summer after she graduated from high school in Cheyenne. She said Murray was five years older than her and had taken a job at the firm after recently graduating from law school.
"He was older, handsome and from an old Cheyenne family but I didn't really know him," she wrote.
According to Maxwell, Murray invited her to meet him at the office after working hours and said she sat with him in the reception area of the law office. She recalled there being Domino's pizza and beer.
She said that Murray put his hands on her and attempted to kiss her but that she resisted, told him she was a virgin and stopped him from taking off her pants.
"Ed wrestled me down to the carpet in front of the receptionist desk, opened his pants, lifted up my blouse and ejaculated on my stomach," Maxwell wrote. "I was disgusted and horrified."
Specifically, Maxwell stated the following in her Facebook post:
Maxwell had previously worked for then-Secretary of State Thyra Thomson, whose son Bill Thomson worked at the law firm;
Maxwell took a summer job doing "grunt work" at the firm after graduating high school;
Murray invited her to hang out after hours at the office;
While sitting in the reception area, which was a living room when the office had been a home, Murray "started putting his hands on me and tried to kiss me";
Maxwell resisted, "struggled and wouldn't let him unbutton my pants," at which point Murray wrestled her to the floor.
"One of the unforgettable memories was of him handing me the box of Kleenex from the receptionist's desk to clean myself up after ... he was finished," she wrote.
Maxwell wrote that she did not report it to the firm's senior lawyers for fear of losing her job and did not contact the police because she had not been "physically hurt." She said that Murray married a high school classmate of hers and was present at two of her high school reunions, where he once tried to apologize to her and a second time "alluded" to the incident.
She said that following the alleged incident she began referring to him as "Eddie the Toad" in conversations with friends.
The law firm is now called Dray, Dykeman, Reed and Healey. Gregory Dykeman, a partner at the firm, confirmed that Maxwell worked at the company for a "short period" and that Murray was an associate attorney there.
"(W)e have no employment records this far back, so I cannot give you any more accurate dates or other information," Dykeman added.
At the time, Maxwell was known by her maiden name Laybourn. She said that her job was a summer internship and lasted a few months.
Maxwell's husband, Peter Maxwell, told two Wyoming media outlets that the events described in his wife's Facebook post were consistent with what she had told him in the past. He did not immediately respond to a request for comment from the Star-Tribune. The two are currently getting divorced, Tatiana Maxwell said.
Maxwell, a real estate developer, was born and raised in Cheyenne and lived in Jackson before moving to Boulder, Colorado, where she currently lives.
'It supersedes politics'
Maxwell said she unaware that Murray was considering running for governor until reporters informed her after seeing her Facebook post and contacting her.
According to federal election records, Maxwell has donated about $73,000 to Democratic candidates and organizations in Wyoming, Colorado and nationally since 1998. It does not appear that Maxwell has donated to any Wyoming candidates or organizations since 2008.
Maxwell acknowledged that she has been politically active, but said her decision to share her story on social media now had nothing to do with politics.
"It supersedes politics," Maxwell said. "It's about human behavior. It's about right and wrong, and it's about standing up for women."
Maxwell said with many sexual assault and harassment allegations in the news, her three daughters had asked her whether she had experienced anything like that. When she told the story about Murray, her 17-year-old daughter urged her to speak out about the incident and Maxwell said that by not doing so she would be setting a poor example.
"I couldn't respond to her that it's a complicated thing because I don't want that to be her answer," Maxwell said. "It's not complicated thing. It's black and white."
Maxwell did not contact media about Murray. She made a public post about the incident on Facebook on Monday afternoon and the story was first reported Thursday morning by KGAB radio in Cheyenne, which initially ran an article about the post that did not include comment from Murray. Maxwell said the station did not contact her before publishing the article.
'A reminder'
Murray released his statement later Thursday morning after KGAB and its affiliated stations published her account. The statement references the #MeToo movement in which women have come forward to share stories of sexual assault and harassment. Several prominent political figures have been accused of sexual harassment or assault in recent weeks, including members of Congress and state lawmakers around the country. Maxwell references the movement in her Facebook post and Murray said he was sympathetic to the underlying message.
"I struggle to understand what would motivate someone to make this kind of accusation," Murray said in the statement. "But considering that this statement was made in the context of the #metoo movement, I want to take this moment to acknowledge the overall importance of this conversation, as well as to reaffirm my commitment to being an ally for women."
The Wyoming Public Employees Association handles many workplace grievances related to sexual harassment in the state government. Executive director Betty Jo Beardsley said she was unaware of any sexual harassment cases in the secretary of state's office since Murray took office in 2015.
Through a spokesman, Murray did not respond to a detailed list of questions sent by the Star-Tribune, including whether he knew Maxwell, whether the two had a social relationship while working at the Cheyenne law firm or whether any parts of Maxwell's account were accurate.
A Cheyenne businessman, Murray was elected secretary of state in 2014. Along with State Treasurer Mark Gordon, he is considered a leading contender to be Wyoming's next governor if he chooses the enter the GOP primary. Murray has said in the past that he hopes to make a decision by the end of the year.
While in office, Murray has been known for his fierce defense of Wyoming's low corporate filing fees, which he argues encourage economic growth in the state and generate revenue, but which some critics argue enable fraud.
Murray has also bucked a request by the Trump administration to turn over election and voter information to a federal commission on voter fraud, saying that he was worried doing so might open the door to unconstitutional federal overreach.
He said in the statement Thursday that the allegations by Maxwell were upsetting and false but said that they were a reminder about the problem of sexual harassment in the workplace.
"As a husband of thirty-one years and the father of four incredible daughters, I take my role as an advocate for women with utmost importance," Murray said in the statement. "While I am deeply disturbed by this false allegation, I choose to allow this to serve as a reminder of how important it is to be an advocate for the courageous women and men who have spoken out against a very serious problem in our country."
Staff writer Elise Schmelzer contributed to this report.
Arno Rosenfeld covers state politics.
Get Election 2020 & Politics updates in your inbox!
Keep up on the latest in national and local politics as Election 2020 comes into focus.