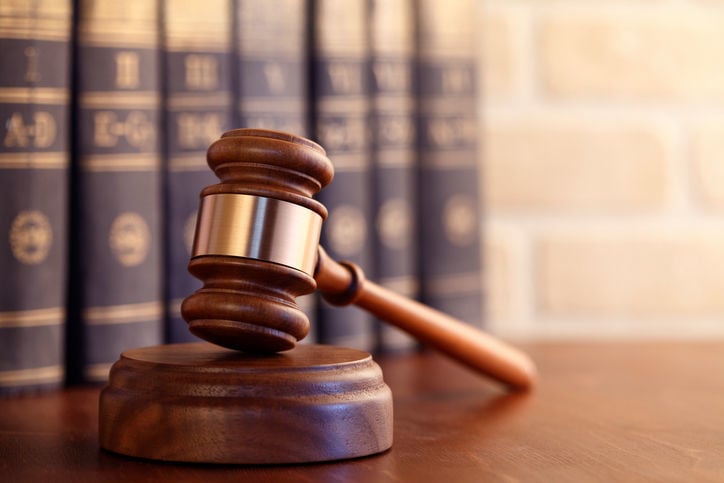 The Wyoming State Bar Association has recommended all but one judge for retention in the state's upcoming election this November.
In the association's judicial advisory poll released this month, Laramie County Circuit Court Judge Antoinette Williams was opposed for retention by 53% of respondents in her practice area.
Only one other judge — Fourth District Judge William Edelman — came anywhere close to that. He was opposed by 49% of those surveyed. Most other judges were supported by a significant majority of attorneys.
Williams — who was appointed by Gov. Matt Mead in 2014 to replace the retiring Judge Roberta Coates — formerly served as a prosecutor in Laramie and Sheridan counties and once worked as a special assistant United States attorney for the District of Wyoming. Currently, she serves on the Governor's Council on Impaired Driving, the Judicial Education Committee, and as the presiding Laramie County Drug Court judge, as well as with a number of community organizations in Cheyenne.
"Each of these professional volunteer positions puts me in contact with many more individuals beyond attorneys," she said in a written statement to the Star-Tribune. "I, again like many judges, also volunteer within the community which adds even more individuals who could weigh in."
Williams has been involved in a number of high-profile cases in Wyoming, including the 2018 review of Cheyenne Bishop Joseph Hart for alleged child sexual abuse and the recent dismissal of a number of drug trafficking charges against a Wyoming hemp farmer whose crop's THC content tested slightly higher than state regulations allow — a decision she said embodies the meaning of serving in the state's judiciary.
"The hemp case is a perfect example of the difficult decisions judges are called upon to make each day," Williams wrote in an email. "All judges in Wyoming are governed by the Wyoming Code of Judicial Conduct. Importantly, the comment to rule 1.2 states, 'A judge should expect to be the subject of public scrutiny that might be viewed as burdensome if applied to other citizens, and must accept the restrictions imposed by the Code.' Additionally, Rule 2.4(A) states 'A judge shall not be swayed by public clamor or fear of criticism.'"
In an email, Williams said that voters should consider her past record and community involvement alongside the opinions of the legal community.
"I always strive to be a better person and a better judge," she wrote. "Every day I go to work I try to do the best I can and to keep the oath I took, which includes treating each litigant, lawyer, and court personnel with the dignity and respect every person deserves. I will continue to do that and to honorably serve the people of this circuit."
Why the poll matters
Since 1976, the state bar association's poll has been one of the few resources available to voters to help them make a decision in the state's judicial retention elections – which typically receive little attention.
Wyoming evaluates judges under a nonpartisan selection process colloquially called the "Missouri Plan," which ensures that all judicial appointments are merit-based and, ideally, insulated from politicization by the electorate or by the governor. Candidates for vacant judicial seats are evaluated by a nonpartisan state judicial nominating commission who then submits a list of three names to the governor, who ultimately makes the appointment based on each candidates' merits.
However, it is up to the public — which has little day-to-day experience with the judiciary — to decide whether those judges remain in office or not. And the resources to guide them in that decision, said Sharon Wilkinson, the executive director of the Wyoming Bar Association, are sparse.
"It's the only thing out there," she said. "Unless the public is really paying attention to Supreme Court decisions or the decisions judges end up making – not all of them end up in the newspaper, after all – this really becomes the only resource to give members of the public any kind of indication of how lawyers think they're performing."
Only attorneys who had appeared before a judge within the last 24 months are eligible to vote for them. Judges are evaluated on a number non-ideological criteria such as their preparedness for cases, their courtesy on the bench and how well their decisions are rationalized.
The poll also allows attorneys an avenue to offer written feedback to the judges to help them fine tune their performance. While judges are reviewed on a two-year basis, they are only up for election when their terms expire.
Terms last eight years for Supreme Court justices and six years for district court judges. All judges must retire once they reach the age of 70.
How the poll works
Lawyers' response rates to different judges varied widely. Some judges, for example, had feedback submitted by fewer than 10 practicing attorneys, while the state's Supreme Court Justices Lynnette J. Boomgaarden and Kari Jo Gray were evaluated by a group of several hundred attorneys around the state.
The breakout evaluations of each judge are notable as well: While the general opinion of survey respondents weighed against Williams' retention, the number of the 60 respondents in her region who "strongly approved" of her performance in certain categories often outnumbered those who "strongly disapproved" of her performance, according to a breakout of results in the survey.
Similar trends were also seen in the results for Edelman, who scored favorably in a number of categories despite a near-stalemate between those in favor of keeping him and those who did not.
Ultimately, members of the public using the poll to inform their decision should do so with a careful consideration of all of the factors involved in their final rating — not just how their judicial candidates stack up to others around the state.
"Reporters always want to compare the judges, saying that 'Judge Smith' did better than 'Judge Joe,'" Wilkinson said. "But it's not a comparison at all. Different people are evaluating each different judge."
Get Election 2020 & Politics updates in your inbox!
Keep up on the latest in national and local politics as Election 2020 comes into focus.