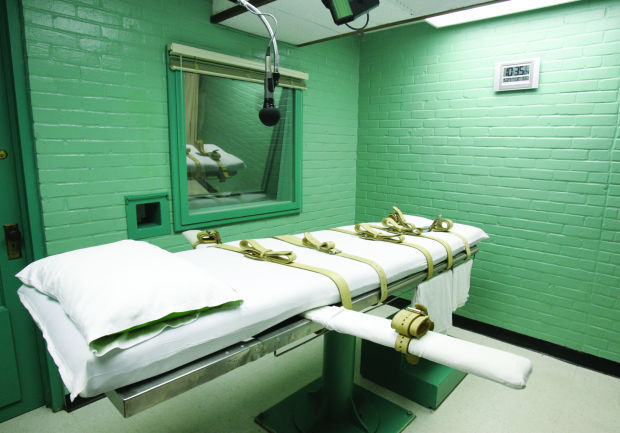 CHEYENNE — A new attempt to repeal Wyoming's death penalty failed Wednesday when state lawmakers voted against introducing a bill in this year's legislative session.
That decision marked the end of an ambitious repeal campaign that was initiated after a narrow defeat in 2019 in the Senate.
The repeal bill required a two-thirds vote to be introduced into the House of Representatives. It fell three votes short on Wednesday.
Death penalty repeal legislation was one of the individual bills most whispered about in the lead-up to this year's legislative session.
Sponsored for the second straight year by Rep. Jared Olsen, R-Cheyenne, a repeal bill has been lobbied for by national groups like Conservatives Against The Death Penalty and the American Civil Liberties Union — as well as a number of religious organizations in Wyoming — for nearly a year.
It seemed to catch some traction with lawmakers as well, with this year's version of the legislation managing to achieve roughly double the number of co-sponsors it gathered last year (39, between both chambers).
The arguments in favor of repeal, according to supporters of the effort, are clear: $1 million in savings from the state's annual contribution to a fund specifically intended for death penalty cases and avoidance of executing potentially innocent inmates — a key argument for conservatives who argue bureaucracy cannot be trusted with the taking of a human life.
You have free articles remaining.
"Due to the grave nature of the punishment, American courts have always applied a high degree of scrutiny to laws that permit the government to take a life," Sabrina King, director of campaigns at ACLU of Wyoming, said in a statement Tuesday. "As more information becomes available about the arbitrary and discriminatory manner in which these laws are applied — and as societal standards regarding the death penalty continue to evolve — it becomes increasingly difficult for capital punishment laws to avoid violating the Eighth Amendment's prohibition against cruel and unusual punishment."
The introduction of this year's version of the repeal legislation comes after a historic effort in the 2019 general session, where Olsen managed to push the bill all the way to the Senate — the first time a death penalty repeal bill had ever cleared the House of Representatives here.
It failed in the upper chamber on first reading by an 18-12 margin.
Olsen told his fellow lawmakers before the vote Wednesday he wanted the legislation to advance to a hearing so that everyone — including victims, attorneys and the wrongfully committed — could sit down and discuss it.
"I'm going to ask you to vote your conscience at that time," Olsen said. "But right now, I would ask you to introduce this bill so it can be heard inside these halls."
One lawmaker said the death penalty could be used as a bargaining chip. Another said it could be used to obtain justice for those who have been heinously wronged.
"We need to be the ones who stand up for them," said Roy Edwards, R-Gillette.